Editor's Note:
For a long time, people's impression of the production of a "model" seems to be limited to a small group of "amateurs", and few colleges and universities offer this course. What is the experience like when taking a "model class", and why is it fascinating to students in CAFA?
The course "Model and Sand Table" is conducted by Professor Feng Mengbo from the sixth studio of the Printmaking Department in the School of Fine Arts. At this time, Professor Feng offered a live streaming teaching method via an online class, and he introduced the previous live-broadcasting equipment from Voluntary Garden on the Kuaishou App, forming a class of multi-cameras plus a direct broadcast station, which promotes the stream through the software system. In this case, compared with two-dimensional fine arts, how does the production of three-dimensional works stimulate students' interest in the stereoscopic creation? What kind of enlightenment can be produced when getting rid of the limitations of relying on two-dimensional electronic tools? Let's explore this together!
---
The brief intro of the online class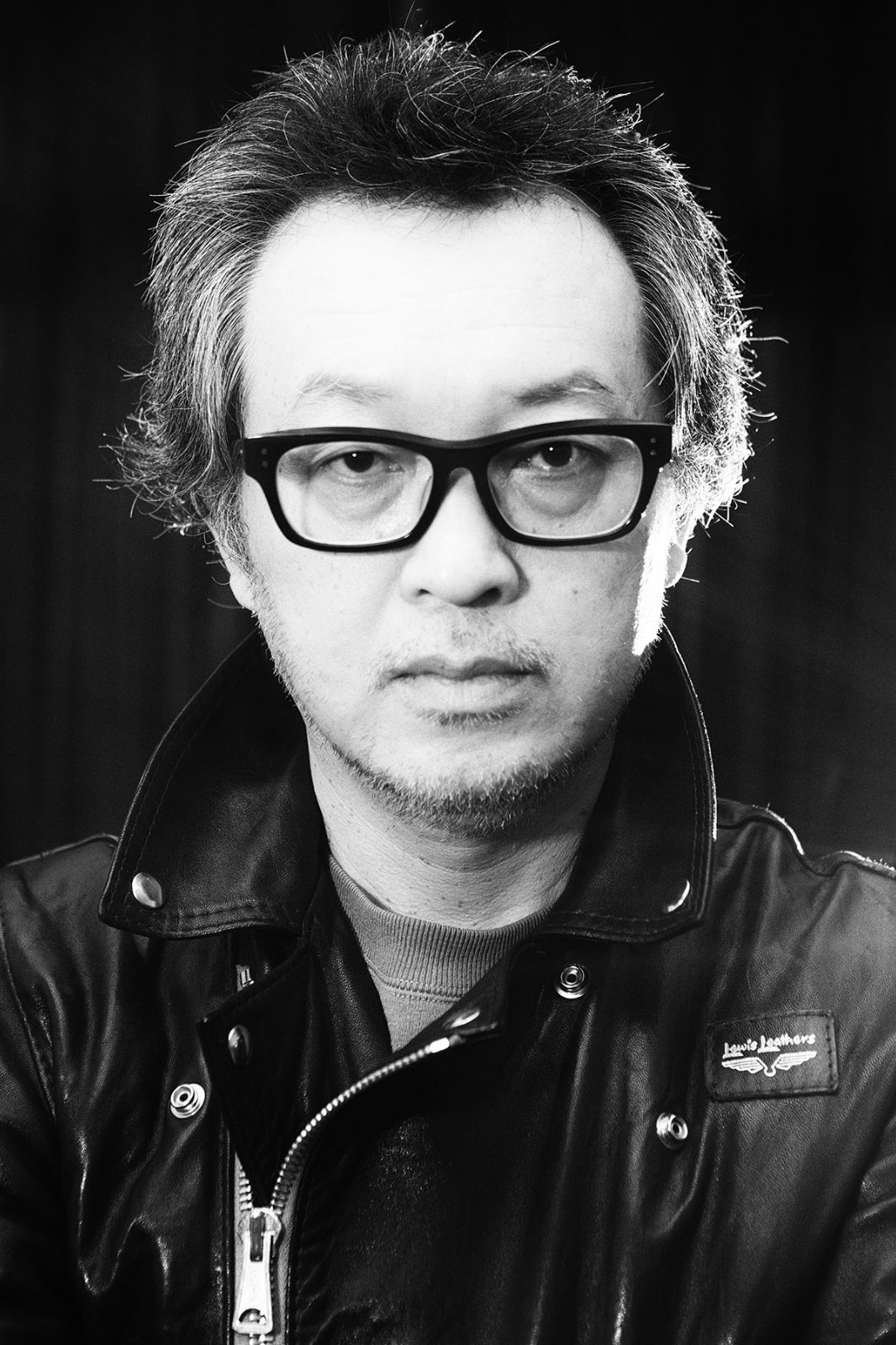 Portrait Photo by Olivo Barbieri
Feng Mengbo, born in 1966 in Beijing, graduated from the Central Academy of Fine Arts (CAFA) in 1991 and is now a professor of CAFA.
Feng Mengbo is the first artist to focus and use digital technology in China. He began to create interactive art in the early 1990s, he became well known for his video games. His art practice covers painting, calligraphy, installation, photography, video and music performance. He took part in the 45th Venice Biennale in 1993, Documenta in 1997 and 2002. The installation Ah_Q won the Prix Ars Electronica Award of Distinction of Interactive Art in 2004. His works are in the collections of MoMA, Guggenheim, LACMA, M+, Fukuoka Asian Art Museum and UCCA Foundation for Art and Education, etc.
"Model and Sand Table"
The Sixth Studio of Printmaking Department in the School of Fine Arts, CAFA
Tutor: Feng Mengbo
Target Students: The Third Year Undergraduate Students in 2017
Total Class Hours: 100
Duration: March 9th—April 10th, 2020
Credit: 5
Teaching Contents and Arrangement:
1. Analyze cases of classic models and sand tables, 20 class hours: March 9th, March 11th, 2020
2. Model Making, 40 class hours, March 16th, 18th, 23rd, 25th, 2020
3. Sand Table Making and Its Combination with Models, 40 class hours, March 30th, April 1st and 6th, 2020
Class Aims:
This course intends to stimulate students' interest in three-dimensional creation through the production of learning models and sand tables, and actively incorporates three-dimensional media and hand-made structures into the scope of learning and creation, and gets rid of the limitations that rely on computers and plane thinking.
Further Readings:
Chuck Doan, etc., "Technical Guidelines for the Weathering of Civil Vehicles", China Machine Press, 2015
Justo Mira, etc., "Scene Model Making Technical Guide", China Machine Press, 2016
---
Teaching Scripts:

Since the Spring Festival in 2020, the pandemic situation has been severe, and CAFA has required that students do not return to school and all classes were switched to online classes. The first course of this semester in this studio is "The History of Video Games". It was originally intended to use the two arcade game machines in the class to instruct students to observe and play early video games by themselves, and learn how video games are influenced by art, music, movies, and technology and have gradually grown into an independent art/entertainment category. Because of the limitations of online teaching, students were required to choose their favorite host or mobile games by themselves, and discuss them in the online classroom and finally form an article or a short video.
In the second course "Models and Sand Tables", the teacher decided to focus on teaching in Tencent Meetings, using multiple cameras and broadcast directors, etc., to build a live video environment and communicate with classmates in real-time. The teacher usually answers the questions from the students in the WeChat group of the class, giving suggestions and supervising the progress of the homework as required. The course "Models and Sand Tables" has been offered for three years, and it has also been used as an elective course for the whole of CAFA. This time the students showed great enthusiasm, active learning, serious homework, and gratifying results. Before starting the class, the teacher began to guide the participating students to purchase materials and tools needed for the course. Due to the pandemic restrictions, express delivery did not work smoothly, especially for students who live far away as they were unable to receive their orders.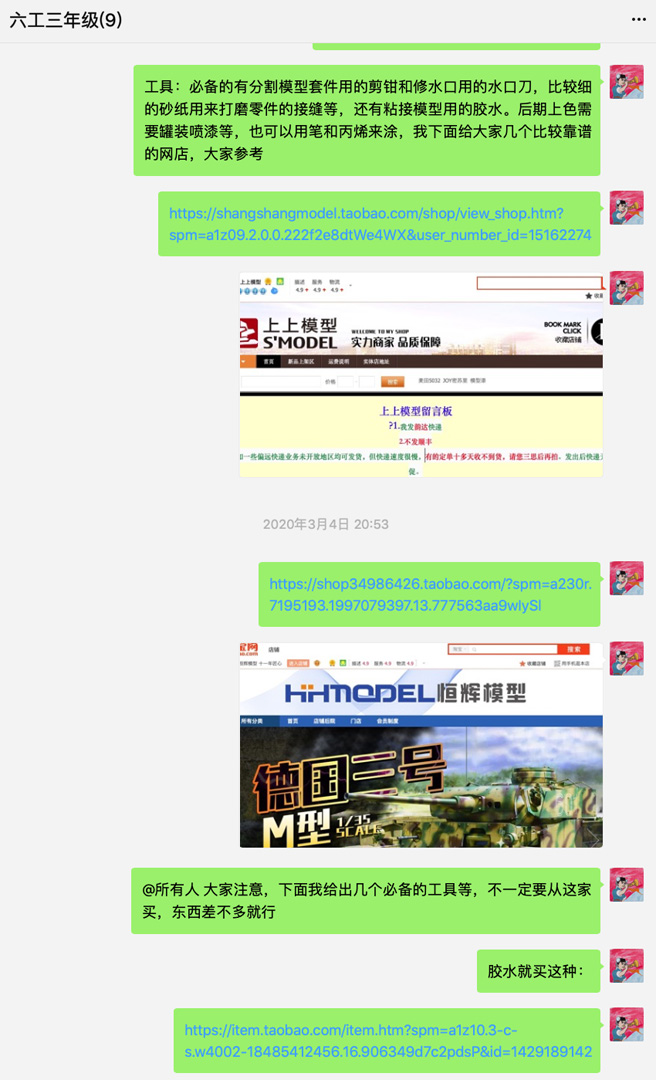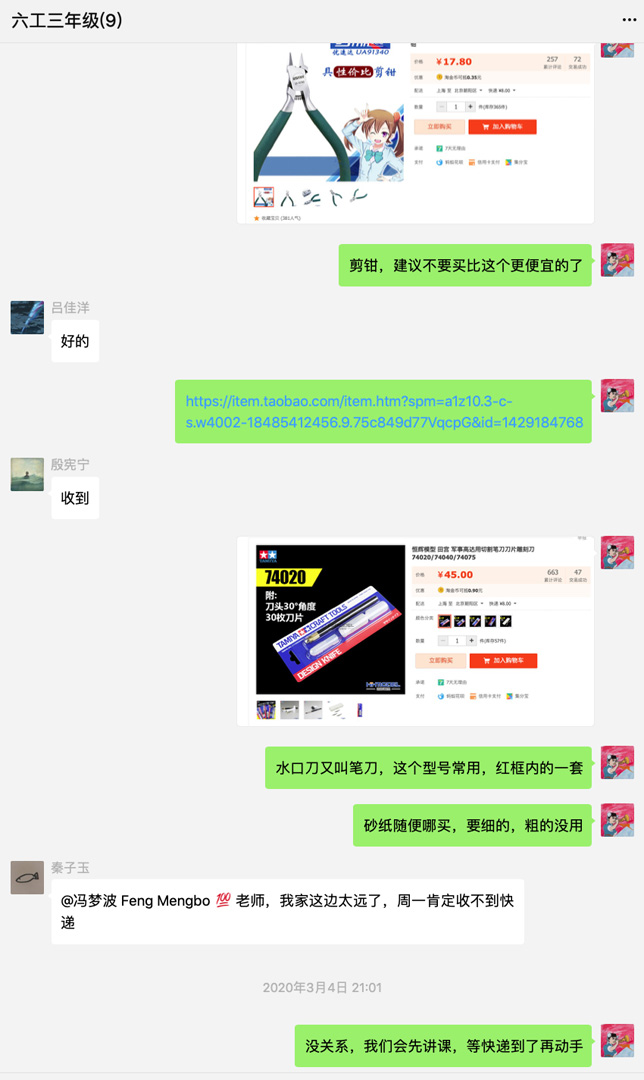 Pre-class Discussion Via WeChat Group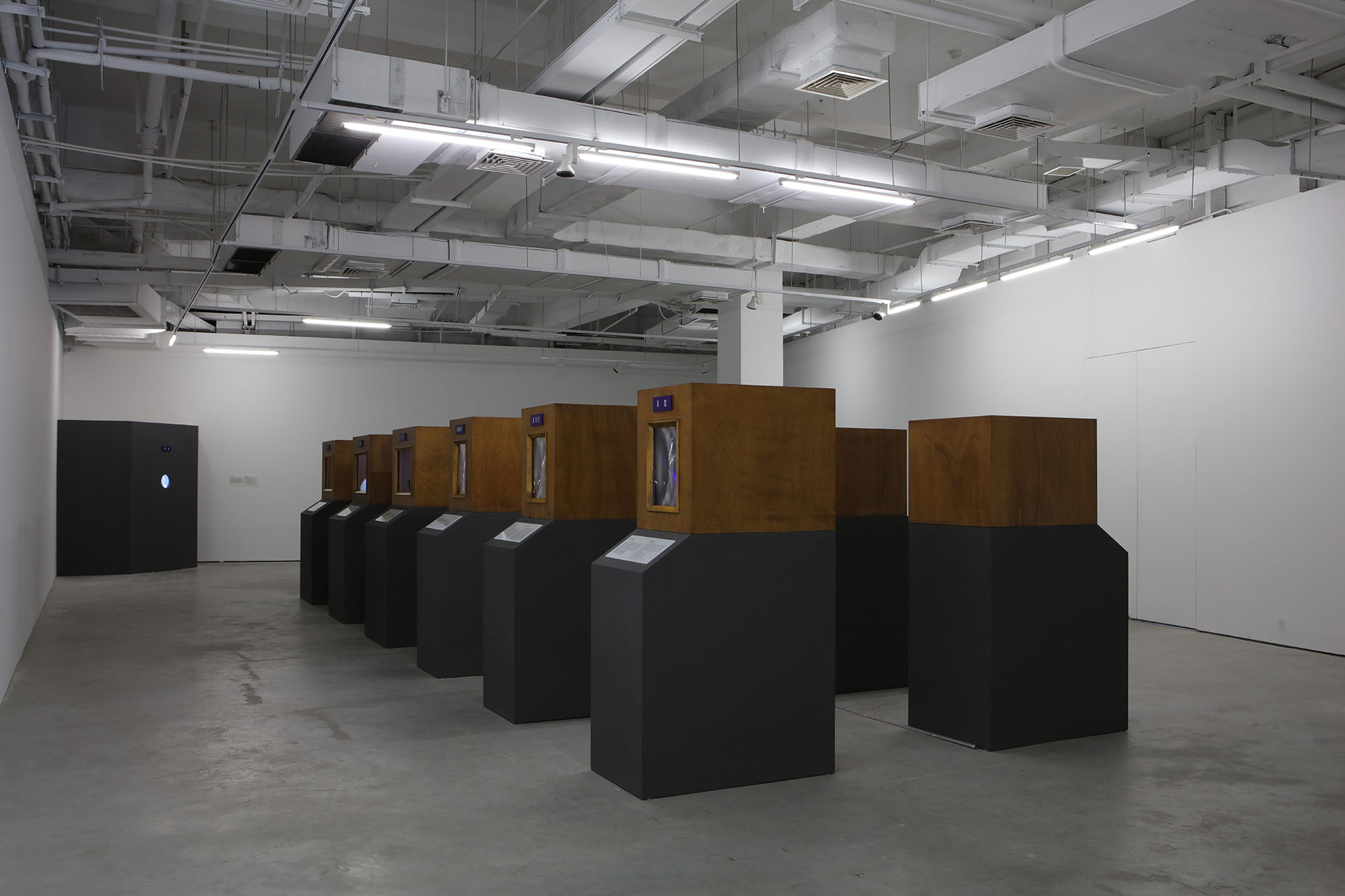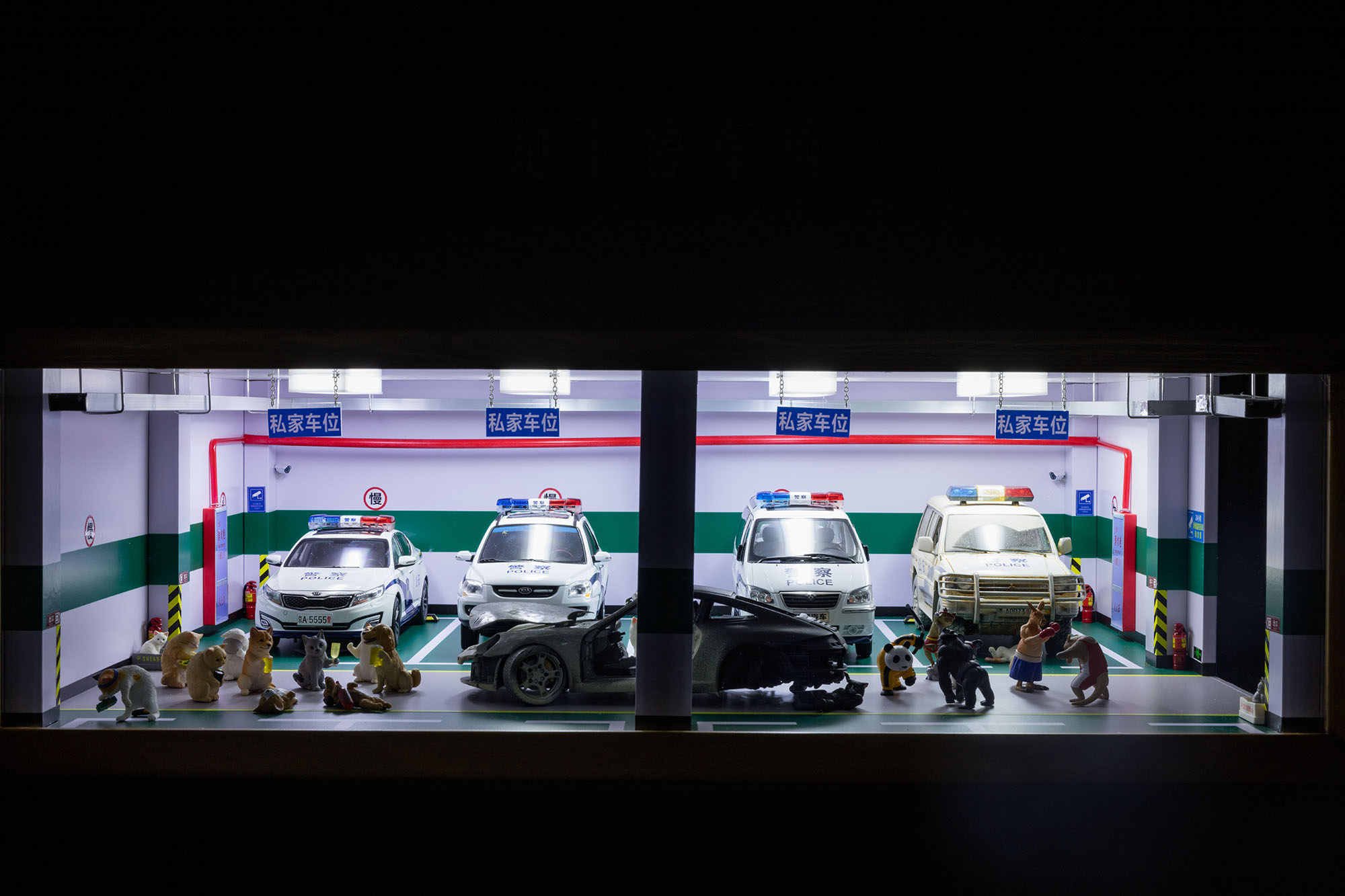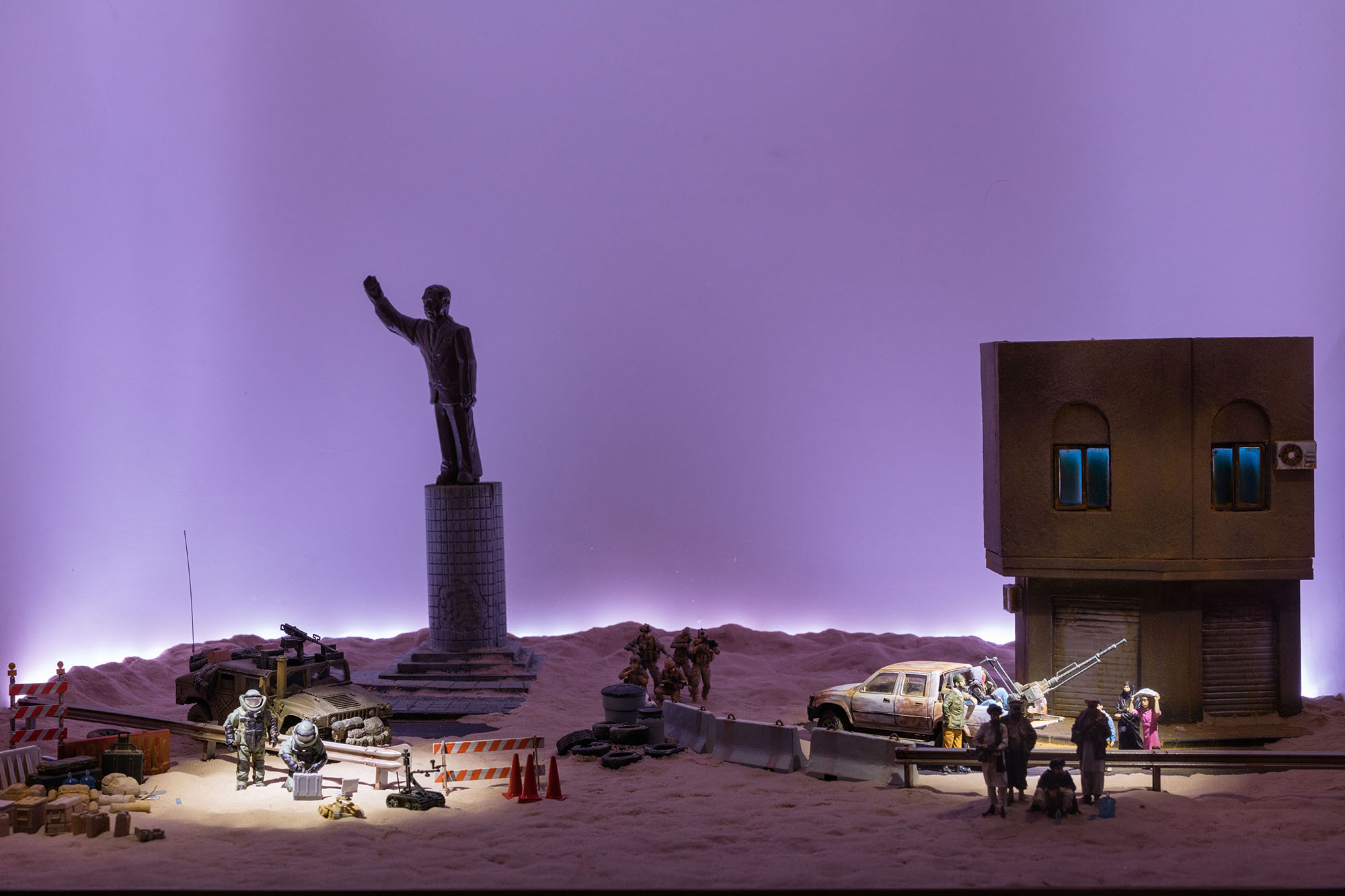 "Museum", Madeln Gallery, Shanghai, 2017
The first two classes mainly introduced my childhood interest in models and sand tables, the use of dioramas in museums and art, and the creation and exhibition of "Museum" in the form of dioramas (2017) in Madeln Gallery, Shanghai. In the first class, leaders of the academy listened to the class through the Internet and gave a high evaluation.
In the next few sections, I presented and analyzed the models I have made, explaining the use of tools and materials, the purpose and main points of weathering, the method of creating the sand table, the combination of the model and the sand table, and how to photograph and submit their assignments.
When it comes to the assignment phase, the students were required to present their processes of making models respectively via the online meeting. The tutor would answer their questions and give related suggestions. Due to the pandemic, students created their works at home. In this case, I especially encouraged students to fully use their own conditions and environment. Instead of being limited to creating on the table, students were encouraged to take the initiative to use nature as the stage for the models.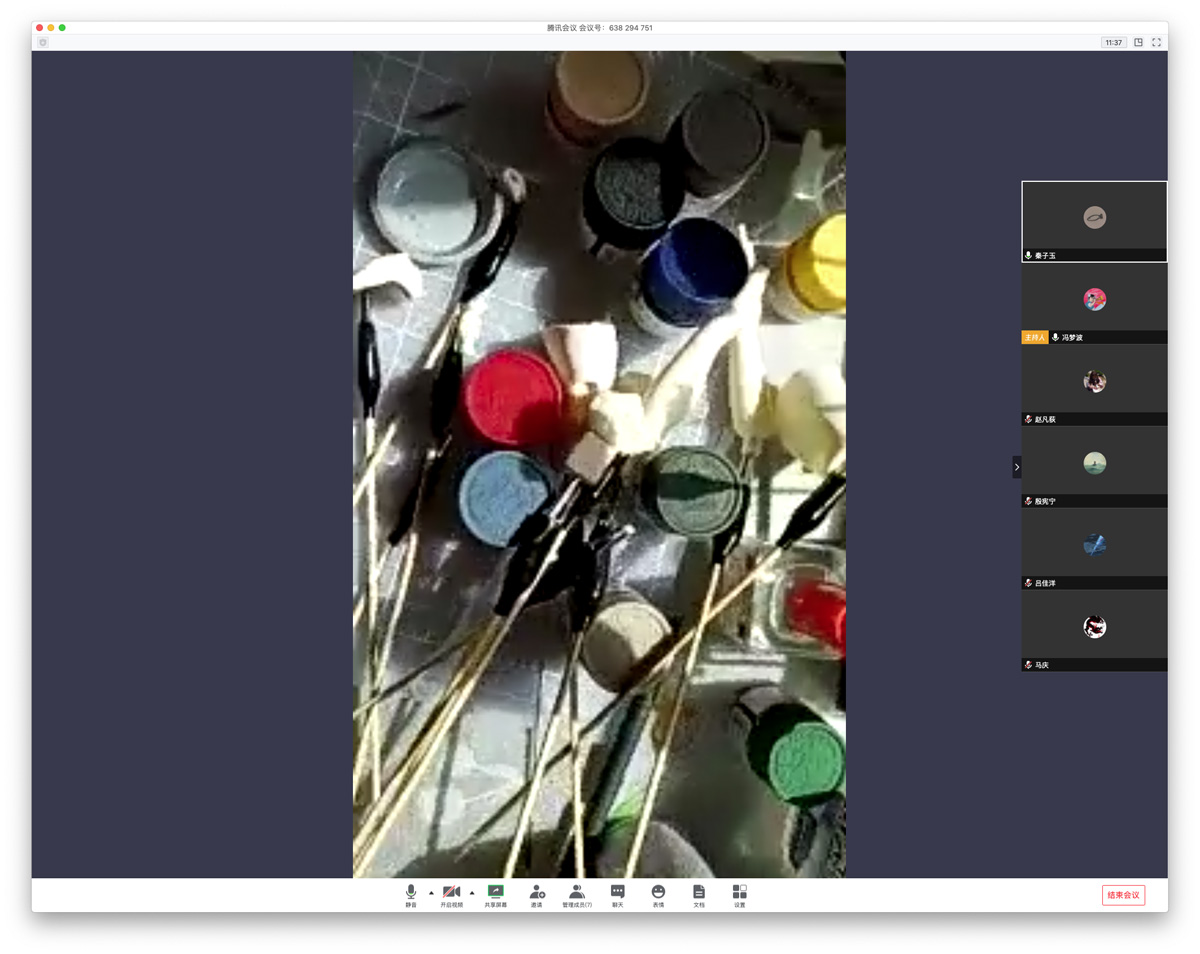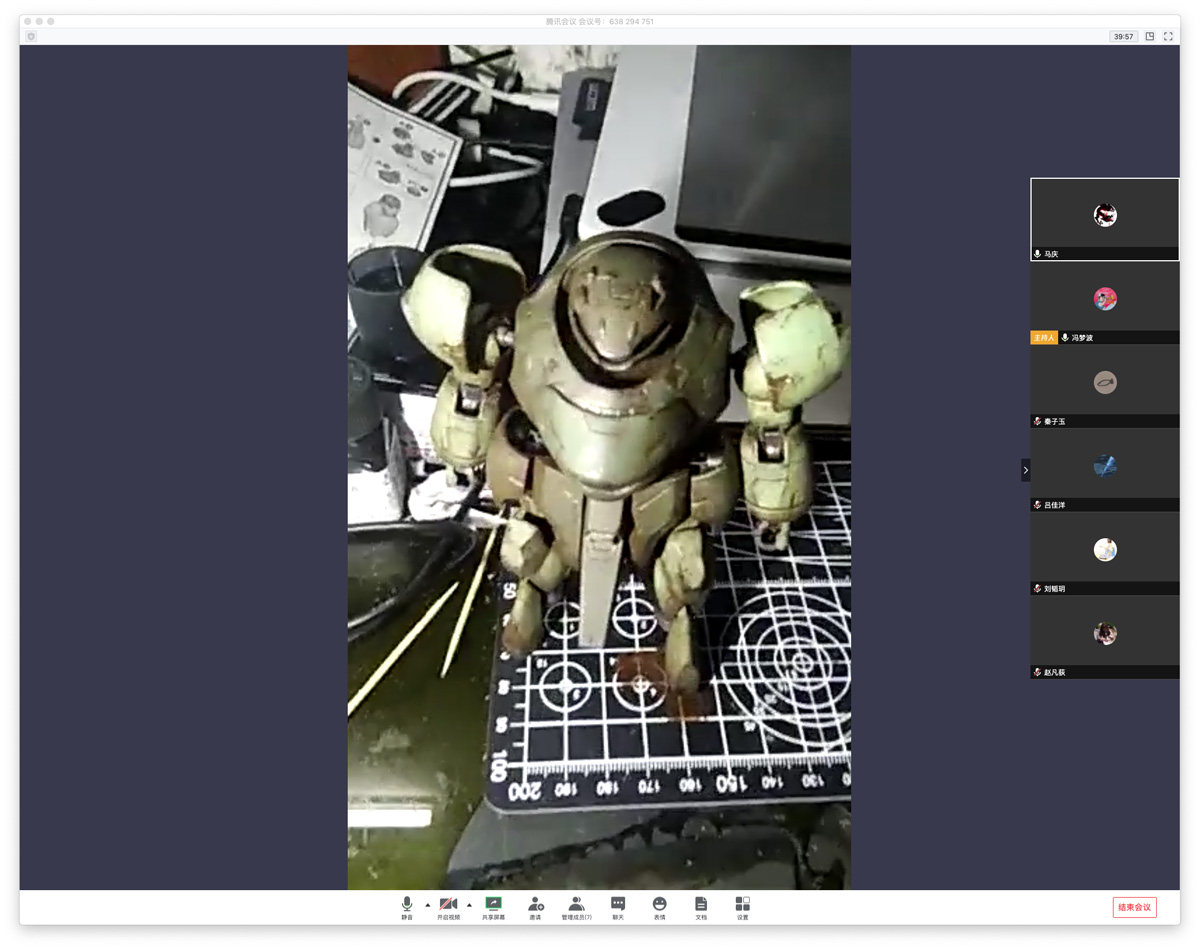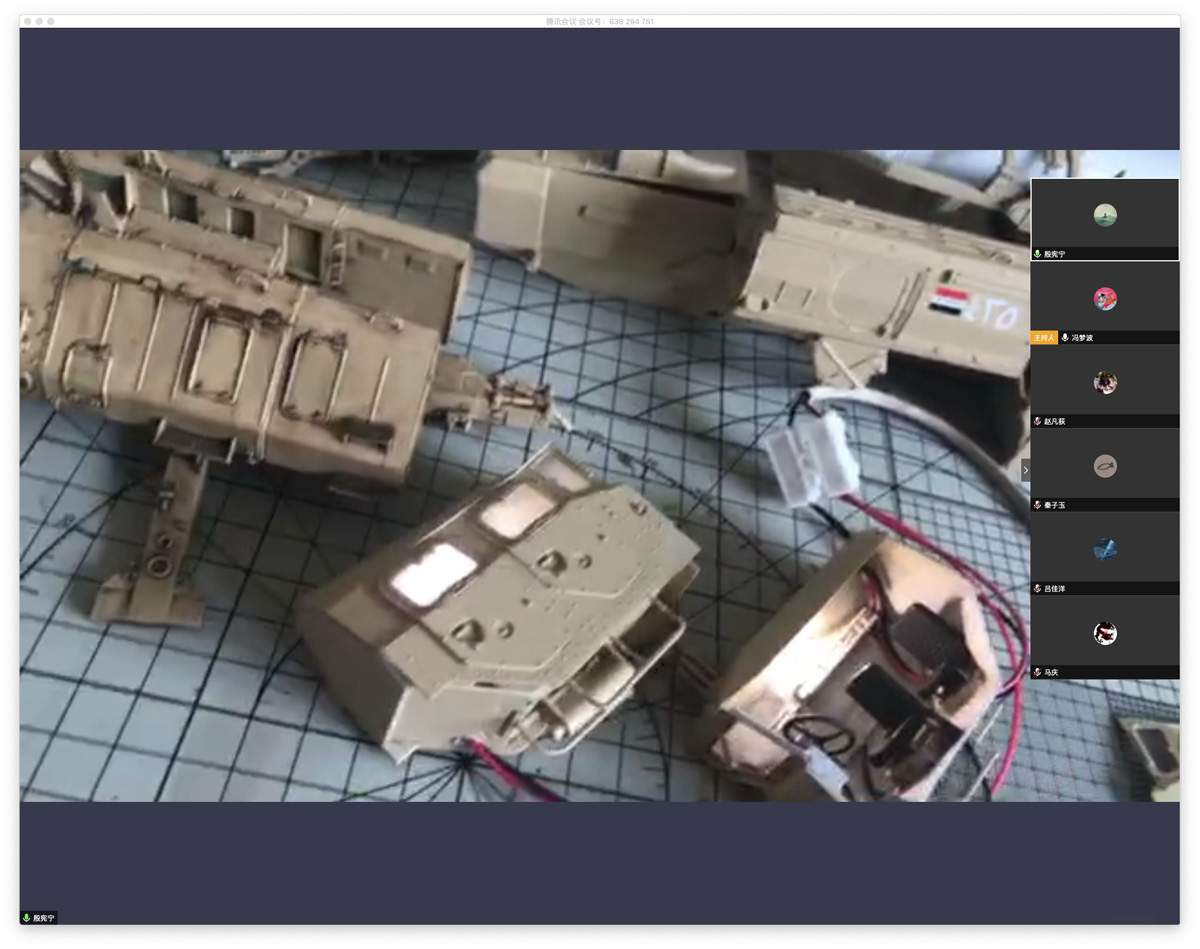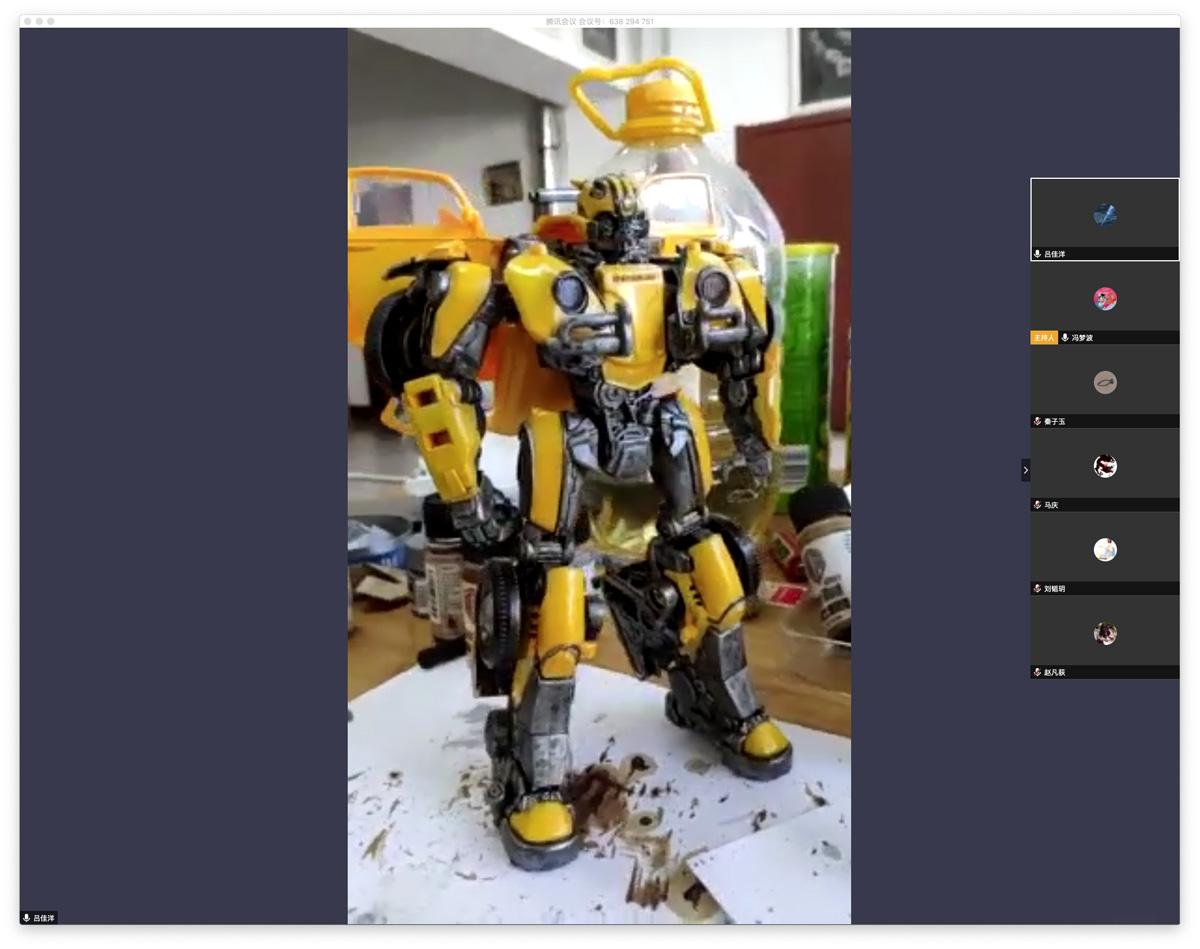 View of Online Teaching—Making Process Tutoring
At the submission stage, the first draft of the students' homework photography was slightly rigid. Varying from person to person, I gave specific suggestions from scene selection, light usage to photographic equipment and parameters, and used my own models to shoot to inspire everyone. The final works were completed to a high quality and submitted by the students thus fully demonstrating their personality and talent.
---
View of Students' Work
Student Liu Taoyue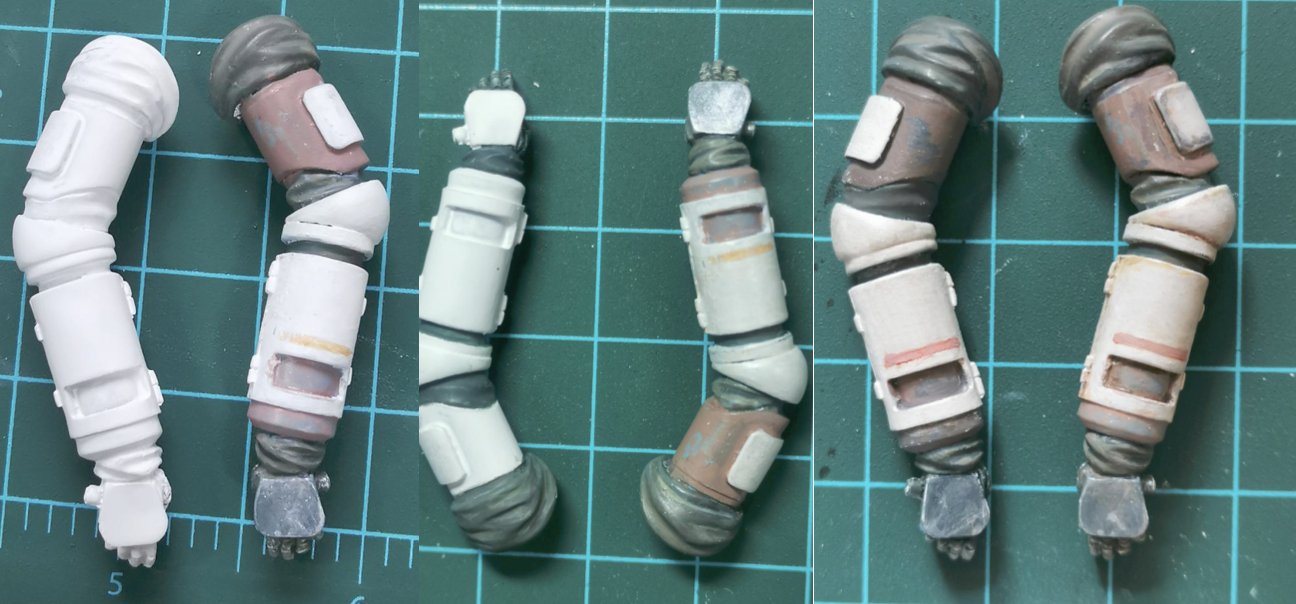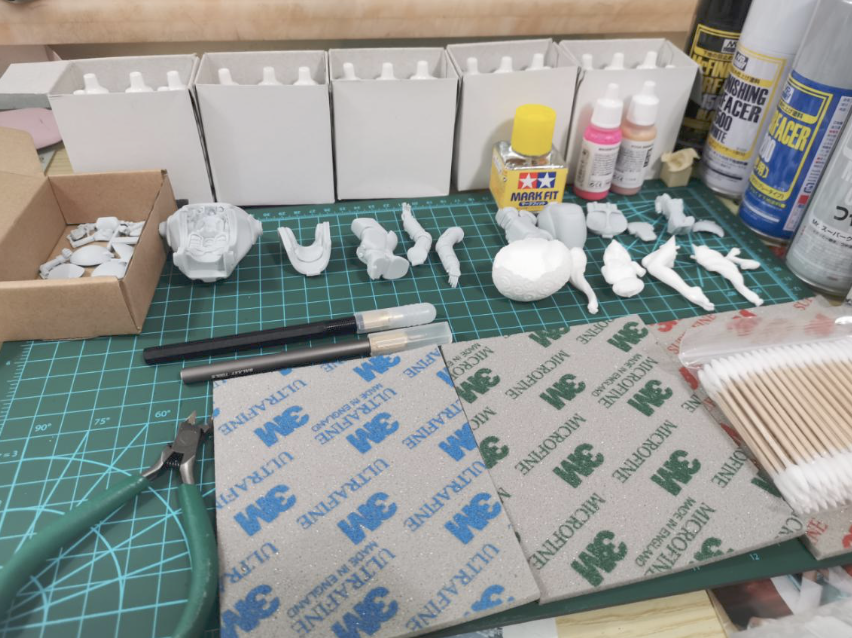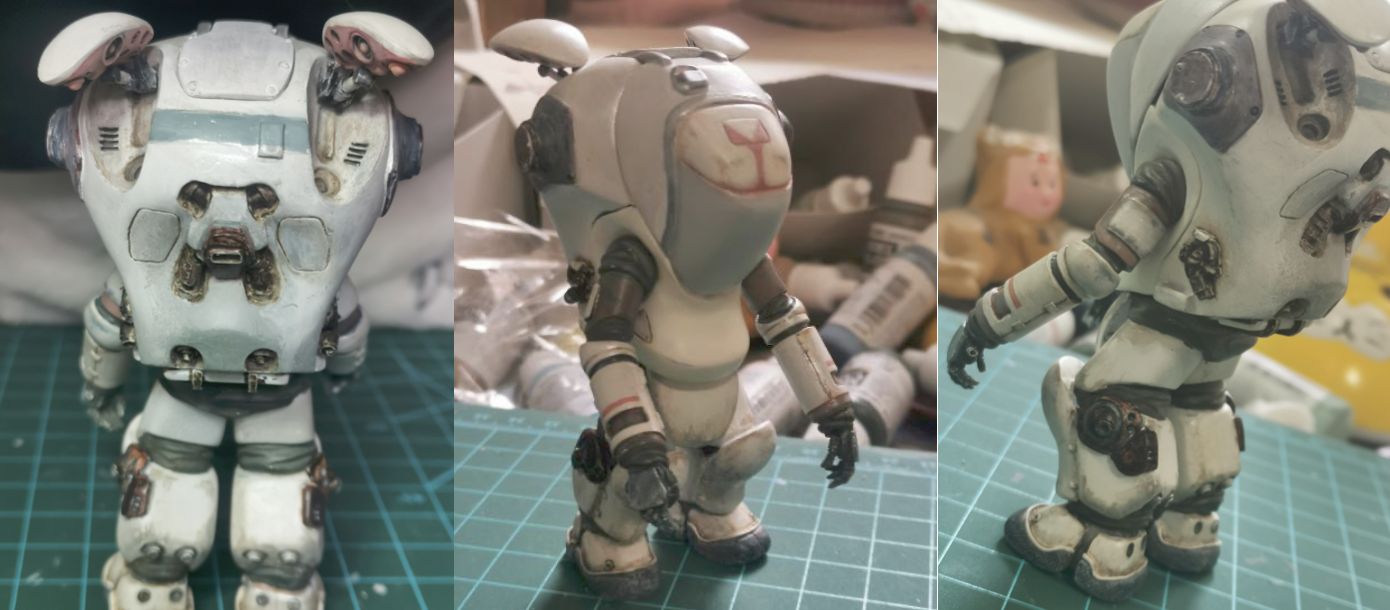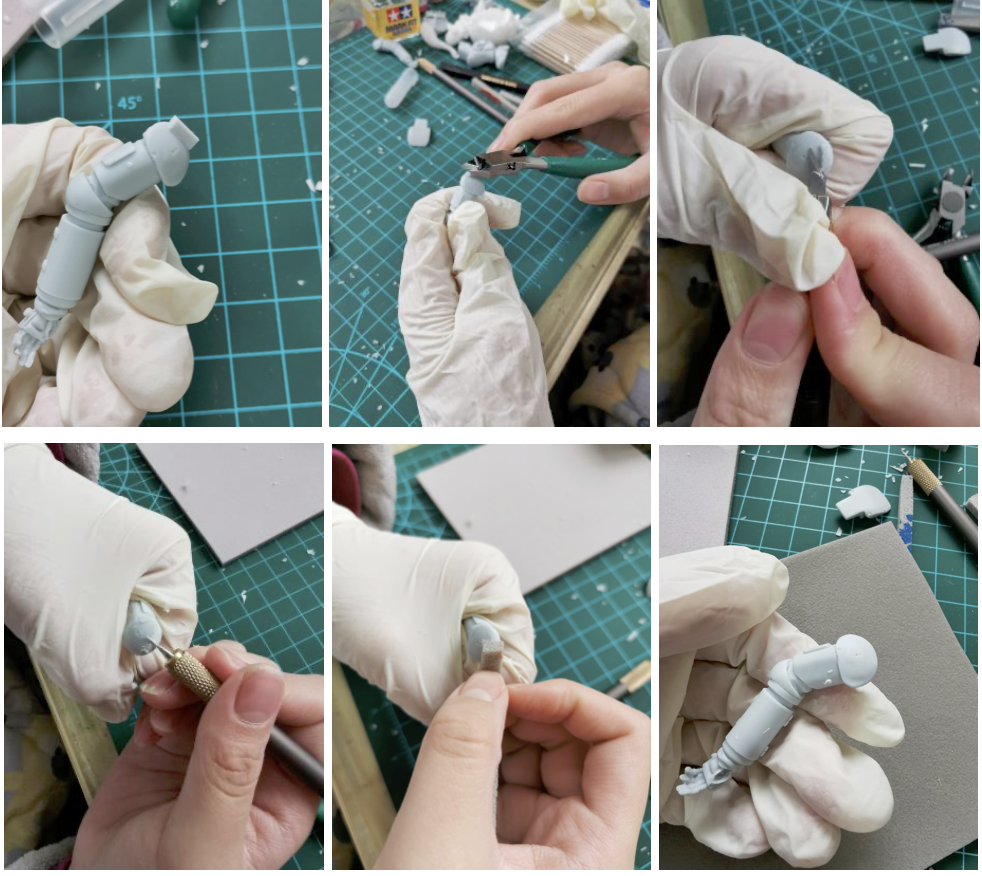 Working ProcessStudent Lyu Jiayang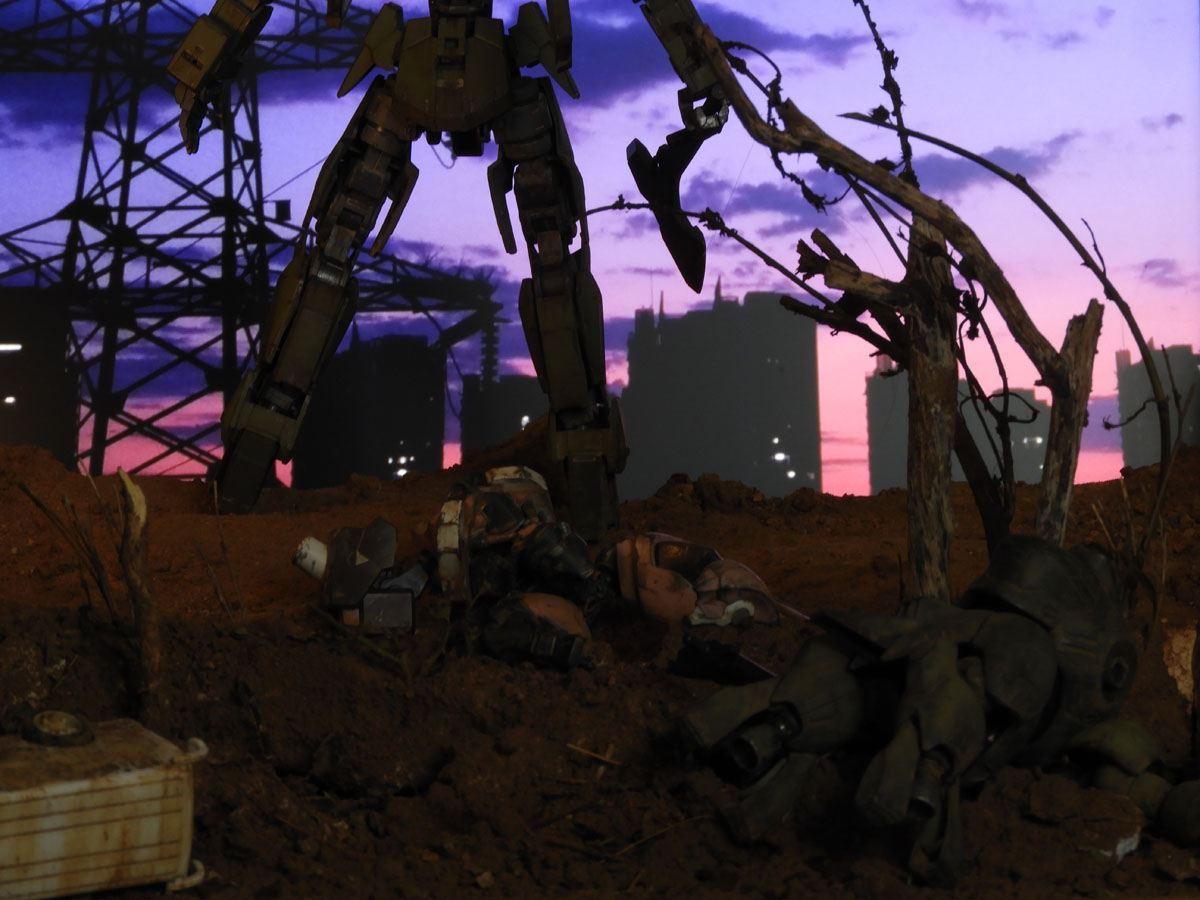 Final PresentationStudent Qin Ziyu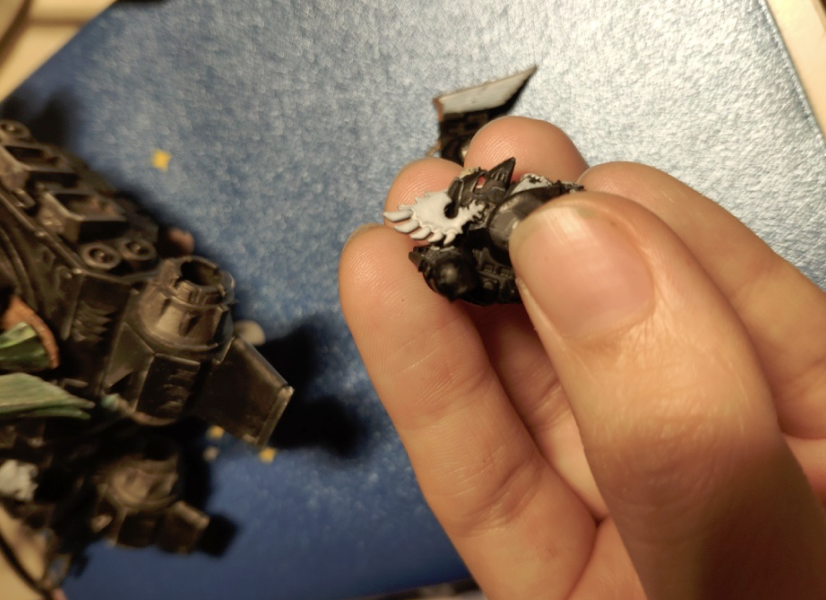 ---
Interview with Professor Feng Mengbo
CAFA ART INFO: Hello, Professor Feng. The course "Models and Sand Tables" you supervised this time used to be conducted offline. The traditional method of art education relies mainly on face-to-face communication and discussion, showing the obvious difference from online teaching. What are the previous educational models in your studio? Can you elaborate on them in detail due to the circumstances of this course?
Feng Mengbo: The course "Models and Sand Tables" has been offered in our studio for the last three years. In fact, "models", especially scale models, have been developed abroad for many years. From train models to military models and civilian models, they have also led to the development of the sand table. What it covers is a group called "amateur" (hobbyist), who will spend a lot of time and money on these things. As far as I know, none of the "model and sand table" courses has been offered in art academies across the country. Although architecture-related majors can make models and sand tables, such a course in our studio seems to not have existed before. In the disciplines of fine arts, the creation of graphic arts is the main focus, especially in our department of printmaking. This course has been welcomed by students since it was set up, and it is also very popular when it turns to be the elective course over the whole of CAFA.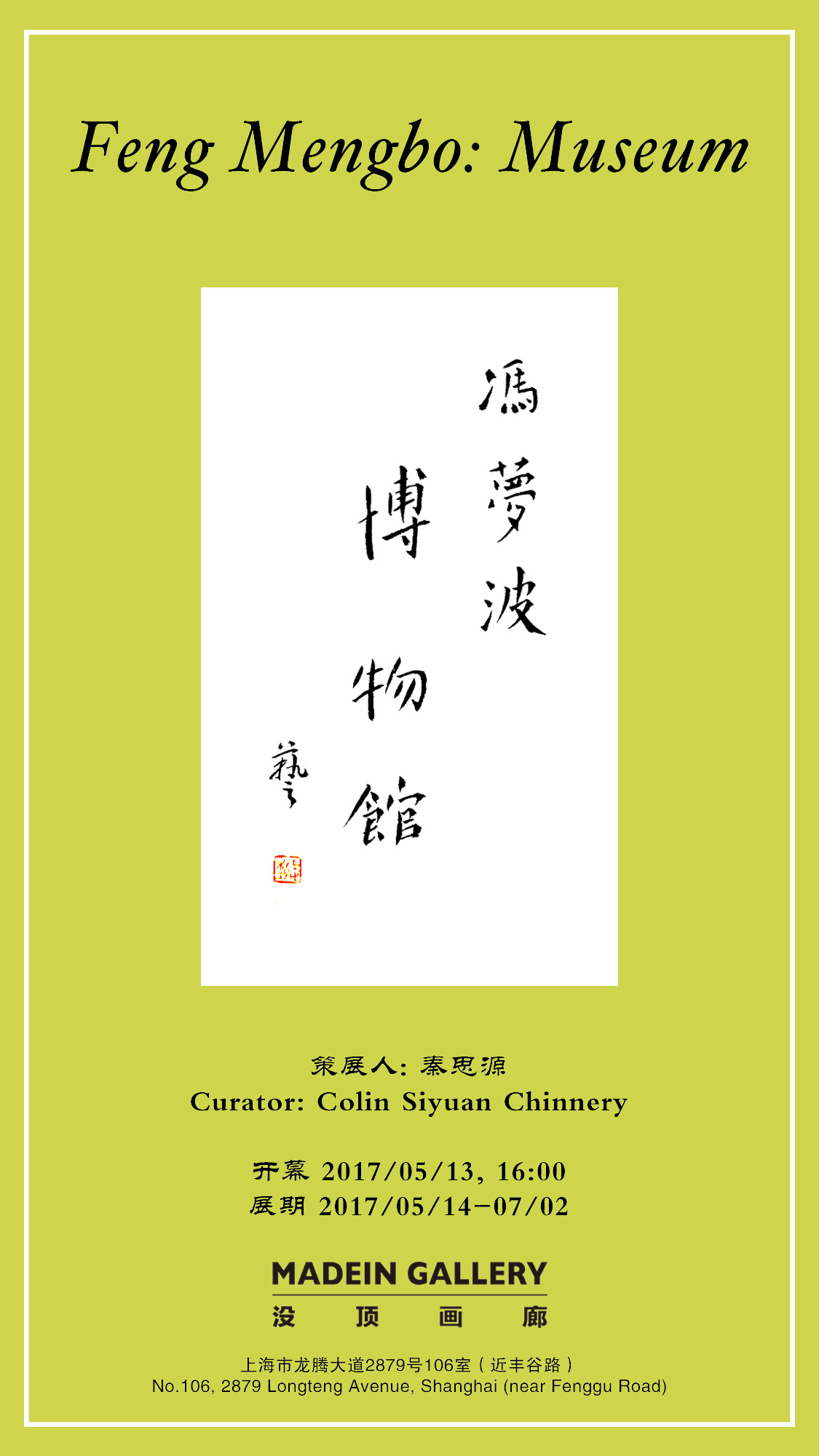 Feng Menbo created works for the exhibition "Museum".
Personally, I have been fascinated with models since I was young. In 2017, I also held an exhibition entitled "Museum" in Madeln Gallery, Shanghai, which only used models and sand tables to create ideas. In my previous class, I invited a teaching assistant who is an expert in modeling and props making for movies to join me in the class. When teaching offline, many tools are used, such as air pumps, airbrushes, and air discharged equipment. The studio is well equipped and books related to the subject have also been purchased. Often this hand-made stuff cannot be solved by merely reading books, if tutors can teach students face-to-face and hand-in-hand, students could quickly understand some of the tricks. However, due to the pandemic, the teaching assistance was canceled. The classmates cannot use the tools from the studio at home, so I have thought of many ways to solve the problem, guiding them to prepare materials and tools, and giving specific instructions on the production methods.
CAFA ART INFO: Online education is not fresh, especially in such an "online class for everyone" stage, the recording and broadcasting of many courses in society, and the live broadcasts have become a new industry chain. However, art-related online courses, especially the full implementation of online courses in the entire art academy system, are bound to bring more extensive discussions. Have you been exposed to online classes before? How long did you prepare for the online class?
Feng Mengbo: In fact I participate in an "online class" every day. As I have a wide range of interests, there are a number of questions to learn and research, and I am used to self-study via the Internet. Not long ago, I made a live broadcast (Voluntary Garden) on the Kuaishou App with a group of musicians organized by UCCA. Due to the excellent preparation, the program was of high quality and well received.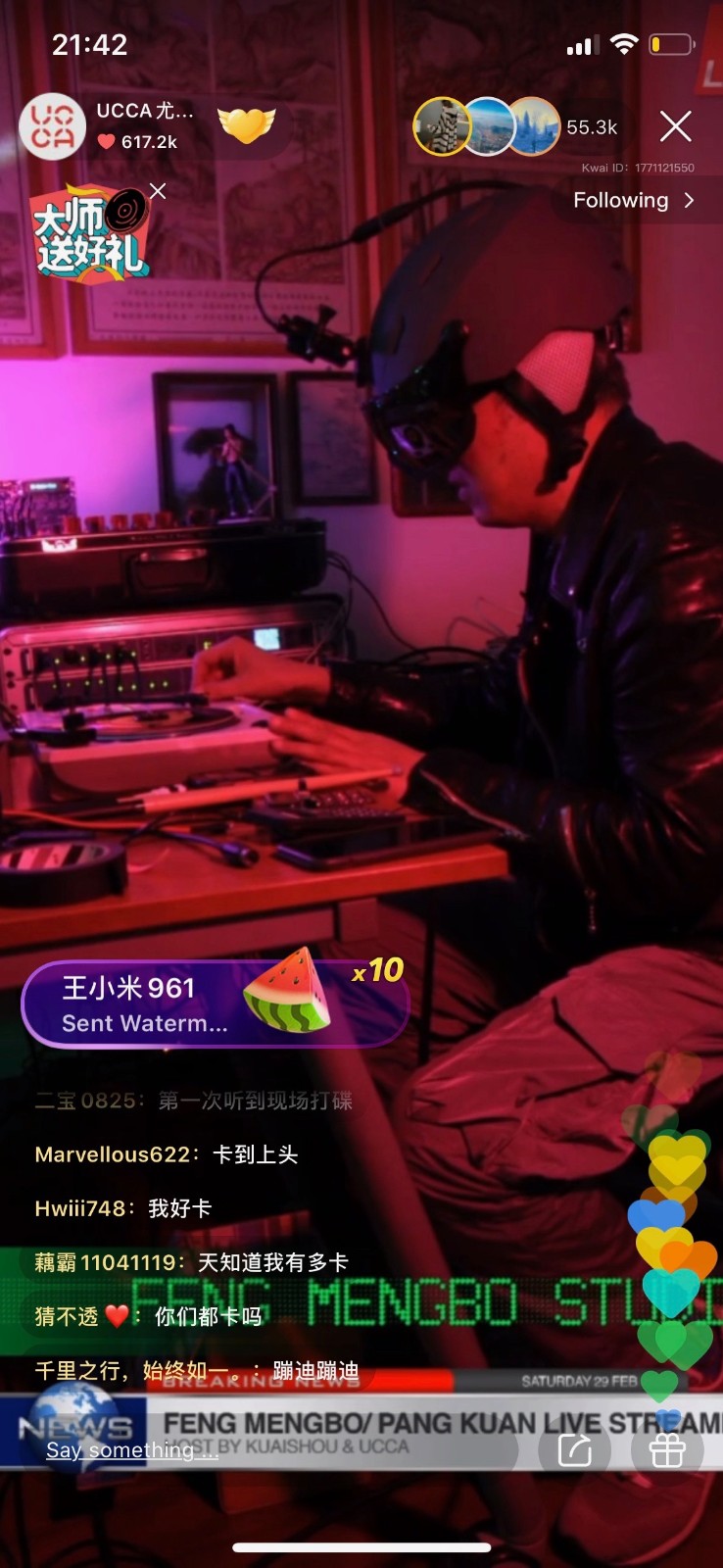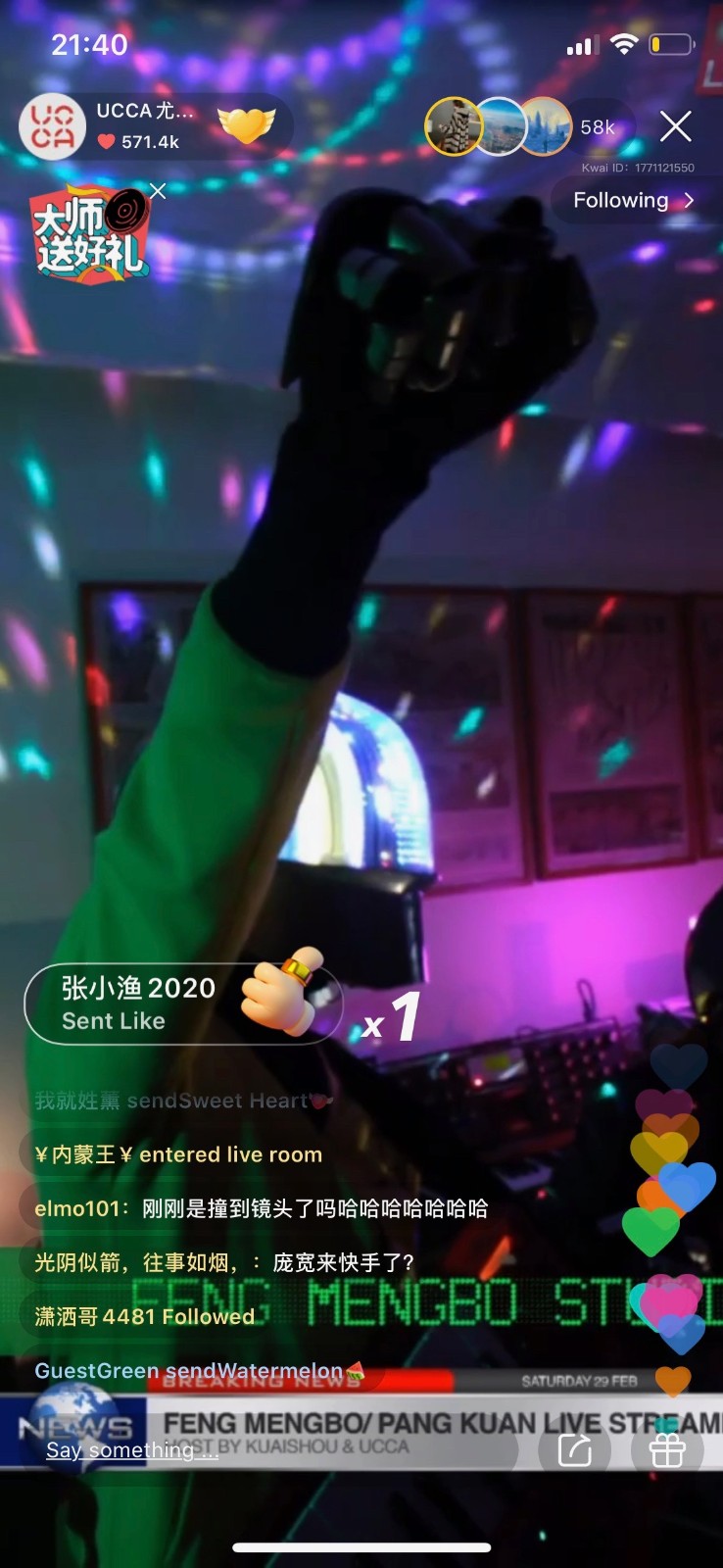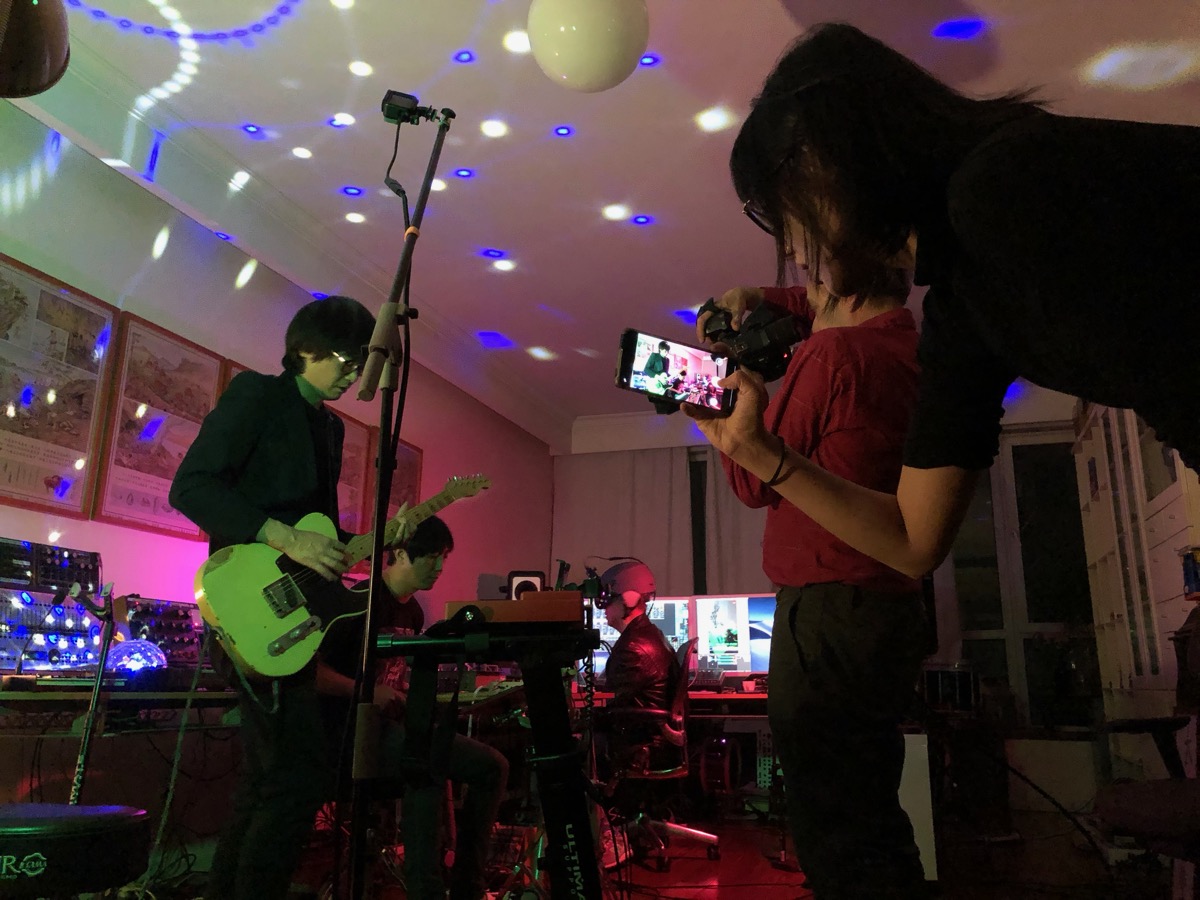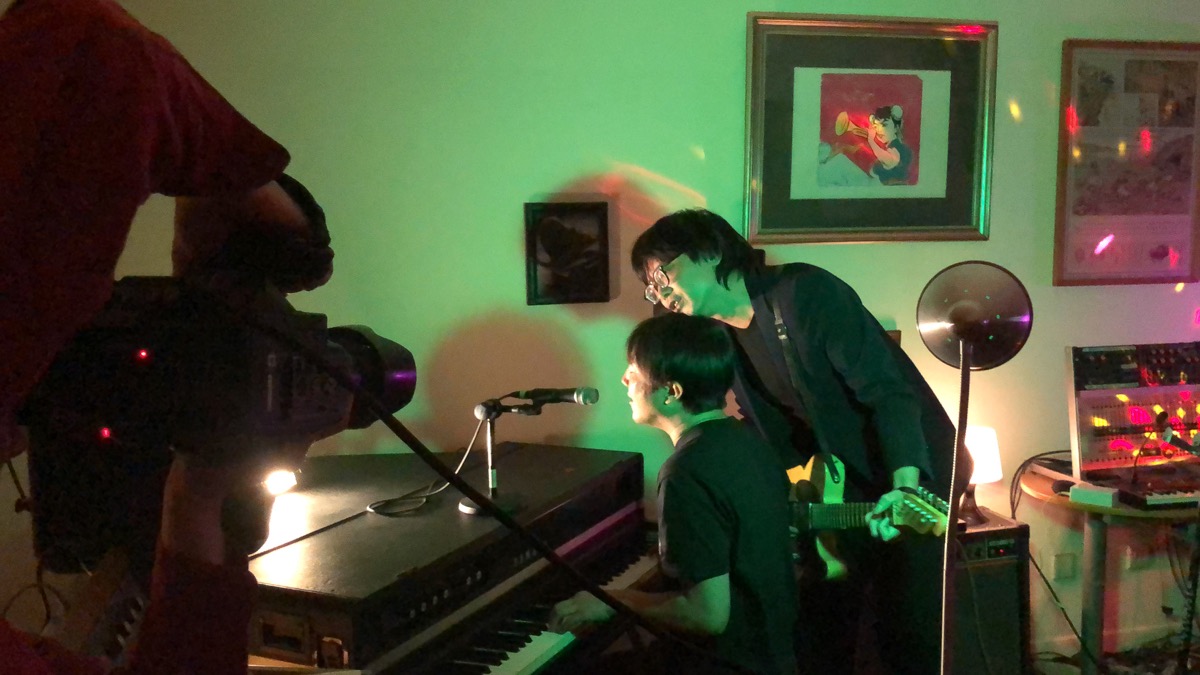 Voluntary Garden, Feb.29th, 2020
This time, I did not specially prepare for the online class for students. I mainly brought the previous live-broadcasting equipment in Voluntary Garden, forming a class using multi-cameras plus the directing broadcast station, which promotes the stream through the software system. I specially made logs of CAFA and the course overlaid on the screen. Leaders of CAFA participated in the first class, President Fan Di'an asked me whether the course was recorded or a live broadcast. I answered with the latter. Multi-camera switching is still very helpful for online classes, which is much better than using only one mobile phone.
CAFA ART INFO: What do you think is the biggest advantage when teaching online? Is there anything that surprises you and makes a huge difference compared to the past? Can you describe it in detail?
Feng Mengbo: I am a "home-stayer" to a large extent, and most of my creations are made at home. In the past, large models or tools were inconvenient for me to carry and easily damaged in the physical classroom. This time, teaching online at home is convenient to bring out the models, tools and books that students want to see at any time. In the past, the students' homework when making models was relatively trivial, as they often took the models between the dormitory and classroom when they were in school. This time, making models at home makes the creation environment relatively clear and it also reduced the damage of models.
CAFA ART INFO: During this process, how efficient is the communication between teachers and students? What challenges and problems have you encountered? Especially the part that deserves our reflection and vigilance.
Feng Mengbo: We have no barriers to communication through the Internet. In the past, we used the combination of physical class and after-class WeChat group in which we can communicate anytime we want. After a period of online courses, this time the relationship between students became more intimate. The students had a lot of daily chores to deal with after the course, the change to online teaching allowed everyone to stay at home to study—there was more time for learning. From my own point of view, I have never thought that I cannot go to the classroom for a whole semester, but everyone seems to be very excited and glad. The students are largely motivated, so we communicate more frequently than usual. Originally, it was easy for students to be distracted and immerse themselves in a sort of lazy state when studying at home. But students enjoyed this course a lot, so I also spent a lot of energy on tutoring. The students summarized that they were greatly rewarding during this course, and some students have changed a lot, as if they have found their creative direction for the future. This online class is indeed an unforgettable experience for everyone.
However, we did meet some challenges. One of the problems encountered was that the delivery of materials was relatively slow. For instance, some students live in remote areas, and the express delivery was not very timely, but it was solved eventually. Moreover, it is not easy for the students to deal with the sand table at home. I encouraged them to take the models to go outdoors and use nature as a big sand table. I also instructed them to use the computer screen as the stage background before shooting images. The results were not bad. The "Models and Sand Tables" is not the ultimate course. I intend to allow students to be in contact with a field, an interesting miniature world that they are not familiar with, and encourage them to turn some plastic parts into a big scene. This kind of experience and ability may be able to inspire their future creation.
The process of making models and sand tables is inconclusive, but to continue to learn, solve problems, and achieve one's own imagination. Therefore, learning to solve problems is also the main point of this course. The students in our printmaking department have always been more active and cooperative and have been interested in hands-on work. This course has basically reached our goal, and I am very pleased.
CAFA ART INFO: What kind of impact and influence do you think online teaching will have on traditional art education? In the era of the Internet, with the continuous deepening of emerging digital technologies, how can the art education of the college and the public art education of all of society be promoted to be more effective?
Feng Mengbo: I would say this is a topic that cannot be mentioned. If the online course works well, do students still need to come to school? In fact, I think the most irreplaceable thing is "getting along with each other". It is vital for people to go to school, get along with their peers, meet friends, spend a few years together with classmates and teachers. Having no experience in campus life may be a big regret in our life. In offline education, especially in the academies of fine arts, teachers and students are experiencing a process of getting acquainted through face-to-face contact, and teachers will supervise students in accordance with their aptitude and each individual situation. When it comes to online teaching, especially a class for the whole academy, the teacher cannot get to know everyone, and the students would not feel close to the teachers and they are actually more divided.
However, online teaching has its own convenient perspective. Personally, I gained 90 percent of my knowledge from the Internet. Online education transcends the limitations of time and space, and we cannot find such convenient resources in our lives. However, the face-to-face communication between people, the human breath, and its subtle effects, may not be able to be replaced no matter how convenient and realistic the network environment is. Specific to our school, the close exchanges between teachers and students, the bustling campus life, these are the most irreplaceable part of offline education.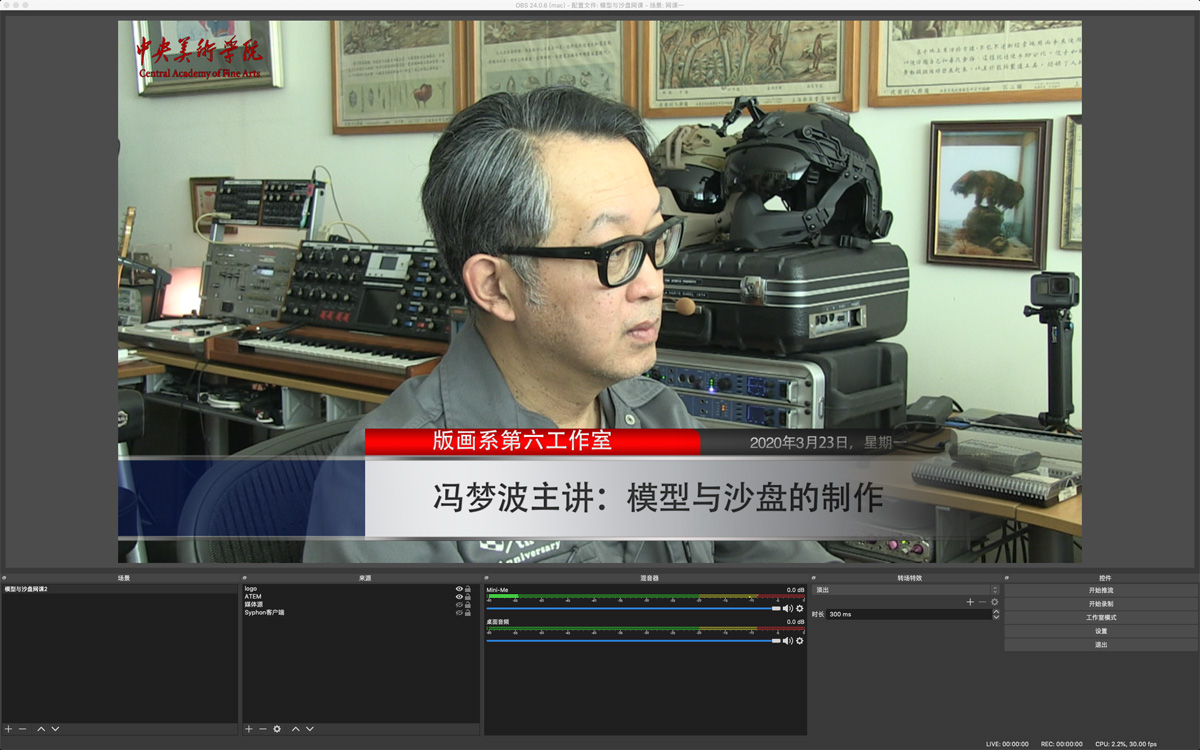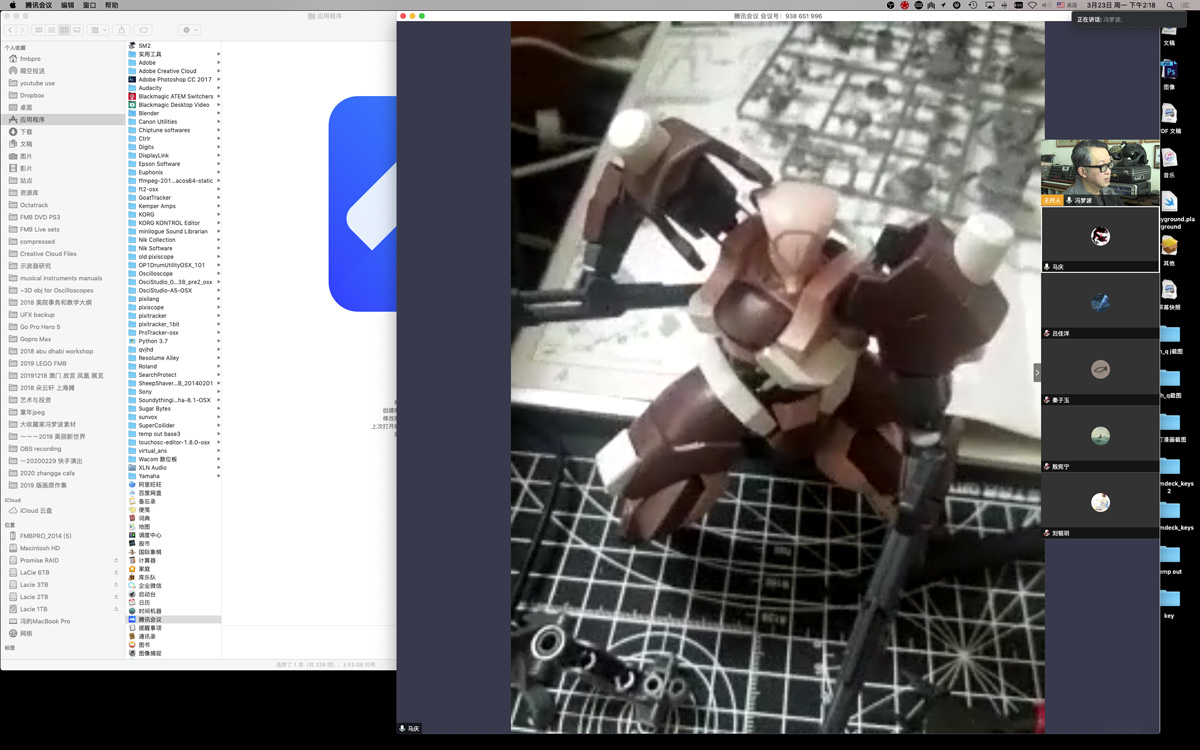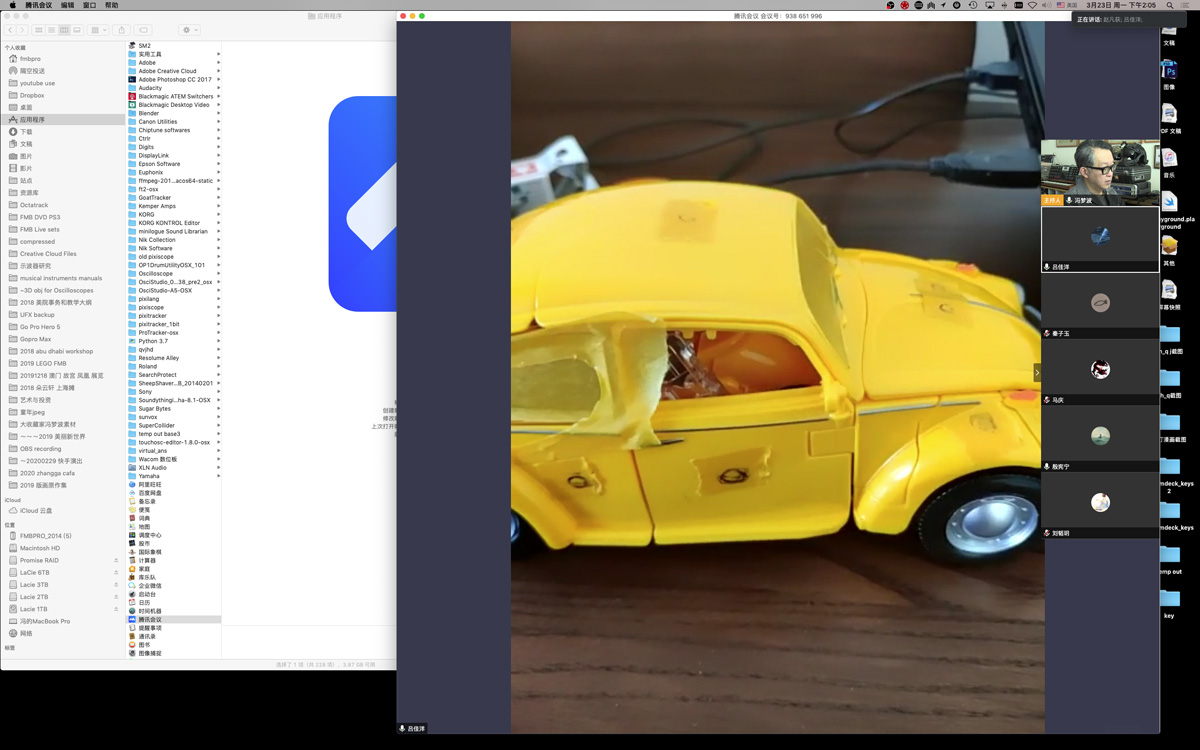 View of Online Teaching
Regarding public art education, I personally hate elitism, and my creation, from content to media, never works for a small group of people. Education in the academy is part of public art education and the two are inseparable. The pandemic has shown a great impact on the entire society. A period of time when offline economic and cultural activities were completely shut down has accelerated the richness and motivation of various content using the Internet as a platform, and it promotes the development of online education. These have inspired me and promoted my future interest in creating with augmented reality and live broadcast platforms. Digitization is definitely the future of mankind, and it is also irreversible. For example, my son said that he did not like electric cars or autonomous driving, and he wanted to drive a petrol car by himself in the future. But the big trend in the future is definitely renewable clean energy, autonomous driving, and even no private cars. People who are nostalgic may only go to a club to drive petrol cars as a hobby, and it will perhaps be illegal to go on the road. This kind of future is no longer a fantasy, but a reality that will soon be realized.
Photo and text materials courtesy of Professor Feng Mengbo and the students.
Interview conducted by Zhang Yizhi
Translated by Emily Weimeng Zhou and edited by Sue.