Brief Introduction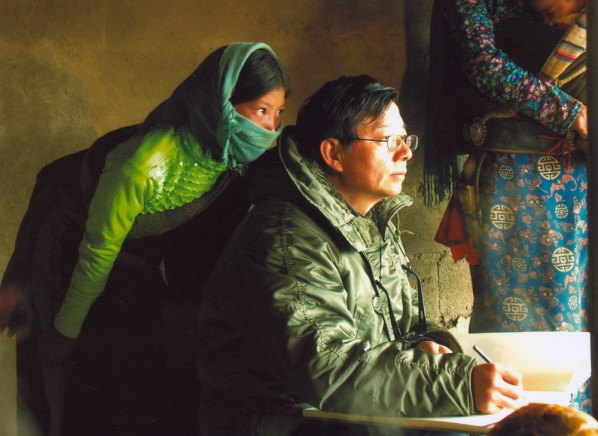 Born in 1954 at Hangu, Tianjin, Wu Changjiang graduated from the High School of Tianjin College of Fine Arts in 1976 and then taught there. Wu was admitted to the Printmaking Department of the Central Academy of Fine Arts (CAFA) in 1978 and he acted as assistant lecturer after his graduation in 1982. He was promoted to lecturer in 1987, to associate professor in 1993 and to professor in 1999. He served as the Deputy Director of the Printmaking Department, CAFA from 1986 to 1997, as Director of the Printmaking Department from 1997 to 2003, as Member of the Academic Committee from 1999 to 2003, as the Deputy Secretary of the Party Committee and Member of the Standing Academic Committee at the Central Academy of Fine Arts. He was selected as the Trustee of the Chinese Artists Association in 1998 and served as the Secretary-General of the Printmaking Committee, Chinese Artists Association from 1999 to 2004. In 2003, he was elected as the Vice Chairman of the Chinese Artists Association and since 2007 he has acted as the Party Secretary and Deputy Chairman of the Chinese Artists Association.
Wu has been extremely interested in capturing life on the plateau and thus he has visited there more than 30 times since his first trip in the 1980s. He keeps climbing on this plateau to pursue the purity of art and life as well as the interdependence of man and nature, creating a unique spiritual world of art. Whether from his prints, drawings, sketches or his watercolors, ink paintings, he comprehensively and profoundly presents the magnificent snow-covered scenery of the Qinghai-Tibet Plateau, vividly displaying the honest and kind-hearted folk customs of Tibetan people while assuming a rarely seen "spiritual home" in the rapidly developing modern society. His works including "After the Snow", "Slaughter of Sheep", "Feeding Horse", "Two Tibetan Children", "Milking the Cows", "Qinghai-Tibet Plateau", "Highlands Ranch", "Young Boy" and his other lithographs have become the representative works in the modern history of modern Chinese printmaking; his recent watercolors such as " Young Man Named Gebu", "Jieke", "The Youth Named Dage from Zeku", " Two Herds of Gande" " Portrait of Kaduo", " Unfinished Portrait of a Youth" make a new interpretation of human beings and humanity to expand new possibilities for watercolor sketching.
[gallery link="file" orderby="title"]
Wu Changjiang has held over 20 solo exhibitions in Madrid and Granada of Spain, Tokyo, Hitachi, Kyoto, Osaka, Kobe, Yokohama, Beijing, Guangzhou, Shenyang, Chongqing, Dalian, Shenzhen, Xi'an, Nanning and other cities. He has published 18 monographs and art collections. The awards he has won include: "Outstanding Award for The Eighth National Print Exhibition" (1983), "Encouragement Award for International Youth Art Exhibition" (1989), "Jury Award for the Norwegian International Print Exhibition" (1989), "Bronze Prize for the 10th National Print Exhibition" (1990), "Bronze Prize for the 13th National Print Exhibition" (1996), "Style of the Epoch—National Sketching Art Exhibition, Honorable Award"(1998), "1980-90s Outstanding Printmakers, Lu Xun Printmaking Award" (1999), "China Federation of Literary and Art Circles, Achievement Award"(2001) and etc. His public collection includes the National Art Museum of China, the Great Hall of the People, the British Museum, the Ludwig Museum in Germany, Portland Museum in USA, Japan-China Friendship Center Museum in Tokyo, Norwegian International Museum of Modern Prints, Frans Masereel Centers in Belgium, Antwerp Museum in Belgium, Ashmolean Museum in UK, Kurpf lzisches Museum, Vienna Youth Art Museum in Austria and so on.