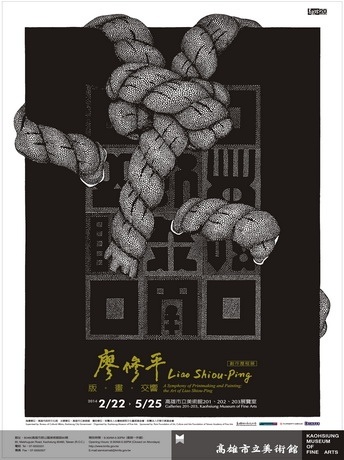 Because of his print masterpieces and outstanding achievements in the education and promotion of the art of printmaking, Liao is reputed as "Father of Modern Printmaking in Taiwan", who has won a lot of major international awards and whose works have been collected by major art museums at home and abroad. Undoubtedly, Liao's print works are already well-known and well-discussed in Taiwan. However, it is only by looking at the full picture of Liao's life as an artist that we can better understand this master and his art and then have deeper appreciation of its soul-touching beauty. This exhibition displays over 100 works created by Liao using different kinds of media such as print, oil painting and sketching. It is the first exhibition in Taiwan that takes an unprecedentedly comprehensive retrospective of Liao's art, presenting a symphony of artistic creativity and life wisdom in front of viewers.
About the exhibition
Supervised by: Bureau of Cultural Affairs, Kaohsiung City Government
Organized by: Kaohsiung Museum of Fine Arts
Sponsored by: Paris Foundation of Art, Culture and Arts Foundation of Taiwan Academy of Fine Arts
Exhibition Dates: February 22, 2014 to May 25, 2014
Exhibition Venue: Galleries 201-203, Kaohsiung Museum of Fine Arts
Courtesy of the artist and Kaohsiung Museum of Fine Arts, for further information please visit www.kmfa.gov.tw.