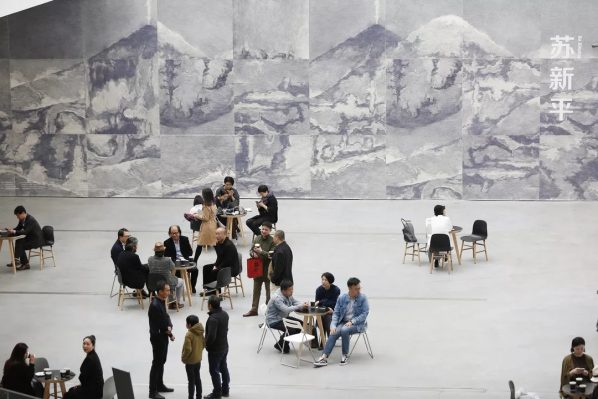 The artist Su Xinping's eponymous exhibition "SU XINPING" was unveiled at the Minsheng Art Museum Beijing on April 27. The exhibition was hosted by China Minsheng Bank, Minsheng Art Museum Beijing, Central Academy of Fine Arts, and co-organized by Beijing Minsheng Culture and Art Foundation. With Feng Boyi acting as the curator, this exhibition is the latest achievement of the "Artist Case Study Series" organized by Minsheng Art Museum Beijing. The exhibition pays special attention to Su Xinping's recent easel paintings and highlights his new artistic journey and achievements.
Su Xinping was once known as "one of the leading figures in modern Chinese printmaking." This artist who was born in Inner Mongolia and has received systematic training from the academy of fine arts, he has not restricted his creations in printmaking but he tends to focus on an overall exploration in easel paintings. His work mostly focuses on the living space and cultural memory in which he lives, which clearly bear the traces of existence that can be identified during the transition period of Chinese society and the experiences of people at both inner and emotional levels. He has reconstructed his cognition and awareness of the realistic situation through the art of painting, thus presenting the viscosity of oil painting, the texture of printmaking, and even the moving image of video with transcendental, mutated, mixed and abstract images, in this way he interprets the eternal entanglement, anxiety and confusion between human beings and fate.
In the view of curator Feng Boyi, from the perspective of sociology, Su Xinping's works are not just the sentiments of our cultural ecology in the process of social transformation, but also the heterogeneous state of Chinese reality in the so-called postmodern society; from the perspective of visual art, Su Xinping's painting language repairs and renews the traditional patterns while questioning the single realistic style, so that the subject itself has both an epochal feature and an absurd significance of form. Feng Boyi believes that Su Xinping's artistic practice makes these familiar images look strange, so as to control the viewer's expectations, allowing viewers to appreciate the surprises brought by new images and new perspectives, as well as a sense of openness and freedom after getting rid of the art rules of the academies.
Zhou Xujun, Director of Minsheng Art Museum Beijing, believes that in the current era with rapid developments in information technology, knowledge explosion, rapid technological iteration, 5G communication, genetic engineering, artificial intelligence development which are beyond people's imagination, there are also the phenomenon of cultural snacks and fragmentation, etc., which do not just dispel the system of the meaning of life itself, but they also make people who are living in it a little distracted and easily trapped by anxiety and confusion, and eventually lose the wisdom and courage of rebuilding the system. As an intellectual artist, Su Xinping surely has an artist's inherent sensitivity, but what's more important is that he always maintains his vigilance and thinking about the spiritual trap and fragmented life, and he lives and creates art with "persistent" humanistic enthusiasm. Through more determined, open and free artistic creation, he reconstructs the spiritual landscape and spiritual home, and ushers in a humanistic channel for the future.
For a better reflection of the humanistic value of Su Xinping's art, this exhibition is designed with a pure and neutral exhibiting style to create a white box space that arouses people's gaze and contemplation. With 40 component paintings and 1 video, the exhibition includes sliced copperplate prints, paper sketches, oil on canvas and moving images. The exhibition will remain on view till June 9, 2019 and is free to the public.
Text by Minsheng Art Museum Beijing, translated and edited by Sue/CAFA ART INFO
Photo courtesy of the artist and Minsheng Art Museum Beijing