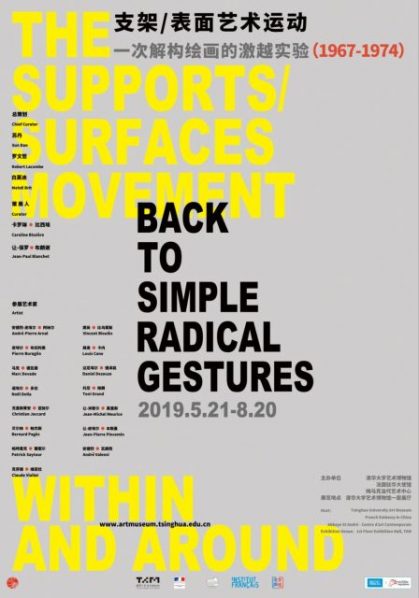 A total of 75 artworks by 15 artists representing the Supports/Surfaces are on display in this exhibition. Supports/Surfaces is the an artistic movement in France, which emerged in the mid and late 1960s. This was a period of great artistic effervescence. The young artists of Supports/Surfaces began to question the future of art, and that of painting and sculpture in particular. They embarked on a complete re-examination of the practical conditions involved in the pursuit of painting and sculpture with the aim of retrieving the foundations of the artistic project. In concrete terms, this was to result in the break-up of pictorial space and sculptural form: the easel painting was dismembered, the canvas dissociated from the stretcher, the sculpture in the round fragmented and toppled from its pedestal. These developments and changes go beyond the strictly artistic domain. It can be summarised by this maxim: changing the perception of art in order to change humanity.
About the exhibition
Exhibition Period: May 21,2019 - August 20,2019
Exhibition Venue: 1st Floor Exhibition Hall, Tsinghua University Art Museum
Chief Planner: Su Dan, Robert Lacombe, Mehdi Brit
Curators: Caroline Bissière, Jean-Paul Blanchet
Artists: André-Pierre Arnal, Vincent Bioulès, Pierre Buraglio, Louis Cane, Marc Devade, Daniel Dezeuze, Noel Dolla, Toni Grand, Christian Jaccard, Jean-Michel Meurice, Bernard Pagès, Jean-Pierre Pincemin, Patrick Saytour, André Valensi, Claude Viallat
Project Coordinators: Wang Chenya, Wang Zhao, Aloyse de La Faye, Jin Xiaofei, Lee Weiyang
Curatorial Assistants: Lee Weiyang, Wang Yiting, Wang Ying, Léa Djurado
Visual Supervision: Wang Peng
Visual Design: Wang Ning
Exhibition Design: Wang Ning
Exhibition Team: Wang Chenya, Wang Zhao, Wang Ning, Lan Yu, Sun Yiwei
Translation Consultants: Liu Ping, Zhang Rui
Text Translation: Miriam Rosen (French-English), Li Hua (French-Chinese)
Administration Affair: Ma Yanyan
Host: Tsinghua University Art Museum, French Embassy in China, Abbaye St André - Centre d'art Contemporain
Archives Contributor: Rachel Stella
Courtesy of Tsinghua University Art Museum, for further information please visit www.artmuseum.tsinghua.edu.cn.