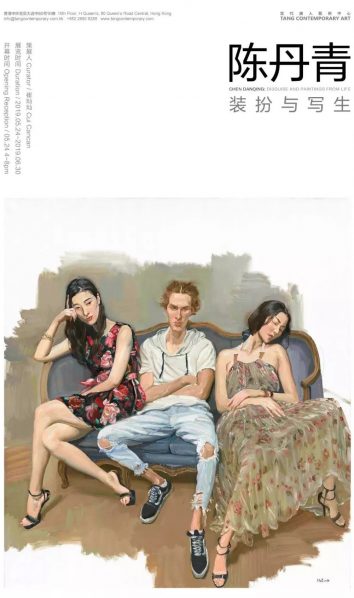 The Joy of Sketching
By Chen Danqing
By the time the canvas is put on the easel and the paints are arranged in order, it's usually around 11 O'clock. The model arrives and I begin to sketch. That moment is the first time we meet. When I was surprised at someone who was born in 1998, she looked to another girl who had been born in 2004, and coolly said, "We're old."
They were very dedicated and hardworking; the majority of them were still in school, and also had a busy schedule packed with catwalk shows and rehearsals. During breaks, half of them fell asleep immediately.
I would like to thank Yao Ge, President of China Bentley Culture & Media Co.,Ltd.. Over the last two years, he has continued to send me excellent models. I would also like to thank You Yong of the Chinese Academy of Oil Painting, because I made these works in his studio. The models were usually 1.8 or 1.9 meters tall, which encouraged me to make larger works. This is the first time that I have made sketches from life on canvases more than two meters tall.
Xie Xing, an experienced stylist, volunteered to dress the models. I waited for him to smooth out the wrinkles in a skirt, fix anerrant strand of a girl's hair, or arrange the collar or back of a guy's shirt. Finally, when the kids emerged from the changing area, they were transformed, fully made up and immaculately groomed.
When I was making these silly yet joyous sketches, my hands were busy, but my mind was blank. At dusk, we stopped for the day and the kids were relieved. Although I tried my best to choose simple poses, they honestly told me that it was more tiring than the catwalk.
I was also tired, but very happy. That's the way things are. Thank you all for coming to see it.
About the exhibition
Curator: Cui Cancan
Opening: May 24, 4 - 8 pm
Duration: May 24– June 30, 2019
Location: 10/F, H Queen's, 80 Queen's Road Central, Central, Hong Kong
Courtesy of the artist and Tang Contemporary Art, for further information please visit www.tangcontemporary.com.