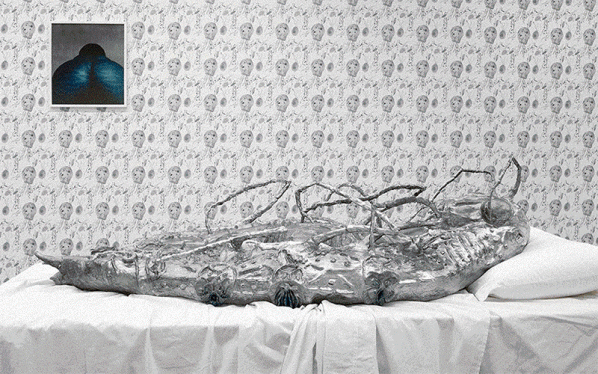 "Opera" has been used as the name to describe various traditions of performance, social arrangement, entertainment, and spiritual work from around the world. Many of these are ancient and radically different from each other but are nevertheless classified as regional variants of the (relatively young) Western model. But more than being yet another example of lingering colonial taxonomy, this brings into discussion the status of opera as the highest art form, reflecting the European colonial project. There is an almost perfect chronological overlap between the golden age of Western opera and Europe's occupation of most of the world, at the end of the 19th century and beginning of the 20th. There are, as well, the obvious cases of operas built on exotic desire like Turandot and Madama Butterfly or the case of Aida, commissioned for the inauguration of the Suez Canal. But there is more to this than just chronological coincidence.
The scale of ambition needed to imagine the absolute art form that opera was, aiming to organise every aspect and implication of the viewer's experience, is intimately connected to that moment of absolute hubris when Europe imagined that it could dominate and reorganise the entire world. But European opera was not only a form of bourgeois entertainment, even one that was celebrating the glory of imperial conquest. These total spectacles, held in some of the grandest buildings erected in this time period—in the symbolic urban position previously occupied by cathedrals—with society neatly organised by class facing the elaborate scene on the stage, were in many ways quasi-religious experiences, where European glory was not just a subject of the performance but a collectively lived ecstatic apotheosis.
This was happening as Europe was priding itself on its modern rationality, seeing itself in opposition to the "animist" world of the peoples it was occupying at the same time. The modern view, deeply connected to the colonial project, also changed the physical, emotional, and symbolic relationship between humans and animals, elevating the status of humans, in a view radically different from many indigenous systems of knowledge and value. But European opera contained the clues exposing this charade, for it was far from its official claim of a secular spectacle, amusing a modern society. The phantoms, monsters, and sacred animals of European Empires have always haunted these opera houses, where they were sacrificed, channeled, and embodied within the great shrines of modernity.
An Opera for Animals is nevertheless interested in how these complexities are still alive, even after the demise of the colonial era and of Western opera as a fully living art form. As a parallel discussion, it includes less discussed connections between European classical music and other music systems. More extensively, the exhibition looks at different acts of staging that have been crucial to our imagination of modernity. The conflicts of staging, controlling, hiding, and repressing that occur within the operatic space are at the very core of our contemporary reality, defined by constructed and "alternative" truths, digital parallel worlds, self-staging of personal identities, and the increasingly palpable promise of a new technological turn in the field of intelligence. As such, the exhibition understands opera and related issues such as "staging" and "operatic environment" broadly, as terms describing the synthetic landscapes imagined and generated in our world today. Equally, the animal spirit connects the still very present ancient beliefs with a highly futuristic fear of new forms of irrationality and intelligence colonising our future. The world of technology continues to draw influence from the unique characteristics of certain animal species, enforcing this connection.
This exhibition explores the way in which the future is now projected less as the rational thinking commonly remembered from the post-war era - advanced machinery, design, and social forms - but once more as a place of amorphous fear, of animals that might take over in artificial landscapes. The future it seems, will again be an opera for animals.
An Opera for Animals at Para Site, Hong Kong (March 23-June 9, 2019) is a prelude to a partnership with Rockbund Art Museum, Shanghai. Between June 22-August 25, 2019 at Rockbund Art Museum, and September-December 2020 at Para Site, the two institutions will develop and present together two related exhibitions.
About the exhibition
Dates: Jun 22, 2019 - Aug 25, 2019
Venue: Rockbund Art Museum
Curated by Cosmin Costinas and Claire Shea
Artists: Kenojuak Ashevak, Shuvinai Ashoona, Firelei Baez, Julie Buffalohead, Lee Bul, Chen Qiulin, Ali Cherri, Clara Cheung, Narcisa Chindoy, Lok Chitrakar, Chto Delat, Cui Jie, Juan Davila, Ticio Escobar, Jes Fan, Sofia Ferrer, Fifita Family, Chitra Ganesh, Beatriz González, Ho Tzu Nyen, Vivian Ho, Saodat Ismailova, Ilya and Emilia Kabakov, Alexander Kluge, Lawrence Lek, Candice Lin, Euan Macdonald, David Medalla, Barayuwa Munuŋgurr, Ciprian Mureşan, Adam Nankervis, Kelly Nipper, Gabriel Pareyon, Gary Ross Pastrana, Tim Pitsiulak, Gala Porras Kim, Christoph Schlingensief, Simon Soon, Angela Su, Tao Hui, Wang Wei, Ming Wong, Haegue Yang, Yang Shen, Yee I-Lann, Samson Young, Robert Zhao Renhui
Courtesy of Para Site and Rockbund Art Museum, for further information please visit www.rockbundartmuseum.org.