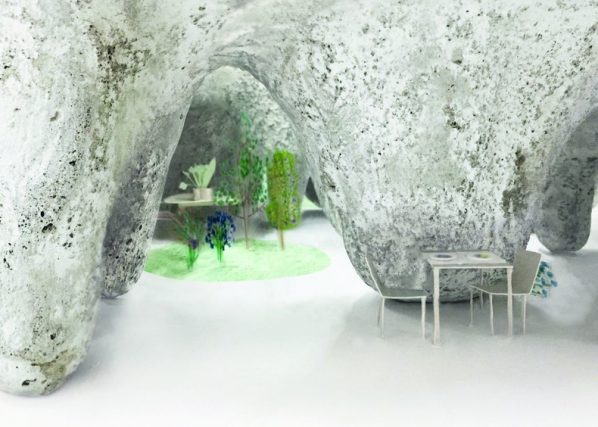 The Power Station of Art in Shanghai and the Fondation Cartier pour l'art contemporain will present the young Japanese architect Junya Ishigami's debut solo exhibition in China, "Junya Ishigami: Freeing Architecture". It is also another collaboration between PSA and the Fondation Cartier after "A Beautiful Elsewhere", which showed the richness and diversity of its collection. "Junya Ishigami: Freeing Architecture" was first exhibited at the Fondation Cartier in Paris, France, last year, and received enthusiastic feedback and response. The exhibition is created at the initiative of the Fondation Cartier, and will be presented in a new exhibition design carried out by Ishigami based on the PSA venue. The exhibition will not only cover 20 groups of architectural projects such as KAIT Workshop, House & Restaurant, Forest Kindergarten, Chapel of Valley, but also reveal the process and details of the architect's realization of the concept through large-scale models, architectural drawing, design manuscripts, and films.
The exhibition, titled "Freeing Architecture", expresses that Ishigami never succumb to traditional forms and methods, instead of that, he freely explores and update the new definition of architecture. With sophisticated algorithms and architectural structuring, he created a forest constituted with 305 columns with various shapes and thinness, a chapel of valley with a height of 45 meters and a width of 1.3 meters, House & Restaurant like a natural cave. Above these, Ishigami found a way to recreate the natural landscape. As he said: "I wish to think about architecture freely; to expand my perspective on architecture as flexibly, broadly, and subtly as possible, beyond the stereotypes of what architecture is considered to be."
This exhibition is a continuation of PSA's themed program "Architecture & City" Exhibitions and Researches. Following the researches of Kazuo Shinohara, Kazunari Sakamoto, Toyo Ito and Shigeru Ban, now PSA will focus on a new generation of Japanese architects to explore the pedigree and development behind it. With the numerous lively architectural examples, PSA will try to provide positive ideas for the future development of architecture.
About the architect
Born in 1974 in Kanagawa Prefecture,Japan, Junya Ishigami, graduated from Tokyo National University of Fine Arts and Music with a M.F.A. in architecture in 2000, and joined the office of Kazuyo Sejima& Associates that same year. He founded his office, junya.ishigami+associates, in 2004. Ishigami inherits the delicate, light and natural features of Modernist architecture in Japan. He explores the relationship between landscape and nature, the transparency and ambiguity of space, as the same time, emphasizes the topic of locality of architecture and globalization. In a way, Ishigami extends the definition of architecture in human cognition. His first independent project KAIT Workshop won him the AIJ Prize 2009. In 2008 & 2010 he represented Japan for the International Architecture Exhibition of the Venice Biennale and won the Golden Lion for the best project for "Architecture as Air: Study for Chateau la Coste" in 2010. Ishigami will be the designer for the Serpentine Pavilion 2019.
About the exhibition
Dates: July 18th, 2019-October 7th, 2019
Venue: 7 floor, PSA
Organizers: Power Station of Art, Fondation Cartier pour l'art contemporain
Courtesy of the architect and Power Station of Art, for further information please visit www.powerstationofart.com.