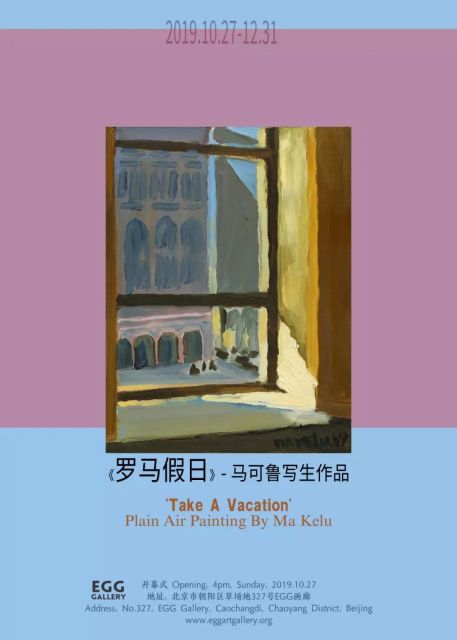 EGG Gallery is delighted to present the solo exhibition 'Take A Vacation: Plain Air Painting By Ma Kelu' by artist Ma Kelu, from 27th October to 31st December 2019.
Artist Statement
In the past ten years, I have sketched a lot of palm-sized sketches in passing. It's improper, because every time I go out to take photos, I often come back with an empty camera. I'm not keen on taking picyures, and I don't look at themvery much after take them. After the release of the smartphone, with its powerful camera function, I began to take more pictures. But now, I steal more pictures than I take myself. Every time I go out, I prefer to take some light painting materials to smear on several pieces, even just a few strokes, and when i come bacj, I feel that it wasn't wasted trip. When the painting is put up, I always want to see more of it from time to time. It feels comfortable. "Aren't you an abstract painter? " So What!
Sketching is completely normal to me, It's a habit I've developed for the past 50 years. Because it has always been wild, there is no need to describe how deeply I feel about nature. What I feared most during the period of the Cultural Revolution was "people". I was not interested in making drawings about people. Thousands of paintings were created throughout the 1970s, and hundreds more later. In fact, sketching and diary writing are similar, something that feels more personal. I've never thought about it, nor did it make sense to show it or not. I remember that a friend who is a little older than me came to my home, one year before going abroad in 1988, and said to me, "Take your sketches with you. They are wonderful! It would be good to have an exhibition if possible." Later, in foreign countries, another painter I was friend with said to me, "Don't show curators your sketches when you show them works." I said, "Okay, I won't show them." I often say yes to others' suggestions. leaving a question mark that lingers in my mind.
In the 1990s, Liang Hao, the great female sculptor who I respected and considered talented, and some other artists and I met regularly in New York like family members. During this time, she mentioned my sketches a number of times, always saying "I love your sketches. The colors have a really pleasant feeling!" Your paintings are excellent! " Thank you, Liang Hao. Who doesn't like to listen to compliments? I've listened to each> I were taking care of the small things first.
I was elated with the idea of putting on a small exhibition. I picked out twenty or thirty of the hundreds of paintings from the past decade. They were painted in Italy, Nepal, Vietnam and China, in Yunnan, Sichuan, Jiangsu and Zhejiang, in ancient villages, temples and grasslands, in the Gannan Tibetan region, Taishan, Songshan, Huangshan and other places.
So far, life on the road has always had a particular mood to it. It keeps me curious, full of reverie and longing for the unknow, the spirit and beauty of Italy's Rome journey, the golden and rose coloured sky of Florence at night, the sapphire-green of Venice's Mediterranean sea, the joyful polytheism of Nepal, the lake surrounded by Mount Bokala, the southwest of China when walking. In the northwest, the rich and contrasting customs and scenery in the Central Plains of Jiangsu and Zhejiang, the close connection between natural landforms and local people, and the four seasons of nature, all of these enrich my feelings and knowledge. But although I am skilled at making sketches of my travels, I also know that I must always be wary not to get lost in these travel notes, hoping that they exist as "paintings" rather than just "landscapes", even though the boundaries and nature of sych works are sensitive and difficult to grasp. This involves the development of professional contexts, such as the language of painting, which is a difficult task. My hope is that these sketches will be able to act as natural illustrations and footnotes for the ideas.
About the exhibition
Dates: Oct 27, 2019 – Dec 31, 2019
Opening: Oct 27, 2019, 16:00
Venue: EGG Gallery
Courtesy of the artist and EGG Gallery, for further information please visit www.eggartgallery.org.