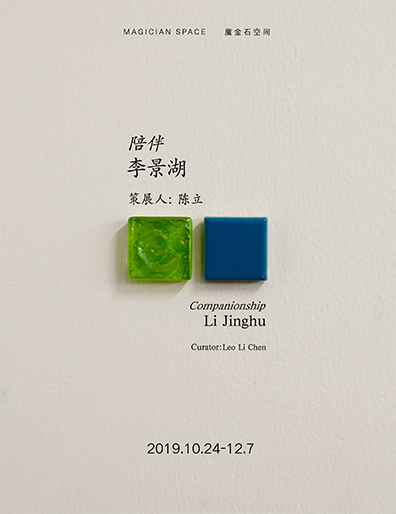 Magician Space is delighted to present artist Li Jinghu's solo exhibition, "Companionship", after a five-year hiatus since his last one in Beijing.


For every one of us, all of our encounters, companionships, and separations have been fair. As much as we'd like to be irrevocably immersed in kindness and sweetness, we are also made aware of the responsibility and burden that come with intimacy. Furthermore, fortune, knowledge, class, health are often the quantifiable realities and external factors that determine an individual's turn of life, which do not necessarily command the prospect of an individual's emotional commitment. The question that motivates Li Jinghu's practice becomes, "How do we transcend these setbacks in reality, so we sense the passion and restrains of emotions, the pain and the unspeakable amid the barriers between people?"


Li Jinghu's practice has always attempted to dissolve those existing meanings and flat narratives, while seeking out the common yet at times, overlooked energy and desires in life. Like the mosaic tiles amassed from the market of construction supplies, some vibrant in colors, others plain and simple, some intricate and favorable, others broken and scratched, are all made of quarts regardless of their differences from each other. All of the tiles have been processed, colored, set, and lined up, whose values have been actualized in a standardized fashion regardless of whether its exterior matches its internal intent or not. What concerns Li Jinghu is the juxtaposition of the objects, and the ways in which companionship come together. And once the social identities of an object are removed, how will it live and survive?


When two pieces of entirely different tiles are placed next to each other, hence a personal and independent relationship becomes apparent. The piece of tile is no longer a member similar to the rest of the group, but an existing piece reliant of the others. They are not glued together seamlessly, instead, narrow crevasses are left between them. One would not be able to determine what's parting and approaching, which resonates with the independent individuals engaged in an intimate relationship, who at times embrace each other tightly, other times, part their ways. Intimacy is often inseparable from reticence, which is indeed its most honest trammel.


If two pieces of mosaic tiles, in each other's company, project the reality of the so-called intimate relationship, then bringing together jewelry and metal radium disk would emulate the clash of love and desire of adolescence. These cheap pieces of jewelry, often processed by women, are placed over the metallic radium disks, processed by men, are transformed into raindrops and fall into the water. They become one with each other while creating a crescendo of ripples. Industrial materials are often cold and rigid, but their encounter ignites passionate, unhinged desires, as well as irrevocable parting. Before the feelings of a previous love affair are fully fled, the raindrops from the next encounter have already fallen, as parting and encountering often happen simultaneously. Agreement and ethics often seem powerless and dismal in the confrontation of the irrational love and loathing, and faced with our desires and fate, we have to admit that the most wonderful things in life are ultimately destined for transience and fragility.


Throughout the inescapable life of the mundane, hope, frustration, depravity, and the subtle yet tangible kindness are tangled together. This has turned Li Jinghu into a scrounger, who hopes to excavate those precious things amid the numbness of reality. Those found objects, be they the cheap pieces of jewelry, quartz, or the mosaic tiles, embody the individuals who are assigned with symbolic social attributes, as well as, analogies of himself. In the course of being selected, eliminated, and rediscovered, the invisible surfaces from the visible – this is the desperate fight against the cruelty of reality. While the unexpected encounters, companionships, struggles, and separations are not necessarily pleasant at all, as they often come with suffering and unspeakable feelings, but this precisely manifests the most truthful desire of living.
About the artist


Li Jinghu was born in 1972 in Dongguan, Guangdong, where he currently lives and works. Li Jinghu works primarily with sculpture and installation, which presents an intertwining and ongoing personal 'historiography' of a landscape in flux – his poetically charged work frequently utilize humble materials gathered from his everyday locale. His practice seeks to both capture and transcend the line between collectivity and personal forms of expression, through a constant rumination on society, industry, and capitalism.


Major solo exhibitions include: Companionship, Magician Space, Beijing, CN (2019); The Reunion, Nodal Contemporary Art Space, Dongguan, CN (2018); Encounters, Art Basel in Hong Kong, Hong Kong, CN (2017); Time is Money, Magician Space, Beijing, CN (2014); Efficiency is Life, Magician Space, Beijing, CN (2014); Snowman, Arrow Factory, Beijing, CN (2010); Li Jinghu: Forest, Observation Society, Guangzhou, CN (2009).


Important group exhibitions include: Phantone, HOW Art Museum, Wenzhou, CN(2019); Night Tour of the Pearl River, Guangdong Museum of Art, Guangzhou, CN (2019); Front International: Cleveland Triennial for Contemporary Art, The Akron Museum, Akron, USA (2018); lei-pā, ST PAUL St Gallery, Auckland, NZ (2017); 1st Yinchuan Biennale, MOCA Yinchuan, Yinchuan, CN (2016); 11th Gwangju Biennial, Gwangju, KR (2016); A Beautiful Disorder, Cass Sculpture Foundation, West Sussex, UK (2016); There Has Been, And May Be Again, Pare Site, Hong Kong, CN (2016); This Future of Ours, Red Brick ArtMuseum, Beijing, CN (2016); Digging A Hole in China, OCAT, Shenzhen, CN (2016); Trace of Existence, UCCA, Beijing, CN (2016); THERMO MATTER, Shenzhen Art Museum, Shenzhen, CN (2015); The System of Objects, Minsheng Art Museum, Shanghai, CN (2015); Institution Production – Ecology Investigation of Contemporary Art of Young Guangzhou Artists, Guangdong Museum of Art, Guangzhou, CN (2015); You Can Only Think about Something if You Think of Something Else, Times Museum, Guangzhou, CN (2014); The 8th Shenzhen Sculpture Biennale, OCT Contemporary Art Terminal, Shenzhen, CN (2014); Positive Space, Times Museum, Guangzhou, CN (2014); ON | OFF: China' s Young Artists in Concept and Practice, Ullens Center for Contemporary Art, UCCA, Beijing, CN (2013); PAINT (erly), BANK, Shanghai, CN (2013); Daily of concept: A Practice of Life – The 15th Shanghai Duolun Youth Art Exhibition, Duolun Museum of Modern Art, Shanghai, CN (2012); Pulse Reaction – An Exchange Project on Art Practice, Times Museum, Guangzhou, CN (2012).
About the exhibition
Curator: Leo Li Chen
Dates: Oct. 24 – Dec. 7, 2019
Opening: Oct 24, 16:00
Courtesy of the artist and Magician Space, for further information please visit www.magician-space.com.