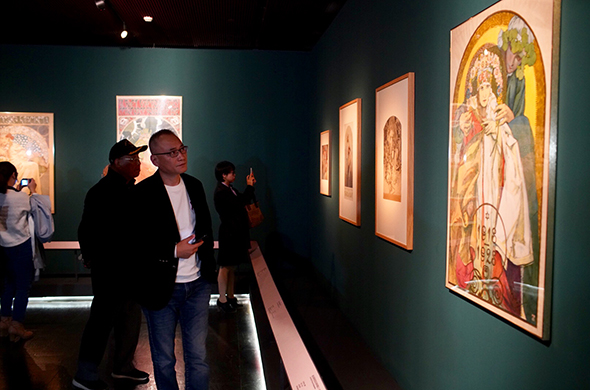 On the afternoon of October 18th, along with the wonderful music of "Vltava", the special exhibition "Pioneer of Art Nouveau: Alfons Mucha" commenced in the East Exhibition Hall of the National Centre for the Performing Arts. The exhibition is divided into seven sections including posters, decorative panels, decorative materials, figure paintings, photography, book illustrations and oil paintings. It presents 244 precious exhibits in total, featuring a comprehensive display of the European Art Nouveau style represented by Alfons Mucha.
Among them, the poster section includes the first and most famous poster Gismonda created by Mucha for the stage play starring the famous Parisian actress Sarah Bernhardt, and his commercial advertisement design of JOB which was considered to be the most successful design by Mucha; a decorative panel shows a series of very classic quadruple paintings, such as Les Fleurs, The Times of the Day, The Precious Stones, etc.; Documents Décoratifs and Figure Décoratifs on display in the decorative materials section show Mucha's artistic thoughts and superb decorative painting techniques. In addition, a large number of silver salt photos taken by Mucha himself will also be on view for the Beijing audience for the first time in this special exhibition.
Alfons Mucha (1860-1939) is a master of arts and crafts who popularizes aesthetics. He has devoted his life to the promotion of "life of art". As a leader in the European Art Nouveau era, he was hailed by the New York Daily News as "the world's greatest decorative artist." At the same time, when the Czechoslovak Republic was founded, he was commissioned to design the first set of stamps, the first set of banknotes and the national emblem of the White Lion for his homeland. Mucha's artistic creations cover a wide range including paintings, posters, illustrations and advertisements, and his creations penetrate many fields such as jewellery and interior design. His works are full of distinct features of Art Nouveau as well as strong colors, even through the transition of epochs. His work still exudes the endless charm and eternal vitality that has fascinated countless people.
After visiting the exhibition, Mr. Jin Shangyi, former President of the Central Academy of Fine Arts, expressed that, Mucha's desgin was different from his early decorative paintings. The colors of his paintings seemed to be softer which introduced the beauty art to the public life. Meanwhile, spectators could learn about the developing process of design after the industrialization.
The exhibition will remain on view until December 8.
Text and photo by the organizer, translated and edited by Sue/CAFA ART INFO