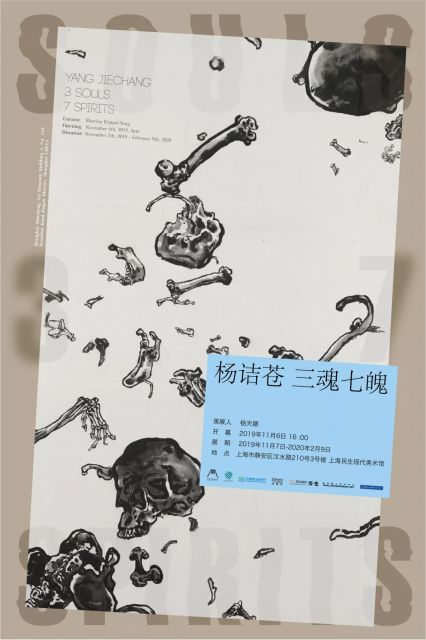 Shanghai Minsheng Art Museum is honored to announce Yang Jiechang's large-scale solo exhibition 3 Souls 7 Spirits opening on November 6, 2019. The exhibition presents 20 groups of major works created over the last thirty years and puts the emphasis on Yang's oeuvre as a painter. Yet, next to 14 sets of paintings and calligraphies it includes also 2 installations and 3 videos. The exhibition is curated by Martina Koeppel-Yang.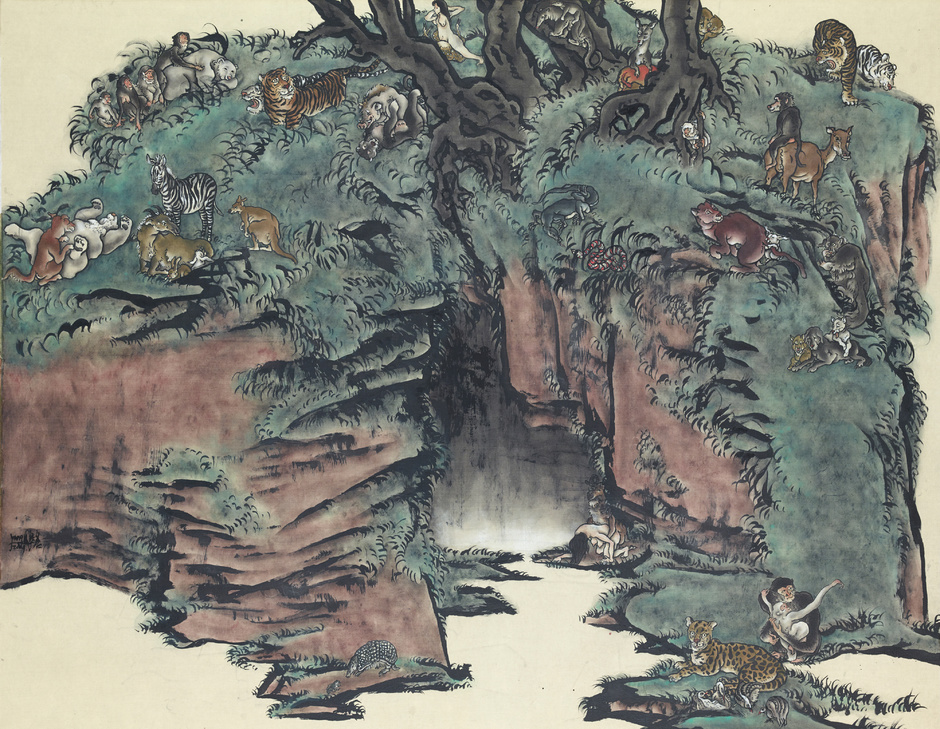 Yang Jiecang, Stranger than Paradise - Red Grotto, 2009, ink and mineral colors on silk, mounted on canvas, 95.5 x 121.5 cm

3 Souls 7 Spirits is the title of Yang Jiechang's large-scale solo exhibition at Shanghai Minsheng Art Museum, and it is the name of one of his masterful calligraphies present in the exhibition, too. The motto originally describes the daoist concept of the essence of the human soul. As title of Yang's solo exhibition and as calligraphy, it hints to two fundamental elements in his oeuvre: the use of the calligraphic brush and the emphasis on spiritual values, which he appreciates for their universality. It is a kind of pragmatic spirituality, anchored in the here and now, similar to the one evident in Chinese literati culture, where contemplation and self- cultivation are as much an act of participation in worldly affairs as governing.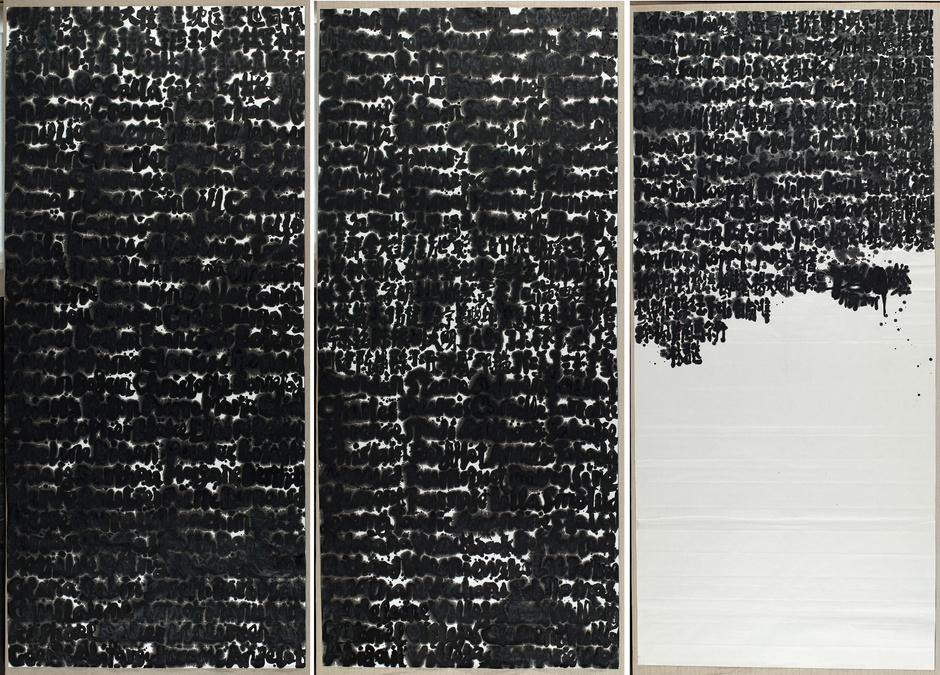 Yang Jiecang, I Still Remember,1997- 2019, calligraphy, ink on Xuan paper, 18 rolls, each roll 320 x 145 cm

Yang Jiechang's main tool to actively take part in our contemporary world is the Chinese brush. He has been using a variety of artistic media throughout his career, yet painting and calligraphy are at the centre of his creation. He however does not consider himself an ink painter or calligrapher but rather a contemporary literati and painting for him is an act of participation. After his emigration to Europe in 1988, Yang was quasi naturally attracted by romanticism, in particular German romanticism with its subjective quest for spirituality, its love for nature and the search for the obscure and unfinished. Both, Eastern spirituality and romanticism are present in his oeuvre on a conceptual and on an aesthetic level from very early on, for example in his Hundred Layers of Ink series (1989 – 1999).
The exhibition will open to public on November 7th, 2019 and run until February 9th, 2020.
About the artist
Yang Jiechang was born in Foshan (Canton, China) in 1956. He grew up during the Cultural Revolution and the beginning of his artistic career coincided with China's political opening in the late 1970s and 1980s. His first appearance in Europe and trigger for his emigration was his participation in the exhibition Magiciens de la terre in the Centre Georges Pompidou in Paris in 1989. Yang was trained in the techniques of paper mounting, calligraphy and traditional Chinese painting at the Fine Arts Academy Guangzhou (1978 -1982), where he taught until 1988. Living in Paris and Heidelberg (Germany) since 1989 he participated in numerous exhibitions around the globe:
Magiciens de la terre (Centre Pompidou, Paris, 1989), Chine demain pour hier (France 1990), Silent Energy (MoMA Oxford, 1993), Shenzhen International Ink Biennial (1998, 2000, 2002), Shanghai Biennale (Shanghai 1999/2015), Pause – Gwanju Biennial (Korea, 2002), Zone of Urgency – 50th Venice Biennial (2003), Guangzhou Triennal (Canton, China, 2003/2005), La Force de l'Art – 1st Paris Triennial (Paris, 2006), Liverpool Biennal (Liverpool, 2007), Istanbul Biennal (Istanbul, 2007), Lyon Biennale (Lyon, France, 2009), Moscow Biennial (Moscow, 2009), Ink Art, Past as Present in Contemporary China (Metropolitan Museum, New York, 2013), French May (Hong Kong 2001/2015), Carambolages (Grand Palais, Paris 2016), The Street,(MAXXI, Rome, 2018), Art and China after 1989: Theater of the World (Guggenheim Museum, New York/Bilbao/Museum of Modern Art, San Francisco, 2017-2018).
About the curator
Martina Koeppel-Yang is an independent scholar and curator. She works in the field of contemporary Chinese art since the mid-1980s and has written extensively on the subject. Her book Semiotic Warfare – The Chinese Avant-garde 1979 – 1989, a Semiotic Analysis (Hong Kong: timezone 8, 2003) is a reference book on the Chinese art of the 1980s.
Her exhibitions include: Leased Legacy – Hong Kong 1997 (Museum for Arts and Crafts, Frankfurt, Germany, 1997), Infiltration: Idylls and Visions (Guangdong Museum of Art, Guangzhou 2006), Surplus Value and Accumulation – Canton Express (Tang Contemporary, Beijing, 2006), Ink-Life-Taste the 5th Shenzhen International Ink Painting Biennale (Shenzhen, 2006), The Street is My Heart – Adel Abdessemed ( Libreria Borges, Guangzhou 2007) Onda Anomala part of Manifesta 7 (Trento, Italy 2008), Becoming Intense, Becoming Animal, Becoming …(Heidelberg University 2009), Advance through Retreat (Rockbund Museum of Art, Shanghai 2014), The Writings of Today are a Promise for Tomorrow – Yangjiang Group (Palazzo Morosini, Venice, 2015), 7+1 Luckily you are here (CIGE, Beijing 2015), Xiao Kaiyu – Inside and Outside the Window (Bonacon/ Guangzhou 2017), Heimat- The First Guang'an international Field Art Biennial (Guang'an 2018), Six Two Zen – Yang Jiechang (Tang Contemporary, Beijing 2018), I giardini possibili/The possible gardens – Tian Dexi (Cherimus, Sardinia, 2019), Images du Lingnan, (Centre Culture! de la Chine a Paris, 2019)
About the exhibition
Opening: November 6th, 2019, 4pm
Duration: November 7th, 2019-February 9th, 2020(Closed every Monday)
Host: Shanghai Minsheng Art Museum
Ticket Price: Free
Address: Building 3, No.210, Wenshui Road Jingan District, Shanghai
Courtesy of the artist and Shanghai Minsheng Art Museum, for further information please visit www.minshengart.com.