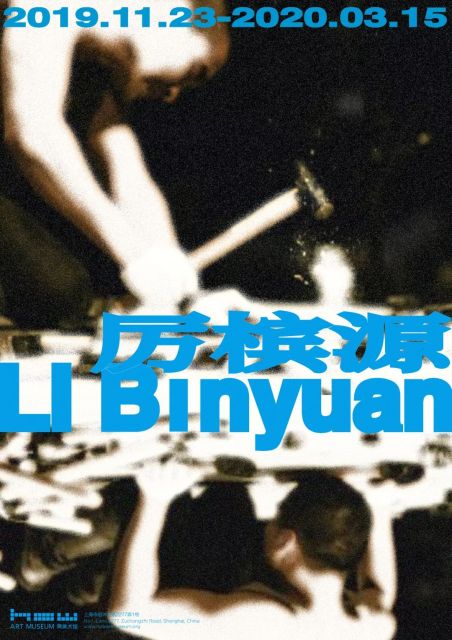 HOW Art Museum (Shanghai) is proud to announce that it will host the solo exhibition "Li Binyuan" by the artist Li Binyuan on November 23rd, 2019. For the first time, the exhibition brings together the work of Li Bingyuan over the past decade in a single space. The exhibition will also present the latest film projects by artists supported by HOW Art Museum.
Since the work Infernal Affairs was carried out entirely on the subway in 2010, Li Binyuan has continued to integrate his practice into different spaces. Of course, his experiments on performance and objects can be traced back to his graduation work Two Stones when he was studying in the sculpture department at CAFA. In this work carried out for class practice, Li Binyuan slammed two stones against each other in an attempt to make them shatter each other.
This sort of performance which leads to uncertain results is based on discussing the relationship between disintegration and creation, which is a theme that continues to be explored throughout his work. For example in the piece Freedom Farming (2014), the artist repeatedly hurls himself into his family's rice paddy, or in the case of Deathless Love (2015), where the artist slams 250 hammers against one another over and over again. It's this approach that he takes which hints at his background in studying sculpture, but at the same time, the material and that which Li Binyuan addresses in his work is by no means traditional sculpture. Instead, it entails the social realm, objects found in nature, and even gravity, it's this instability of the subject chosen and the material itself that often pushes the result of his behavior in the works to the edge of uncertainty and sometimes even complete failure. The tension between the individual, society, and history is constantly rubbing up against and colliding into one another sending out thundering shrill throughout this hair-raising border zone.
The first thing that triggers this tension and faces this impact head-on is the body. As Jean Baudrillard once pointed out: the entire contemporary history of the body is the history of its demarcation, the network of marks and signs that have since covered it, divided it up, annihilated its difference and its radical ambivalence in order to organise it into a structural material for sign-exchange, equal to the sphere of objects, to resolve its playful virtuality and its symbolic exchange (not to be confused with sexuality) into sexuality taken as a determining agency, a phallic agency entirely organised around the fetishisation of the phallus as the general equivalent.
In Li Binyuan's case, the body, as an individual and socio-historical archive of its own text resists the disappearance and transformation of the body into a symbol for exchange. However, such resistance is not negative. Instead, it constantly seeks feedback from the object it resists in an open attempt to establish dialogue and mutual stimulation.
As Li Binyuan's first solo exhibition of the same name, the exhibition not only presents the works of artists in the past ten years but also tries to initiate a new exploration of body and action. Li Binyuan will introduce the cinematic language of film, carving out a new situation and live scene. Different from the previous method of recording performance, the film shot here is likely to resemble a highly intricate dismemberment, one which penetrates deep into the internal space of the body, excavating the body that lies under the body, then deconstructing it and to finally reconfigure it.
About the artist
Li Binyuan was born in Yongzhou, Hunan Province, China in 1985, and graduated from the Department of Sculpture, Central Academy of Fine Arts in 2011.
His solo exhibitions include "Absorb" (MU Artspace, Eindhoven, Netherlands, 2019,) "Land: Zhang Huan and Li Binyuan" (MoMA PS1, New York, USA, 2018, ) "Buffering" (Black Sesame Space, Beijing, China 2016,) "Social Behaviours" (CFCCA, Manchester, UK, 2015, ) and "Whose Dreams" Today Art Museum, Beijing, China 2014.) Li Binyuan also participated in numerous group exhibitions worldwide, "The Street. Where the World Is Made"(National Museum of 21st Century Arts, Rome, Italy 2018,) "Playback – Pierre Huber Film and Video Collection Exhibition" (OCAT Shanghai, 2015,) "Swedish OpenART Biennale" (Ereburg Museum of Art, Sweden, 2015, ) "MOFO2015" (Museum of Ancient and Modern Art, Hobart, Australia, 2015, ) "Eight Possible Paths" (Uferlen, Berlin, "Another Leap" (Shanghai Museum of Contemporary Art, Shanghai, 2014, ) "Any Rugged Stuff will Vanish," (Kunsthuset Kabuso, Norway 2013,) and "Fuck Off 2" (Groninger Museum, Groningen, Netherlands, 2013.)
About the exhibition
Dates: Nov 23, 2019 – Mar 15, 2020
Venue: HOW Art Museum
Courtesy of the artist and HOW Art Museum, for further information please visit www.howartmuseum.org.