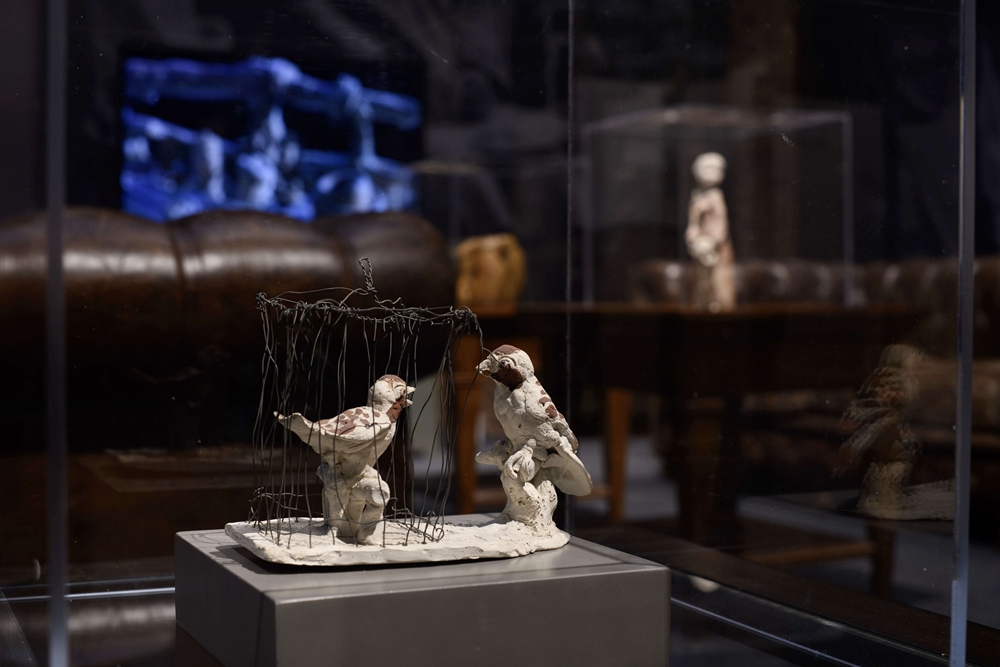 As the first stop of Liu Shiming International Sculpture Tour, on 28th October, 2019, Departure and Return: Liu Shiming's Sculpture Exhibition commenced in the Asian Cultural Center New York. This exhibition presents the sculpture of Liu Shiming, part of China's first generation of locally trained sculptors, and the Chinese methods of sculpture that he proposed and developed. It allows the American public to appreciate and understand Liu's historical importance as an artist; his work is rooted in Chinese folk sculpture traditions, but he gives this heritage a contemporary twist.
Showing viewers the distinctive and fresh contributions that Chinese modern and contemporary sculptors have made to the world of sculpture will also improve the understanding and exchange between the cultural communities in China and the United States.
On December 24, 2018, the Central Academy of Fine Arts established the Liu Shiming Sculpture Museum, which is dedicated to researching and investigating Liu's artworks and their historical meaning.
As Wang Shaojun, Deputy Party Secretary of CAFA and Academic Advisor of the exhibition, mentioned in the Preface that, this exhibition of Liu Shiming's sculpture is closely related to an academic project. As its director, Wang Shaojun has a deep appreciation of the meaning that Liu Shiming and his art have for this project.
Standing in the twenty-first century, when we look back on Liu Shiming's half-century of sculptural explorations, we must marvel at his foresight and self-awareness. He was a rare intellectual of his time who always maintained a clear understanding and his own preferences with regard to Eastern and Western culture. He was an intellectual who always retained pride in and respect for his own culture. He was always faithful to his own cultural conscience and aesthetic tastes and he set his own course, keeping his distance from trends and intellectual talking points. He persisted in his lonely, solitary exploration of Chinese sculpture using his own "Chinese methods."
The exhibition remains on view till 8th November, 2019.
About Liu Shiming
Liu Shiming, who lived from 1926 until 2010, was a very important and unique sculptor in the history of modern Chinese sculpture. He is important because his style of sculpture has had a pioneering and innovative influence on the history of modern Chinese sculpture, having a far-reaching influence in Chinese sculpture circles. He has been praised as the "sculptor of sculptors" and enjoys a high reputation in Chinese sculpture circles. We say he is unique because his sculpture based on subject matter, themes, materials, ideas, and methods, are all different from the popular mainstream sculptures of artists during his time period, and have provided new possibilities for the development of Chinese modern sculpture. He himself called his work "Chinese methods". He used a period of twenty long years to research and compare differences in sculptures between the East and West and ancient and modern culture, until he found a unique modelling method that was different from the traditional Western sculpture practice.
Preface (Academic Advisor's Words)
This exhibition of Liu Shiming's sculpture is closely related to an academic project, and as its director, I have a deep appreciation of the meaning that Liu Shiming and his art have for this project. We study how ancient Chinese art maintained its natural qualities when it met with Western art, and we have continued to study "Chinese methods" that embody a Chinese context.
We have taken the case study of Liu Shiming as a starting point. We will focus on artists and artistic phenomena within Chinese modern sculpture that have involved modern transformations of Chinese modes of sculpture and we will examine modern art practices that diverge from Western narratives of modernity; they have Chinese characteristics, and they are rooted in the modern transformation of Chinese traditional contexts and local experiences that have emerged over hundreds of years of Chinese sculpture. I think that Liu Shiming's art archive is like a key that allows us to open the door to China's original art, thereby building a system of creation and study for Chinese contemporary art that truly showcases human civilization and reflects Chinese cultural qualities.
We could say that, after the massive social change that was Reform and Opening, modern China once again has confirmed its values. This understanding will invariably bring about a wider practice of those values. Today, we are bringing this exhibition to friendly nations for precisely this reason.
Here, I would like to introduce Associate Professor Hongmei, the managing director of this project. As curator of the exhibition, she clearly employed her capabilities and wisdom, and through her deeper analysis of Liu Shiming's life and art, she will certainly give the viewer a valuable chance to comprehend and contemplate this artist, and I eagerly await the results.
Wang Shaojun
Professor and Ph. D Advisor at the Central Academy of Fine Arts
Deputy Party Secretary at the Central Academy of Fine Arts
Director of the Liu Shiming Sculpture Museum at the Central Academy of Fine Arts
September 25, 2019
---
About the exhibition
Duration: 10.28 – 11.08. 2019
Venue: Asian Cultural Center, 15 E 40th Street, New York, NY 10016
Organizer: Central Academy of Fine Arts
Co-Organizer:
Liu Shiming Sculpture Museum at the Center Academy of Fine Arts
Asian Cultural Center
Academic advisor: Shaojun Wang
Curators: Hongmei
Courtesy of the Organizer