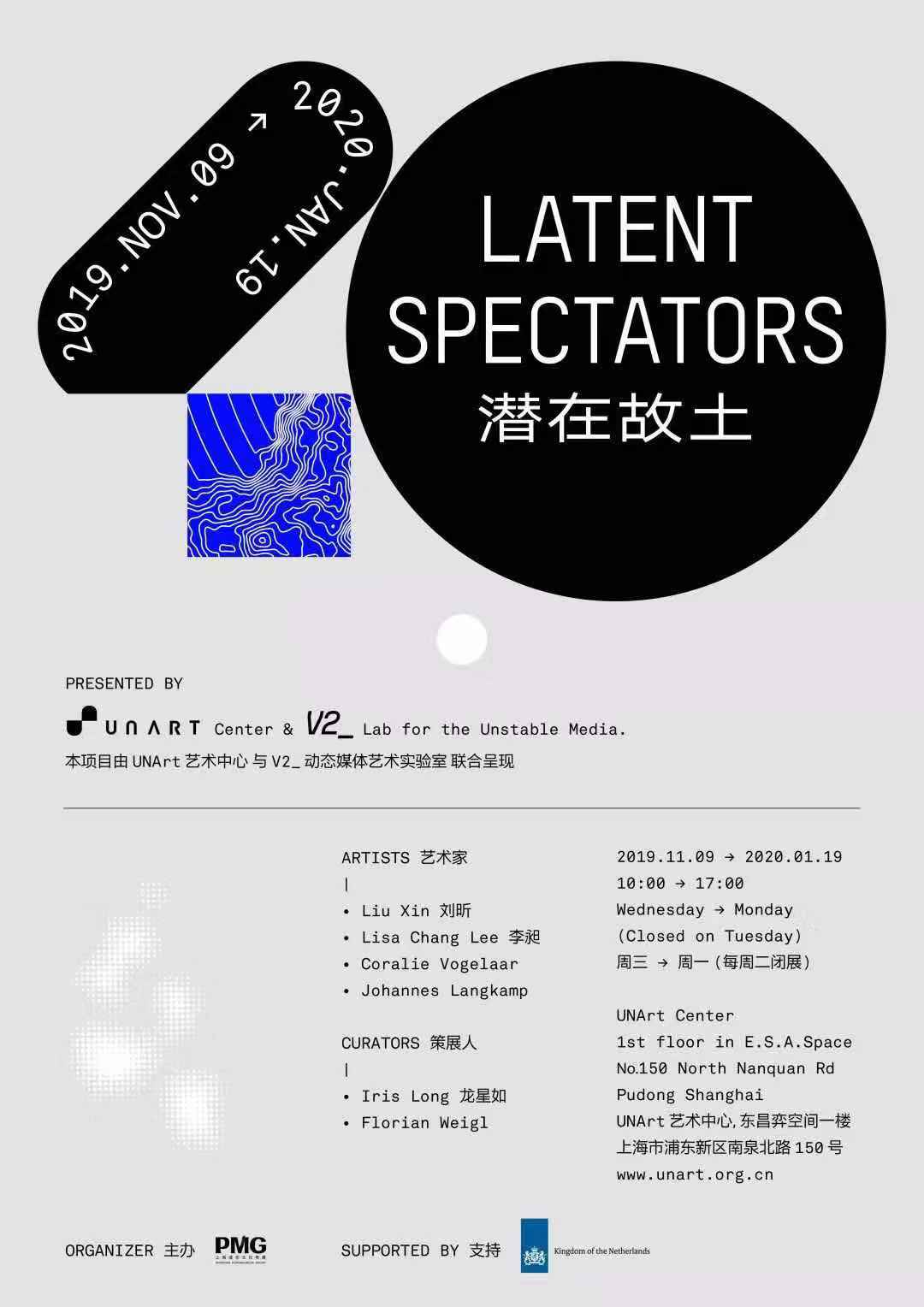 As part of UNArt Center's strategy to become an international platform that interlinks technology, art, and education and the ambition of V2_Lab for the Unstable Media to reestablish its presence in China, both parties entered into a long-term strategic partnership. The partnership serves as a vehicle to initiate, facilitate and present cutting-edge artistic research by emerging talents with multidisciplinary practices. Its strategy of investing in young talents with long-term sustainable relations in mind, will ultimately lead to a thriving network of professionals between the two organisations, that serves as a Chinese-Dutch gateway for the exchange of ideas and opportunities in the field of technology, art and education.
UNArt Center & V2_ Lab for the Unstable Media will present the exhibition "Latent Spectators" from November 8, 2019 to October 20, 2019. The show will contain fourteen works by four artists. The exhibition starts with a simple question: is the current focus on precision necessarily the way towards the absolute? With our multitudes of data and scientific methodologies we're not only feeding machines this rigid yet narrow perception of the world, this also becomes our explanation of it. It is worth interrogating if this latent sceneries can be captured by human and machine, exploring the limits of "ultimate reality" believed modern science by creating diverse and dynamic versions of worlds, or polycosmology? The exhibition invites artists who employ scientific methods to detect and reveal unnoticeable layers of natural phenomena in ourselves and nature, and map them into the sensorial realms of us. Showing that narrative does not lie merely in the alternation of device readings, but diffused into spatial and sensible experiences.
In the Measurement of Reality[1], Alfred W. Crosby traced how mechanical clocks, geometrically precise maps, double-entry book-keeping, precise algebraic and musical notations, and perspective painting constructed our perception of "the reality of the world". Nowadays, scientific measuring devices, data production and interconnected systems have woven a latent net: with the tools and equipment revealing hidden patterns of the world, we seem to be able to put our hands on this level of reality. Yet, the layer constructed with data structures are beyond the comprehension of most perceivers, leaving the explanations to the hands of only a few. "Every thing", as asserted by Derrida,is shot through with law, conventionality, technology (nomos, thesis, thekne), and this have in advance invaded physis and ruined its principle or its phantasm or purity.[2] This kind of "real" or "absolute", as precise as it seems to be, is never tangible, or perceivable, as stated by Hannah Arendt, who also was cautious about the "glory" of modern science that it has been able to emancipate itself completely from all such anthropocentric, that is, truly humanistic, concerns, and retreated into the minimal changes of the apparatus readings[3]. Machine readings, nevertheless, reveals and in the same time conceals the "reality" – are there dynamic versions of worlds, still out there, to be "seen"?
[1]Alfred W. Crosby,The Measure of Reality: Quantification and Western Society, 1250-1600,Cambridge University Press; New Ed edition (December 13, 1997)
[2]Jacques Derrida, Athens, Still Remains: The Photographs of Jean-François Bonhomme, Fordham University Press; 1 edition (October 13, 2010)
[3]Hannah Arendt on Science, the Value of Space Exploration, and How Our Cosmic Aspirations Illuminate the Human Condition
About the artists
Coralie Vogelaar (1981) is an artist based in Amsterdam. Her work consists of systematic conducted studies revealing mechanisms on valuation within our visual culture. She finds inspiration from the computer science and works with deep learning, emotion and image recognition software. Exploring the area where the computer and human meet the communication between the two and what new ways of seeing or behaving this can result in. She graduated from Sandberg Instituut in 2007 after which she studied at Rijksakademie voor Beeldende Kunst in Amsterdam.
Johannes Langkamp (1985) is a new media artist based in Rotterdam, the Netherlands. Johannes Langkamp carries out ongoing, playful research into video as a medium. Inspired by the everyday, he makes many short fragments of video using simple means, giving them a raw and sketchy style. By exploring perspective and perception, Langkamp discovers outcomes that surprise himself as much as others. His ideas evolve while experimenting with the features and limitations of his tools (cameras, situations, displays), and through this process Langkamp develops rough sketches into installations highlighting the camera's relationship with space. The result is a straightforward observation presenting an unusual take on reality, giving the audience a taste of Langkamp's manner of seeing.
Xin Liu (b. 1991, Xinjiang/China) is an artist and engineer, whose works range from performances, apparatus, installations to scientific experiments and academic papers. In her practice, Xin creates experiences and artifacts to measure and modify the distance and tension between personal, social and technological spaces. They are moments of re-organization, creating ripples in the fabric of subjectivities, common experiences and beliefs. Xin is currently the Arts Curator in Space Exploration Initiative in MIT Media Lab, a member of New INC in New Museum and a resident in Queens Museum Artist Studio program. She is recipient of numerous awards and residencies, including the Van Lier Fellowship from Museum of Arts and Design, Huayu Youth Award Finalist, Queens Museum studio program and Pioneer Works Tech Residency. Her projects have received awards in SXSW, FastCoDesign, Core77 and her academic publications were nominated for best papers in ACM conferences. She has shown her work internationally at events and venues including Ars Electronica, Boston MFA, Sundance Film Festival, The Walker Art Center, OCAT Shanghai, ISEA and Music Tech Festival Berlin. As a researcher, Xin has worked in institutions including Microsoft Research NYC & Asia and Google ATAP.
Lisa Chang Lee is an artist, curator and artistic director based in London and Beijing. She was offered an exam-free entry as one of the highest ranking students from the Fine Art School affiliated to Central Academy of Fine Art(CAFA), the most reputable art school in China, to pursue her study at the academy for her Bachelor Degree in fine art(2006-10) She received her Master Degree from the Royal College of Art in England with the highest score in the performance of her degree show in 2014. In 2018, she was endorsed by Arts Council England to receive an Exceptional Talent visa from the British Government. She is a visiting lecturer at Central Academy of Fine Art in Beijing and the Royal College of Art in London; She is also a council member of the Royal Society of Painter-printmakers. Lee's works span multiple dimensions, using images, performance, interactive installations, and graphic media. Lisa's practice focus on the overlapping relationship between time, image, experience and behaviour, explore the core of orientality in diverse artistic practice, explore the relationship between individual and nature, current and historical mobility, and the consideration of artistic language and cultural identity.
About the curators
Iris Long is a writer and independent curator. She currently works as a researcher on art, science and technology at Central Academy of Fine Arts, with a research focus on how art responses to the current global reality of ubiquitous computing and big data. She was shortlisted by the first M21-IAAC Award (International Awards for Art Criticism). Her translation work, Rethinking Curating: Art after New Media, received nomination from AAC Art China awards in 2016. In 2018, she was the recipient of Hyundai Blue Prize for curators and curated "Lying Sophia and Mocking Alexa". She co-curated the opening show of UN Art Center, "The Kind Stranger" (2019) and is the curator of The Third Session of "Future of Today": Deja Vu (Today Art Museum, Beijing). She is also the art jury of ISEA 2019. Iris has a master degree of Critical Writing in Art and Design from the Royal College of Art, UK and a bachelor degree of Journalism and Communication from Tsinghua University, China.
Florian Weigl (1985) is curator at V2_, Lab for the Unstable Media. As curator and researcher he is interested in the intersection between art, technology and it's social impact. He joined the curatorial team in 2015 working on both presenting and co-producing works and research.Curatorial projects at V2_ he worked on include the live experiment series 3×3. He initiated, amongst others the group exhibition The Gig is Up (V2_, 2016, co-curated with Sarah Cook), solo projects and exhibitions Jonas Lund's Operation Earnest Voice (2018), Philip Vermeulen's The Physical Rythm Machine (2017 at Ars Electronica, 2018 at V2_) Marnix de Nijs' Ghosted Views (V2_, 2019) and Johannes Langkamp's solo exhibition Sun Tracing (V2_, 2019). He offers curatorial support during the short-term international residency program Summer Sessions and is among other things responsible for V2_'s public events series Test_Lab.Alongside his work at V2_, Florian works as independent curator working close with artist as curator / producer and is an advisor for Mondriaan fonds.
About the exhibition
Curators: Iris Long, Florian Weigl
Dates: Nov 9, 2019 – Jan 19, 2020
Opening: Nov 8, 2019, 17:00, Friday
Venue: UNArt Center
Courtesy of the artists, UNArt Center, and V2_Lab for the Unstable Media, for further information please contact Jo (+86 13774257110/ jo_wei96@163.com).