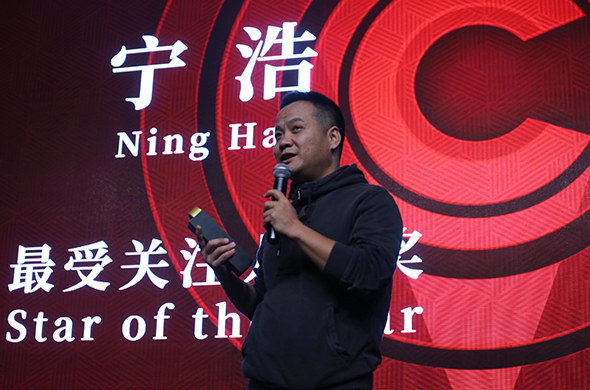 Agnès Varda Award is an international event authorized and participated in by Agnès Varda who is a prolific film director, photographer, and artist whose cinematic career spans more than six decades. Since 2012, Agnès Varda Award has intended to encourage trans-boundary creations while being committed to bringing film creation back to its authentic state, and impelling the experimental spirit into the mainstream culture.
The 7th Agnès Varda Award was hosted by Director Ning Ying, Chairman of the Executive Committee for Agnès Varda Award. Lyu Pinjing, Deputy President of China Central Academy of Fie Arts, delivered an opening speech and he commented that the. "Agnès Varda Award has linked experimental films with the film industry, with continual thinking about cross-borders, it has established its academic status and built a bridge between China Central Academy of Fine Arts and major art academies in China, between art talents and advanced technologies of films, between independent artists and mainstream platforms."
Tania Khali, Head of Film and Television Department of the French Embassy in China, delivered a speech on behalf of the French Embassy, "It's so extraordinary to be here to attend the award ceremony of the Agnès Varda Award and to award the annual Star of the Year to renowned director Ning Hao. Agnès Varda is a prolific film director, photographer, and artist. With rich expressions and free imagination, she creates with free and beautiful thoughts. Meanwhile, this award can be taken as a tribute to Ning Hao's career as a director and his enthusiastic support for young directors."
Agnès Varda Award: Star of the Year 2019 was Ning Hao, a film director, screenwriter and founder of Dirty Monkey 72 Transformations Film Project. His films are based in China and they have recorded the changing moments of contemporary society. With a unique perspective and independent aesthetic style, he has created quite a few masterpieces in the history of Chinese films. Ms. Isabelle Glachant, Representative of the French Film Federation in Greater China gave the award to Ning Hao.
Documentary film The Land of Peach Blossoms (Directed by Zhou Mingying, Sichuan Fine Arts Institute) and drama film Summer Behind the Door (Directed by He Qiuyao and Hu Yinghai, Beijing Film Academy) won the First Prize. Members of the jury expressed their admiration for the calm observation, mature presentation and technical application in these films.
Diversified activities were also held along with the Award Ceremony for 2019 Agnès Varda Award. The "New Cinema Forum" invited experts to discuss and analyze the creative tendency of young students who learn film in art schools as well as the developing trend of network cinema. Compared with Agnès Varda's mature use of different media, the innocent and brave efforts of young students meant this award ceremony was full of nostalgic and inheritance.
Text by Xu Shujun, edited and translated by Sue/CAFA ART INFO
Photo courtesy of the organizer