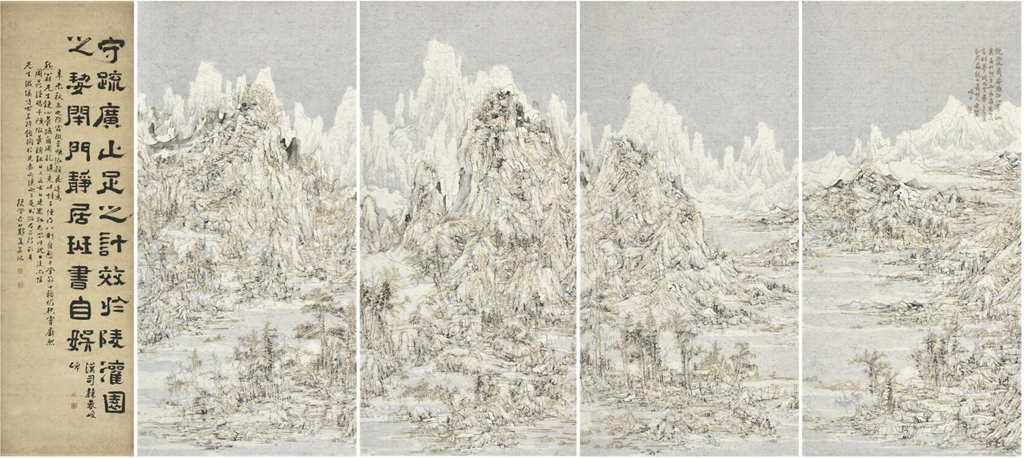 Wang Tiande, Reading the Stele in Light Snow 1-5, 2019; Ink, rubbing and burn marks on xuan paper, 166x80cmx4

Ink Studio is proud to present Winter of Longing, a solo exhibition of internationally renowned artist Wang Tiande's latest and most ambitious works in his signature series of burned landscapes. Co-curated by Britta Erickson, PhD, and Alan Yeung, this exhibition uncovers sedimentary layers of culture across time in an installation designed to foster quiet contemplation.
The exhibition's Chinese title, Qianxing, is translatable as "discharging feelings." It originates in a poem by the great poet Du Fu (712-770) expressing longing for his son while in distant captivity. Throughout the centuries afterwards, the theme inspired poetic responses by Chinese scholars and intellectuals yearning for home and a sympathetic audience in a broader sense. One of them was the prominent late-Qing seal carver Huang Shiling (1849-1908), who was forced by circumstance into a life of itinerancy, and who carved the phrase into a seal now in Wang Tiande's collection.
Wang Tiande (b. 1960) graduated from the Zhejiang Fine Arts Academy (now China Academy of Fine Arts) in 1988 with a degree in Chinese ink painting. His years there coincided with the height of the revolutionary artistic movement known as the New Wave. Wang's first work to gain widespread acclaim was Ink Banquet (1996), a ground-breaking installation composed of a round dinner table covered with ink painted paper.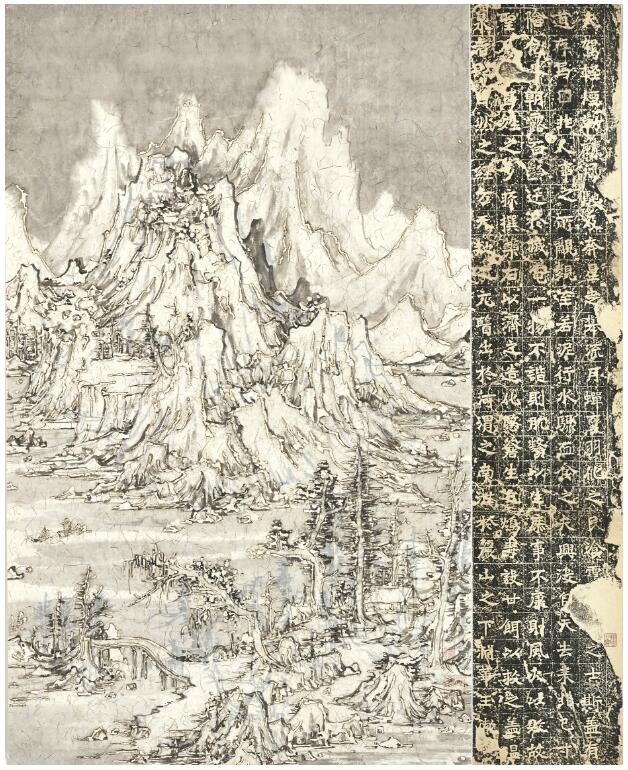 Wang Tiande, Playing with the Snow on the Boat, 2019; Ink, rubbing and burn marks on xuan paper, 98.5x79.5cm
A second major mark in Wang's career was his Chinese Clothes series (1996), comprising xuan paper on which an abstracted Chinese robe shape has been inked in such a way that they resemble ink rubbings from ancient steles. Ink Banquet and Chinese Clothes make plain the artist's belief that if one wishes to create something new, one must ground that in a deep knowledge of tradition.
Since the early 2000s, Wang Tiande has continually refined his unique technique of alternately painting, burning, and layering traditional xuan paper into complex, classical landscape compositions. Wang paints a landscape on xuan paper—usually a complete work of art on its own—and layers atop it a second sheet of xuan paper into which another composition has been burned with an incense stick. The two layers are then mounted together, resulting in an image that is unmistakably a Chinese landscape and yet is subtly unfamiliar or even illegible in its details. Wang's burned landscapes hint at the irreversible rifts between historical and contemporary Chinese culture. They also suggest that destructive contemporary forces may bring about creative change.
The works Winter of Longing reach far back in time by incorporating rubbings of monumental Tang-dynasty steles as art-historical ready-mades. In China, rubbings were an important resource for those who wished to study calligraphy and circulated much more widely than could originals. Wang conserves them and brings them to new and much larger audiences.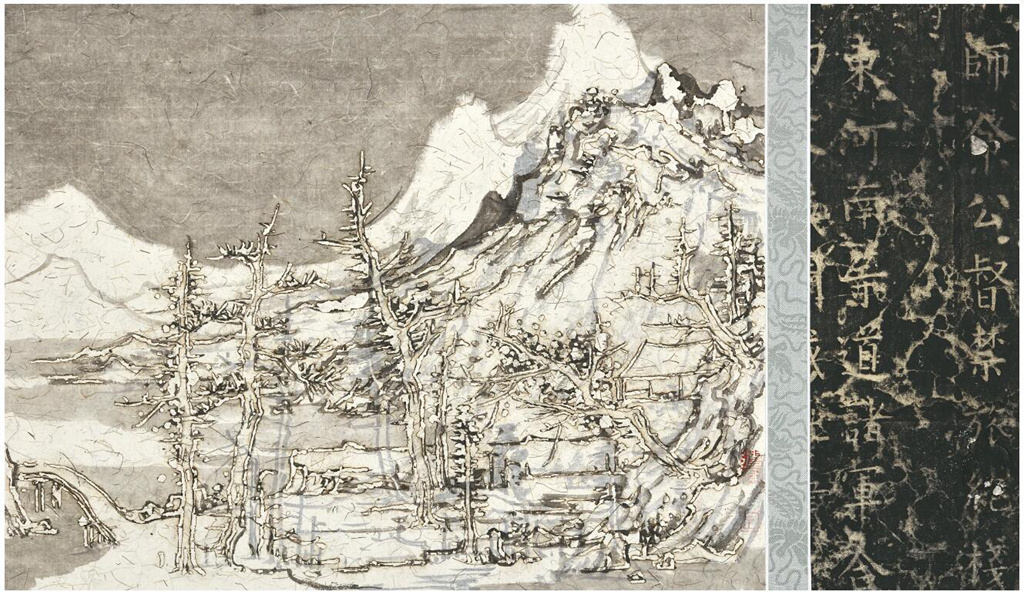 Wang Tiande, On the Frontier, 2019; Ink, rubbing and burn marks on xuan paper, 37.5x65cm

The exhibition's exclusive focus on snowscapes is also a return to origins. Stripped of color, texture, and movement, snowscapes are nature at its closest to monochrome ink paintings. One of the first snowscapes recorded in Chinese art history is by the poet-painter Wang Wei (699-759), subsequently canonized as the founder of the literati painting tradition.
With the current exhibition, Wang Tiande reveals the layers of cultural sediment that comprise Chinese cultural history, each layer observing and then building upon the past. Whatever form contemporary culture may take, however distant chronologically, philosophically, and empirically it may seem from the past, it inevitably finds deep roots in that past. Wang makes the case that the historical giants of calligraphy are relevant to the present, as is the thinking behind their layered works of art. And finally, both the rubbings and the thought processes that inspired them can be inspirations for creating fresh works of art.
About the exhibition
Dates: 16 November 2019 – 10 January 2020
Venue: Ink Studio
Courtesy of the artist and Ink Studio, for further information please visit www.inkstudio.com.cn.