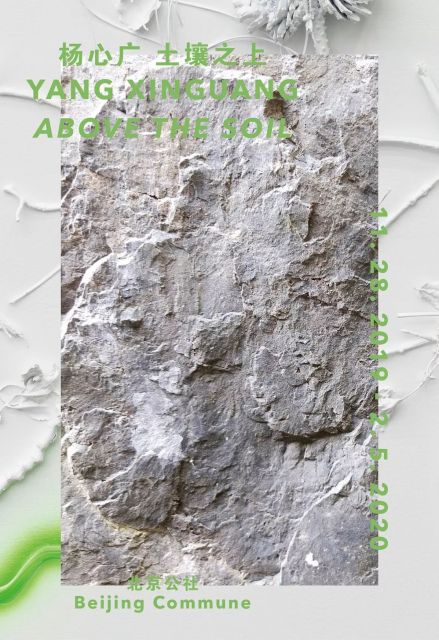 Beijing Commune announces that Yang Xinguang's solo exhibition will open on November 28, 2019. As his third show at Beijing Commune, "Above the Soil" will showcase the artist's latest works and run until February 5, 2020.
Over the last few years, Yang Xinguang seems to always take "soil" as his starting point. This time, the solid imagery distilled from the artist's life experience takes the forms of barren hills and rocks, continues on the walls like fragmented consciousness and emitting a sense of withering sternness. As nurishment to the soil and embodiment of emotional outpour, the fallen leaves in Yang Xinguang's new body of work all assume bright and highly unnatural colors, serving as "masked" reference in reality, like the desire to burst through the cracks.
Yang Xinguang (b. 1980, Hunan) graduated from China Central Academy of Fine Arts with BA in 2007 and currently lives and works in Beijing. He has been exhibited in"Super Organism CAFAM Biennale" (CAFAM, Beijing, 2011); "The First 'CAFAM Future' Exhibition: Sub-phenonmena: Report on the State of Chinese Young Art" (CAFAM, Beijing, 2012); "The 1st Montevideo Biennial" (Uruguay, 2012); "The 9th Shanghai Biennale" (Power Station of Art, Shanghai, 2012) among others. His works have been also featured in many museums and institutes, such as White Rabbit Museum, Frac des Pays de la Loire, Yurta Relazioni Culturali, Singapore Art Museum, the Galleries at Cleveland State University, Central Academy of Fine Arts Art Museum, Ullens Center for Contemporary Art, Taikang Space, Today Art Museum, Minsheng Art Museum, Rockbund Art Museum, OCT Art Terminal Shenzhen, Hexiangning Art Museum, Guangdong Art Museum, Blue Roof Art Museum and so on. He was nominated for Hugo Boss Asia Prize 2015, as well as "Young Artist of the Year" by Award of Art China (AAC) in the same year.
About the exhibition
Dates: Nov 28, 2019 – Feb 5, 2020
Opening: Nov 28, 2019, 16:00
Venue: Beijing Commune
Courtesy of the artist and Beijing Commune, for further information please visit www.beijingcommune.com.