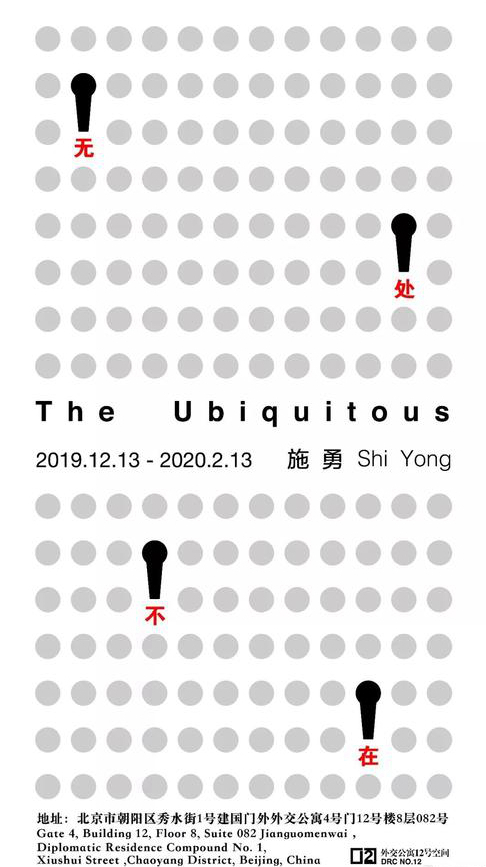 DRC No.12 is proud to announce that the artist Shi Yong's solo project The Ubiquitous will open at 3 pm on December 13.
The title of this project, which is also the creative motivation, stems from the artist's memory of the North Korean film Invisible Front from his youth. The plot of the omnipresent struggle between the entire mobilized population and hostile foreign forces in the film induces the artist to realize, through the word "ubiquitous", "the existence of an invisible ideological space, full of undefined and hidden boundaries" .
The artist uses the intangible medium of sound to highlight a realistic context: the Diplomatic Residence Compounds, once a symbolic site, is now re-energized as a metaphor in the present reality. The artist utilizes DRC No. 12, filled with various specific sounds, to investigate the uncertainty and uncontrollability of the boundaries in this ideological space…
The project will run until February 13, 2020.
About the artist
Shi Yong (born 1963) is a representative figure of contemporary Chinese artists who first started working with installation and video media. Since 1993, his works have been widely exhibited both in China and abroad. His earliest artistic practices focused on revealing the subtlety of our reality and the inherent tension of the "system". Since the end of 1990s, Shi began focusing on the idea of Shanghai's transformations under the Chinese economic reform, which contributed to a discussion of globalization and consumerism. Since 2006, with the work Sorry, There will be no Documenta in 2007, he turned his attention to the art world itself, pondering how to provide a more rational perspective through his creative works. Shi Yong's 2015 solo exhibition "Let All Potential Be Internally Resolved Using Beautiful Form" continues his artistic practice, disclosing his intention to expand the reflection and practice of "control" under the seemingly "abstract" future.
Main exhibition include: The Ubiquitous(Solo Exhibition), DRC No. 12, Beijing (2019); The Fourth Today's Documents, A Stitch in Time(Group Exhibition), Today Art Museum, Beijing(2019); Society Guidance: Part II(Group Exhibition), UCCA Center for Contemporary Art, Beijing (2019); A Fairy Tale in Red Times (Group Exhibition), Works from the White Rabbit Collection, National Gallery of Victoria, Melbourn, Australia(2019); A ( ) Bird be Released from the Top of a Certain Tower (Solo Exhibition), Boxes Art Museum, Foshan (2018); Shi Yong: Under the Rule, ShanghART, Shanghai (2017); Ural Industrial Biennial of Contemporary Art, Ekaterinburg (2015); Let All Potential be Internally Resolved using Beautiful Form (Solo Exhibition), MadeIn Gallery (2015); Off-Site Programme, Silent Film, Ikon Gallery, Birmingham (2014); Think carefully, where have you been yesterday?, (Solo Exhibition) BizART, Shanghai (2007); Second Guangzhou Triennale, Guangsong Museum of Art, Guangdong; Felicidad Indecible (Unspeakable Happiness), Arte contemporáneo de China, Museo Tamayo Arte Contemporáneo, Mexico City, Mexico (2005); Follow Me!, Contemporary Chinese Art at the Threshold of the New Millennium, Mori Art Museum, Tokyo, Japan(2005); The Heaven The World, Solo Show by Shi Yong in 2 Parts, ShanghART H-Space, Shanghai; XXV Bienal de Sao Paulo, Sao Paulo, Brazil (2002); Money and Value, The Last Taboo, Switzerland (2002); 4th Shanghai Biennale, Urban Creation, Shanghai Art Museum, Shanghai (2002); Unpacking Europe, Museum Boijmans Van Beuningen, Rotterdam, The Netherlands(2001); Living in Time, 29 Contemporary Artists from China, National galerie im Hamburger Bahnhof Museum fuer Gegenwartskunst, Berlin, Germany(2001); The Third Asia-Pacific Triennial of Contemporary Art, Queensland Art Gallery, Brisbane, Australia(1999); Art for Sale, Shanghai Plaza, Shanghai(1999); Cities on the Move, world tour exhibition(1997-1999); Two Attitudes Toward Identity 93, Qian Weikang & Shi Yong Installation Works Show, Gallery of Shanghai Huashan Art Vocational School, Shanghai(1993) etc.
About the exhibition
Dates: Dec 13, 2019 – Feb 13, 2020
Venue: DRC No.12
Courtesy of the artist and DRC No.12