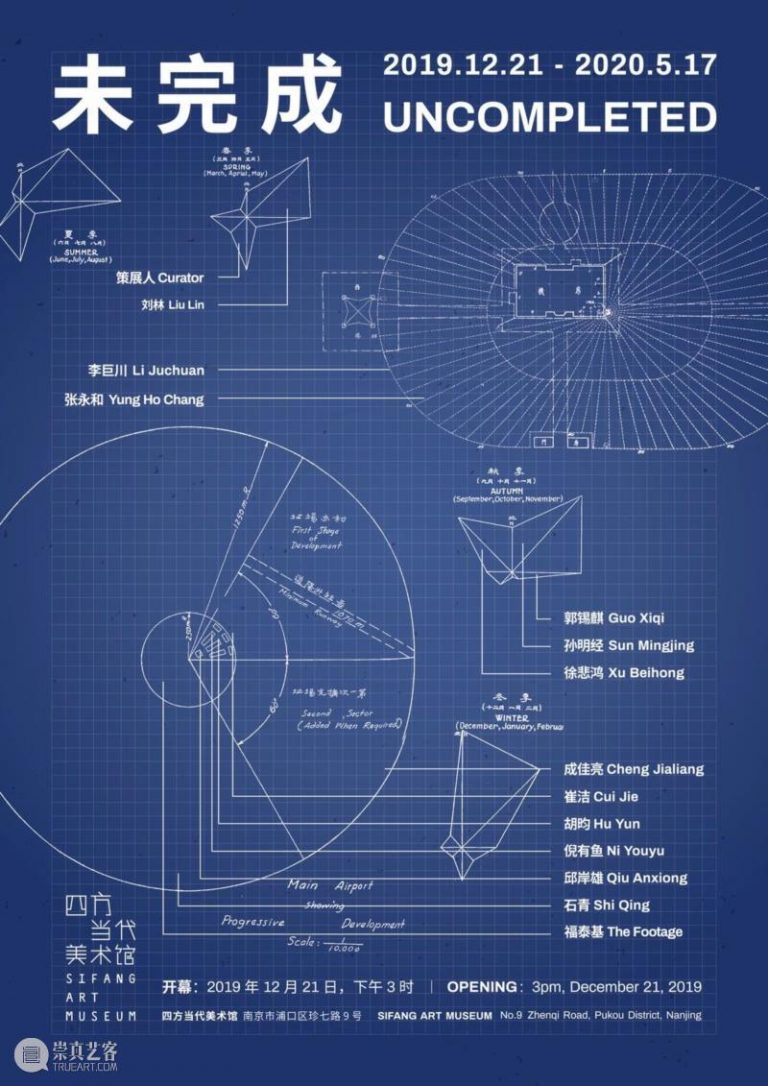 Sifang Art Museum is proud to announce that its upcoming exhibition "Uncompleted", the third part of the "Topographies" series, will open on December 21, 2019, and will last until May 17, 2020.
This exhibition derives from an unrealized urban planning proposal, "the City Plan of Nanking" (abbreviated as "The Plan" hereinafter), which was first elaborated in 1919. In 1927, after the Nationalist government shifted the capital to Nanjing, they immediately set about creating a new national capital, bringing in European and American ideas in urban planning and experience in city building. This transformed the ancient capital of Nanjing. The aim was to set an example, allowing the entire nation and the people to quickly modernize. In 1928, the Nationalist government invited the American architect Henry Murphy to oversee the overall planning for the new capital. After the plan was created in 1929, it was implemented in pieces until finally being abolished in 1949.
"The Plan" was lauded as the first modern urban planning proposal in China. Not only did the plan establish the basic structure and attributes of contemporary urban space in Nanjing, it also dealt with the desire and imagination of "modernity" in this newly established nation-state. On this level, "The Plan" is not merely one urban planning proposal but is at the same time a microscopic (experimental) modern total plan. It attempted to situate ancient Chinese bodies within an entirely new spatio-temporal order suffused with modern technology and modern living, in the hopes of standing up in the "world's forest of nations".
Staring from this proposal, the exhibition has invited a dozen or so artists to engage in creating and wandering. The exhibition has brought together some important historical archival material related to the "The Plan", allowing artworks (including drawings, installations, texts, videos, and workshops, among others) to serve as annotations—and vice versa—for these old books, letters, drafts, documentary films, photos, maps, allowing the artists' historical experiences/imagination/writings to be displayed in interconnection within the exhibition space alongside the "material evidence" symbolizing history itself. Aside from tracing the origins and details of early modernity in China, the exhibition also attempts to transmit a kind of hybridity concerning modernity, one related to how vastly divergent (even utterly incompatible) forces, stances, attitudes, and dispositions wrestled and intermingled along modern China's path of evolution—thereby exploring the complexities and continuities in the course of Chinese modernity (a process that continues to this day).
Over the course of the exhibition, we will also launch a series of public programming related to urban spaces. We call on everyone to participate in this exploration of the connections between this old proposal and the time and space of contemporary Nanjing.
About the exhibition
Curator: Liu Lin
Dates: 2019.12.21 – 2020.05.17
Opening: 3pm, December 21, 2019
Venue: Sifang Art Museum, No. 9 Zhenqi Road, Pukou District, Nanjing
Courtesy of Sifang Art Museum.