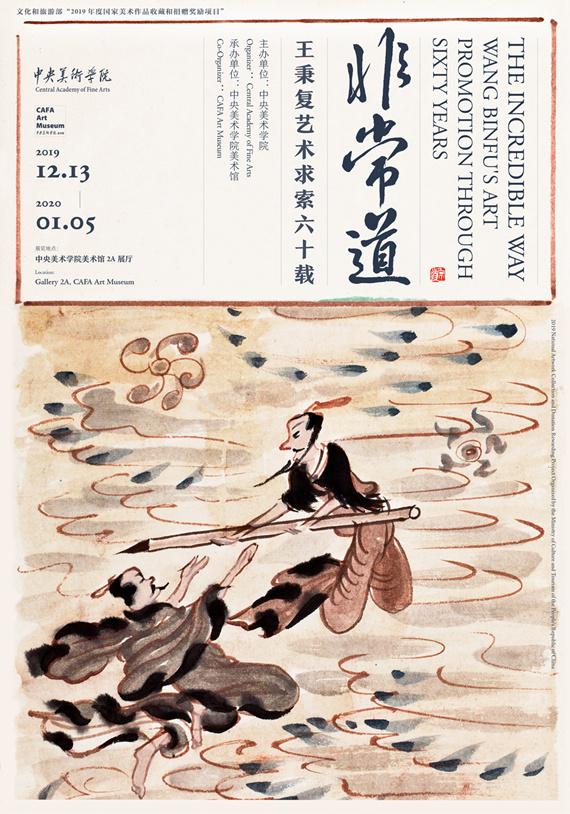 Foreword
Modern and contemporary Chinese art history has witnessed many creative and influential art masters, but not many of them are thinkers and practitioners who have summarized unique methodologies and feasibly carry them on in art education. Fortunately, artist and art educator Wang Bingfu is one of those few unique and precious masters.
As an old graduate from CAFA, Mr. Wang Bingfu has been devoted in cultivation of art talents, and explored a set of effective experiences and methodologies to the point of art making. He does not care about wealth or fame, despite having gone through many difficulties, and obtained unique understanding and profound achievement in research, teaching and creation of traditions of Chinese painting. He suffered from a lot of difficulties in his art career due to historical reasons, but in his five-year study in CAFA, he received instructions from famous teachers, comprehensive and deep artistic influence, and gradually formed his unique artistic ideas.
In the early stage of his research and study of Chinese paintings, Mr. Wang Bingfu followed the tradition, studied figure paintings of late Ming Dynasty painter Chen Laolian and late Qing Dynasty painter Ren Weichang, and even personally went to the Mogao Grottoes in Dunhuang and Yongle Taoist Temple in Shanxi to imitate mural paintings. In his midlife, he went to magnificent mountains and rivers including Mount Huang, Mount Yandang, Mount Qingcheng and Mount Emei many times, and left a number of travelogue paintings. He based his research on Literati Paintings after Song and Yuan dynasties, and extended his research to the art of Qin and Han dynasties. He laid emphasis on folk mural paintings and new archeological archives, and studied modeling methods and art rules accumulated in history. His creative practices usually draw inspirations from classical Chinese poetry, literature and opera. He emphasized the importance of understanding traditions with traditional Chinese methods, continuing the context of traditional Chinese painting on ontological level, understanding the spirit of traditional Chinese modeling, and devoted to revitalizing traditional modeling ideas and methods.
In Mr. Wang's eyes, art making equals to life. He paid attention to the unity of knowing and doing, insisted on imitating traditional masterpieces everyday, and kept a sketchbook with him all the time to record precious modeling footage and materials in historical sites and museums. The height of the sketchbook is as tall as Mr. Wang himself. This method of experiencing traditions led his art practices unhinderedly through the past and the present.
In his creative practices, Mr. Wang transforms the old into the new and expresses his feelings using the ancient essence. He enjoys reading history and painting historical stories. His representative work, the "A New Account of the Tales of the World" series, is composed of a total of 367 paintings. Each and every one of them was considered meticulously with subtlety. Mr. Wang discreetly researched on the modeling methods and characters of the time when the stories happened, painted ancient stories with ancient painting methods while bringing into full play his vivid understanding of the stories as a modernist. From his proficient use of the ink and brush and lively modeling of the figures, we feel as if the distant modeling traditions are brought back to life by his paint brush. Recently, he generously donated the whole set of "A New Account of the Tales of the World" to his school CAFA. We believe these works of his will play an important part in teaching, and will be a precious treasure of the academy.
In teaching practice, Mr. Wang summarized his thinking and understanding of traditional painting over the years, and compiled a textbook titled "Gu Fa Fa Wei (骨法发微)", which give a systematic and practical analysis of ink and brush. He emphasized the importance of "the unity of knowing and doing and the integration of teaching and learning", and adhered to the "Gu Fa" (bone structures) of the traditional Chinese painting and calligraphy. Due to his thorough understanding of Chinese painting traditions, he was invited back to CAFA in his twilight years, teaching calligraphy and line drawing in Studio No.6 of the Department of Sculpture in the School of Modeling. He has made a great contribution to the learning of Chinese traditions and transformation of the ancient into the new of the students in CAFA.
Just like what "Chang Dao", Mr. Wang Bingfu's self-named hao stands for, he has been exploring the conventional principles of Chinese painting through art practice of his whole life, while endeavoring to pass on the legacy of traditional Chinese modeling system and seeking the methodologies to continue the vocabulary of traditional art. On the one hand, this exhibition develops around Mr. Wang's extraordinary path of art exploration, and displays his unique creative approach that originates from the tradition and applied new resources and new materials to interpret the traditions; on the other hand, the art exploration and teaching methods revealed in the exhibition strongly extends our perception of the relationship between the traditional and the contemporary, which is significant in our thinking of the continuation and development of Chinese art in contemporary cultural context.
Painting Chinese stories with Chinese methods, rendering contemporary spirits with Chinese styles. As the top fine arts academy in China, CAFA has accomplished its first arduous and glorious hundred-year journey. To cultivate future artistic talents and explore the principles and secrets of art is CAFA's historical mission. The unique "Chinese methods" and "Chinese experience" in Mr. Wang Bingfu's art making and teaching, and the display and research of his creative practice, is a great opportunity for the art academy to promote aesthetic education to its students and the public. This "Chang Dao" is rather "unconventional".
Wang Shaojun
Professor and Deputy Secretary of CAFA Party Committee
About the exhibition
Dates: 2019-12-13 - 2020-02-08
Location: Gallery 2A, CAFA Art Museum
Organizer: Central Academy of Fine Arts

Courtesy of the artist and CAFA Art Museum