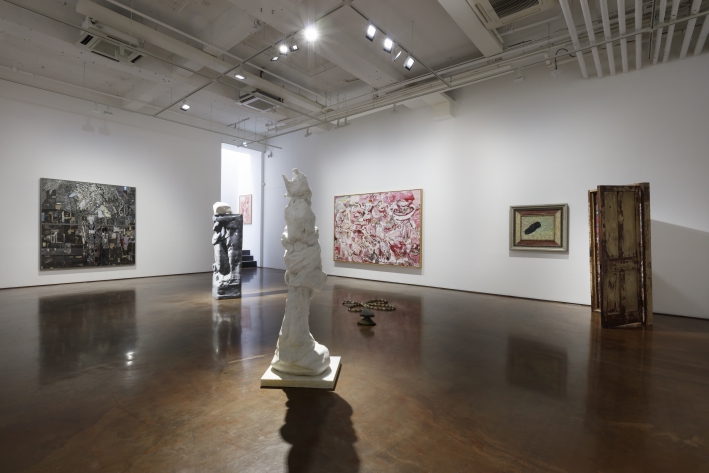 Arario Gallery opens the year of 2020 with Chen Yujun (陈彧君, b. 1976)'s solo exhibition. Chen is one of the most prominent artists in Chinese contemporary art, in which his poetic yet dramatic works are dedicated to explore the drastically changing Chinese society based on everyday experience.
Each Single Self is consisted of more than thirty new works, each work starting from the most private experience of the artist and expanding to each individual's story, constructing another community, as a self. The way Chen tells his story is based on the artist's critical perspective and examination about the concept of an 'individual self' and 'community' in Asian countries that went through modernization and westernization over the last century.
Chen will present works which sheds more light on the stores of an individual in comparison to the artist's past works. Sketches of human figures on the other side of the newspaper and abstracted human figure sculpture in marble illustrate the artist's interest in how each 'ego' and 'self' form a community. Chen furthers his exploration to how each society identifies the concept of a community differently.
One of the major works for the exhibition, Space of 11 Square Meters, showcases the collage technique foundational to the artist's creative process. This 5-meter long work is meticulously created through the process of constant ripping and tearing of newspaper and hand-made paper. The work is completed with exquisite touch of acrylic and traditional ink paintings. When looked closely into the dramatic expression, assemblages of different 'houses' come into life. The motif of 'house' is often used by Chen in attempt to portray the complex issue of diaspora in contemporary society can be investigated through the most private spatial concept of a home. Today, where boundaries among society and countries are continuously expanding and re-contextualized, we can reflect the meaning of individual's identity and the sense of a community by closely looking into Chen's intense work that carefully weaved each individual stories living the contemporary society.
Chen Yujun was born in 1976, Putian, Fujian Province, and currently lives and works in Shanghai. He graduated from Department of mixed media of China Academy of Fine Arts in 1999. Chen uses various media from paintings to collage, drawings and sculpture, in which the artist utilizes in portrayal of people living the everyday life. His recent solo exhibition was held Asia Art Center Taipei II (2018), 9m2 Museum (2015) in Shanghai, and will have a large-scale solo exhibition at Long Museum, Shanghai in 2021. He also participated at group exhibitions including The 8th Shenzhen Sculpture Biennale (2014), Minsheng Art Museum (2015), Long Museum (2014) and Ullens Center for Contemporary Art (2013). His works have been collected by DSL Collection (France), Long Museum (China), M+ Museum (Hong Kong) and more.
About the exhibition
Dates: 2020. 01. 09 - 02. 22
Venue: Arario Galllery
Courtesy of the artist and Arario Gallery, for further information please visit www.arariogallery.com.