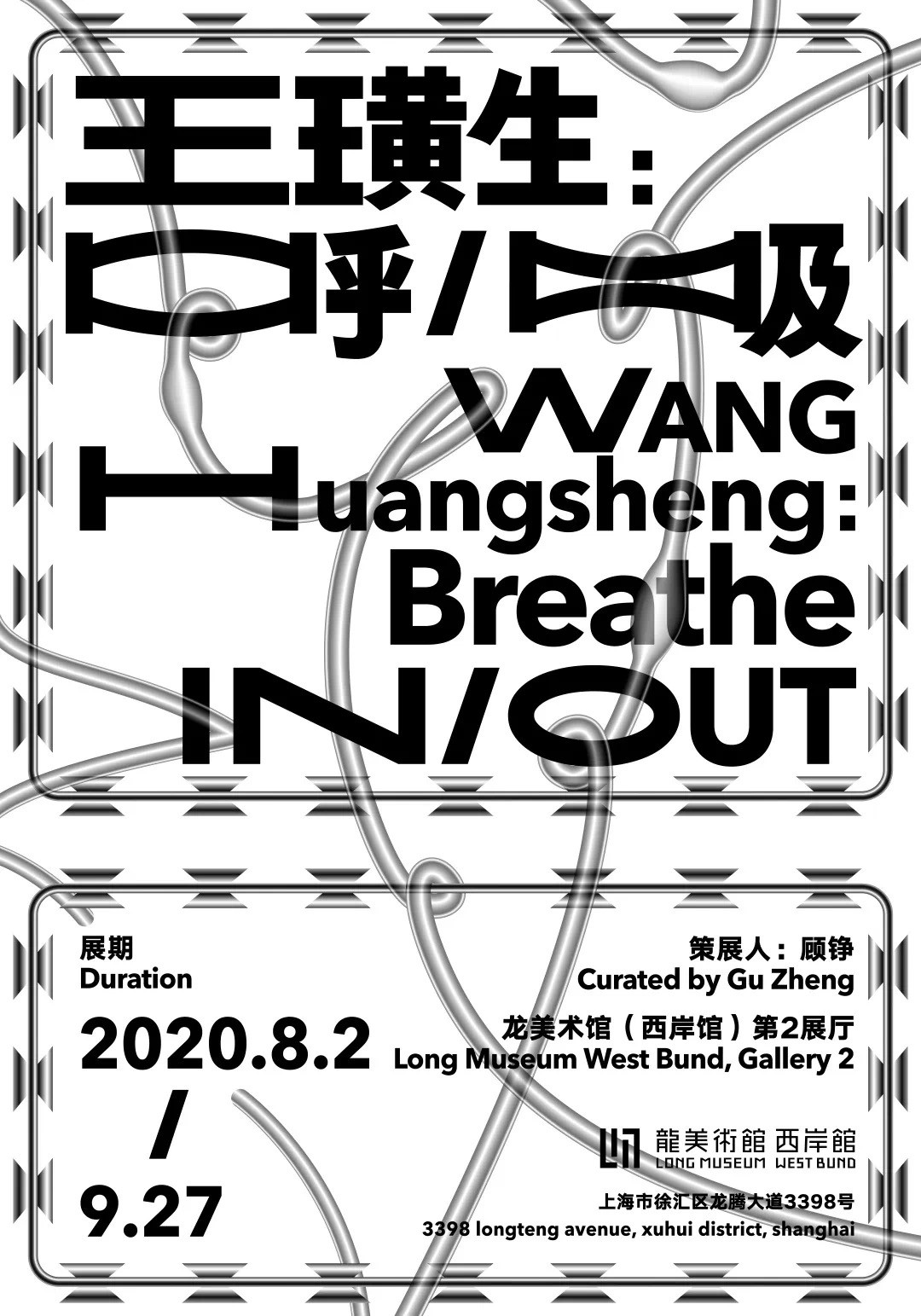 With common ready-made objects, like oxygen bottles, discarded mattresses, iron wire, sealing tape and gauze bandages, Wang tries to develop or elevate their artistic dimensionality by transforming their purposes and application scenarios, then redeveloping them through other media (such as photography). He further suggests the paradox between modern life and civilization, to transform and intensify the pain, restlessness and tension in the image, to create the warning image of the endless but always unstable life, and to break up the new daily routine of living a befuddled life on the basis of economic development.
Recently, the new normal of befuddled life received a bitter hit from the virus, which is as slippery as an eel and makes everyone feel in danger, and has been replaced and exiled by another new normal. The images he elaborately selected tell us that the human crisis represented by COVID-19 has integrated into our routine and been deeply inlaid into our consciousness in a normalized manner. After driving out the new normal, it has become the new-new normal with greater uncertainty. Again, he stimulated the smooth, steady and blunt routine, which has been changed by COVID-19, with a violent image. Therefore, we gain an opportunity to restore our conception and ideas about life which have been paralyzed, spoiled and corrupted by superficial abundance. We are also inspired to reflect on routine and life itself.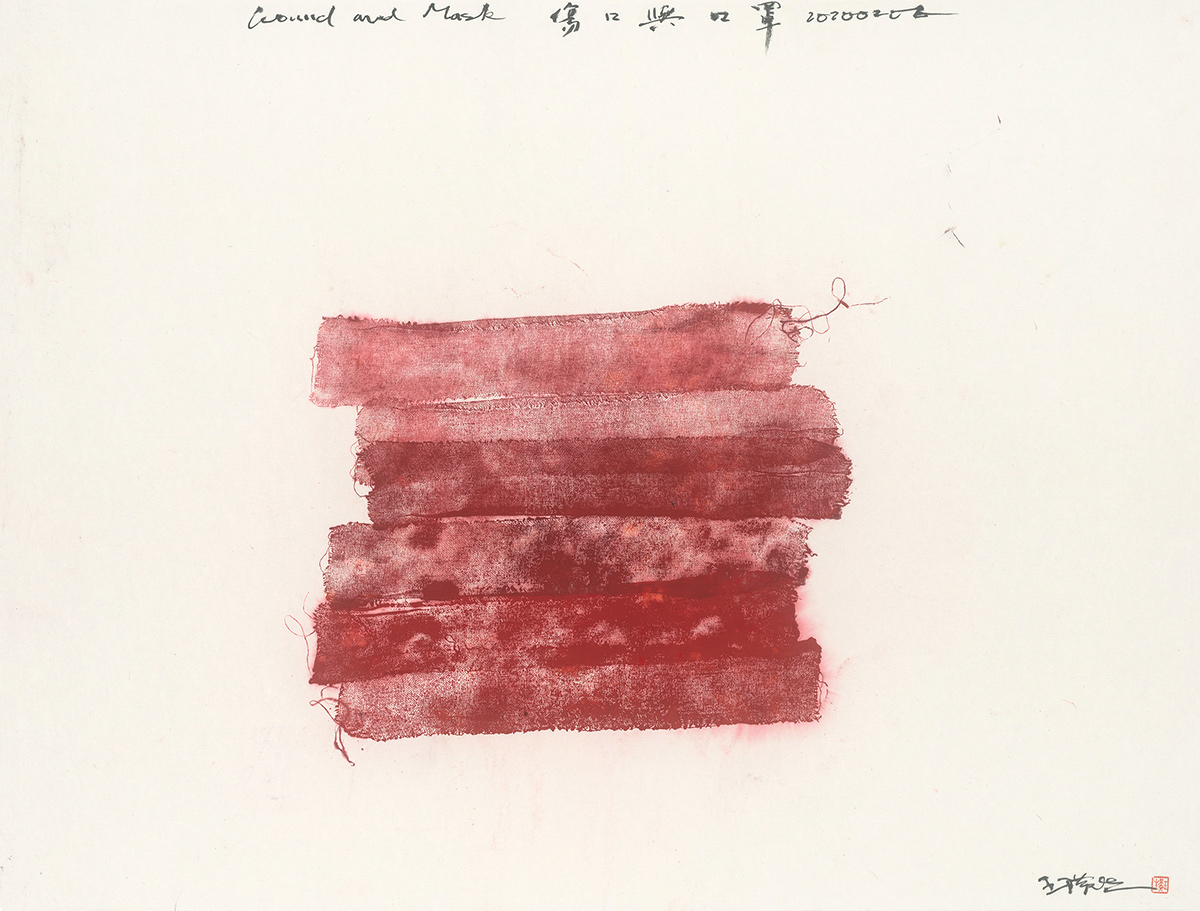 Wang Huangsheng, Wound and Mask, ink and color frottage, 100x69cm, 2020
The key imagery of WANG Huangsheng:Breathe In/Out is an oxygen tank. Oxygen tank is an important means of first aid. At the same time, it embodies a sense of uncertainty. From the paradox that comes with the oxygen tank, urgent needs and dangers, WANG Huangsheng is committed to show the paradox of contemporary life. Everything in life seems so complete and adequate to meet all needs, but everything is so fragile, and it is possible to collapse in an instant. Wang knocks on the oxygen tank, the amplified sound of which suggests the fundamental meaning of the tough and fragile life, along with the amplified sound of heartbeat and breathing. In the artist's performance, he engages with the oxygen tank, an object full of tension and anxiety, bridging the split between sound and image through an individual act.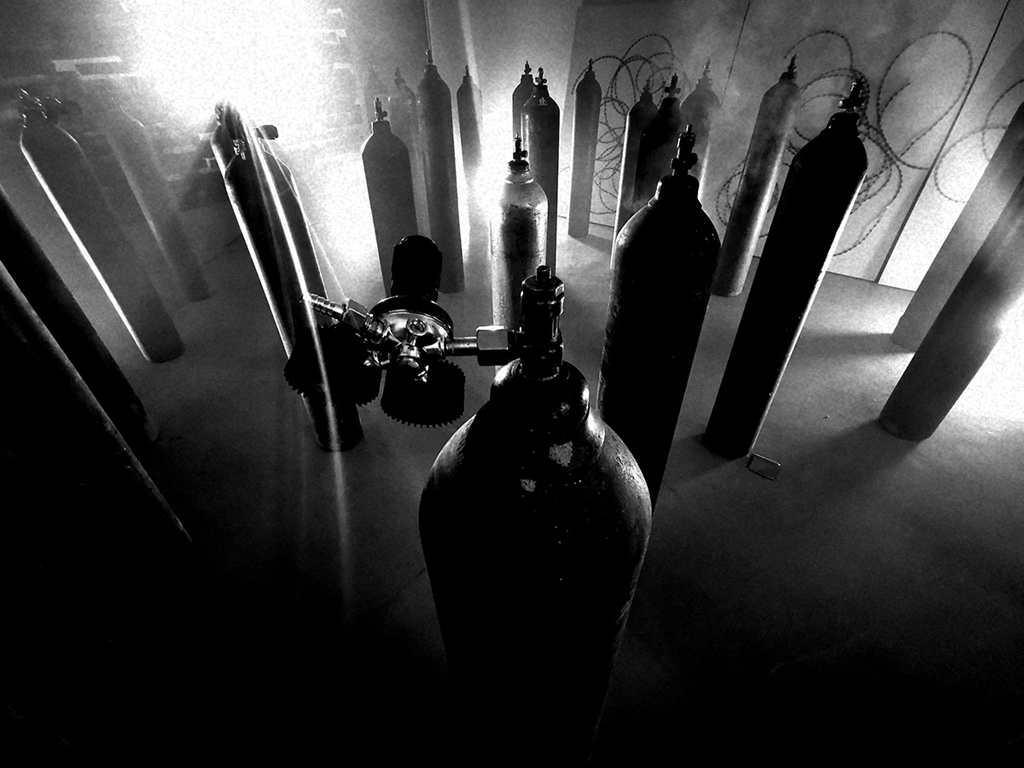 Wang Huangsheng, Breathe In / Out, 2019; Installation, video and sound, Dimension variable
The contemporaneity of contemporary art is reflected in the way the relationship between art and daily life is addressed. The approaches and concepts of ready-made art suggested by Duchamp 100 years ago provide us with an opportunity to reflect on the relationship between art and daily life, and to integrate the two. WANG Huangsheng's ready-made objects, be they oxygen tanks, barbed wire, sealing tape or gauze bandages, remind the paradox of contemporary life and civilization, transform and strengthen the pain, uneasiness and tension in them, and create a critical imagery of life that is endless but also in constant danger.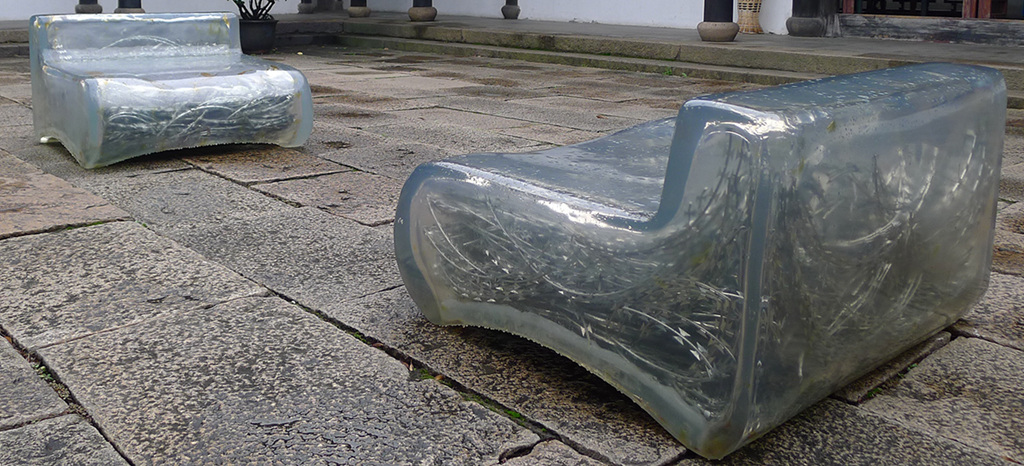 Wang Huangsheng, Talk, 2019; Installation, 105×105×65cm×10 pieces
Nowadays, images are everywhere. WANG Huangsheng does not use simple images to tell his views on contemporary life but uses the imagery of objects in reality to visualize the daily life and crisis of life generated, regulated, and displayed by objects. In this exhibition, works such as Talking, Bound, Metaphor Visions, Walls and Sealants combine ready-made installations, paintings, videos, photography, performance art and sound art. They are a poetic manifestation of life as well as a visual alarm of the crisis of life and reality.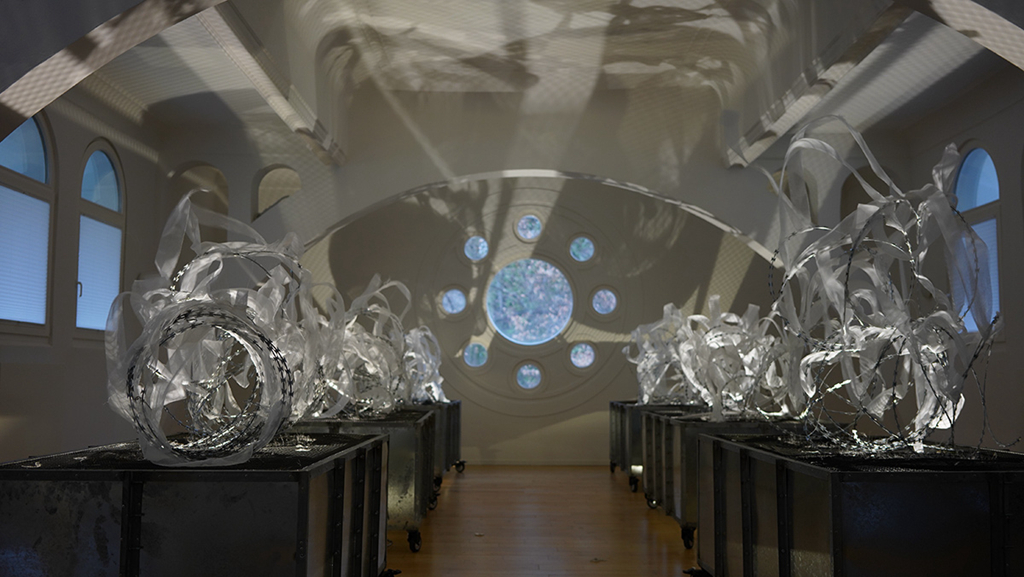 Wang Huangsheng, Bound, 2019; Installation, Dimension variable
The real-life experience brought about by the COVID-19 epidemic, as Wang's source of inspiration, becomes the backdrop of the exhibition. The exhibits shine with unusual power and developed texture. The rich aesthetic expression based on profound life experience is tightly connected to his reflection on life, with the key image of oxygen bottles as the real standpoint. Therefore, it fully shows the ideological tension of an artist in an era of crisis.
About the exhibition
Curator: Gu Zheng
Dates: 2020.8.2—2020.9.27
Venue: Long Museum West Bund
Courtesy of the artist and ‍Long Museum, for further information pleaes visit www.thelongmuseum.org.