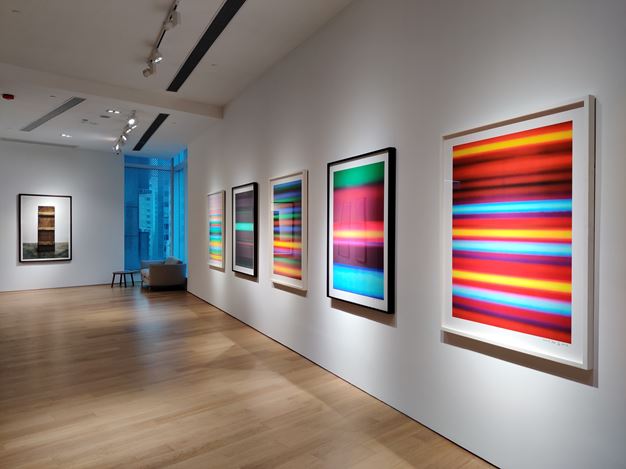 Tang Contemporary Art presents a same-name solo exhibition by the artist Feng Yan in its Hong Kong space. This is the artist's debut exhibition in Hong Kong as well as an important exhibition to the artist in recent years. The show will feature 14 photography works from various series including 'Psychedelic Bamboo', 'Tang Mausoleum Long Grass', 'Paintings' and 'Monument'.
'Feng Yan's grandest bewilderment & interest lie in the sense of distance in photography: the reflection on distance, the distance of reality and psychology. Is there a distance of reality? How to measure psychological distance? His focus on distance gives his photography a clear sense of notion, making his choice and assessment unique. Picking the distance between him and his object also unveils the mood, the aura and the meaning of his work.'
—Excerpt from Ai Weiwei, Speaking Beyond Words
''Each and every one of us lives within a discourse of power; this is inescapable,' Feng Yan says. 'Psychologically, we all experience a conflict between our desire for power and our resistance to the power of others.' The photographer himself appears, in reflection, in the convex mirror of the hubcap and, in elongated form, on the gleaming bumper bar. It is as if power, by its very nature, distorts its holders' view of common humanity. In a few simple images, Feng Yan conveys the unbridgeable distance between those who wield power and those who do not. He also suggests the menace of power–and, if those are really bullet holes, its vulnerability as well.'
—Excerpt from museum catalogue by John McDonald (Head of Australian Art at the National Gallery of Australia)
'His studied treatment transforms the tire into an object of significance–something with a story to tell.'
—Excerpt from museum catalogue by Kris Imants Ercums (Curator of Spencer Museum of Art)
'One can also notice that as a title, Psychedelic Bamboo is an amalgam of Western hallucinogenic drug culture with a reference to the ubiquity of bamboo in China, in both art and nature. Feng Yan's use of abstraction also relates to his fondness for traditional Chinese painting with its dynamic nonrepresentational brushstrokes and flourishes. Indeed, the romanticism of these photographs–their deliberate beauty–raises useful questions about the relationship between photography and painting.'
—Excerpt from 'Photography Objectified' by Jonathan Goodman (Associate Professor of Pratt Institute)
'By deliberately avoiding the monumentality of ruins, Feng Yan shuns old and new dreams of supremacy and power. The photographer follows into the footsteps of archeologists and historians only to turn his gaze away from their findings and focus on what from time immemorial prospers unnoticed. Grass takes the place of monuments, leaving out achievements, destruction, and ruptures, and calling attention to a temporal scale that is greater than that of the history of Imperial China. Perhaps, one day botanists will assess that this kind of plant only grows in this area, giving a different spin to the notion of cradle of civilisation. And perhaps impending climatic cataclysms will soon threaten what so far endured through such a long duration of time.'
—Excerpt from 'Reticent Images' by Paola Iovene (Associate Professor in Chinese Literature, East Asian Languages and Civilisations, The University of Chicago)
'Feng Yan's photographs, though uncomfortable at first, are a refreshingly subtle perspective on contemporary Chinese life. He favors intimate scenes of faded and slipshod construction, of parking lot moments and spaces both personal and public that are pregnant with implication. With subtle allusions and large-scale prints he makes quotidian China monumental.'
—Excerpt from Dis-stilled Life - Photography by Feng Yan by Michael J. Hatch's (PhD, Princeton University)
About the exhibition
Dates: 13 FEBRUARY–13 MARCH 2020
Venue: Tang Contemporary Art, Hong Kong
Courtesy of the artist and Tang Contemporary Art, for further information please visit www.tangcontemporary.com.