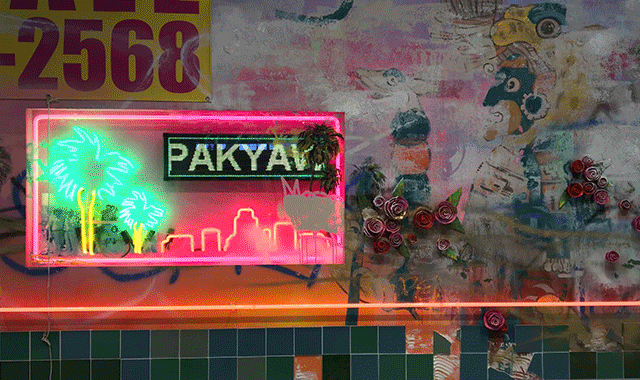 As the most influential art fair in New York, the Armory Show taking place annually on the Hudson River piers attracts significant attention from art lovers and collectors around the world. Held from March 5th to 8th, this year's fair ended right before the coronavirus outbreak started to sweep through New York City. Although Manhattan's first case of the coronavirus had been confirmed on March 1st, the VIP preview on March 4 was not affected at all. As told by many exhibitors, not merely all of the collectors that they have long collaborated with showed up, but considerable numbers of visitors also came to the fair during the subsequent public hours.
While most exhibitors turned out to have high transaction volume, the general public also enjoyed a smooth flow when walking through the fair. Such a viewing experience cannot be achieved without the organizer's efforts in designating the most relevant theme for each unit of the show, planning the exhibition venue according to the thematic division, and effectively disseminating information. The fair called up a group of highly credentialed curators to make an informed decision on how to accommodate 182 galleries from 32 countries in five different sections: Focus, Perspective, Galleries, Presents, and Platform. While introducing a series of works highlighted by the fair, I will also explain the different aspects that the five sections focus on.
Staged on Pier 90, the Focus curated by Jamillah James, a curator at the Institute of Contemporary Art (Los Angeles), was the beginning section of the fair. Each participating gallery had to come up with a solo- and dual-artist presentation responding to the notions of alternate versions of self and revisionist histories.
Charlie James Gallery (Los Angeles) featured works by Patrick Martinez and Gabriella Sanchez. Both artists reconstruct visual elements that can be associated with California, and appropriate neon tubes into their installations. While delineating a typical American mundane scene, they also address a hidden crisis in American identity under the umbrella of consumerism.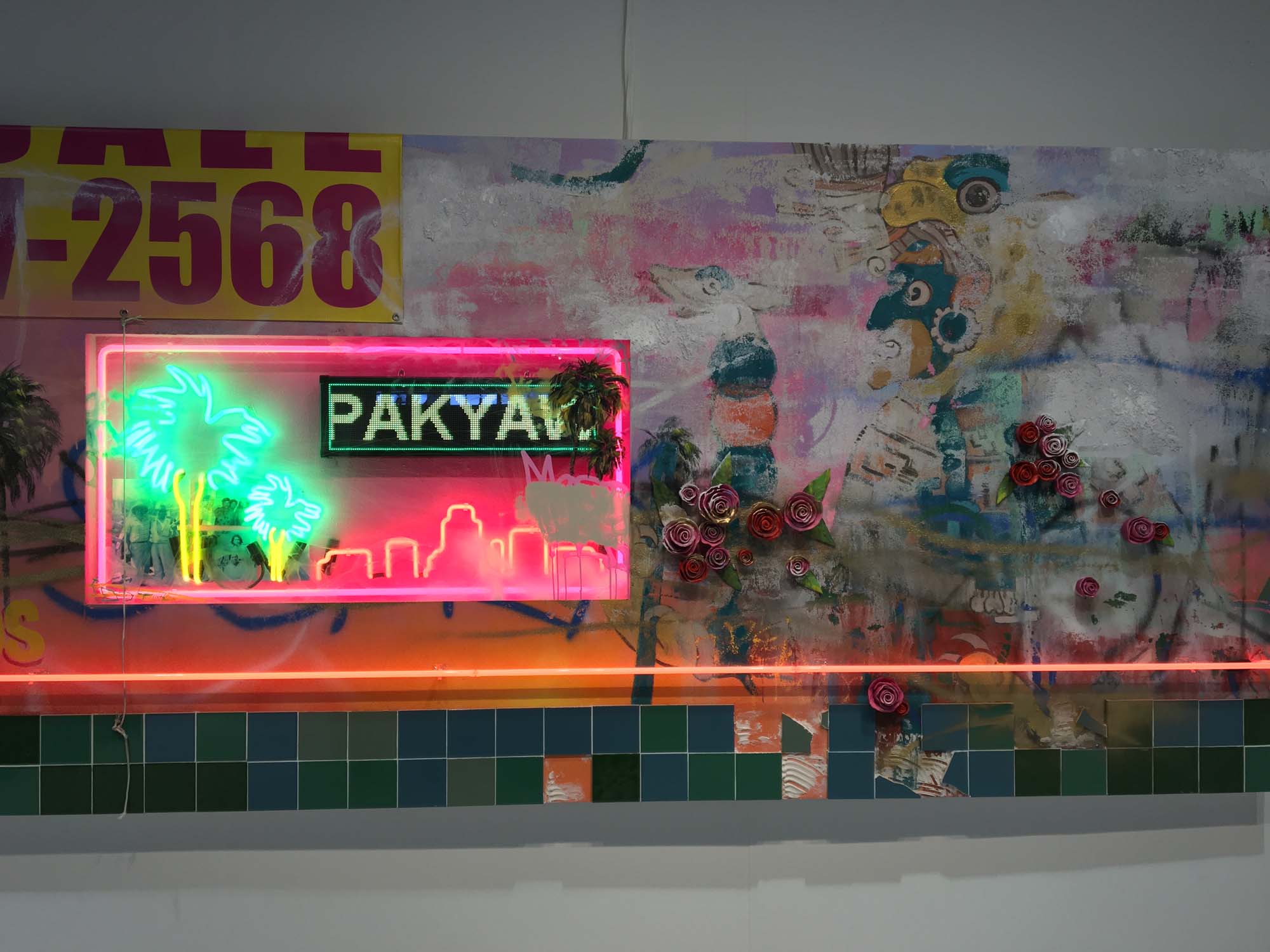 Gabriella Sanchez, Old Merchant God, 2020, Charlie James Gallery, Los Angeles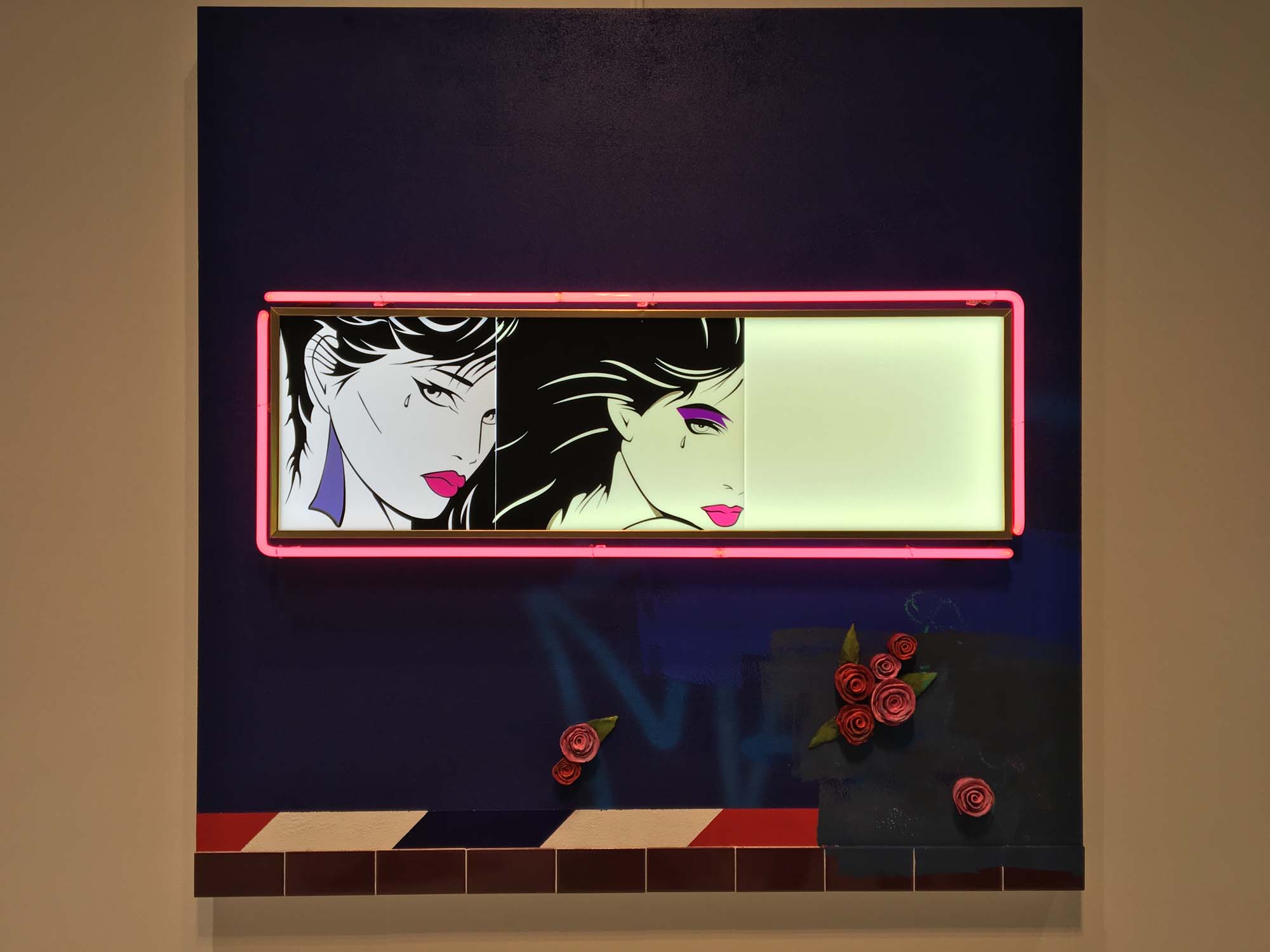 Patrick Martinez, Auntie Sylvia and Cousin Lorena, 2020, Charlie James Gallery, Los Angeles
This year was the first time for Curro Gallery (Mexico) to participate in the Armory Show. Alejandro Almanza Pereda, the artist represented by the gallery, avoided touching on the complex history between Mexico and America directly. Instead, he took the symbolic meaning from concrete as a modern architectural material, cast pillars around Western landscape paintings in a minimalist style, and exhibited this series of works in a way that mimicked the Paris Salon during the late eighteenth century. Within such an exaggerated and even ridiculous scene, the artist indicated his perception of the paradoxical relationship between the Western tradition and modernity.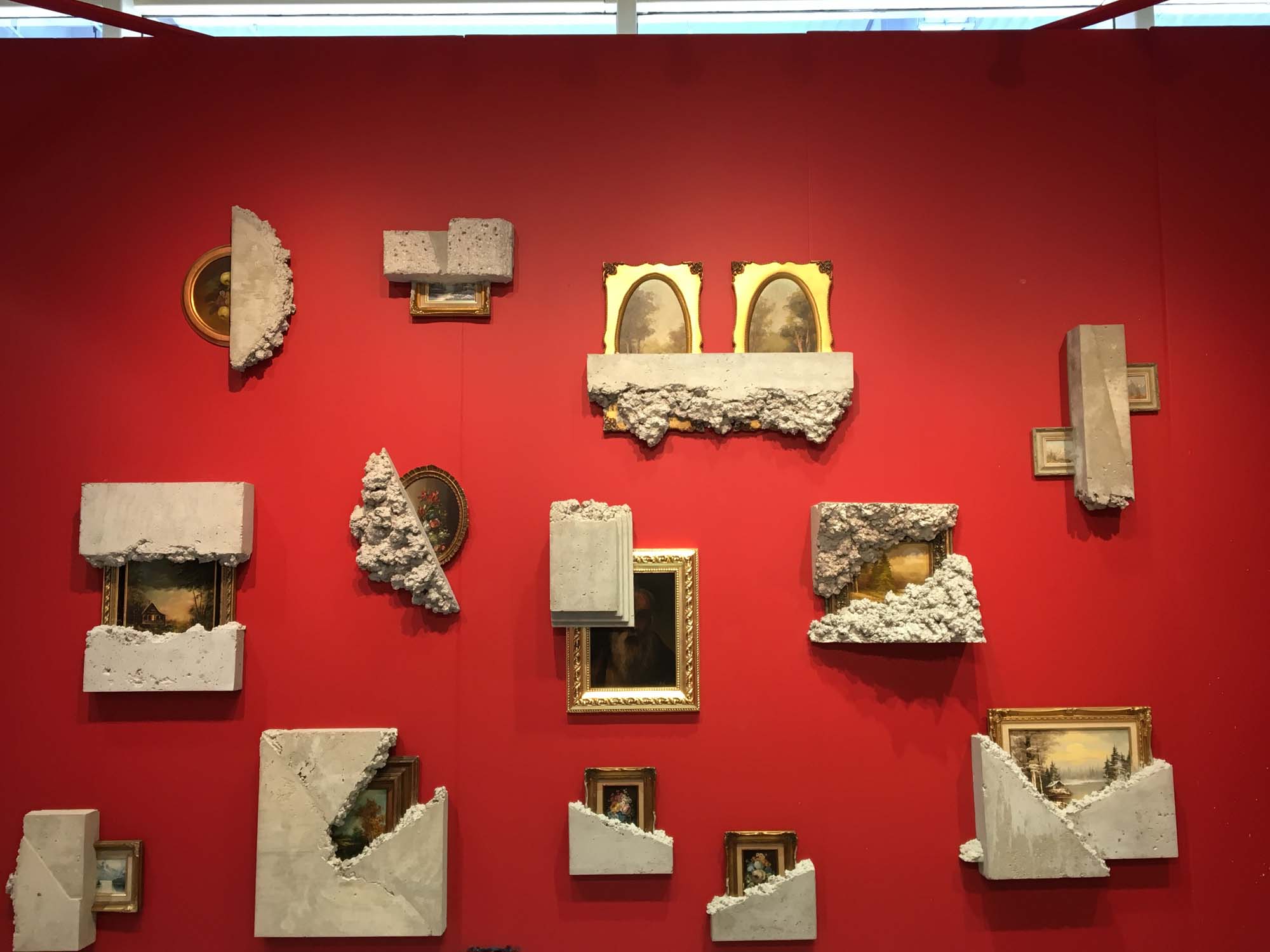 Alejandro Almanza Pereda, Fear of Empty Space, 2020, Galeria Curro, Guadalajara (Mexico)
For anyone who walked through the Focus, it was impossible to miss a video installation showing a Medici Gallery in Louvre filled by the flood and a miniature model used to shoot this video. The source of the inspiration for this work came from the Paris flood of 2018. Bringing viewers close to what had not happened but easily could have, the artist Tezi Gabunia criticized the French government for its laissez-faire attitudes towards natural disasters caused by climate change.
Tezi Gabunia, Breaking News: The Flooding Of The Louvre, 2018-20, Galerie Kornfeld, Germany
Perspective, the unit following Focus, was curated by the Director of Denver Art Museum Nora Burnett Abrams. In this retrospective section, the curator invited the audience to re-examine 20th-century artworks within the context of contemporary art. For example, Susan Sheehan Gallery located at the entry of Perspective showcased a series of prints by 20th-century women artists, revealing how this group of artists elevated the status of print-making and made it an essential part of the 20th-century art history.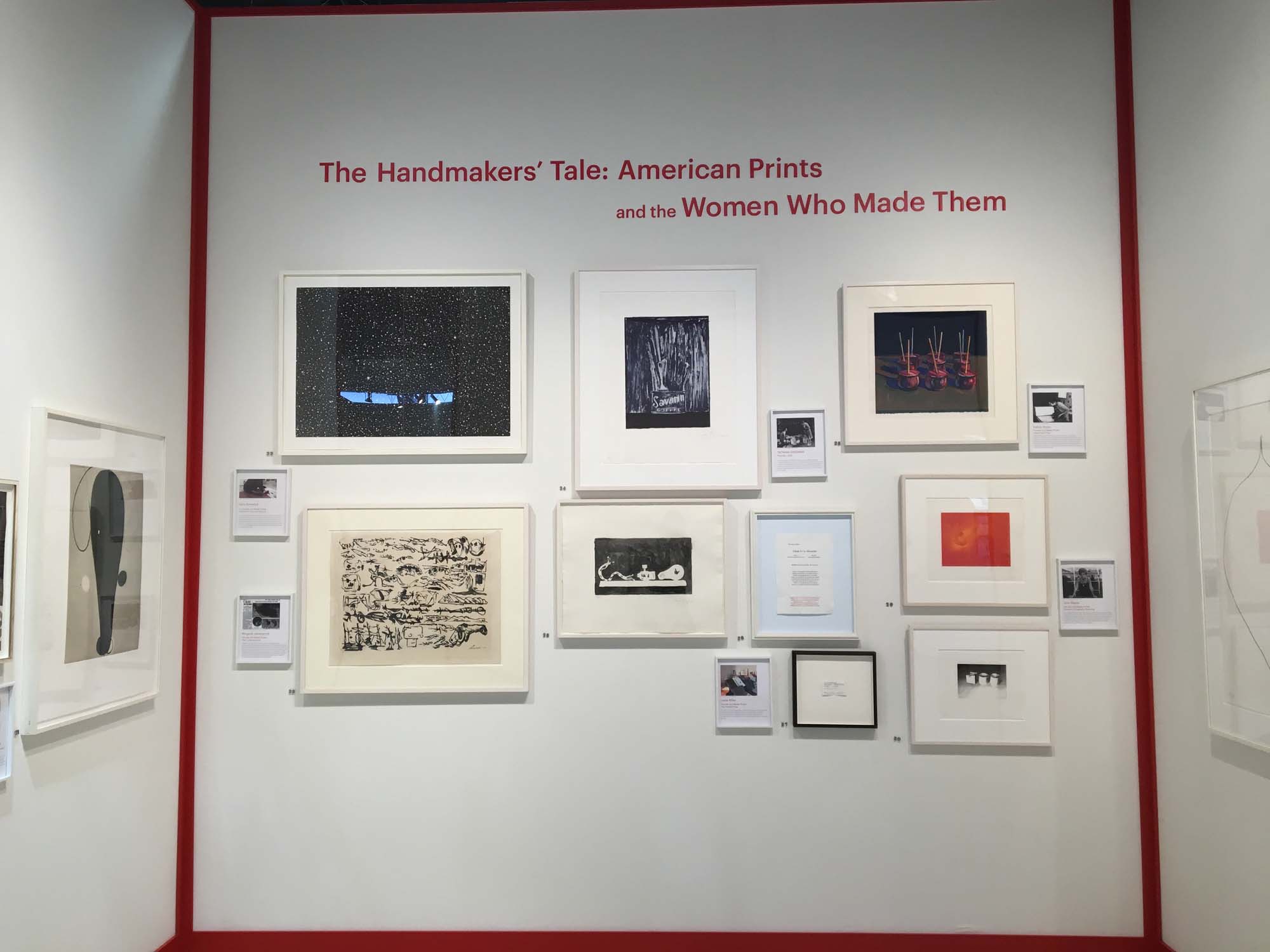 Susan Sheehan Gallery Exhibition View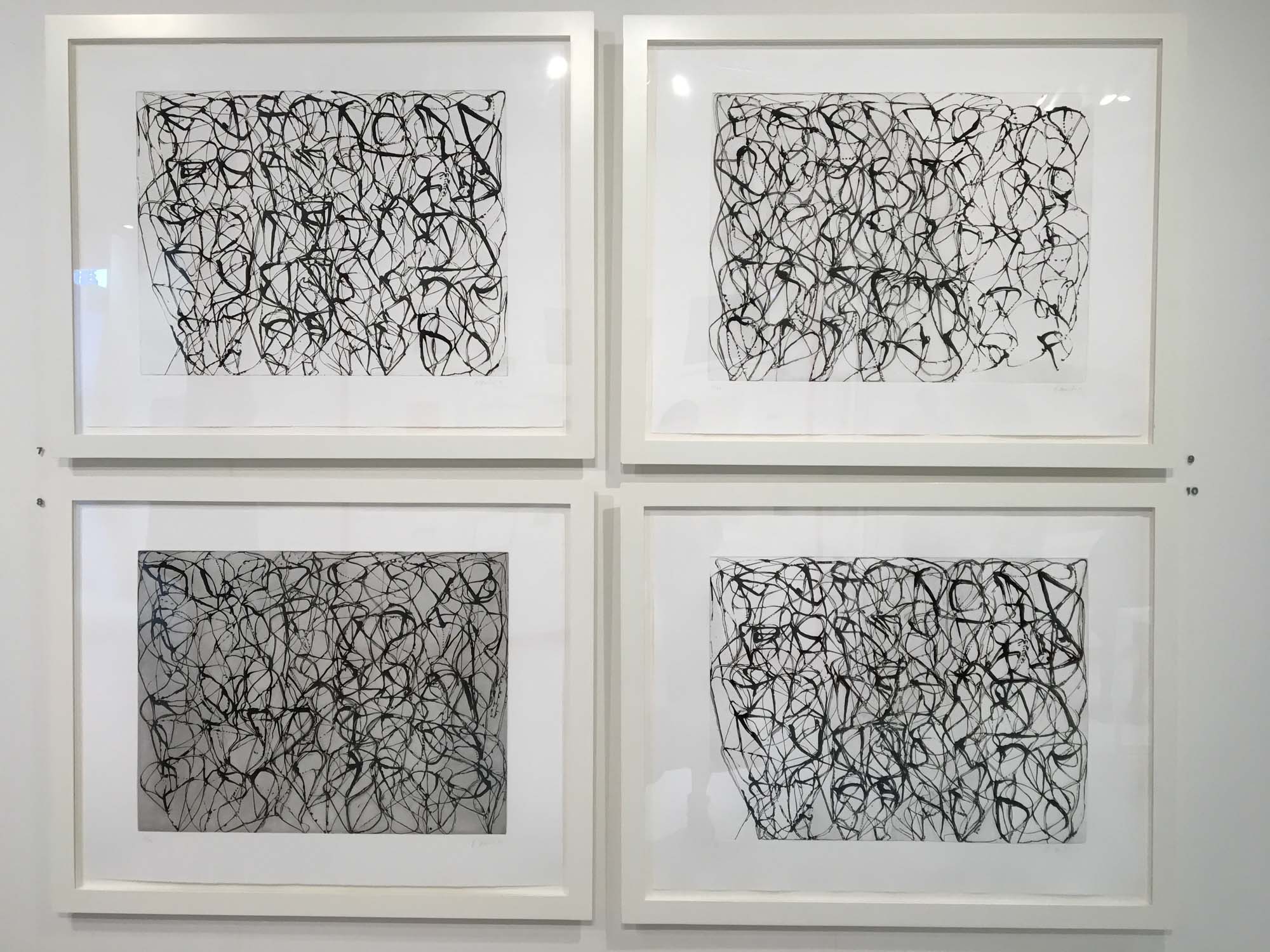 Brice Marden, Zen Studios, 1991, Etching, Susan Sheehan Gallery, New York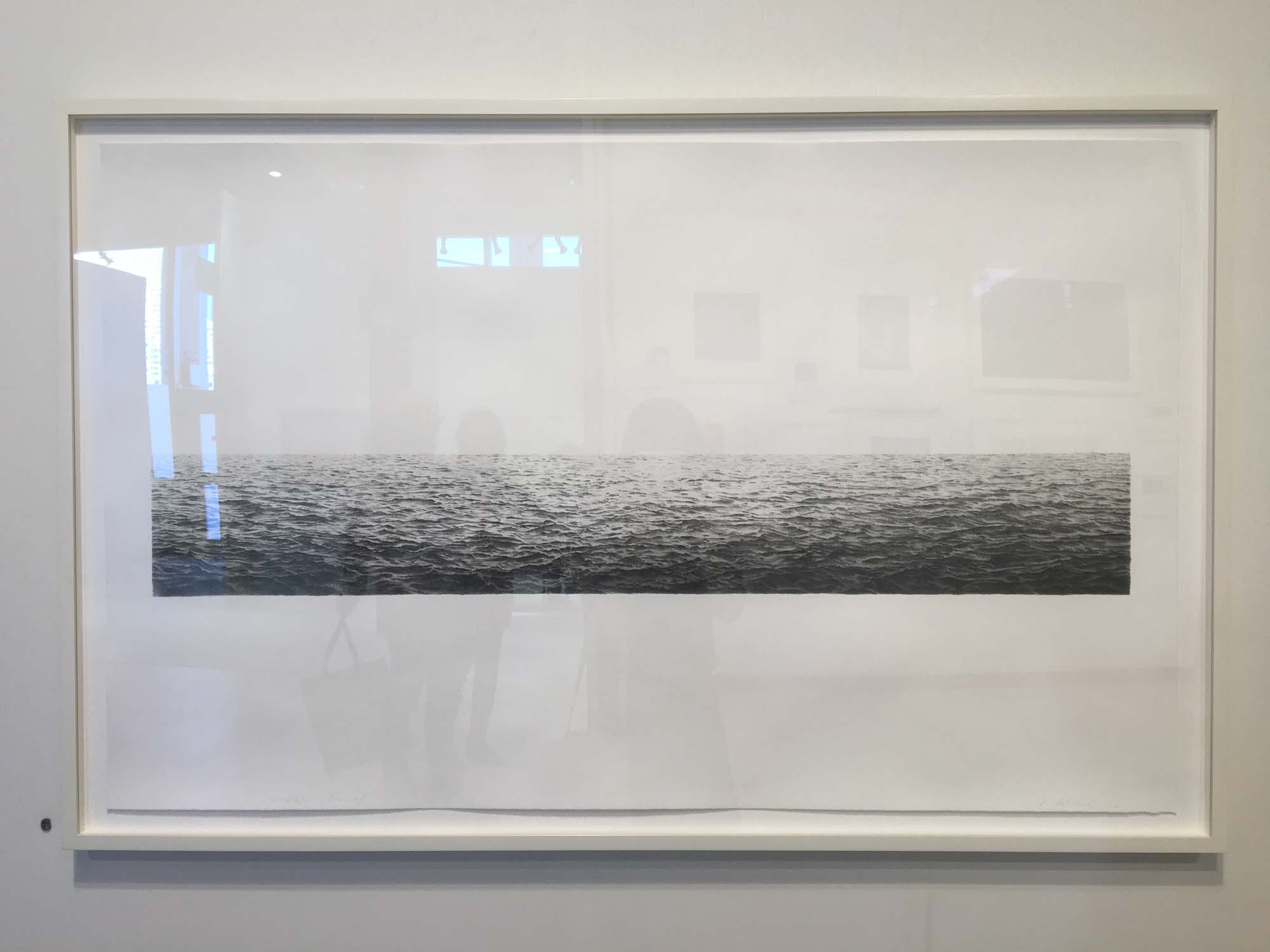 Vija Celmins, Untitled (Ocean), 1972, Lithography, Susan Sheehan Gallery, New York
To boost the enthusiasm for the classics, the curator specially arranged a live performance for the audience halfway through this unit. The artist Tim Youd represented by Cristin Gallery sat still in front of a typewriter, transcribing all the words of a classic American fiction one page by running it through the typewriter over and over again. This piece of paper was gradually filled with black ink and finally damaged.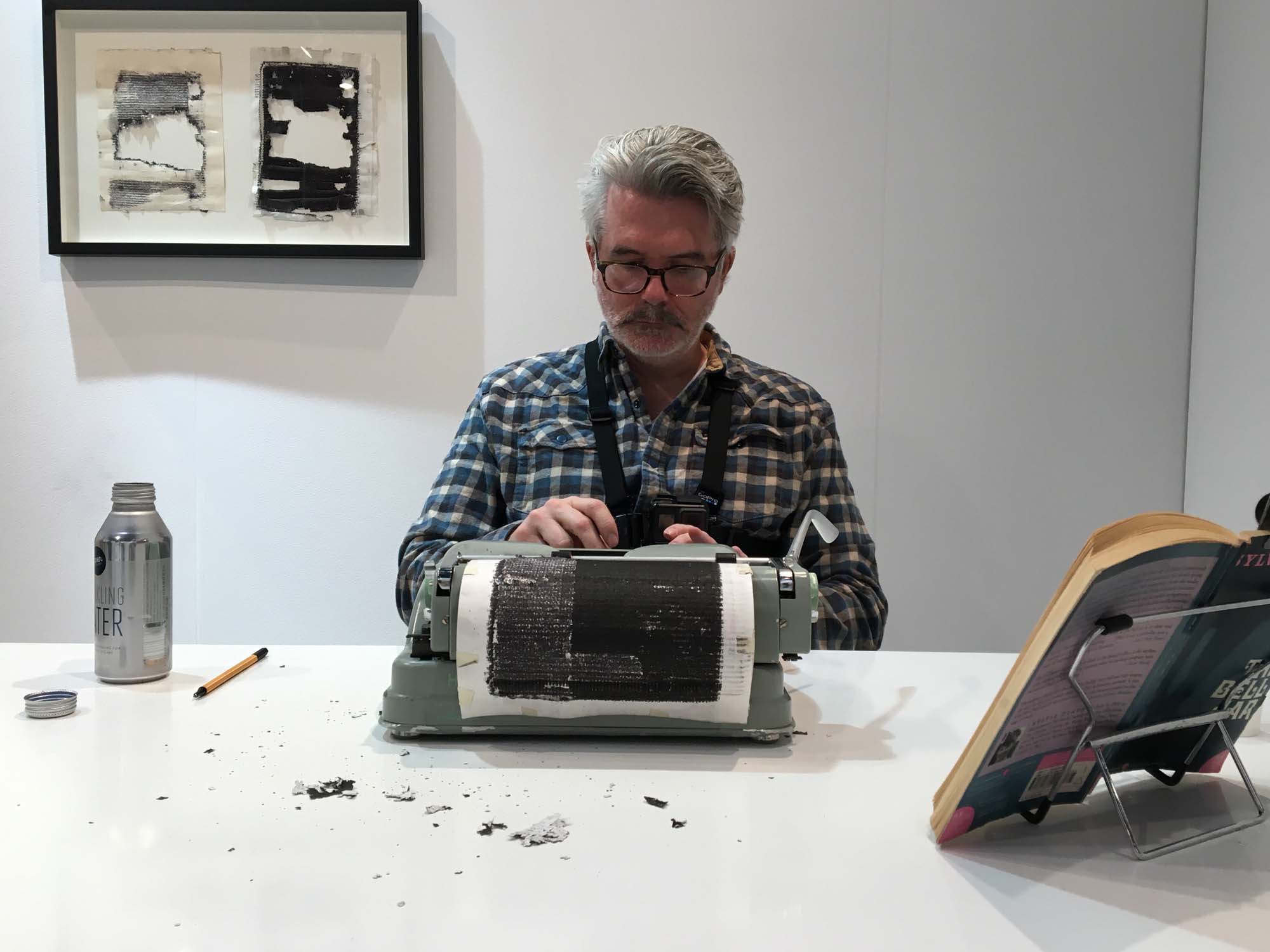 Tim Youd, Live Performance, Cristin Gallery, New York
Galleries staged on 94 Pier was the core section of the Armory Show, as it featured outstanding 20th- and 21st-century artworks presented by leading international galleries from 109 countries. Filled with large paintings and massive sculptures catering traditional collectors' taste, the whole venue was also interspersed with works that refreshed viewers.
Apalazzo Gallery (Italy) brought many colorful glass sheets with films printed on them. Titled An Instant It All Came Back to Me, this series of work by Jonas Mekas was enlarged to the size of mosaic stained glass and exhibited at a local church during the Venice Biennale 2015.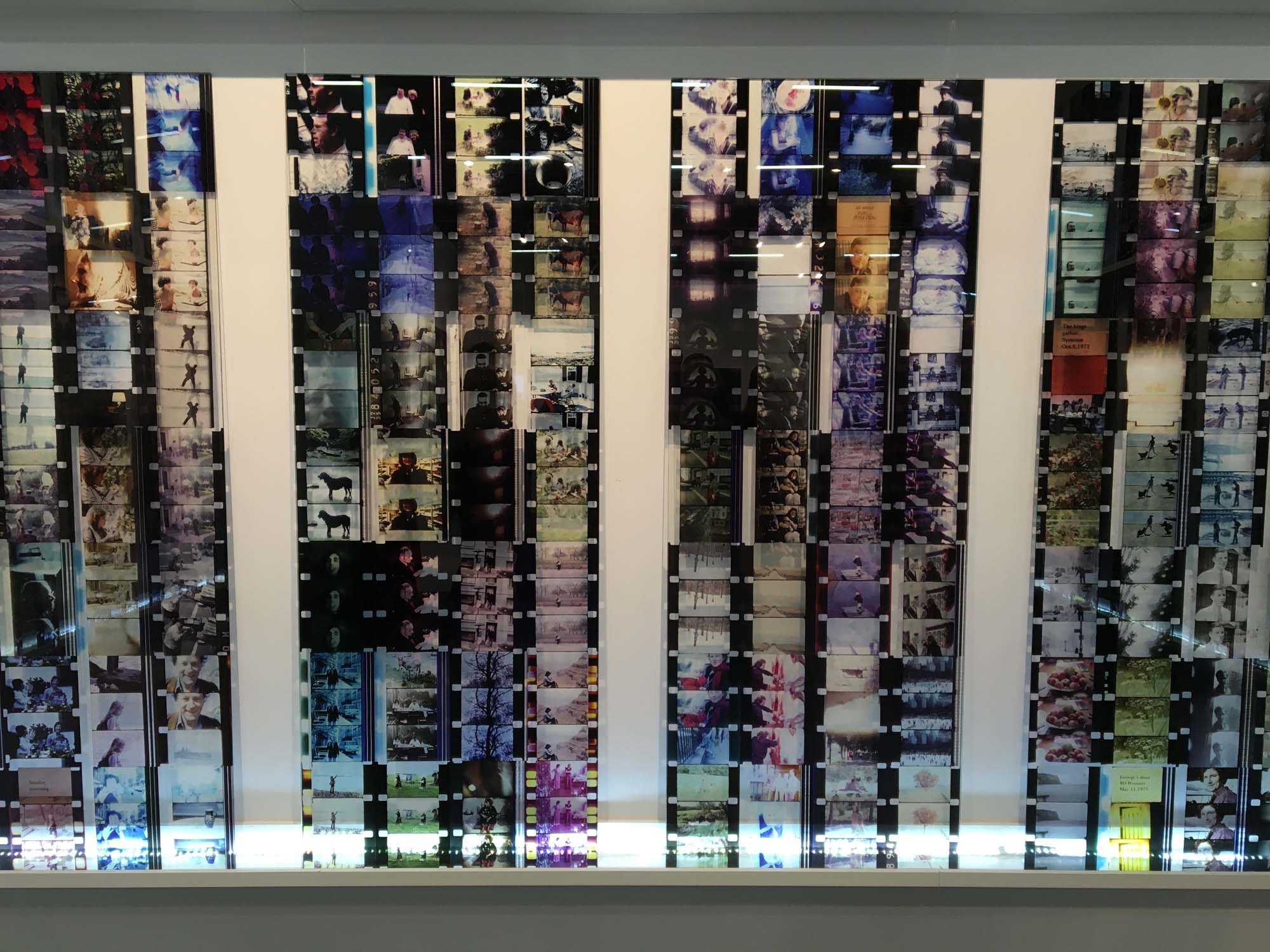 Jonas Mekas, In an instant it all came back to me, Apalazzo Gallery, Brescia (Italy)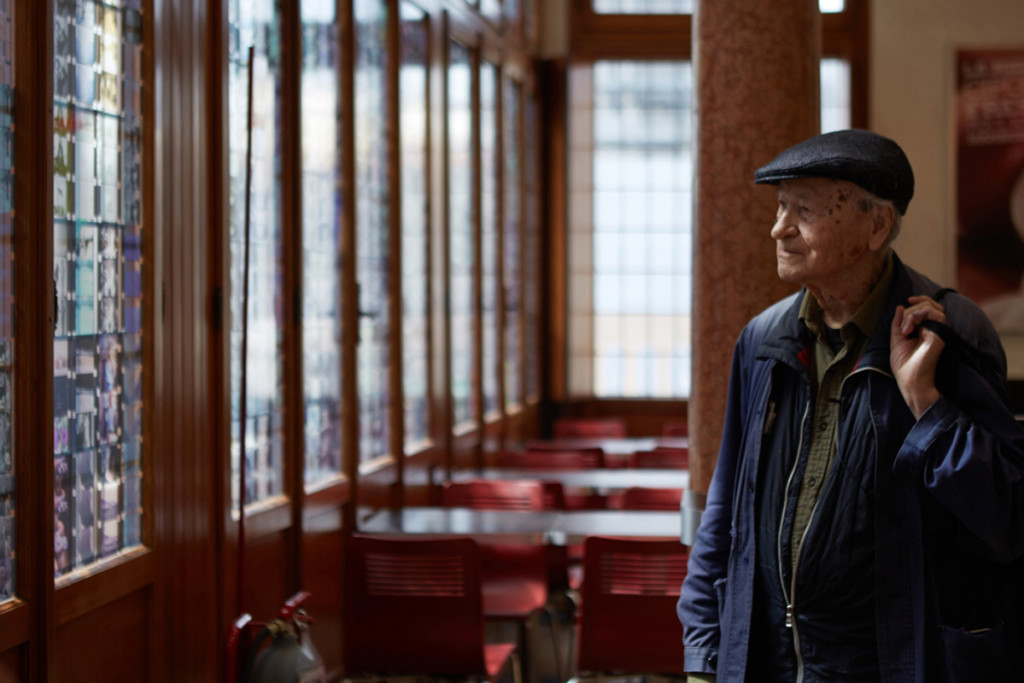 Jonas Mekas, The Internet Saga, 2015, Venice, photographed by Francois Lecturcç Spazio Ridotto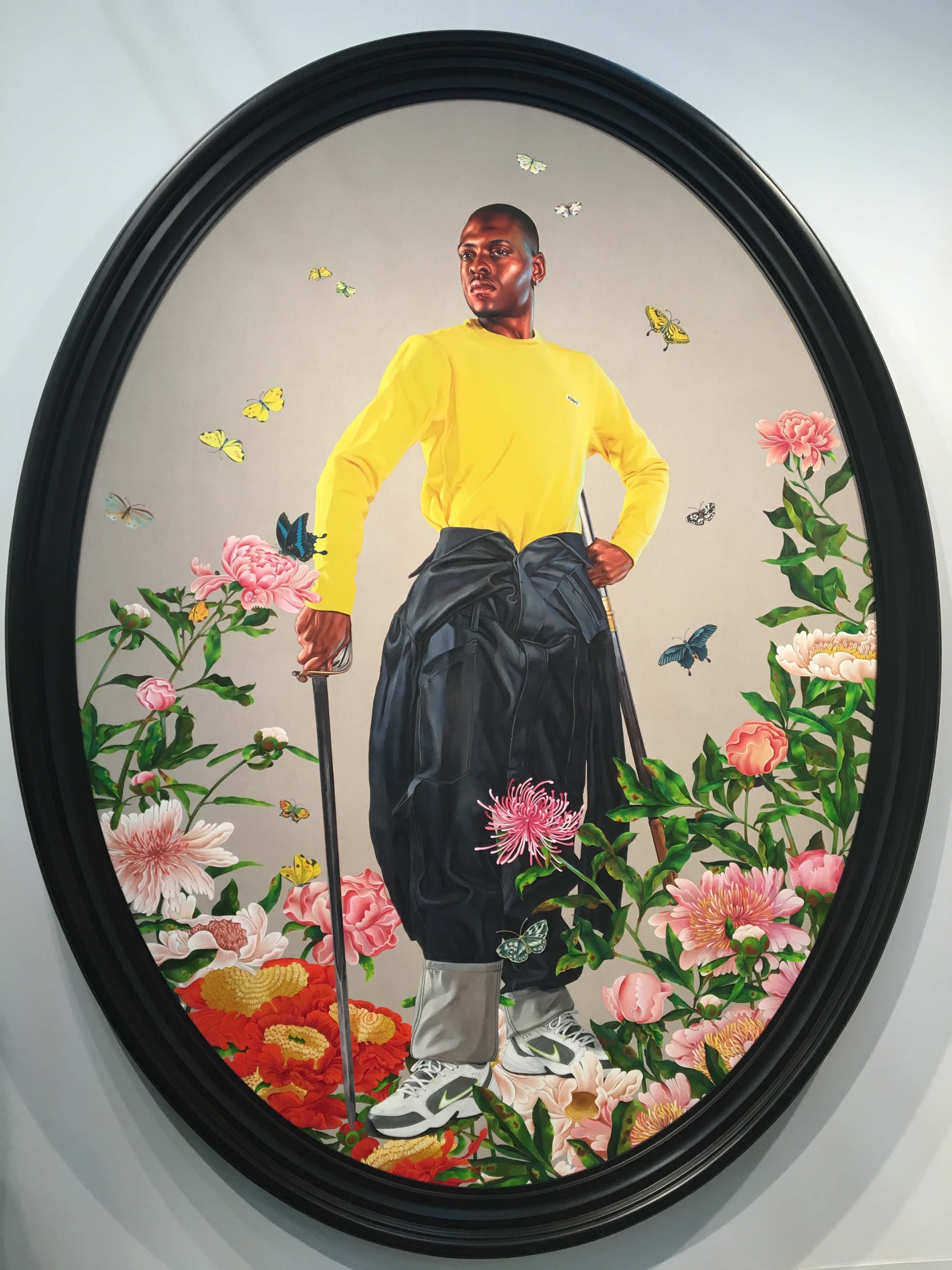 Kehinde Wiley, Portrait of Prince Anthony, 2020, Roberts Projects, Los Angeles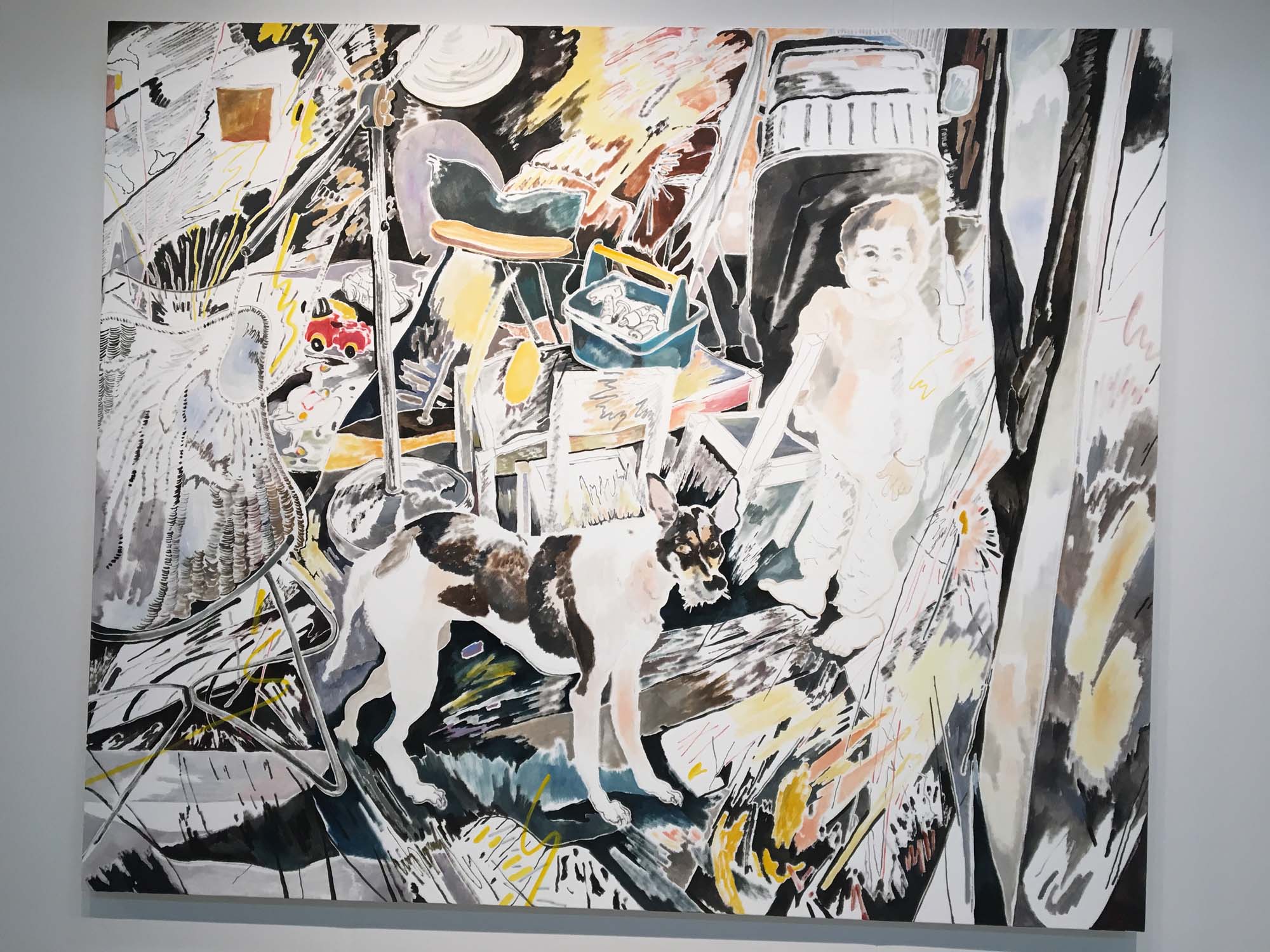 Chris Huen Sin Kan, Balltsz and Joel, 2020, Simon Lee, New York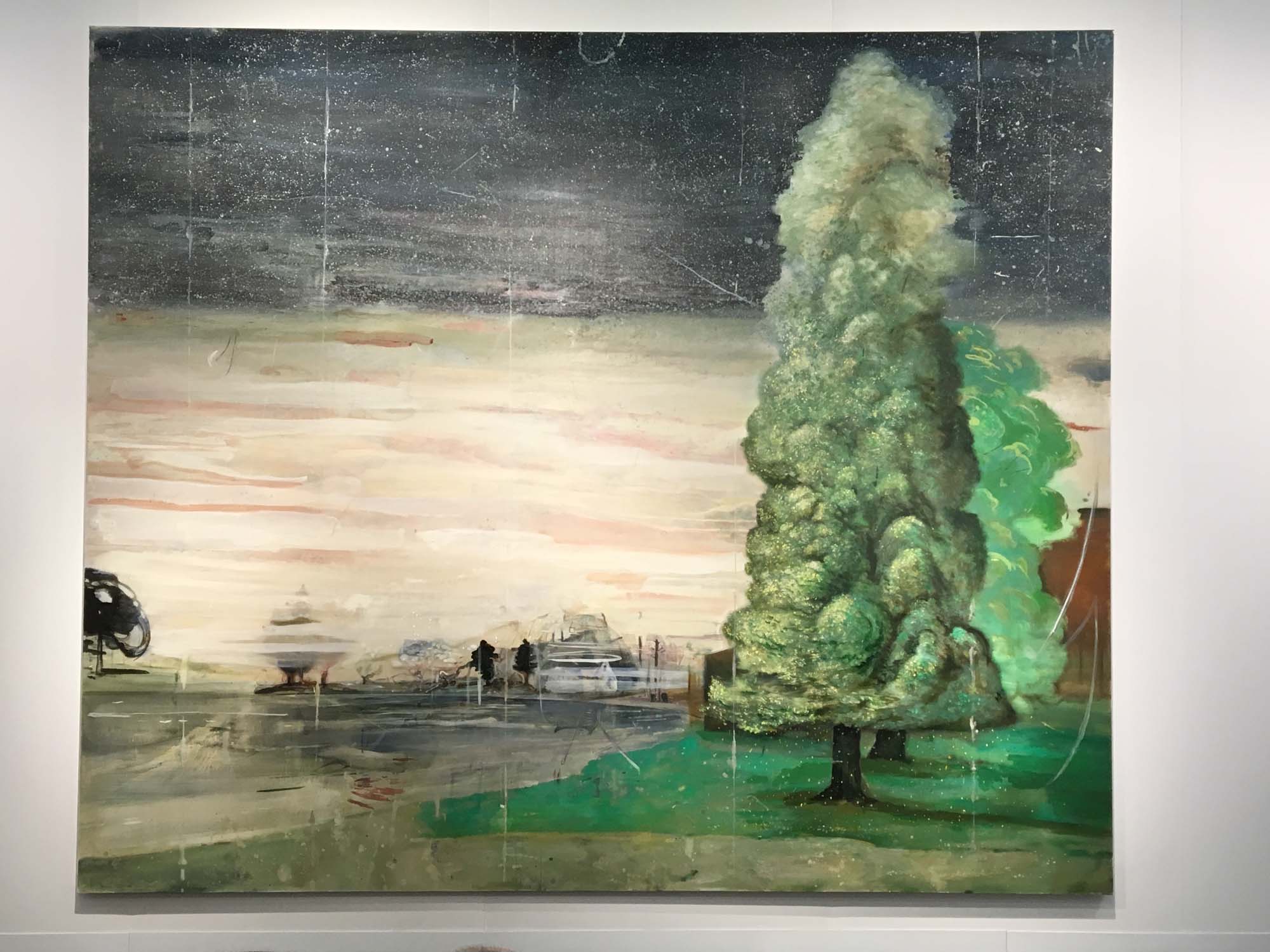 Ged Quinn, Bloodstream Sub Tilia, 2019, Stephen Friedman Gallery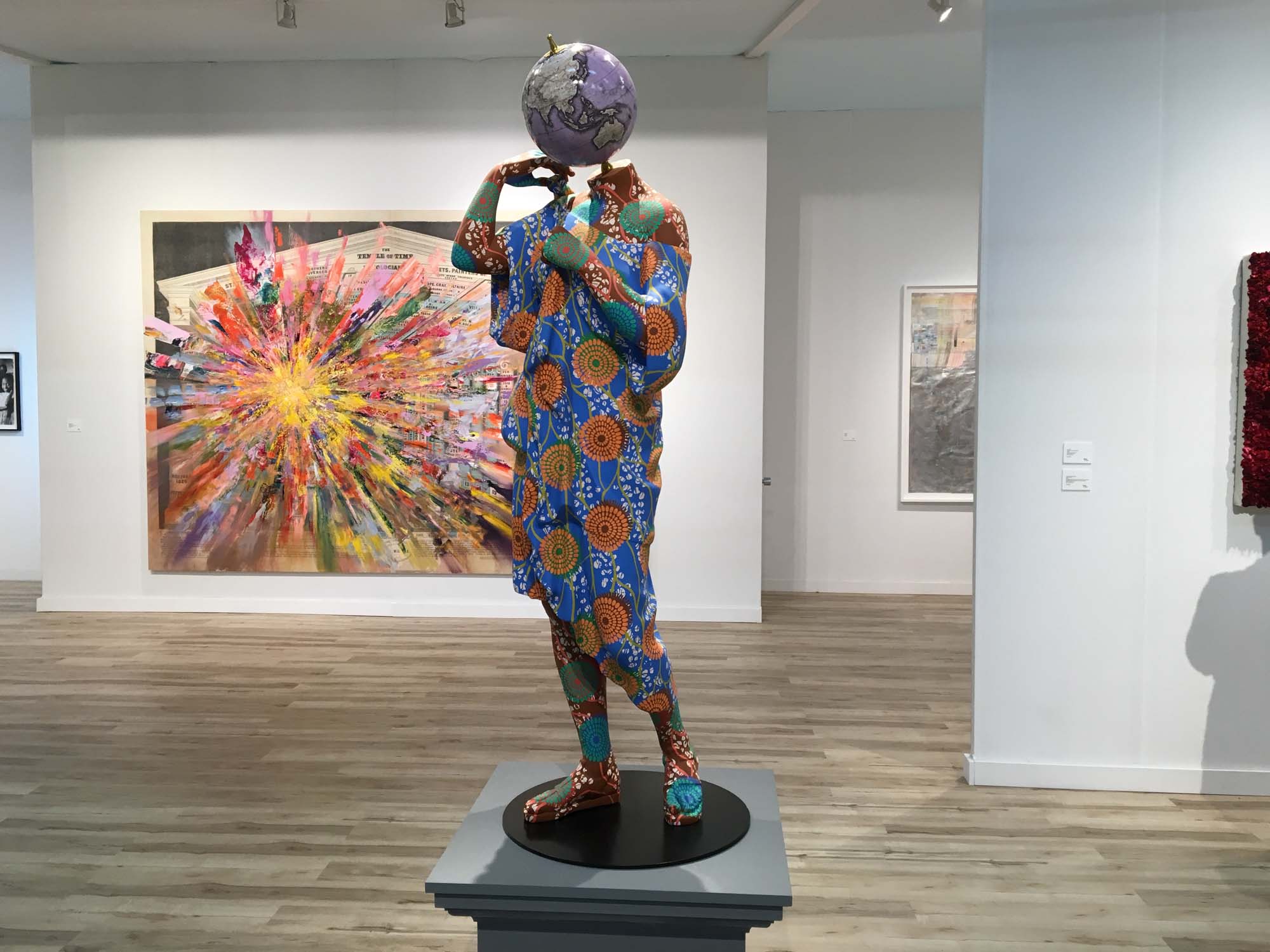 Yinka Shonibare, Diana of Gabii, 2019, James Cohan, New York
Presents was a platform for galleries no more than ten years old to showcase recent works from emerging artists. With the participation of 26 galleries, this unit highlighted the next generation of artistic talents in an intimate setting. With a warm and soft tacticity, most works selected to exhibit here explored the private stories of the artists and their inner world. As Mehdi Ghadyanloo created a time capsule by interiorizing childhood memories about outdoor activities, Elias Hansen set up a ritual stage for meditation with colorful glass vessels. Both artists were able to create a scene with therapeutic power.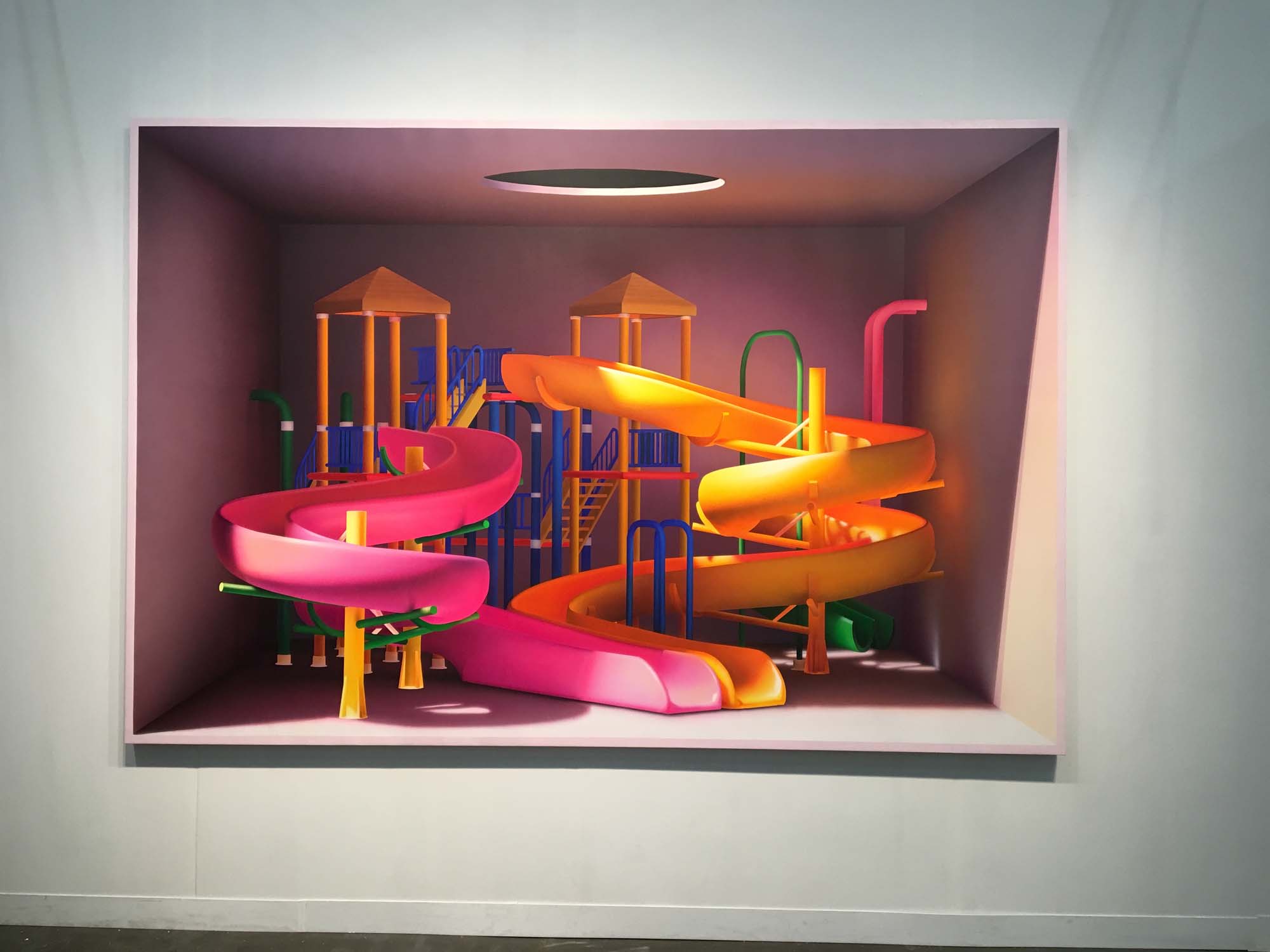 Mehdi Ghadyanloo, The Joy Factory, 2020, Dastan's Basement, Tehran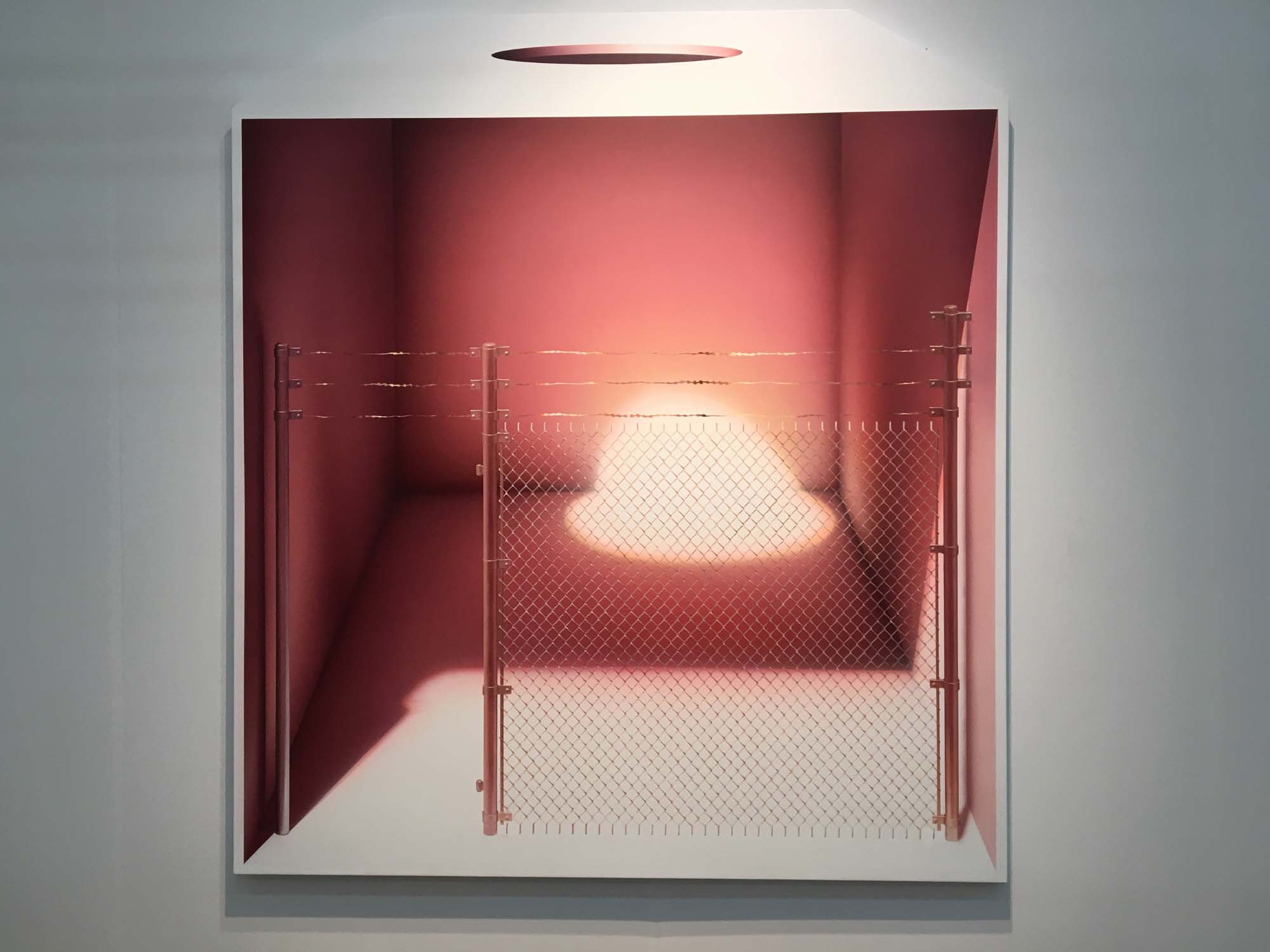 Mehdi Ghadyanloo, Genealogy of Isolation, 2020, Dastan's Basement, Tehran
Elias Hansen, A Place for Death to Rest, 2019, Halsey Mckay Gallery, New York
Anne Ellegood, Executive Director of the Institute of Contemporary Art (Los Angeles) curated Platform, a section devoted to large-scale installations that respond to and activate the fair's industrial venue. The projects consider how techniques of satire, exaggeration, and grotesque that commonly seen in comics and animations could be used in art and literature as sharp tools of social critique.
The artist Trulee Hall simplified the female body into a pair of breasts in her painting, and even replaced the breasts with apples directly in her sculpture. The hyper-sexualization of women seemed extremely politically incorrect in the tide of the feminist era. However, the technique of exaggeration is intended to ridicule and problematize the ideology deeply embedded in the patriarchal society.
Installation View of Trulee Hall, 2019, Maccarone West Gallery
While the clay animation in Trulee Hall's installation was played on a small display, the stop motion animation by Nathalie Djurberg and Hans Berg was projected on a large screen. Illuminated by the spotlight, animals and plants of rare species sculpted in the same style of the animation created the immersive theater experience for the audience. Compared to the ironic grotesque of Trulee Hall, the work of Nathalie Djurberg and Hans Berg did not serve a critical purpose. Instead, it is more about the dialectical relationship between good and evil, desire and restraint in the human subconscious.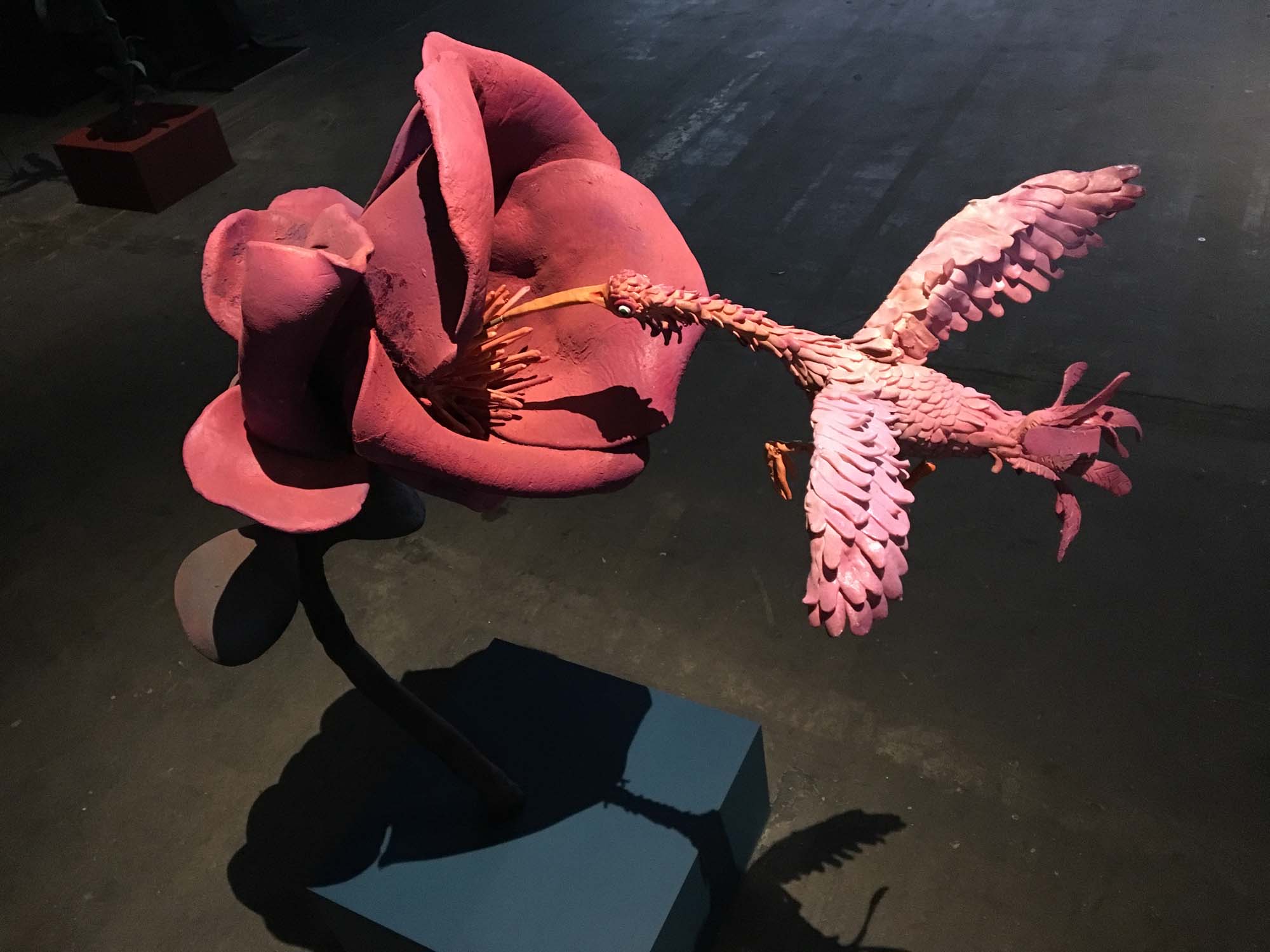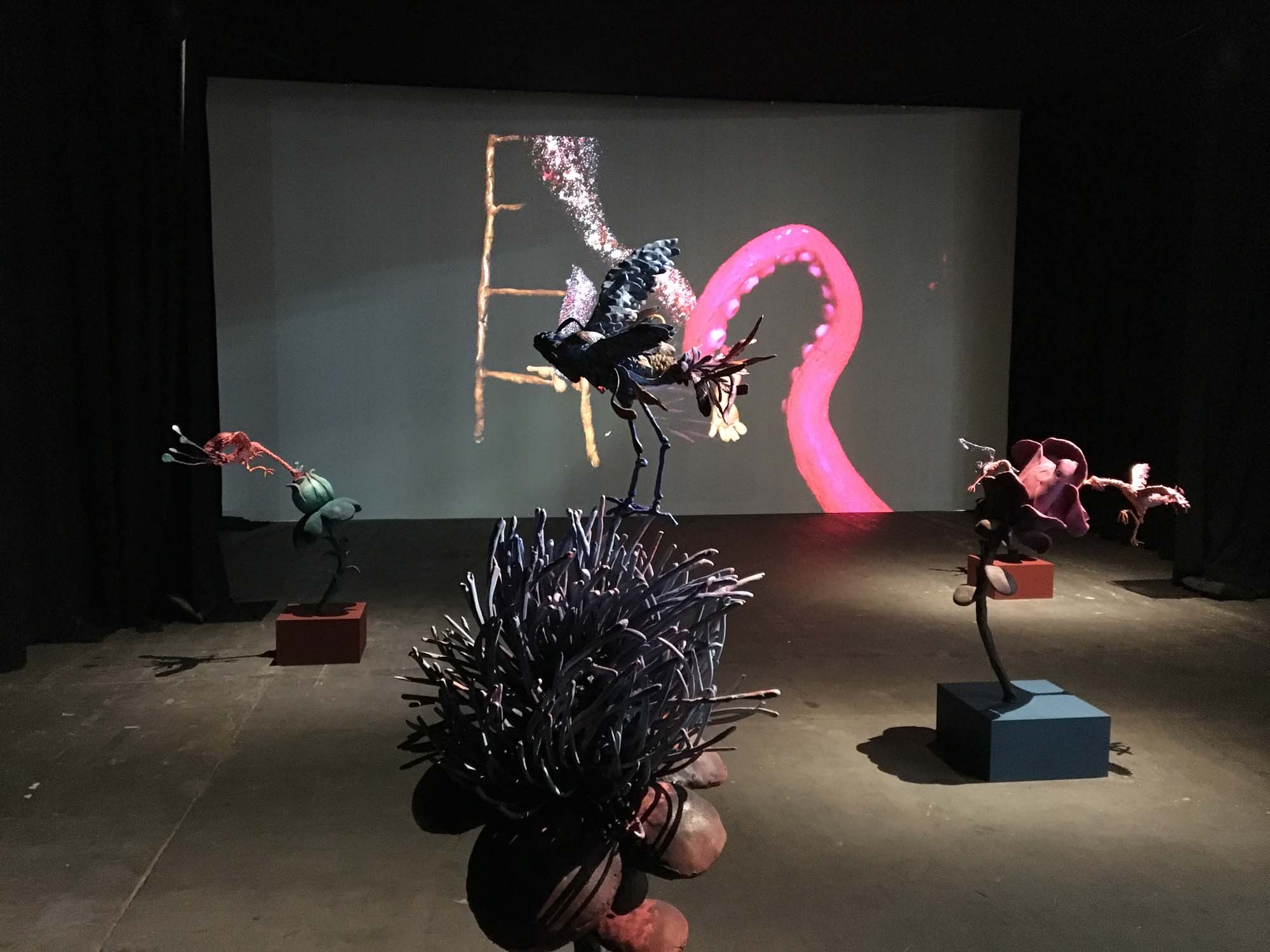 Nathalie Djurberg and Hans Berg, This is Heaven, 2019, Tanya Bonakdar Gallery, New York, Los Angeles
In an image-saturated era, encountering tangible works of art in person is definitely one of the most pleasant things to do. Throughout the fair, there are no museum labels that often limit the interpretations of art. Each visitor is encouraged to trust their visual sensibility, and to find out the logic deployed by the curators in terms of weaving together all kinds of artworks. This is perhaps the most charming tradition of the Armory Show.
Text and Photo/Peiyue Wu
Edited by Sue