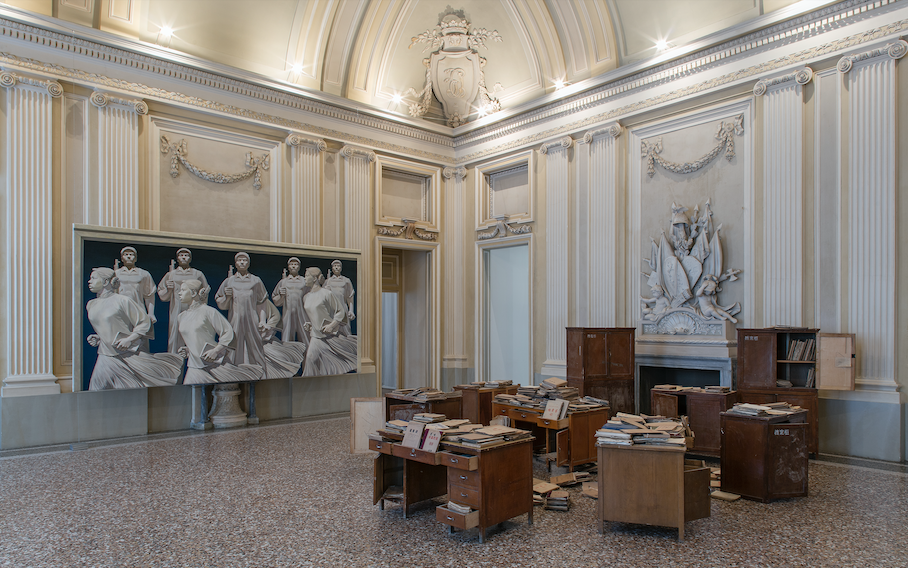 The Castello di Rivoli Museum of Contemporary Art presents Facing the Collector. The Sigg Collection of Contemporary Art from China, the first exhibition in Italy of the important collection of Uli Sigg (Lucerne, 1946), recognised as the most important collection of Chinese contemporary art in the world. The exhibition is curated by Marcella Beccaria, Chief Curator and Curator of Collections.
The first entrepreneur to travel to China in 1979 for Schindler, following the declaration of the Open Door Policy, Uli Sigg developed economic relations and drew up the business model adopted by China, opening the door to investment and essentially contributing to invent Chinese model of state capitalism. Sigg was the creator of the first joint venture company between the People's Republic of China and the West, and spent many years in China, where he intertwined relationships and friendships with numerous artists, identifying art as an extraordinary tool to better understand Chinese culture and life in depth. In a context initially devoid of cultural institutions dedicated to contemporary art, Sigg made collecting an opportunity for personal exploration. By frequenting artists' studios assiduously, directly acquiring from them multiple works of art, while also assisting the emergence of private galleries which at the time did not exist, Sigg encouraged the creative paths of contemporary China.
The Sigg collection, which consists of around 2,500 works by over 500 artists, is not limited to the collector's aesthetic taste alone, but reflects an encyclopedic vision that aims to document the evolution of Chinese art from the late 1970s to today
After an initial period as an entrepreneur in China from 1979 to the early 1990s, Sigg returned there to serve as Swiss Ambassador to China, North Korea and Mongolia from 1995 to 1998. During this period, he thus played a fundamental role as a cultural ambassador, promoting the awareness of Chinese art in an international context. In 1997 he launched the Chinese Contemporary Art Award (CCAA): an annual award for contemporary Chinese artists who live in China and who, through the involvement of international directors and curators in the jury, contributed to the subsequent spread of Chinese art in many museums all over the world. Sigg's relationship with Harald Szeemann played a pivotal role: the legendary curator was among the jurors of the first edition of the CCAA, after which he invited nineteen Chinese artists to the 1999 Venice Biennale, exhibiting their works in Europe for the first time. Carolyn Christov-Bakargiev's service on the jury in 2012 was also connected to her inclusion of Chinese artists in dOCUMENTA(13) that same year, such as Song Dong's Doing Nothing Garden.
In 2012, Sigg decided to donate 1,450 works from his collection to the M+ Museum for Visual Arts in Hong Kong, which will be partially open to the public in December 2020, thereby returning an important part of recent cultural history to China.
The exhibition at Castello di Rivoli, which welcomes visitors with works installed in the building's atrium, along the staircase of honor and in the galleries on the second floor, is developed in close contact with the collector and the artists and presents a precise selection from the Sigg Collection and M+ Sigg Collection. It documents some of the collection's distinctive characters through a choice of thematic and monographic rooms. The first room appears as an "archive" in which some of the first works purchased and installed at Sigg's home in Switzerland and some of the many portraits that the artists have dedicated to him over the years are on view. As testimony to the close friendships established by Sigg, the center of the room is occupied by the monumentalFragments (2005) by Ai Weiwei, one of the artists closest to him and present in the collection with numerous works, while the important work by Feng Mengbo testifies to Sigg's contribution as the commissioner of new works.
Sigg's attention to the profound social and political transformations that have gone through China in recent decades can be seen in several works on display, including those by Sun Yuan & Peng Yu, Liu Ding and Mao Tongqiang. Sigg's interest in the rich cultural traditions of China and in comparing the aesthetic ideas of East and West can be found in the rooms respectively dedicated to Shao Fan and Liu Wei. A recurring theme in the history of Chinese art – the landscape – unites several works in the collection, from patterns that outline the new digital horizons of aaajiao, coming to include deeply spiritual notes as in the case of monochrome works, at the limit of the visible, by Qiu Shihua.
The exhibition also documents Sigg's constant attention to younger generations and his openness to multiple artistic techniques. The new works by Miao Ying and He Xiangyu, specially commissioned by the collector for the spaces of the Castello di Rivoli, offer unprecedented and daring visions of today's China and a reflection on the critical relationship between technology and society. "Thanks to my journey through art - says Sigg - I think I can say that I have seen more China than many Chinese. I collect, but rather than a collector, I prefer to think of myself a researcher."
Carolyn Christov-Bakargiev, Director of Castello di Rivoli Museum, comments: "This singular vision of a private collector who has made his collection public, and gifted it to M+ Museum Hong Kong, is particularly relevant to Castello di Rivoli now that it has incorporated the Cerruti Collection and Villa – a private collection recently made public in 2019. This exhibition of works from the Sigg Collection therefore forms part of a new important strand of the museum programming, looking at the relationship between private and public collections, and the need to render more domestic the experience of art and provide access to that kind of experience rather than neutralize art in traditionally impersonal museum containers. As the world braces and supports China's efforts to contain a virus, we in the field of culture are doing our best to support maximum cultural exchange and sharing of ideas and viewpoints."
Biographical profile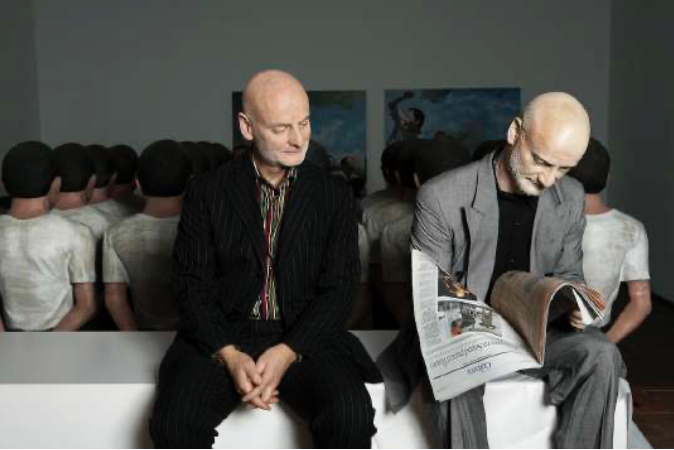 Ai Weiwei, Uli Sigg (Newspaper Reader), 2004 Mixed media, 108 × 75 × 58 cm
M+ Sigg Collection, Hong Kong. By donation © Ai Weiwei
Uli Sigg (Lucerne, 1946), after graduating in Law from the University of Zurich, between 1973 and 1976 was a business journalist for Finanz und Wirtschaft and Ringier AG.
In 1979, three years after Mao Zedong's death in 1976, and with the rise to power of Deng Xiaoping whose "Open Door Policy" pioneered Chinese economic reform, a Chinese delegation appeared at the Schindler company where Sigg was working in his first job after quitting journalism. The Chinese delegation invited the company to make a proposal on how to modernize the Chinese elevator industry. No international company had any experience of how to relate economically to China since it was a developing nation with no legislation for the private sector; because Sigg was a law graduate, he was given the task of finding a way to engage China, which at the time was a socialist planned economy. In the western world it was considered impossible to invest money and technology in China, but eventually Sigg managed to create the first joint venture between China and the outside world that later served as a model for over a million companies investing in China. What a company is, how a profit and loss statement is drawn up, how a company is taxed, what are the rules for a technology transfer: all the solutions he had to negotiate have become protocols and rules that regulate private companies and later, most of them became Chinese law. He went to China for the first time in 1979, between 1980-1991 Sigg held the position of Vice-President of China-Schindler Elevator Co. in Beijing, while between 1990-1995 he was an entrepreneur and member of the Boards of Directors at Ringier, Schindler and other international corporations. From 1995 to 1998 he was Ambassador of Switzerland to the People's Republic of China, North Korea and Mongolia, and between 1999-2003 he was Chairman of Ringier Media Group. In the same period he was Founding President of the Swiss-Chinese Chamber of Commerce and Honorary Director of the China Foreign Invested Enterprise Association in Beijing. He is currently Vice-Chairman of the Board of Directors, Ringier Media Group, Zurich.
Artists on display
aaajiao (Xi'an, Shaanxi Province, China, 1984), Ai Weiwei (Beijing, China, 1957), Chen Danqing(Shanghai, China, 1953), Fang Lijun (Handan, Hebei Province, China, 1963), Feng Mengbo(Beijing, China, 1966), Fu Hong (Hanchuan, Hubei Province, China, 1946), He Xiangyu (Dandong, Liaoning Province, China, 1986), Li Zhanyang (Changchun, Jilin Province, China, 1969), Liu Ding(Changzhou, Jiangsu Province, China, 1976), Liu Wei (Beijing, China, 1972), Lou Shenyi (Shangyu, Zhejiang Province, China, 1973), Mao Tongqiang (Yinchuan, Ningxia Province, China, 1960),Miao Ying (Shanghai, China, 1985), Ni Youyu (Ganzhou, Jiangxi Province, China, 1984), Qi Zhilong (Hohhot, Inner Mongolia, China, 1962), Qiu Shi Hua (Zizhong, Sichuan Province, China, 1940), Manuel Salvisberg (Basel, Switzerland, 1978), Shao Fan (Beijing, China, 1964), Sun Yuan &Peng Yu (Beijing, China, 1972; Jiamusi, Heilongjiang Province, China, 1974), Wang Keping(Beijing, China, 1949), Yu Youhan (Shanghai, China, 1943), Zhang Wei (Beijing, China, 1952),Zhang Xiaogang (Kunming, Yunnan Province, China, 1958), Zhao Bandi (Beijing, China, 1966).
Courtesy of The Castello di Rivoli Museum of Contemporary Art.

For more information, please visit: https://www.castellodirivoli.org/en/mostra/uli_sigg/