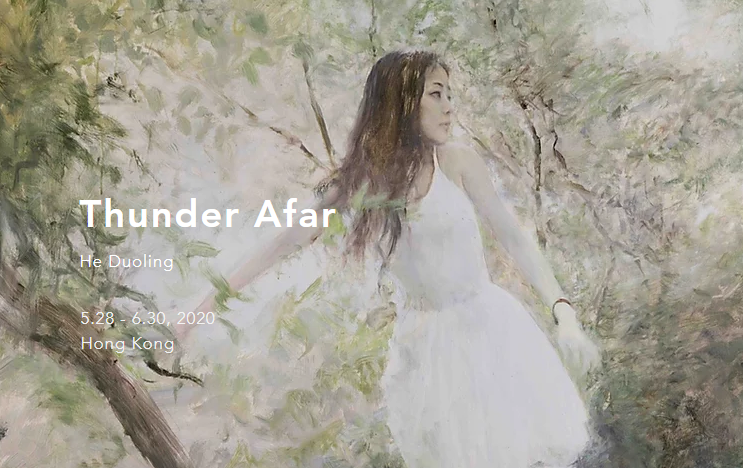 Tang Contemporary Art is proud to present "Thunder Afar", a solo exhibition by one of the iconic Chinese lyrical realists He Duoling, at Hong Kong gallery. The exhibition features the artist's creation since 2010, including latest series like "Wild Garden", "Various Flowers", "Nymph". He Duoling is long acclaimed by his idyllic, sentimental and mysterious figuration. With his sophisticated use of palette and composition, both figures and still objects show an unrestrained liveliness. His latest paintings are an epitome of how He embraces the freedom of painting and mastery of skills.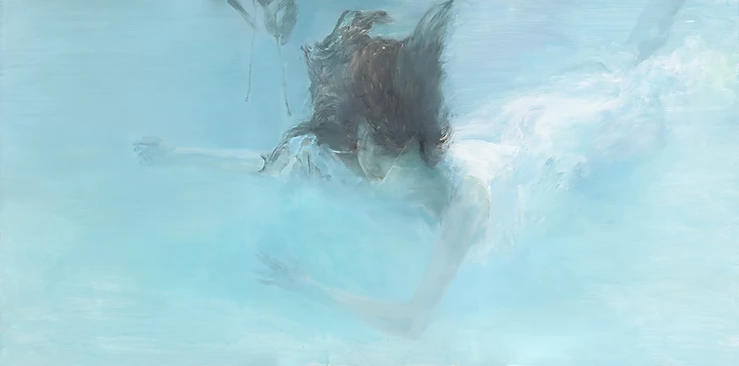 He Duoling, Nymph No.3, 100 x 200 cm, oil on canvas, 2018
He Duoling is recognized as a talented realist painter. Sharing fame with Luo Zhongli and Zhang Xiaogang, He is a pivotal artist in the development of Chinese contemporary art in the South-West region. Although awarded with a profound reputation, He Duoling is always indifferent to the trend of vanity in the art industry. As if escaping from the hustle and bustle, whether depicting a turbulent flow of water or a lush green garden, the loose and hazy paintings send a piece of tranquility just like the painter. In search of a poetic expression of the subject, He established a unique, signature realism which is melancholy and lyrical at the same time. His figurative works either shape a drifting space between reality and literary, or return to the nature of the pictorial language.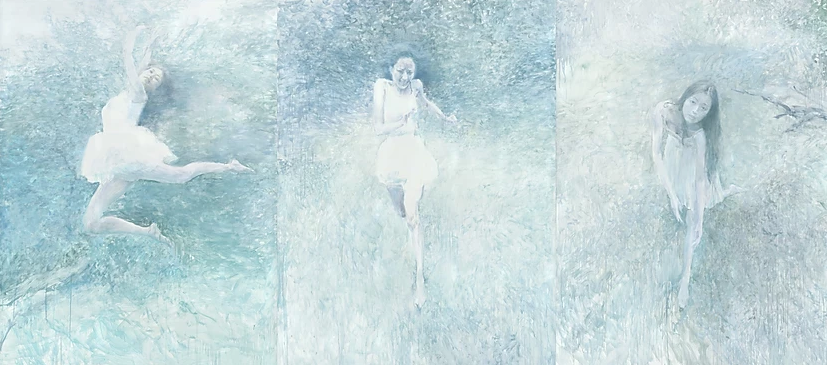 He Duoling, Memories of Garden – Nymph, 2018, Oil on canvas, 200x450cm
Best art always moves its audience with the artist's honest and effusive emotions and possesses the potential of transcending time and becoming classic. Thunder Afar, the leading piece of this exhibition, was completed in 2014, yet corresponds to our present times so well. It depicts the indifference of people to crisis during peaceful days. Maybe as the curator Kuang Wei puts it, "Thunder Afar seems to tell us what is going to happen." It might not be the artist's original intention, but his works is a crystallization of wisdom to help us seeing through the world.
About the artist
He Duoling was born in Chengdu in 1948. He entered the 1st cohort of Sichuan Academy of Fine Arts when it restored college entrance examination in 1978. Graduated from the Master degree from the Oil Painting Department of Sichuan Academy of Fine Arts in 1982, he continues painting and living in Chengdu.
As a pivotal artist in the development of Chinese contemporary art in the South-Western region as well as iconic figure in "Scars Art", He Duoling has been creating realist masterpieces since the 1980s along with Chen Danqing and Luo Zhongli. Known for his oil paintings of nude women and images of minorities in rural settings, He Duoling exemplifies this group of painters by his lyrical realism.
Given his important status in Chinese contemporary art, He Duoling has been widely exhibited in various museums and biennials, including "French Spring Saloons" (1982), The Louvre Museum, Paris, France; "The 2nd Asian Fine Arts Works Exhibition" (1986), Fukuoka Art Museum, Fukuoka, Japan; "Faces and Bodies from Middle Kingdom: Chinese Art of the 90s" (1997), The Prague National Art Gallery, Prague, Czech Republic; "Literati – He Duoling Solo Exhibition", National Art Museum of China, Beijing, China (2011); "He Duoling's The Art of Determination" Poly Gallery, Hong Kong (2018).
He Duoling is also awarded with the 6th and 7th National Art Exhibition Silver Award, Copper Award, Monaco Government Award. His works has been collected by private collectors and public institutions like National Art Museum of China, Shanghai Museum of Art and Fukuoka Art Museum.
About the exhibition
Curator: Kuang Wei
Exhibition Dates: May 28 - June 30, 2020
Location: 10/F, H Queen's, 80 Queen's Road Central, Central, Hong Kong
Opening Reception: Thursday, May 28, 6 - 8 pm
*Curator will be present and available for interviews, please contact us in advance for scheduling.
Courtesy of the artist and Tang Contemporary Art, for further information please visit www.tangcontemporary.com.