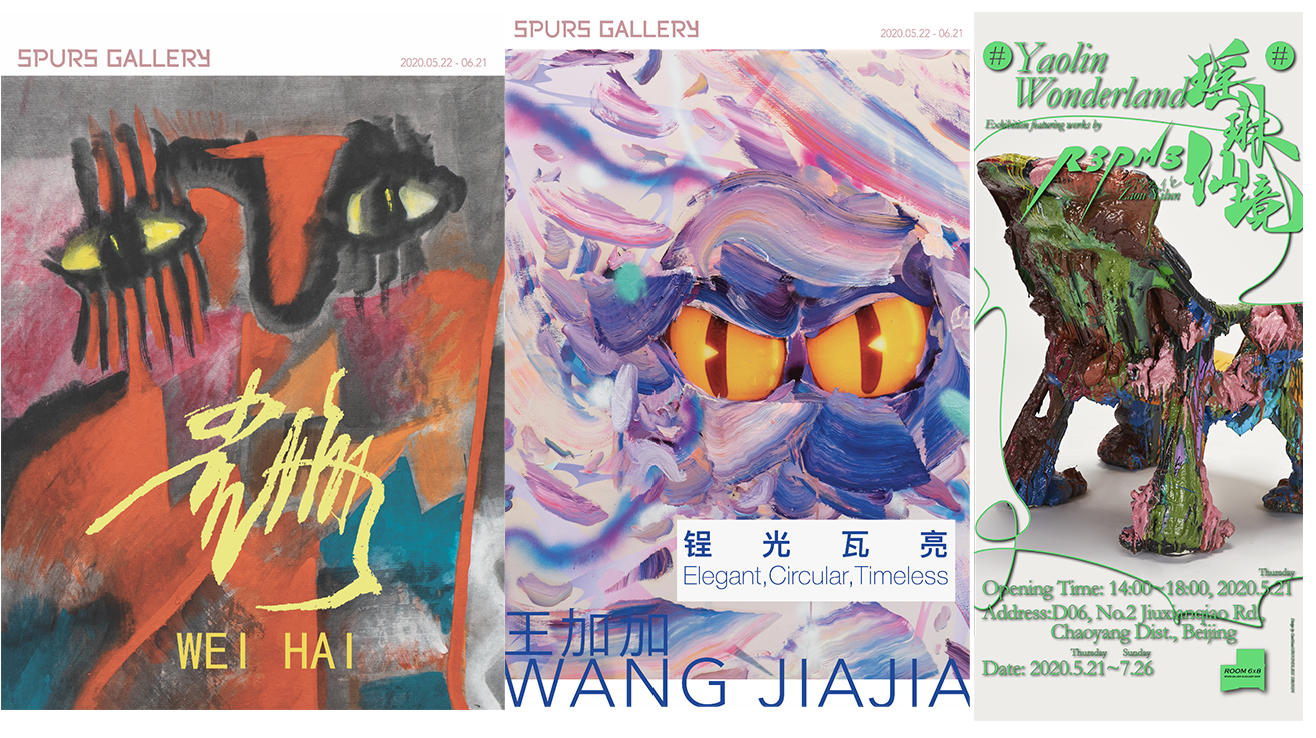 SPURS Gallery is pleased to announce that Wang Jiajia's solo exhibition "Elegant, Circular, Timeless" and Wei Hai's solo exhibition will be on view during Gallery Weekend Beijing, at Gallery I and II respectively. Both exhibition will open to public on May 22nd until June 21st.
Following Wang Jiajia's solo exhibition "Pop the Champagne" at Boers-Li Gallery in 2018, the artist will debut his recent series of "face-painting" works. The methodology which shapes the appearance of the work is achieved by the dialectical engagement of the creative process and outcome, coupled with the artist's careful selection of ready-made images. In the process of unfolding a narrative around the ubiquitous digital imagery within the contemporary spectacle, Wang Jiajia's work presents us with a psychological schema where different cultures intersect under contradicting elements of popular culture and classical canons.
Ten years ago, the world lost a gifted artist and an extraordinary mind, Wei Hai. As a member of the "Wuming" or later known as the "No-Name Group", this solo exhibition serves as a tribute to commemorate the accomplishment of Wei Hai's artistic career. Wei Hai's artistic philosophy during his time at the No Name Group is called for returning to the primitive and embracing nature. Using the passion to create pure art found in nature to confront the politicization of art, opposing all artistic standards and authority; in the "Post No-Name Period", Wei Hai's art shifted to depicting the experience of eternal suffering in life, and various conflicting contradictions which would go on to form a far-reaching, anti-experience based concept toward painting. The exhibition will show the transformation of the artist's work during different periods of his career.
Meanwhile, the exhibition "Zhou Yilun: Yaolin Wonderland" will be presented in Room 6x8 on May 21, 2020. Room 6x8 is co-founded by Sherry Lai (Partner of SPURS Gallery) and Kyle Zhang (Founder of Gallery Sohe). Established in 2019, the space is the first contemporary design gallery in China. Its aim is to provide an unique experience for the public to communicate, share and explore high-level contemporary designers and artists both domestically and globally. This exhibition includes works from the "Yaolin Wonderland", "Foam Masters", "Neolithic" and "Mixed Reality" series, and stands as the first comprehensive presentation of the artist's work outside of his creative mainstream. "Yaolin Wonderland" draws from the ubiquitous cheap plastic furniture that flooded the Chinese market at the close of the last century. After breaking the furniture, he fills the cracks in its frame with foaming resin. The furniture is reshaped according to the flows of this foaming resin, giving it a form somewhere between manmade object and stalactite. This new industrial material fits over the original furniture like a bizarre "armor" in a work of absurd humor. "Foam Masters" replicates classic works of modernist masters such as Pierre Jeanneret at one-to-one scale but with the materials completely transformed, in a rigorous study of art history. The "Neolithic" series breaks with the linear concept of time to arrange objects from different periods into new composite objects that aesthetically and functionally reflect the hybrid time and space in which we now reside. The "Mixed Reality" series interprets the existence of objects from a structural perspective, using technologies such as printing and casting to connect otherwise unrelated things, and to turn impossibilities of the material world into possibilities. Viewers to Room 6x8 will find themselves in an industrial cave brimming with expressive power. The exhibition will be on view until July 26.
---
About the exhibition:
Wang Jiajia: Elegant, Circular, Timeless
Wei Hai's solo exhibition
2020.5.22 - 6.21
SPURS Gallery | D-06, 798 Art Zone, 2 Jiuxianqiao Rd, Chaoyang District, Beijing
Zhou Yilun (R3PM3): Yaolin Wonderland
May 21–July 26, 2020
Room 6x8 | 798 Art District D-06, Jiuxianqiao Rd., Beijing
Edited by Emily Weimeng Zhou.
Courtesy of SPURS Gallery. For more information, please visit: http://www.spursgallery.com/zh/