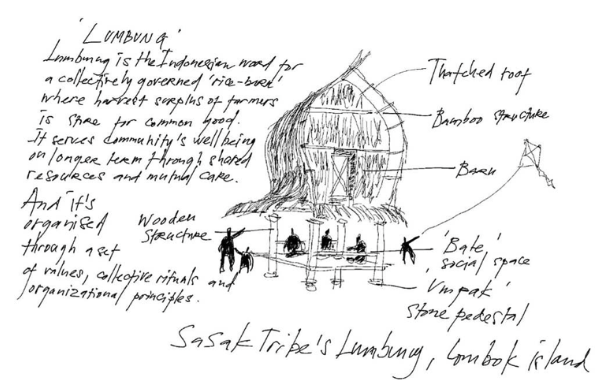 ruangrupa: lumbung drawing, Image by Iswanto Hartono, 2020
ruangrupa, a Jakarta-based collective of artist and creatives, with a ten-member core, is in charge of the Artistic Direction of documenta 15. The Indonesian word "ruangrupa" loosely translates as "a space for art" or "a space form." ruangrupa is a non-profit organization that strives to support the idea of art within an urban and cultural context by involving artists and other disciplines.
"We want to create a globally oriented, cooperative, interdisciplinary art and culture platform that will remain effective beyond the 100 days of documenta fifteen. Our curatorial approach aims at a different kind of collaborative model of resource use—economically, but also in terms of ideas, knowledge, programs, and innovation," said ruangrupa. documenta fifteen will be held from 18 June through to 25 September 2022.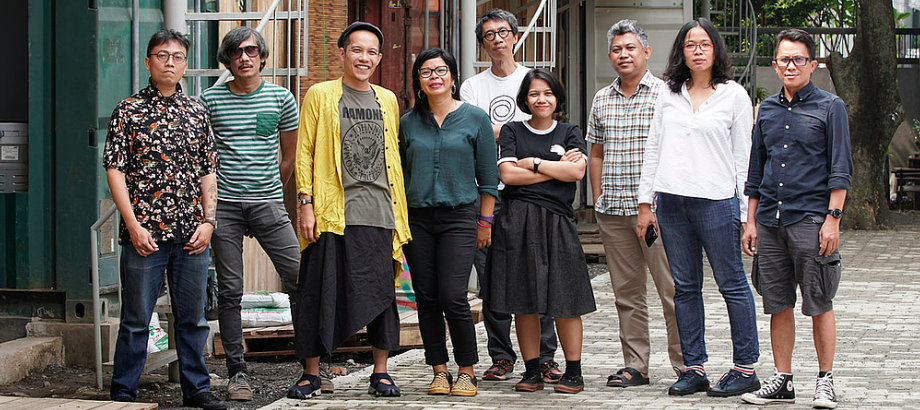 ruangrupa including Reza Afisina, Indra Ameng, Farid Rakun, Daniella Fitria Praptono, Iswanto Hartono, Ajeng Nurul Aini, Ade Darmawan, Julia Sarisetiati, Mirwan Andan, Photo by Gudskul/Jin Panji, 2019
ruangrupa's central curatorial approach for documenta fifteen is based on the principles of collectivity, resource building, and equal sharing. They aim to appeal not just to an art audience but to a variety of communities, and to promote local commitment and participation. Their approach is based on an international network of local, community-based organizations from the art and other cultural contexts and can be outlined by the Indonesian term lumbung.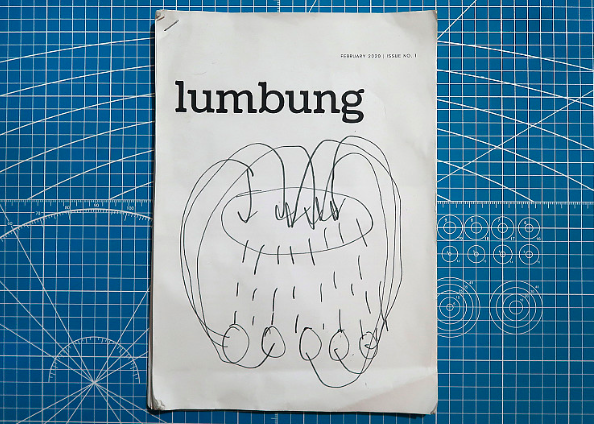 ruangrupa: lumbung booklet, Photo by Keke Tumbuan, 2020
lumbung, as a concept, is the starting point for documenta fifteen. Over the coming years, lumbung will be operational in the lead up to documenta fifteen in 2022, and beyond. lumbung, directly translatable as "rice barn," is a collective pot or accumulation system used in rural areas of Indonesia, where crops produced by a community are stored as a future shared common resource and distributed according to jointly determind criteria. Using lumbung as a model, documenta fifteen is a collective resource pot, operating under the logics of the commons. It is an agglomeration of ideas, stories, (wo)manpower, time, and other shareable resources. At the center of lumbung is the imagination and the building of these collective, shared resources into new models of sustainable ideas and cultural practices. This will be fostered by residencies, assemblies, public activities, and the development of tools.
Interdisciplinarity is key in this process. It is where art meets activism, management, and networking to gather support, understand environments, and identify local resources. These elements then create actions and spaces, intertwine social relations and transactions; they slowly grow and organically find a public form. This is a strategy "to live in and with society." It imagines the relations an art institution has with its community by being an active constituent of it. Strategies are then developed based on proximity and shared desires.
The main principles of the process are:
• Providing space to gather and explore ideas
• Collective decision making
• Non-centralization
• Playing between formalities and informalities
• Practicing assembly and meeting points
• Architectural awareness
• Being spatially active to promote conversation
• A melting pot for and from everyone's thoughts, energies, and ideas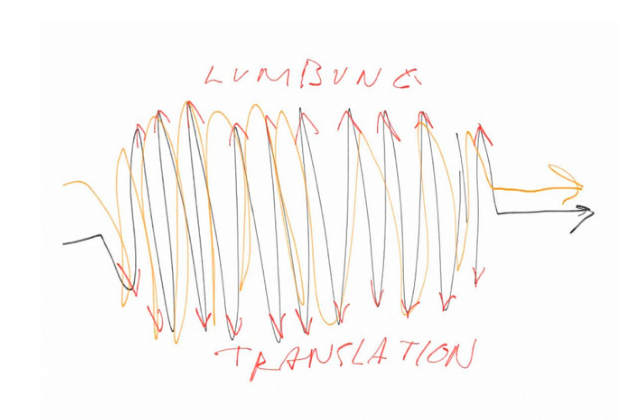 At this stage, ruangrupa gives an insight into how they understand and implement lumbung in their curatorial practice. In the spirit of lumbung, ruangrupa has invited the first lumbung-members and the Artistic Team to individually introduce themselves by sharing stories of their respective practices and how they connect to the wider project.
A Brief Introduction to the First lumbung-members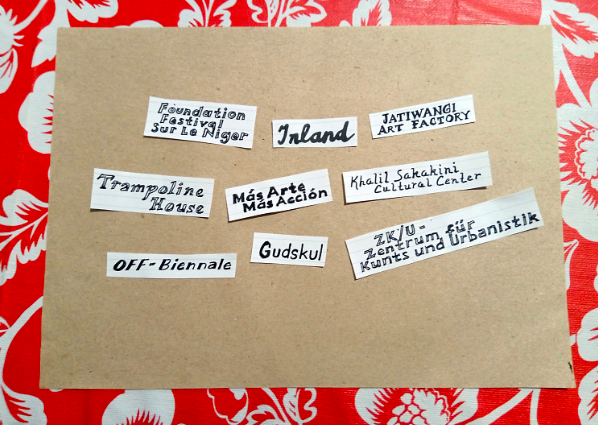 ruangrupa lumbung-members handlettering Image by Indra Ameng, 2020
Against the background of today's challenging times, in which numerous initiatives and groups of people in many places are struggling, the starting point of this lumbung has been built by Fondation Festival Sur Le Niger (Ségou, Mali), Gudskul (Jakarta, Indonesia), INLAND (various locations, Spain), Jatiwangi art Factory (Jatiwangi, Indonesia), Khalil Sakakini Cultural Center (Ramallah, Palestine), Más Arte Más Acción (MAMA) (Nuqui, Choco, Columbia), OFF-Biennale (Budapest, Hungary), Trampoline House (Copenhagen, Denmark), and ZK/U – Zentrum für Kunst und Urbanistik (Berlin, Germany).
ruangrupa chose to work with these initiatives based on their inspirational models, their deep artistic practices rooted in local social structures, and their organizational and economic experimentations that go hand-in-hand with lumbung values.
Together, these lumbung-members will develop long-term conversations in which the sharing of knowledge, solidarity, and resources will increase the wellbeing of each of their local practices and ecosystems. Over the next two years, these initial lumbung-members will invite new members to join and share their tried-and-tested practices with each other, making the initiatives visible in various forms and modes of expression within the framework of documenta fifteen in Kassel and its relations to other locales.
A Brief Introduction to the Artistic Team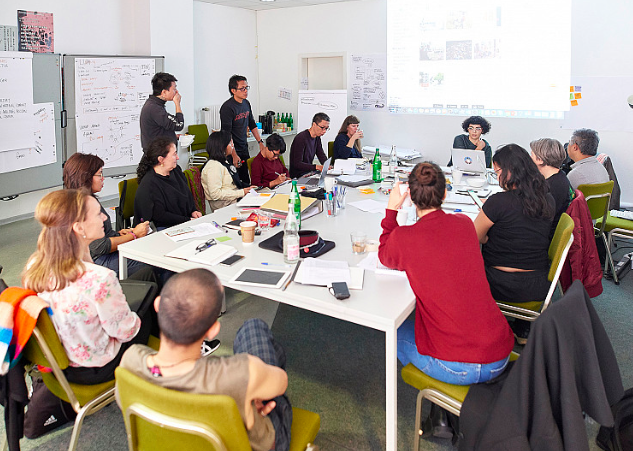 ruangrupa: Artistic Team assembly in Kassel, 2019 Photo by Nicolas Wefers
It was our intention to begin by sharing roles, authorship, work, and ideas. We deem this diversity as abundance, a surplus we can start with. With this in mind, we dived deep into our past processes and reflected on our experience over the last twenty years.
In line with our paramount belief in friendship, we extended early invitations to our close allies. In time, they formed the Artistic Team of documenta fifteen. Some of them, like Gertrude Flentge, we have known as long as we have existed (even before ruangrupa was called ruangrupa) through school, residencies, network building, and artistic and curatorial projects. Through her vision, values, and compassion, Gertrude has played a vital role in the formation and relations between various initiatives in areas formerly known as the Global South. ruangrupa has worked previously with Gertrude on the programs RAIN and ArtsCollaboratory, and thus our collaboration with her for documenta fifteen came naturally.
The visual identity of documenta fifteen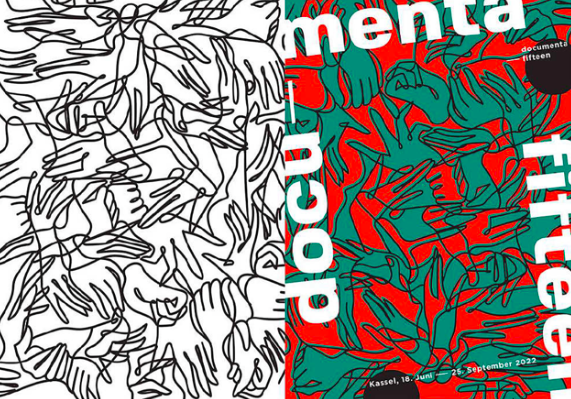 Studio 4oo2: visual identity drafts for documenta fifteen, 2020
Against the background that ruangrupa started from a friendship and student network among students of art schools, ruangrupa invited students from Kassel and Jakarta to collaborate and take part in developing documenta fifteen's visual identity. From more than twenty submissions by individuals and groups, a jury composed of members of ruangrupa, documenta und Museum Fridericianum gGmbH, and documenta's Artistic Team selected two winning projects, one from Jakarta and one from Kassel. The teams submitted two very different concepts and each has been given the opportunity to pursue their own approach: The main visual identity of documenta fifteen will be developed by the Jakarta team, 4oo2, while the Kassel team, kmmn_practice, is given the opportunity to realize their concept of an open access platform for public participation in relation to certain aspects of the exhibition's visual design.
ruruHaus: the living room for Kassel (and beyond)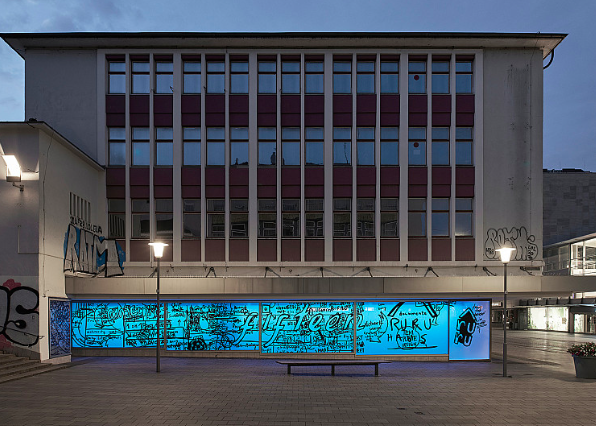 documenta und Museum Fridericianum gGmbH: ruruHaus Photo by Nicolas Wefers
ruruHaus as in "ruru" for ruangrupa and "Haus" as in the German word for "house," is a long-term practice of working and building together. ruruHaus is part of ruangrupa's own history with nongkrong (Indonesian for gathering/hanging out), when private living rooms were converted into public spaces due to the political and social situations surrounding our early days. As a curatorial practice, ruruHaus stands for opening up spaces for gathering and sharing resources. It is a space for many things to cook, a way of gaining an understanding of the larger ecosystem of Kassel that can serve as an example for the wider platform documenta fifteen represents. ruruHaus is, in short, a laboratory and a kitchen, with a radio station to resonate a multiplicity of stories.
Courtesy of documenta 15, for further information please visit https://www.documenta.de/en/documenta-fifteen/.