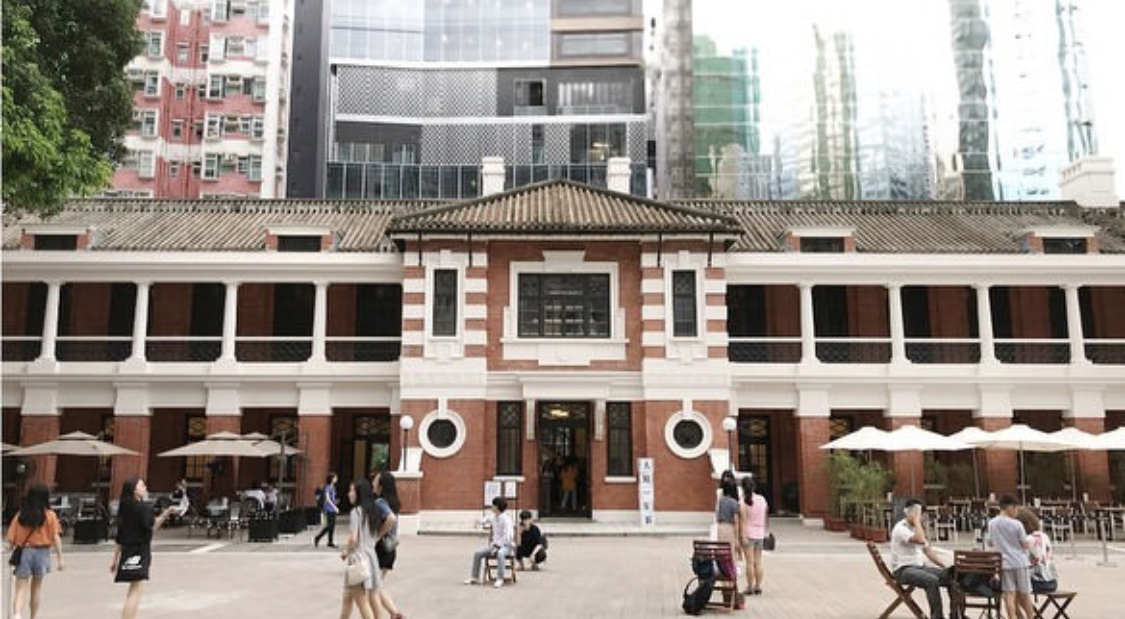 Entrance of Tai Kwun Contemporary
Under the pandemic influence, Hong Kong's art fairs Art Basel and Art Central HK announced their cancellation and the the Hong Kong Museum of Art Association launched a new fair "UNSCHEDULED". This exhibition was jointly launched by Tai Kwun Contemporary and the Hong Kong Museum of Art Association (HKAGA). Neither a traditional art fair, nor a museum exhibition, "UNSCHEDULED" is a platform for selling and networking that will present solo exhibitions from HKAGA gallery members, with a focus on modern and contemporary art that has a connection to Asia. Upholding Hong Kong's unique place as the art centre in Asia, "UNSCHEDULED"'s scope is rooted in a commitment to creativity emerging from the continent. Tai Kwun Contemporary presented a retrospective exhibition of the Japanese international artist Takashi Murakami in collaboration with the Astrop Feinley Museum of Modern Art in 2019 and the Ullens Center for Contemporary Art (UCCA) in 2018. Also it organized the retrospective exhibition of Chinese international artist Cao Fei, the group exhibition "Unable to Speak" in collaboration with the National Museum of Art in Japan in 2020. "UNSCHEDULED" was the first big show during the Post-pandemic and is concerned with the art and collection circles of Hong Kong.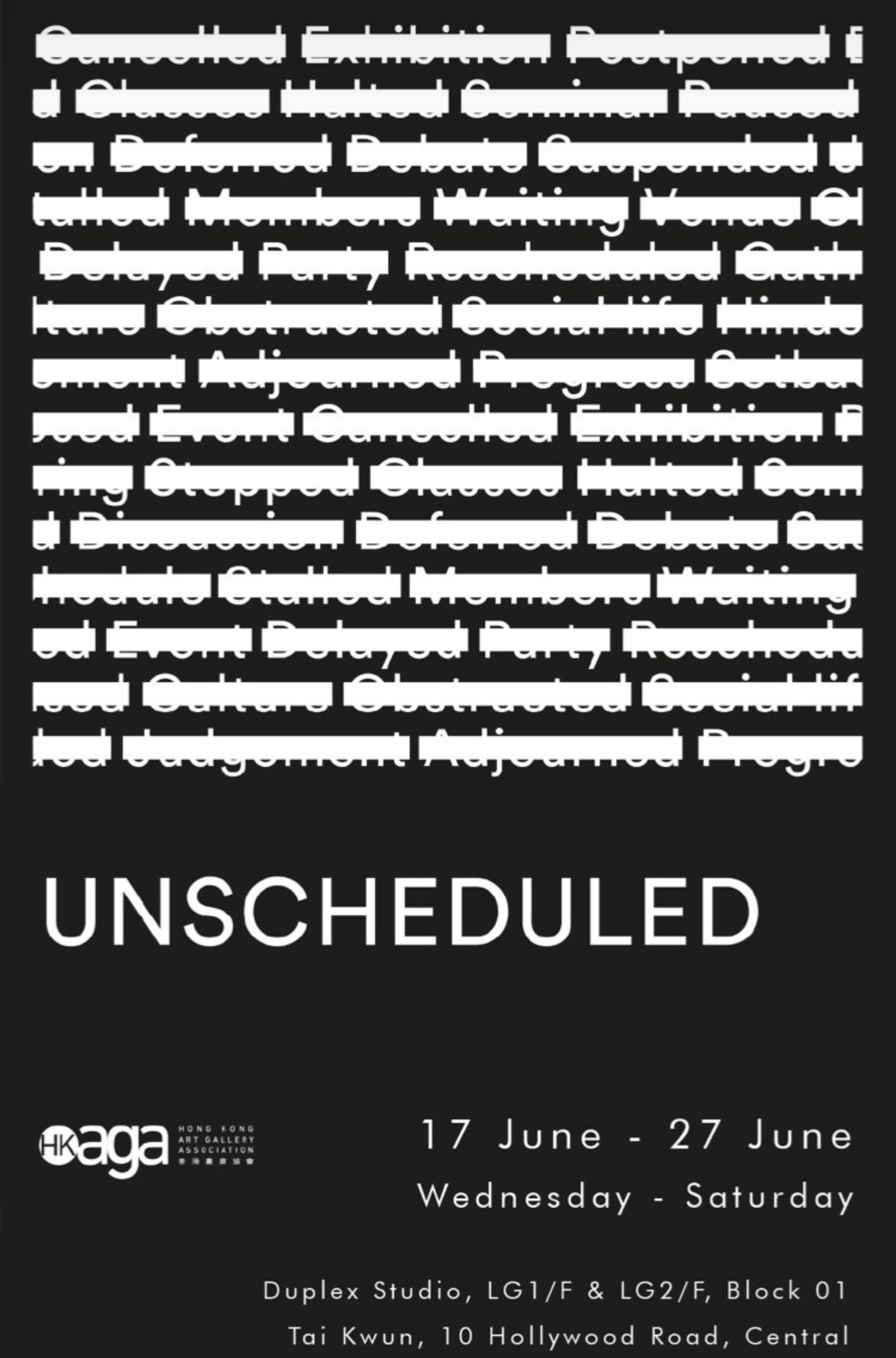 Co-curated by local independent curators Ying Kwok and Sara Wong, the aptly named fair will display solo presentations from 12 Hong Kong and international galleries based in the city. Speaking to ArtAsiaPacific, the curators reflected that the galleries are loosely categorized into three groups according to the artistic approaches of the artists they are showing. The first group consists of artists who "intentionally create a distance to avoid or disturb any direct encounter with the subject matter," such as emerging Japanese artist Etsu Egami from Whitestone Gallery (Hong Kong / Taipei / Tokyo / Karuizawa). Egami depicts the ambiguity of communication on abstract canvases. For the second group, the highlighted works are more explicit with the exploration of their subject matters, including experimental ink paintings by Hong Kong modern master Irene Chou, from Hanart TZ Gallery (Hong Kong). Finally, the third group presents minimalistic works that convey a sense of tranquility, such as Singaporean mixed-media artist Heman Chong, from Rossi & Rossi (London / Hong Kong). Chong imagines the future with images, performance and writing.
The organizing committee is fronted by HKAGA board members Willem Molesworth, director of de Sarthe gallery (Hong Kong) and Fabio Rossi, owner and principal at Rossi & Rossi. Molesworth stressed the necessity of holding the ten-day event to AAP, saying that "it demonstrates the resilience, importance, and strength of the city. Coming together through a collective effort like this will reenergize the community . . . from forging new connections to developing new and meaningful conversations."
The designated Tai Kwun space has a fixed floor plan, but it was repurposed in collaboration with BEAU Architects to become a free-flowing structure with no aisles. The result enabled a decentralized and inclusive art fair environment, allowing individual booths to integrate with one another.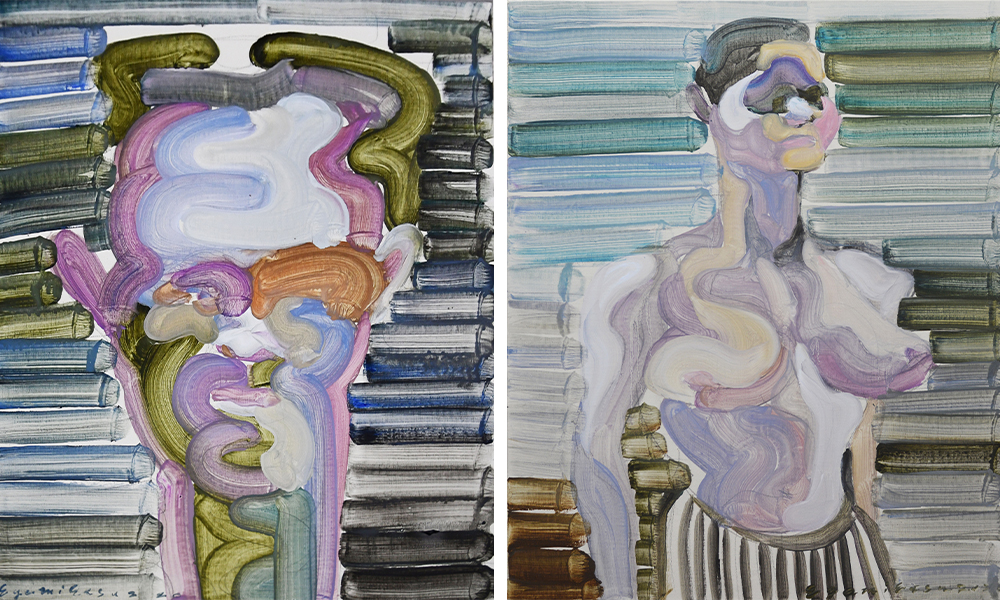 Etsu Egami "Temptation of brushing past" oil painting (Courtesy of the artist and Whitestone Gallery)
Etsu Egami, a rising star of the Japanese art scene who in April had her work included in the prestigious Vision of Contemporary Art (VOCA) exhibition at the Ueno Royal Museum, which features works by up-and-coming artists from around the country. Takashi Murakami, Yoshitomo Nara and Tomoo Gokita all had their art featured in VOCA when they were at the start of their careers.
Etsu Egami's personal experience constitutes her creation, her works go through documentary and fiction genres, between the collective and the individual, thinking about the retention of cultural differences in personal memory with a received international evaluation. Curator in Mori museum in Tokyo are emphasizing that "not only works, but also that Etsu Egami herself is also a work". In the current international diversified contradiction, racial discrimination and other issues, Etsu Egami's "possibility of communication " and "eternal parallel world" seem to make us realize the instinct of human nature again. How to coexist with multi-ethnic groups in the international world? It seems to be a difficult problem for the destiny of mankind. Etsu Egami's works give a deeper meaning in this era.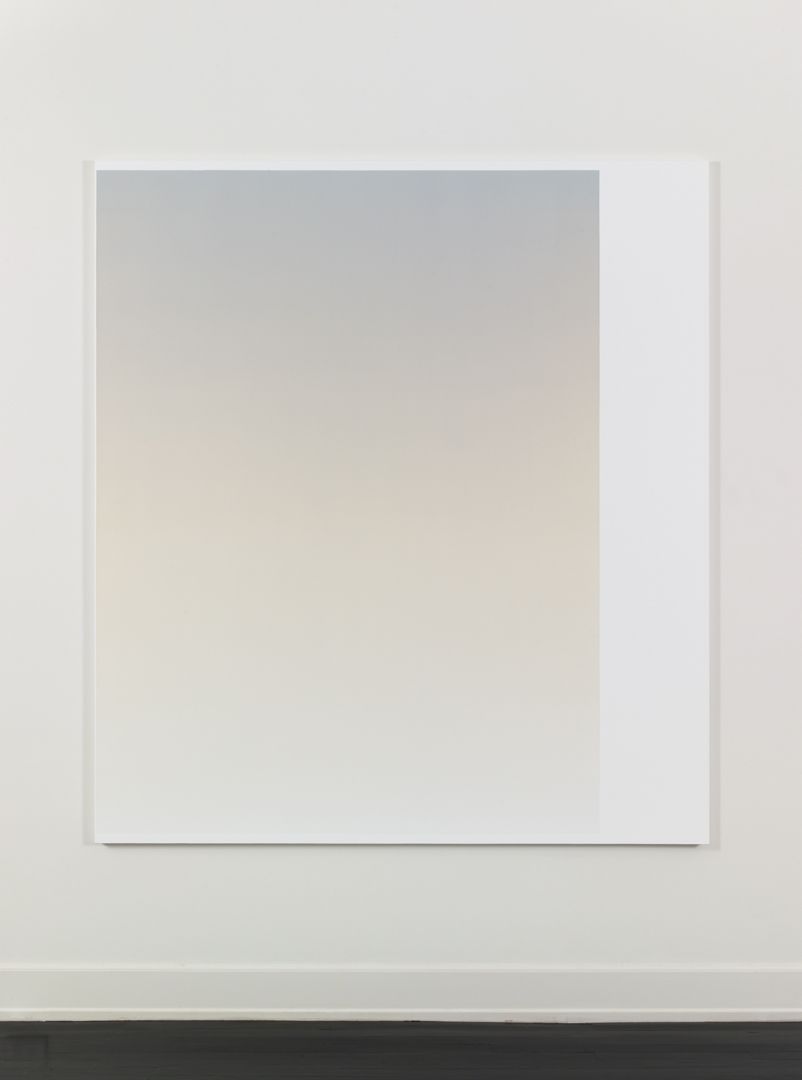 Vertical Gradient #1 (2019) by Chou Yu-cheng. (Courtesy of the artist and Edouard Malingue Gallery)
Edouard Malingue Gallery is showing paintings by Taiwanese artist Chou Yu-cheng, who Hongkongers know best for his enormous installation of oversized bowls and chopsticks that was installed at Art Basel in Hong Kong in 2018.
He graduated from the École Nationale Supérieure des Beaux-Arts de Paris and the research program - La Seine. Working across a wide range of mediums from installation, publication, performance to painting, the artist investigates the interrelationship between society and aesthetics through a minimalist yet thoughtfully choreographed skill set of knowledge and aesthetics that allows him to reveal the peculiarities of art, object, and space.
At "UNSCHEDULED", Chou is showing a very different series of works—colour gradient paintings that are so flawless they look as if they have been printed off a computer.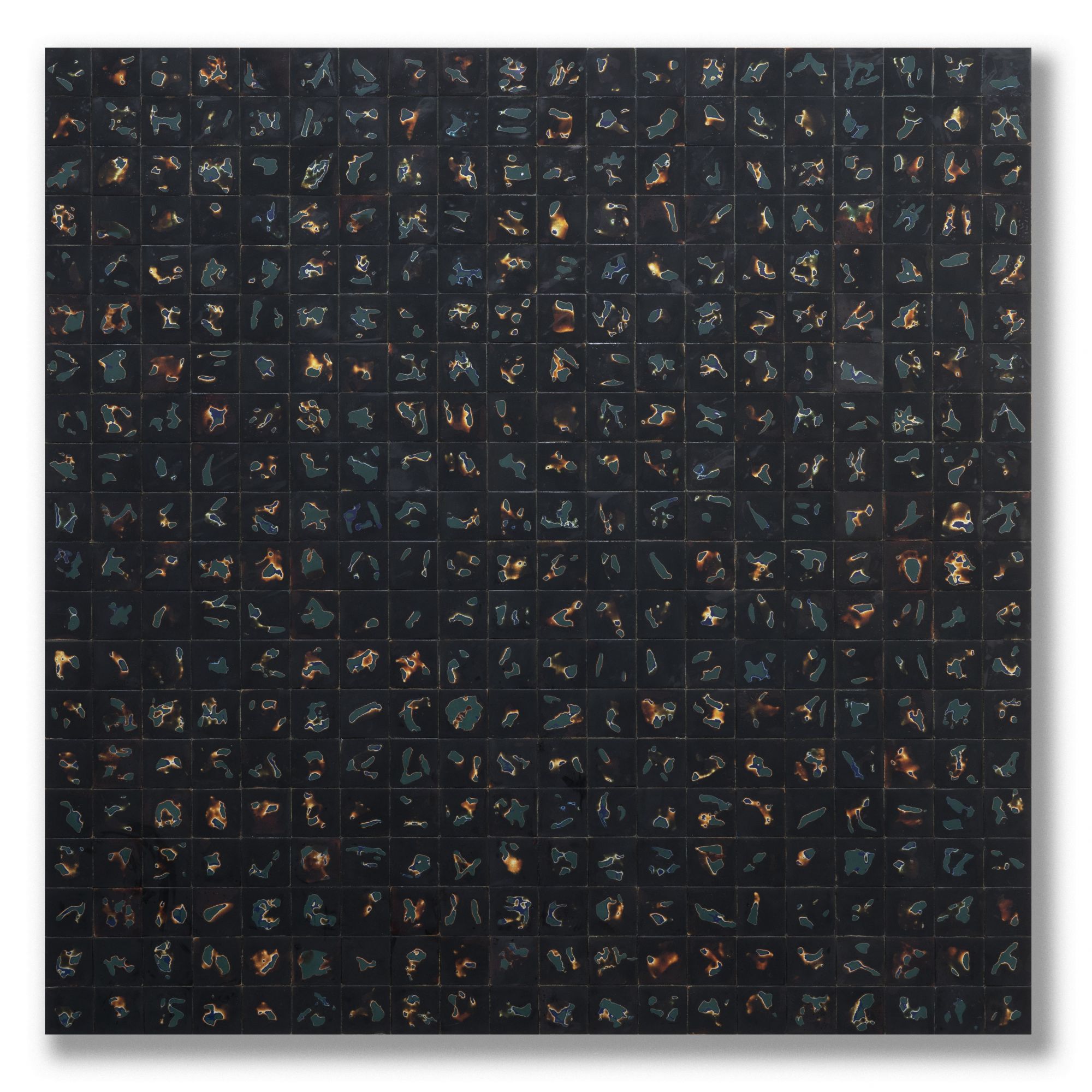 20²—Island (2019) by Duan Yifan. (Courtesy of the artist and Leo Gallery)
Chinese artist Duan Yifan is making a career by putting his own spin on the ancient art of lacquer painting, filling grids with abstract washes or swirls of colour. Duan Yifan was born in Henan, China in 1989, currently lives and works in Hangzhou. In 2015, Duan obtained his Master's Degree in Chinese Lacquer Art from the China Academy of Art, in the class of renowned artist, Professor Tang Mingxiu. Mastering lacquer art requires a high level of skills, Duan has spent years building up a strong foundation during his education and started as an independent artist creation in the second half of the pursuit of his Master's Degree. Leo Gallery is exhibiting some of his most recent works.

Chromatic Impression (diptych) (2013) by Kitty Chou. (Courtesy of the artist and Ben Brown Fine Arts)
Hongkonger Kitty Chou's abstract photographs are being exhibited by Ben Brown Fine Arts, which has represented Chou since 2015.
Chou pursued higher education in the USA, earning a Bachelor of Fine Arts in Business Administration from the Wharton School of the University of Pennsylvania, followed by a Bachelor of Fine Arts in Interior Design from the New York School of Interior Design. After graduating she became engaged in the "accidental" photographic style of direct-instant capture and began her artistic career. Chou currently resides in Hong Kong and travels extensively. She was nominated in 2013 and 2016 for the Prix Pictet Competition.
Chou has been dubbed the "accidental photographer" for the way she uses a simple digital camera to capture surprising images that often feature reflections on water or the interplay of light and shadow on city streets. She now splits her time between her home city, New York and Paris.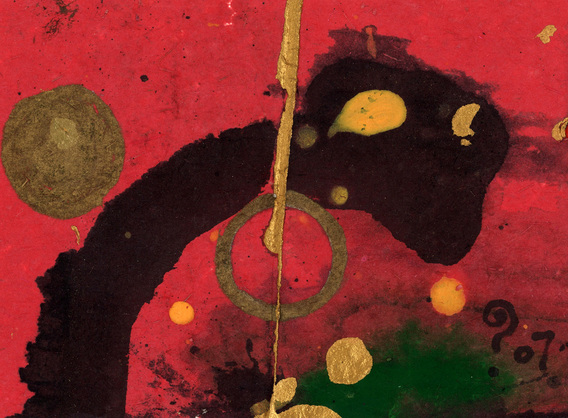 IRENE CHOU, The Universe is My Mind, 2007, ink and color on paper, 13 × 17 cm.(Courtesy of the artist and Hanart TZ Gallery, Hong Kong )
Paintings by Irene Chou (1924-2011) are shown by Hanart TZ Gallery. The Shanghai-born artist was a key figure of the New Ink Art Movement in the 1980s, who is famous for her conceptual landscape ink paintings with expressive brushstrokes. Under the influence of her mentor Lui Shou Kwan, an acclaimed ink painter of the 20th century, Chou's contemporary paintings were very much informed by the Chinese philosophy of Zen and Taoism in a dynamic and abstract style.
Irene Chou was a Chinese artist, one of the most influential exponents of the New Ink Painting movement in Hong Kong. A leader in the New Ink Painting Movement, Chou was at the forefront of reinventing traditional ink paintings into a contemporary art form. Her contribution to ink paintings has made an impact both regionally and internationally, making way for modern ink paintings in the global art scene.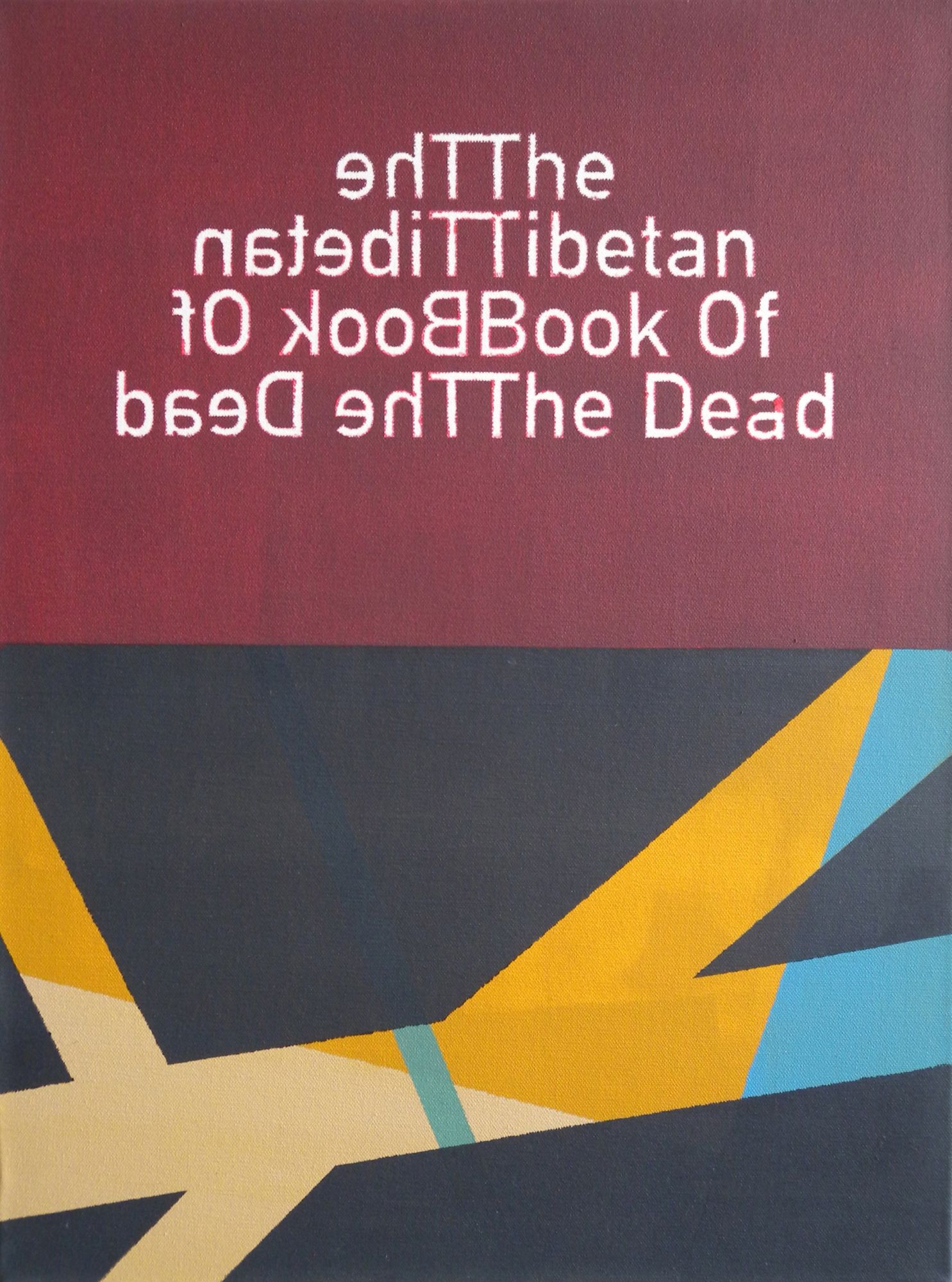 The Tibetan Book of the Dead by Heman Chong. (Courtesy of the artist and Rossi & Rossi)
Heman Chong (Malaysia, 1977) is an artist whose work is located at the intersection between image, performance, situation and writing. His practice can be read as an imagining, interrogation and sometimes intervention into infrastructure as an everyday medium of politics. He received his Masters in Communication Art & Design from The Royal College of Art, London in 2002. He lives and works on Depot Road, Singapore.
In 2006, he developed a writing workshop with Leif Magne Tangen at the Project Arts Center in Dublin where they co-authored PHILIP (2007), a science fiction novel with Mark Aerial Waller, Cosmin Costinas, Rosemary Heather, Francis McKee, David Reinfurt and Steve Rushton.
Courtesy of Hong Kong Museum of Art Association and Etsu Egami, for further information please visit http://www.hk-aga.org/unscheduled/.