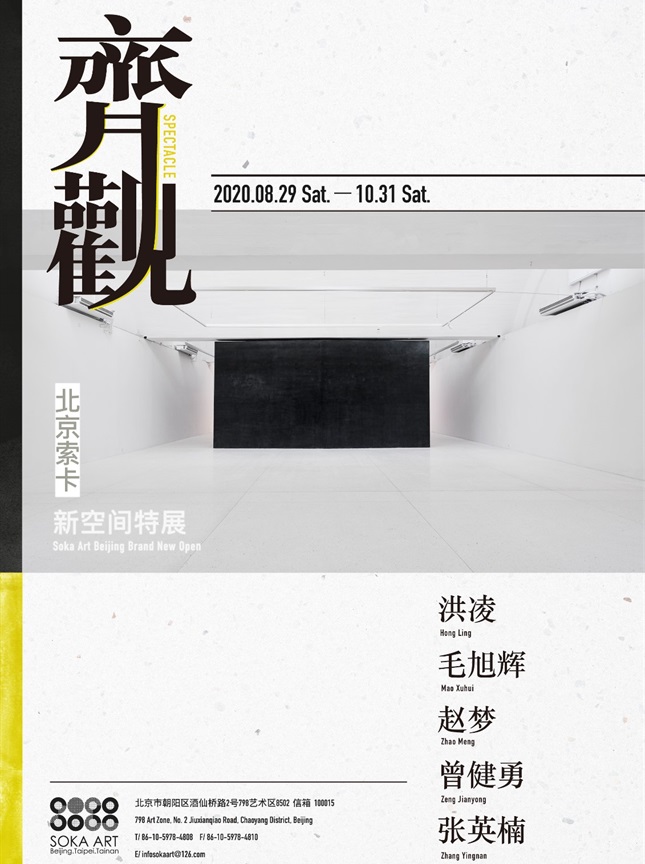 Soka established in 2001, is the first oversea funded gallery in Beijing. 2021 will be the 20th anniversary of Soka in Beijing. After nearly a year's design and renovation, Soka will reopen in the autumn of 2020. The three-dimensional and multi angle space constructed by bright terrazzo and operated by architect Liang Chen is expected to become a representative of the exquisite space of 798 art district. Full bright white terrazzo floor, black multi-dimensional terrazzo wall and 798 Bauhaus arched roof make the overall architectural space full of philosophy and humanistic depth. Soka will bring more diversed arts and cultures to show to the audience.
With the newly upgraded architectural space, they are very honored to launch a new exhibition Spectacle (2020.8.29), which will show the important works of five Soka artists: Hong Ling, Mao Xuhui, Zhao Meng, Zeng Jianyong and Zhang Yingnan. The works will bring audiences different visual experiences in the new Soka space. Spectacle is composed of contemporary language and culture in its own surroundings. The exhibition provides several perceptive thinkings and visual experience.
The five artists all initiate long-term and in-depth cooperation with Soka. Whether it is Mao Xuhui, one of the leading figures of the 85' Art Movement, or Hong Ling, who completed the two-year world tour exhibition in 2018, they both demonstrate Soka's sustainable and systematical determination regarding promoting artists. In addition, Zhao Meng (post-60s), who works at the Fairbank Center for East Asian Studies at Harvard University, Zeng Jianyong (post-70s), the prominent contemporary Chinese ink artist, and Zhang Yingnan(post-80s), whose works were collected by the famous musician and collector Yao Qian and was fortunate to be featured as the film poster, all use their own unique artistic language to write an unparalleled chapter for the Chinese contemporary art landscape.
Soka is about to launch the exhibition "Spectacle" in its brand-new space during the post-epidemic period, trying to use the works of three generations of artists - old, middle and young and the philosophies about time, life, and tradition they carry to invite the audience to slow down and enjoy the meditative experience. By reflecting on the eternity hidden in impermanence, they can reconstruct the spirituality that is above the mundane life.
About the exhibition
Dates: Aug 29 - Oct 31, 2020
Venue: Soka Art Beijing 798 Art District, No.2, Jiuxiangqiao Road, Chaoyang District, Beijing 1000015
Courtesy of Soka Art, for further information please visit http://www.soka-art.com.