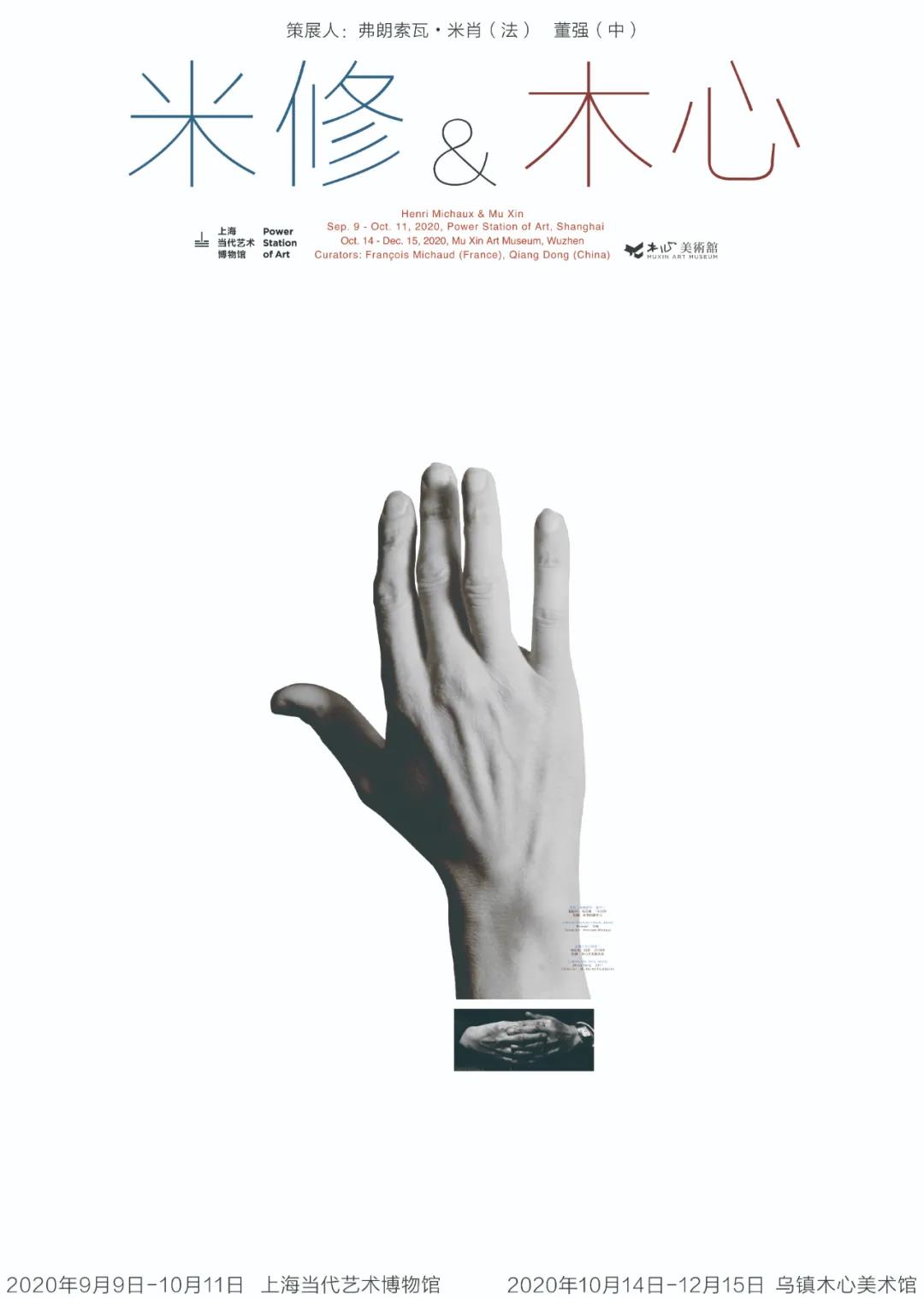 In 1933, a young Henri Michaux visited China and traveled to Shanghai. Eighty-seven years later, his paintings would return to the city.
In 1948, a young Mu Xin yearned to study in France, but was never able to realize that dream. Later, he wrote poems about Paris as if he had been there.
Now their paintings are appearing in the same exhibition galleries. As they say in China, there was a predestined connection—between China and France, between Paris and Shanghai, between Mu Xin and Henri Michaux, and between poetry and painting.
—Chen Danqing
"Henri Michaux & Mu Xin", jointly hosted by the Power Station of Art and the Mu Xin Art Museum, will be presented at the Power Station of Art in Shanghai from September 9 to October 11, 2020 before traveling onward to the Mu Xin Art Museum in Wuzhen from October 14 to December 15. The exhibition will showcase nearly 50 paintings, as well as poetry anthologies, from both artists.
This is the first presentation of Henri Michaux's paintings in China, and the first exhibition of Mu Xin's paintings in Shanghai. The curators of the exhibition, François Michaud and Dong Qiang, intended to present the inherent connections and differences between Michaux and Mu, constructing a cultural encounter across time and space.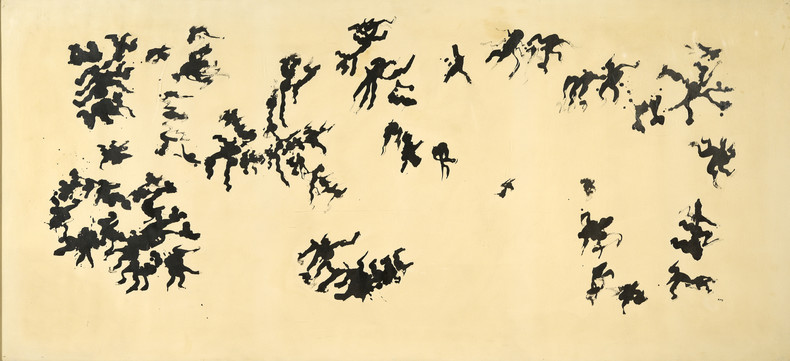 Henri Michaux, Untitled, 1960, India ink on paper, 60x140cm, Private Collection, France
Henri Michaux was an important twentieth-century French poet and modernist painter, and Mu Xin was a Chinese painter and poet who became better-known after his death. In 2015, François Michaud, Musée d'art moderne de la Ville de Paris curator and long-time Henri Michaux scholar, discovered Mu Xin in 2015 and hit upon the idea of an exhibition for the two men. During the four years of planning, Dong Qiang, head of the French Department at Peking University, correspondent of the Institut de France, and scholar of Henri Michaux, also became involved in curating this exhibition.
Henri Michaux and Mu Xin did not know one another, but each man had his own gifts and experiences that were incorporated into his poetry and painting career.
Henri Michaux was born in 1899 in Namur, Belgium, and he experienced the hardships of both world wars. In 1927, Mu Xin was born in Wuzhen, China, and he suffered persecution and repression as a young man. Painting and poetry were forms of redemption for these two geniuses because these mediums allowed them to leave their troubles and suffering behind and travel into their interior worlds.
Michaux taught himself to paint and write poems, and he said, "Poetry is a form of exorcism," and "Literature helps people to live." His poetry was humorous and strange, and his scrawled paintings reflected a very unconventional personality. Mu Xin's notes from his time in prison and his small-scale landscape transfer prints shook off the traditional medium of ink and drew directly from the vast, profound realm of Song and Yuan painting.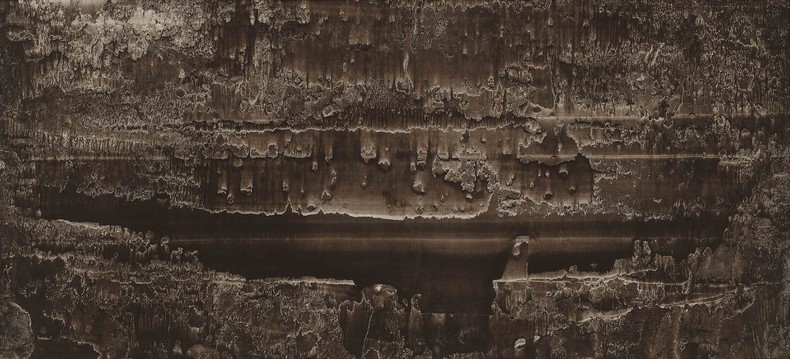 Mu Xin, Opera, 2002, Watercolor on paper, 17.6x38.7cm. Collection of Mu Xin Art Foundation
Dong Qiang, the curator, noted, "In looking at Michaux and Mu and re-reading Mu and Michaux, we attempt to answer a pressing question: In the world of the internet, the internet of things, and artificial intelligence, a world in which high technology seems to be overwhelming everything, can people still have spiritual spaces of their own, or have those become so small that they have almost disappeared?"
Michaux was enamored of Eastern culture and he traveled to Asia in the 1930s. He was fascinated by Chinese calligraphy, ink painting, and theater. He honestly admitted that he had not come to China to seek out an exotic atmosphere; he felt internally compelled to explore new references and new styles. Mu Xin attended art school in Shanghai in the 1940s, and he yearned to experience European culture all his life. He wandered Paris in his poetry, and in his years in obscurity, he retained a cosmopolitan attitude to poetry and painting. In this exhibition, these two wandering souls will pause for a moment, meeting in Shanghai in a new century.
About the artists
Portrait of Henri Michaux, phtography by Gisèle Freund, 1936. ©archives henri michaux
Henri Michaux (1899-1984) was born in Namur, Belgium. He became a French citizen in 1955 and he died in Paris. Michaux began publishing literary works in 1923 and he began painting in 1925. His writing and painting were both self-taught and developed in parallel over the course of his life. In his sixty years of work, Michaux published collections of essays (Darkness Moves, Plume, Life Within the Folds, and Facing the Locks), poetry anthologies, and travelogues. He wrote about his travels, both fictional (Elsewhere and The Voyage to Great Garaban) and real (Ecuador and A Barbarian in Asia). In both his painting and writing, he also shared his experiences taking psychotropic drugs (Miserable Miracle, Infinite Turbulence, Light Through Darkness, and The Major Ordeals of the Mind and the Countless Minor Ones). Michaux's paintings lie on the border between representational and abstract art. Anthropomorphic signs form flows, groups, movements, bodies, and faces. Their unstable and ambiguous contours seem to appear and disappear in an instant. Retrospectives of Henri Michaux's paintings have been held around the world (Centre Pompidou, France; Guggenheim Museum, USA; Seibu Museum, Japan; Guggenheim Bilbao, Spain). "Henri Michaux & Mu Xin" is Michaux's first exhibition in China.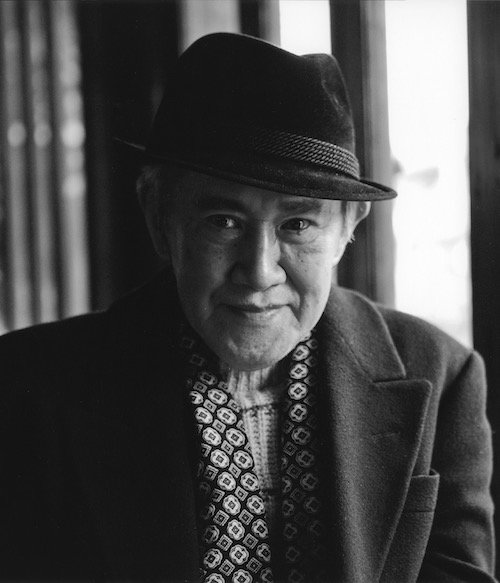 Portrait of Mu Xin,photography by Li Jun. ©Mu Xin Art Foundation
Mu Xin (1927-2011), born in Wuzhen, China, he enjoyed painting, writing, playing the piano, and composing music from a young age. He began writing poems at the age of 12, and when he was 16, he published his first essay in a local newspaper. In 1946, he was admitted to the Shanghai Fine Art School. In the early 1950s, he taught in a middle school in Shanghai and worked as a handicraft designer. Mu Xin also secretly wrote 20 books in his free time. The books were confiscated early in the 1970s. He was imprisoned three times and wrote a 66- page manuscript behind bars called Prison Notes.
Mu Xin was rehabilitated in 1979, and he served as Secretary General of the China Arts and Crafts Association. Moved to New York in 1982. While continuing to paint, he picked up his pen again, producing more than 30 poetry and essay collections that were published in mainland China and Taiwan. In 2001, he held a solo art exhibition at the Yale University Art Gallery. Accompanying catalogues were published for these shows. Moved by an invitation from his hometown, Mu Xin finally decided to settle in Wuzhen in 2006. In 2011, the year the artist passed away, Wuzhen began building the Mu Xin Art Museum in his honor, and An Empty Room, the first book by Mu Xin to appear in English was published. In late 2012, Mu Xin's Literary Memoir was published based on five years of notes from his lectures on world literature for Chinese artists in New York; it won five Book of the Year awards in mainland China and Taiwan. In 2014, his poem "Life was once slow" was set to music by young composer Liu Huyi and the song was sung by Liu Huan at the CCTV Spring Festival Gala Show in 2015.
About the Curators
François Michaud. As a curator at the Musée d'Art Moderne de la Ville de Paris, François Michaud conceived numerous exhibitions in both contemporary and modern art fields, from video artists and filmmakers Emmanuelle Antille, Clarisse Hahn or Alexandra Leykauf to the great Chinese painter Zao Wou-Ki who settled in Paris in 1948. For this exhibition, in 2018-2019, he particularly studied the close friendship uniting Zao Wou-Ki and Henri Michaux during their lives. Their poetic, intellectual and visual dialogue made him think about the notion of artistic parallelism in literature and art.
Dong Qiang is the head of the French Department at Peking University, the chair of Le Prix Fu Lei, and a foreign correspondent of the Institut de France. He is a noted scholar and translator, and he was an early student of Milan Kundera. His monographs include An Illustrated History of French Literature and Liang Zongdai: Passing Through Symbolism. He has translated works in many fields, including philosophy, art, and literature. In 2015, he received the Legion of Honor, the highest honor that the French government can bestow.
About the exhibition
Organizers: Power Station of Art, Mu Xin Art Museum
Curators: François Michaud (France), Dong Qiang (China)
Date: September 9 - October 11, 2020
Location: 3rd Floor, Power Station of Art
Admission: Free
Courtesy of Power Station of Art, for further information please visit http://www.powerstationofart.com/.