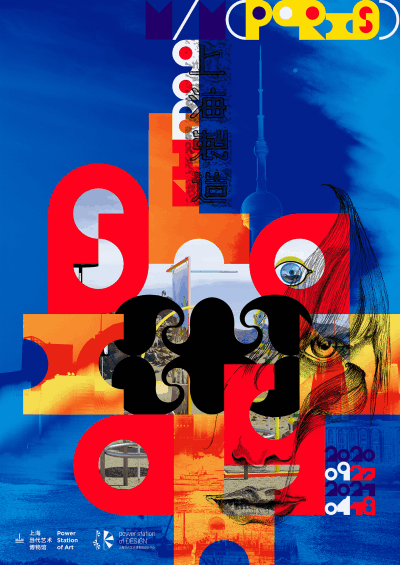 "M/Made in Shanghai", the debut solo exhibition of M/M (Paris) in China, will be presented in the power station of DESIGN which relocates at the 7th floor of PSA, a creative extension of the Power Station of Art, from September 27, 2020 to April 18, 2021. By showcasing hundreds pieces of this prolific art and design duo's works, the exhibition will review their 30-year career, and explore how design can be translated and reinterpreted in a variety of contexts.
M/M (Paris) was co-founded by Michaël Amzalag and Mathias Augustyniak in 1992. With a unique style and through close interconnections with music, fashion and art circles, they have been proved to be among the most influential designers from their generation. As creators of symbols, M/M (Paris) never stop expanding our visual language, as well as inventing their own. Not only have they developed a subtle analysis of quotidian signs, but they also tap into the potential of graphic design by virtue of introspection. M/M are shifting experts, making graphic design shift from a mediation status to becoming a work of art in itself.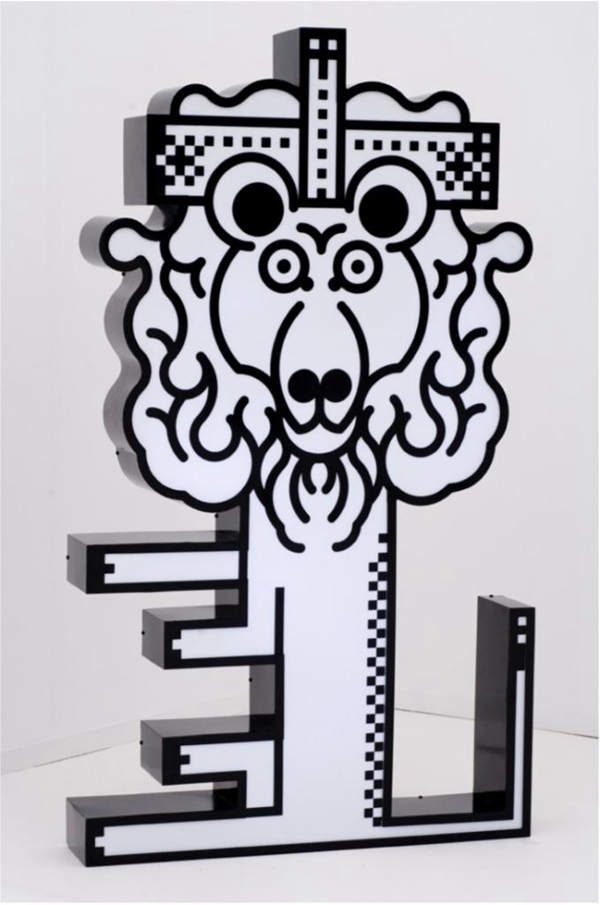 "Zu Assenheim", 2006, installation, neon light box, acrylic, lacquer, wires, 100×170×25 cm. Courtesy of M/M (Paris). Photo © M/M (Paris).
Concept and graphics are two indispensable elements in their dynamic system of thinking and M/M (Paris) regards exhibition as a medium of discovery and self-exploration. The exhibition title, "M/Made in Shanghai" refers not only the production place of the participated works, but also the relationship between works and their contexts. As per the title of one of their previous show, "In Many Ways the Exhibition Already Happened": Indeed, all artworks in this exhibition are "former works" by M/M (Paris). However, by modifying the proportion of artworks (such as 400% magnification) and altering the way of viewing them, M/M (Paris) provides the audience with a flexible space to decipher and reinterpret the works, and expects the audience to establish disparate dialogues with the exhibits.
Entering the exhibition hall, the audience will first notice two clocks facing each other, magnified 100 times. One of them displays Paris time and the other Shanghai time, metaphors of a conversation between two people, in two time zones, confronting left and right brains, weaving common experience in the same space. This way, different cultures may put self aside, thus creating a barn-new encounter. Magnification enables the audience to better reflect on the scale of human beings. In that sense, M/M (Paris) acts as the urban planner: Instead of building real houses, they gently stir the self-created two-dimensional world with their fingers and let the ripples of symbols and signs construct an alternative illusion of the city.
In addition, the exhibition will feature more than 200 posters by M/M (Paris), from which we will further understand how they work with their clients and keep self-renewing from it. In the early days of M/M's professional career, they worked on album covers design for independent music labels. Their first fashion clients were Yohji Yamamoto and Jil Sander, at the fore in the fashion industry. They later collaborated with brands such as Balenciaga, Givenchy, Calvin Klein, Prada, and more recently with Loewe since the appointment of Jonathan Anderson. In parallel, they worked as creative directors of magazines such as VOGUE Paris (France), Interview (US), Arena Homme+ and Man About Town (UK), while at the same time collaborating with a theatre in Brittany (CDDB–Théâtre de Lorient), creating over eighty posters between 1995 to 2005, all presented in the exhibition.
M/M (Paris)'s clients are diverse and wide-ranging, also including museums and art galleries, musicians and artists. Growing up with the international generation of artists regrouped under the banner of "Relational Aesthetics" by art critic Nicolas Bourriaud, they designed the exhibition catalogue of "Traffic", the seminal exposition he curated, before taking active part in the "No Ghost Just A Shell" project initiated by artists Pierre Huyghe and Philippe Parreno, an influential art venture questioning issues of authorship and copyrights. In music, their collaborations include musicians such as Madonna, Kanye West, Mew, Benjamin Biolay, Vanessa Paradis, among others.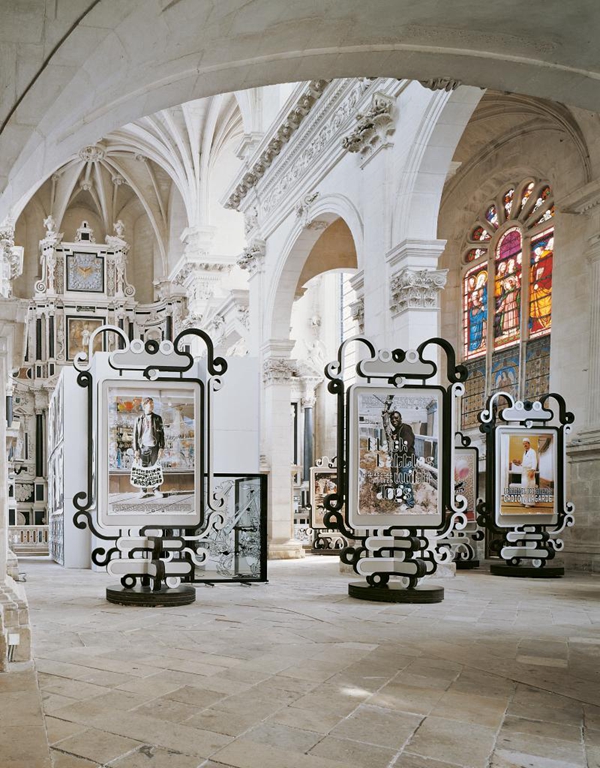 Exhibition view of Chapelle des Jésuites, Festival International de l'Affiche et des Arts Graphiques, Chaumont. Includes Sucette, Agent, Paravent and Théâtre de Lorient posters. Photo © M/M (Paris).
During this exhibition, PSA will launch a range of exclusive designed products by M/M (Paris), as well as their first publication in Chinese, M to M of M/M (Paris) Volume II, presenting a wide selection of their works from the 90's to the present.
About M/M (Paris)
Mathias Augustyniak was born in 1967 and grew up in the South of France. He studied at the École Nationale Supérieure des Arts Appliqués et des Métiers d'Arts, the École Nationale Supérieure des Arts Décoratifs (ENSAD) in Paris and the Royal College of Art in London. Michaël Amzalag was born in 1968 and grew up in Paris. He studied at the École Nationale Supérieure des Arts Décoratifs (ENSAD) where he met Mathias Augustyniak, with whom he founded M/M (Paris) in 1992.
Together they have created seminal projects across cultural fields such as art, design, fashion, music, publishing, architecture, film and theatre. M/M conceive their practice as the sustained production of signs – icons, indices and symbols – through which they have built a mesmerizing visual language.
Today, their collaborators and clients include fashion designers Jonathan Anderson at Loewe, Sarah Burton at Alexander McQueen, as well as Miuccia Prada, with whom M/M have devised their lexicon in three dimensions through scenography for runway collections, garments or limited-edition design objects.
M/M expertly blend art and commerce, working simultaneously across all cultural fields, collaborating with contemporary artists such as Sarah Morris or creating posters for theatre. In this way, their practice is both reflexive and subtly political in its reimagining of the everyday codes by which culture is disseminated, integrating a human scale within the mechanics of the world.
In 2012, Amzalag and Augustyniak were awarded the title of Chevaliers de l'ordre des Arts et Lettres by the French Ministry of Culture, and in 2019, they became members of the Japanese division of Alliance Graphique Internationale (AGI), under the guidance of Katsumi Asaba.
Their works are featured in the collections of institutions such as Centre Pompidou, Paris; Design Museum, London; Museum of Contemporary Art, Miami; Museum für Moderne Kunst, Frankfurt; Museum für Gestaltung, Zurich; Musée d'Art moderne de la Ville de Paris, Paris; Stedelijk Museum, Amsterdam; Tate Modern, London; Cooper Hewitt, New York; Guan Shan Yue Art Museum, Shenzhen; State Hermitage Museum, St. Petersburg; Van Abbemuseum, Eindhoven; and Musée des Arts Décoratifs, Paris.
About the exhibition
Dates: 29/09/2020 — 18/04/2021
Venue: Power Station of Art
Admission: 60 Yuan, Early Bird is 40 Yuan (Weekdays only)
Courtesy of the artists and Power Station of Art, for further information please visit https://www.powerstationofart.com.