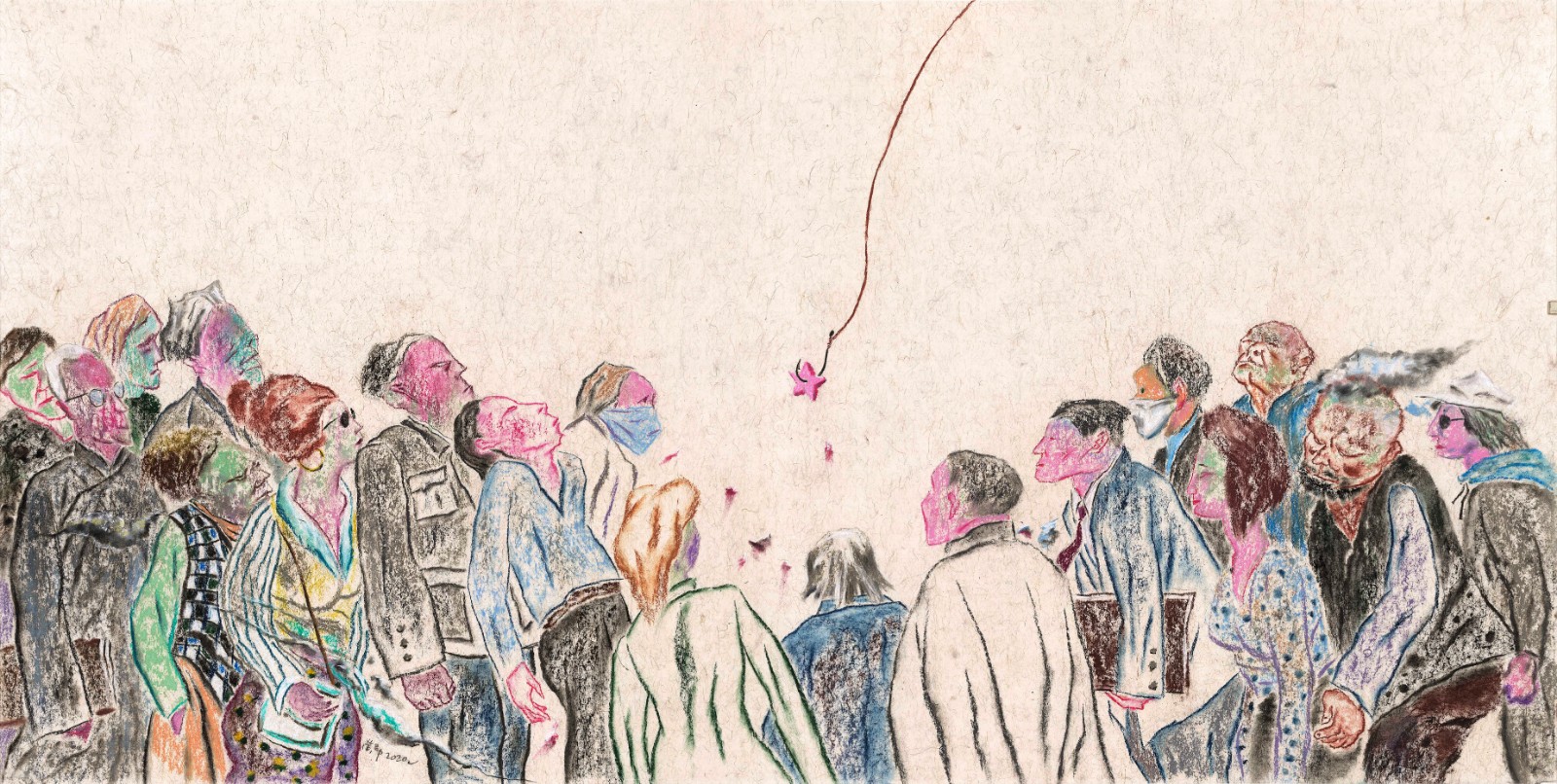 Editor's note: "This is the first time that I have seen Huang Yong's drawings in over 20 years. Although I did not know his life, his work shocked me and moved me." Huang Yong's solo show "Across Verge" was held for the first time in Today Art Museum in 2009, which left a deep impression on viewers. Fan Di'an, President of the Central Academy of Fine Arts keenly observed the transcendence of his creations over the symbolic visual style which was popular in contemporary art and he regarded Huang's work as "the inner expression centered around the existence of life." After his experiences and improvements over a decade, can Huang Yong move us again?
On August 28, Huang Yong's latest solo exhibition was unveiled at FEEFAN'S ART and it features a total of 26 drawings, including some of his previous works which have never been shown before and his latest work created between 2019 and 2020. His work can be roughly divided into two categories of figures and landscapes, but strictly speaking, this classification is not accurate enough as all the scenery images, objects and culture symbols he saw in life can be included in his drawings. When digging deeper, we can find that this hybrid form comes from the cultural experience of Huang Yong and it is also rooted in his multiple life experiences.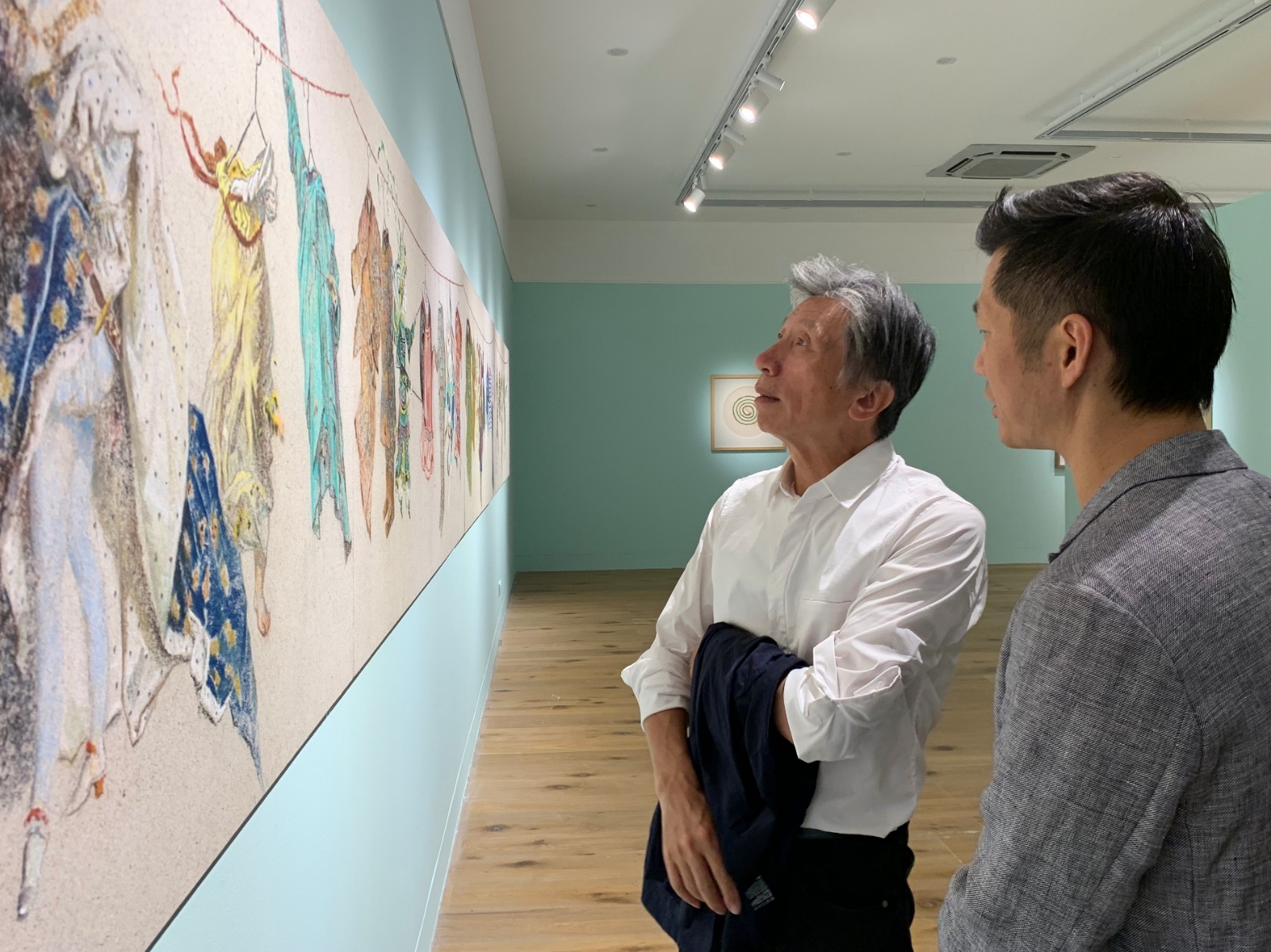 Artist Huang Yong introduced his work to Fan Di'an, President of CAFA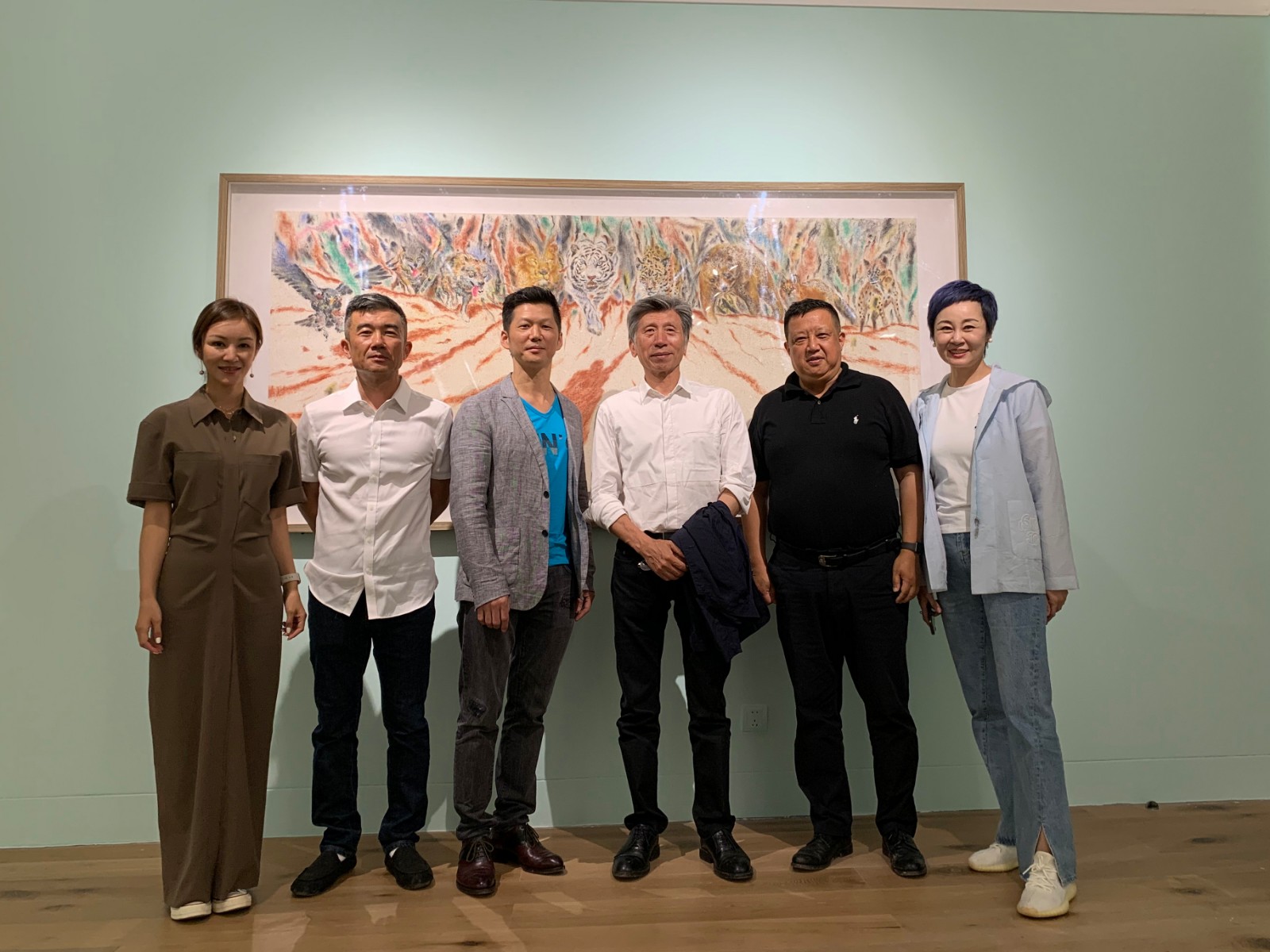 The Group Photo of Honored Guests (from the left), Fan Rong, Prof. Zhang Lujiang, Artist Huang Yong, Fan Di'an, Prof. Yu Ding and Gao Difei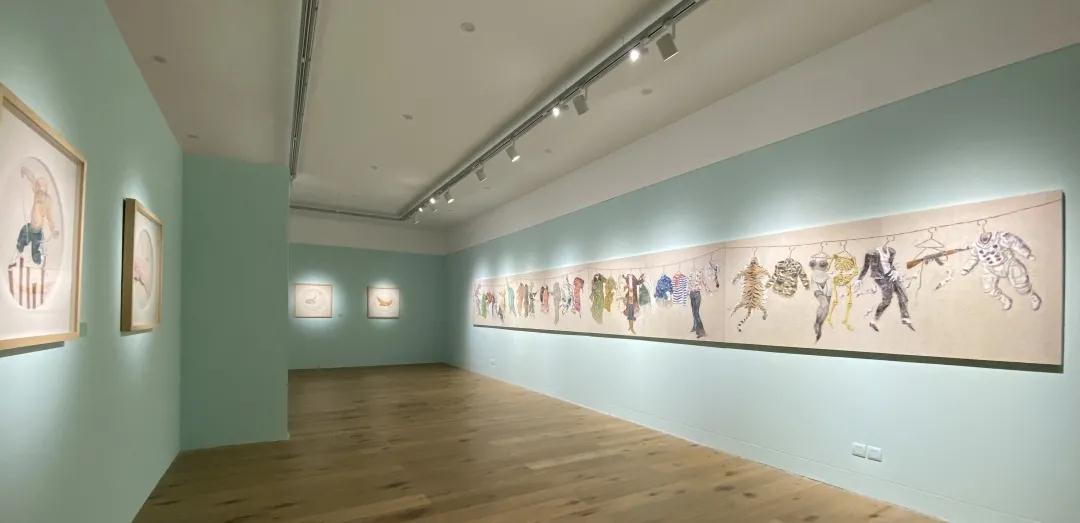 Exhibition View
I
"I chose to interpret my life through art, even though the drifting experience of my life did not change my original intention," Huang Yong once summarized his state after graduation with "drifting." Zhao Li who graduated a year earlier than Huang, quoted this word which referred to some uncertain "drifting" in Huang Yong's art.
"Drifting" is both a general and important word in the artistic context of Huang Yong. It is not an accidental phenomenon in Huang Yong's life as he has loved art since he was literate. He was admitted to the key high school of Hunan province and gained excellent results, but he decided to devote himself to studying painting and he went to study art at the Department of Art at Hunan Normal University in the winter and summer vacations.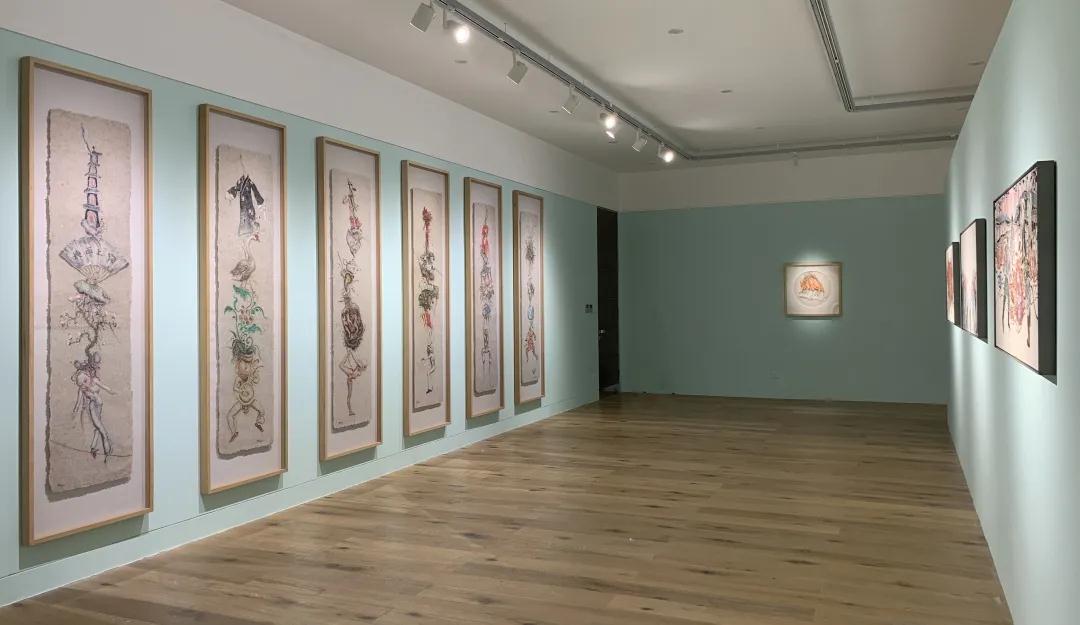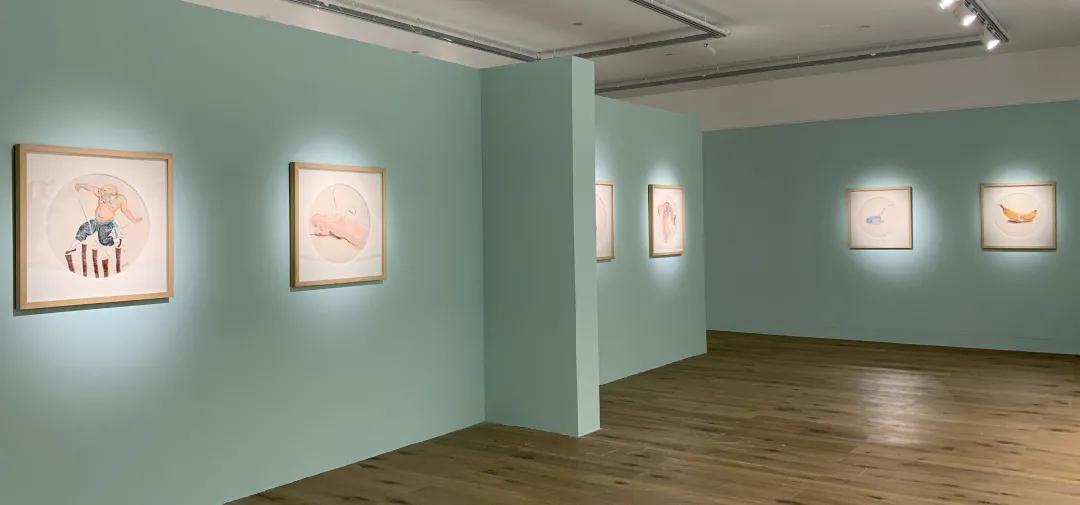 Exhibition View
In 1986 after sitting the entrance exams three times, Huang Yong became the only art student who was admitted by the Central Academy of Fine Arts (abbr. CAFA) in Hunan and he started to study in the Department of New Year Paintings and Comics at CAFA. When everyone who loved and cared about art had experienced influences from "Start Art Exhibition" and "'85 New Wave", Huang Yong was concerned about the latest trends in art and began his own artistic exploration.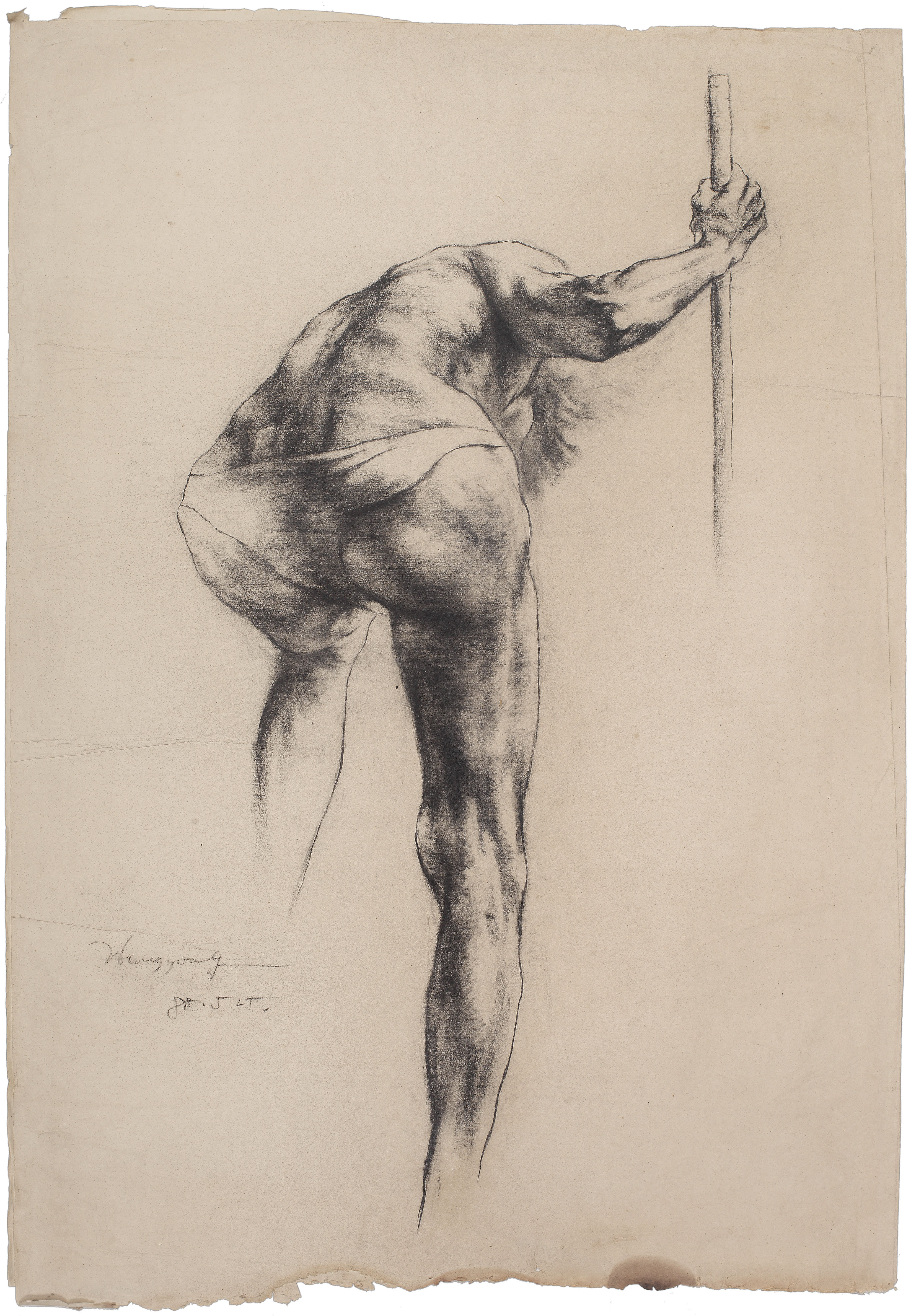 Huang Yong's Assignment in 1988 ( the second year in CAFA)
II
After Huang Yong graduated from CAFA in 1990, he was assigned to the Changsha Flower-drum Opera Troupe and later he was asked to assist in family planning work. He thereby began a new "drifting" journey in cities in pursuit of artistic freedom. From the physical "drifting" experience of Huang Yong, Zhao Li detected Huang's artistic ideals and a stage of suspension in his early artistic experience: "when he picks up the brush again, 'myself in the painting is like acting my own life.' However, the initial paintings became so jerky, that pains burst from my heart and I involuntarily burst into tears." During this period, the deep colors that seemed incompatible with urban life became the mainstay of Huang Yong's work.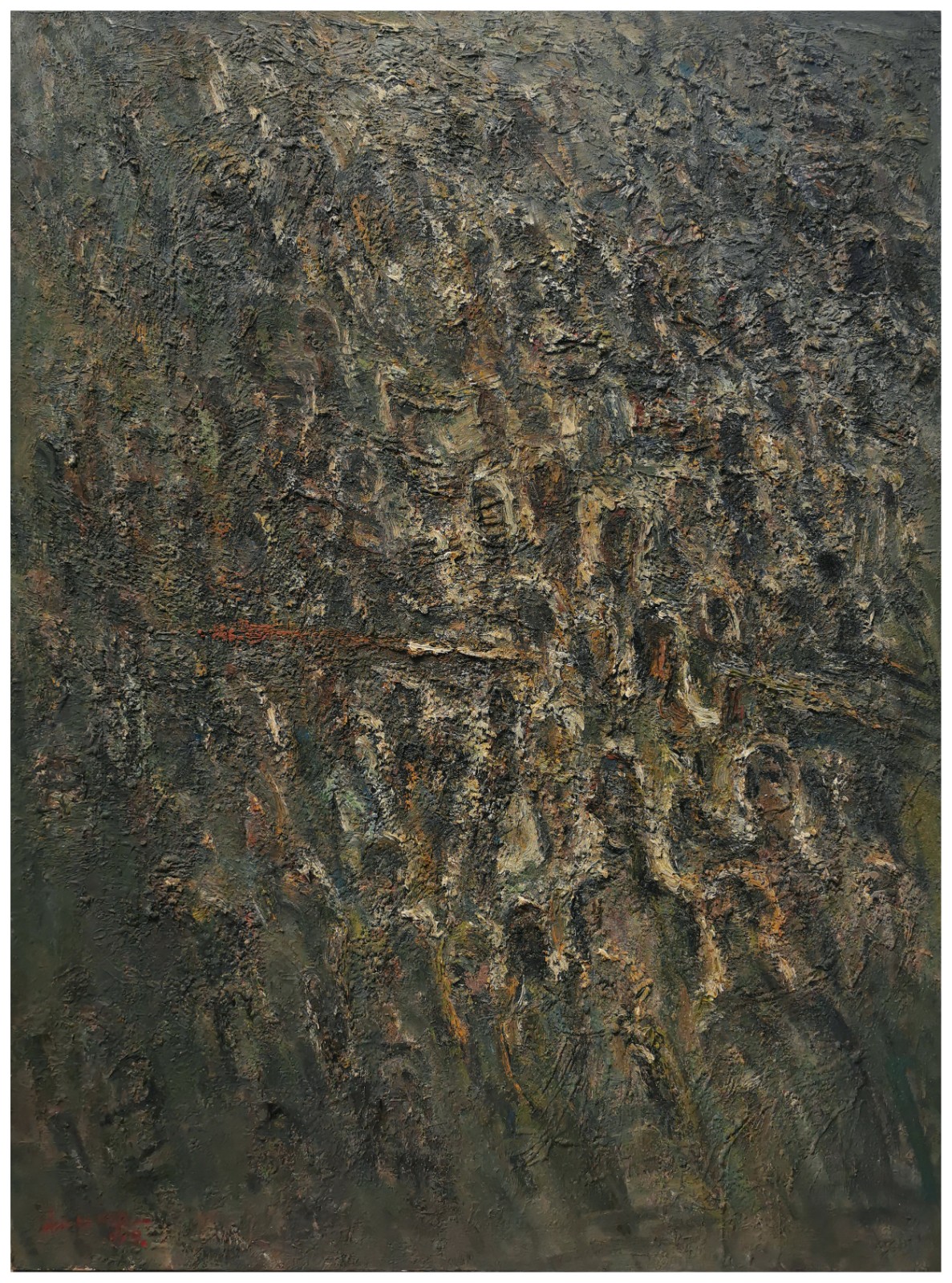 Huang Yong, Backlighting, 130x97cm, Oil on canvas, 1999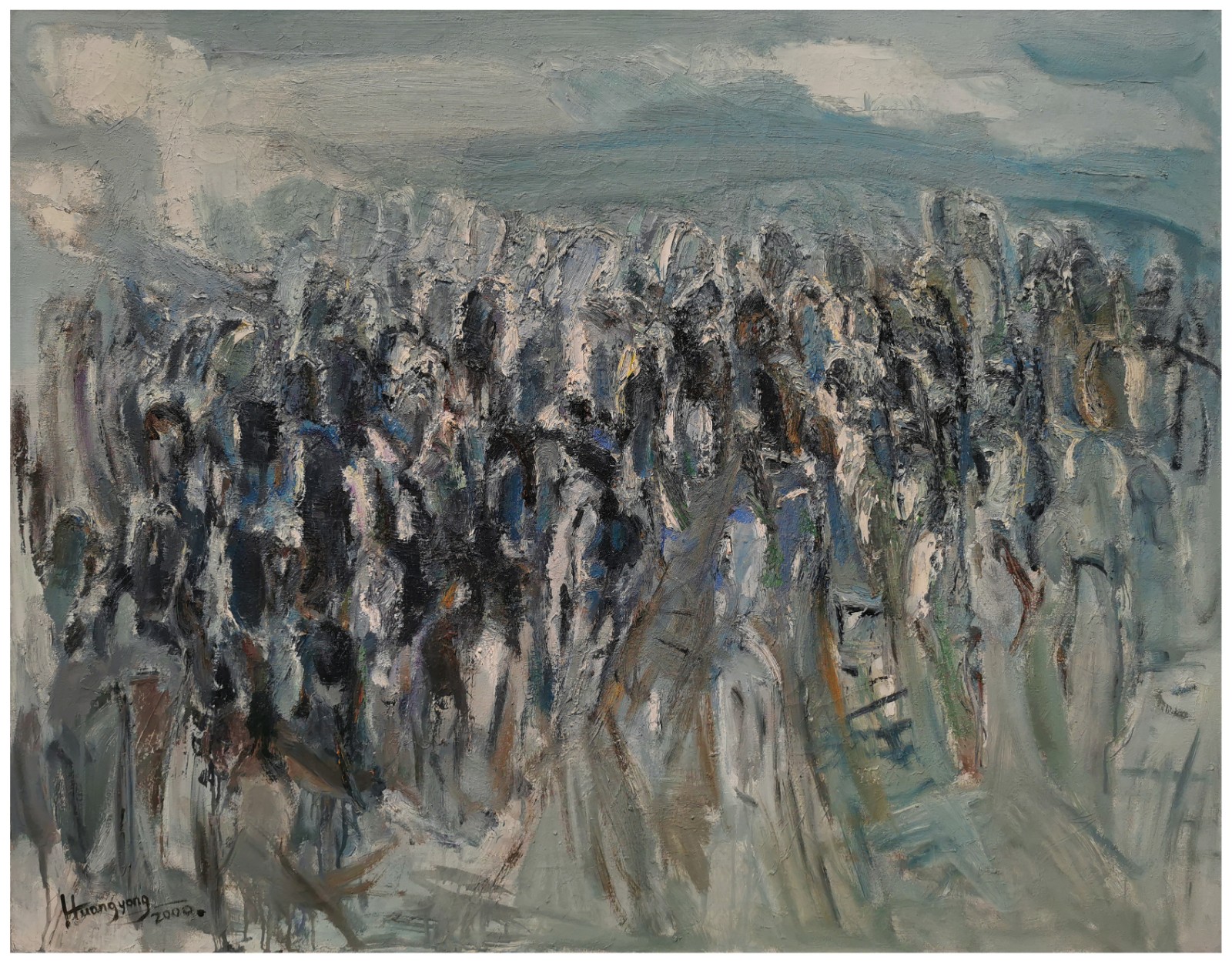 Huang Yong, Movements No. 1, 91x117cm, Oil on canvas, 2000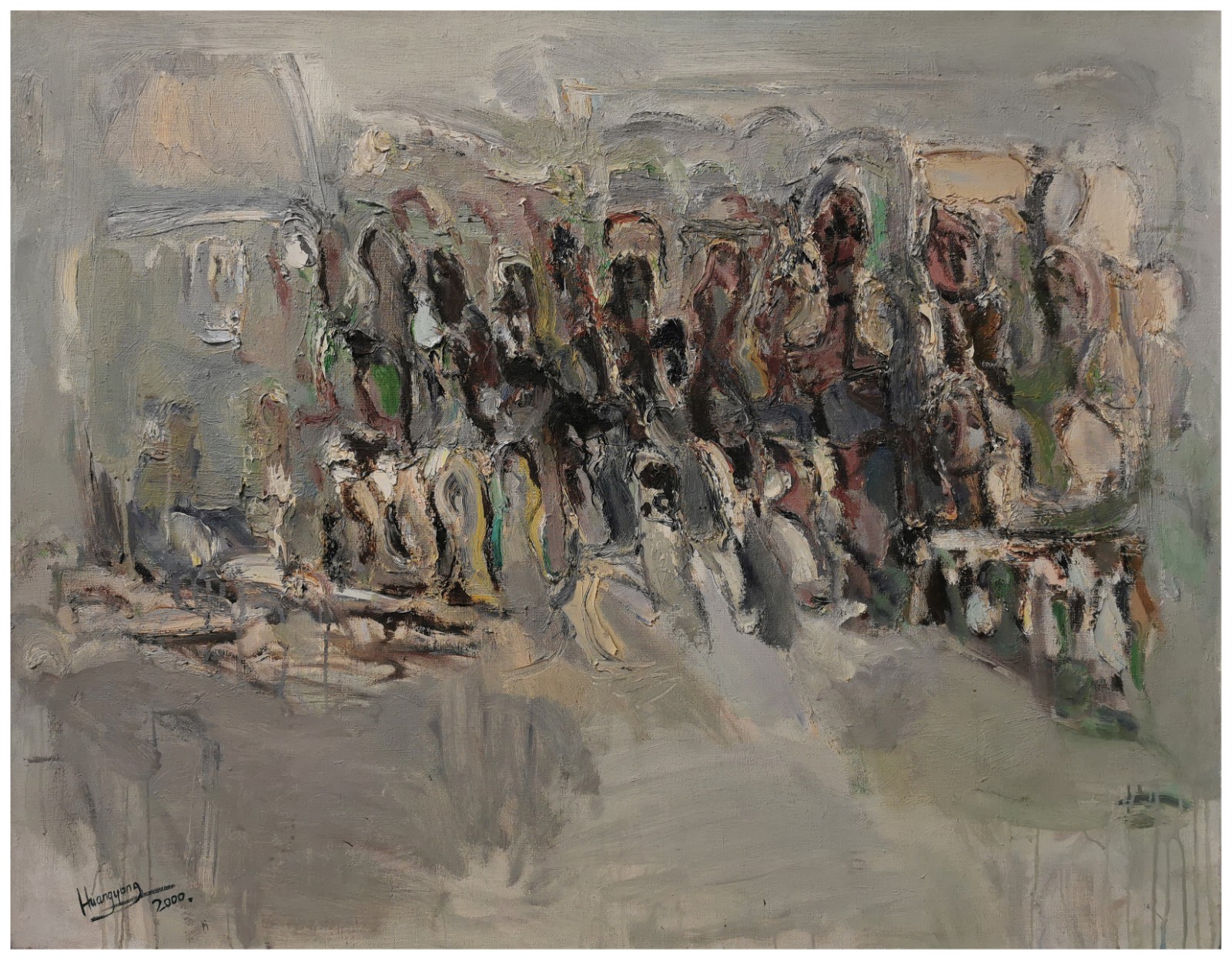 Huang Yong, Movements No. 3, 91x117cm, Oil on canvas, 2000
When Huang Yong has accumulated a rich experience in fundamental art teaching, he was invited by Guangzhou Academy of Fine Arts in 2004 to help build the basic structure of fundamental teaching and the color teaching system there. He also became one of the founders of the fundamental department. He devoted all his energy to teaching and discipline construction so that the long-term overload of work severely damaged his health. In 2006, he suffered a heart attack and had his first stent operation. Feeling the pain of the body, Huang Yong created the "Butterfly" series. Although the surroundings are filled with the symbolic language of contemporary art, he gave up the narrative using image interpretation, instead he used abstract language that emphasizes the change of forms and colors to describe the "butterfly change" that he experienced during his life experience.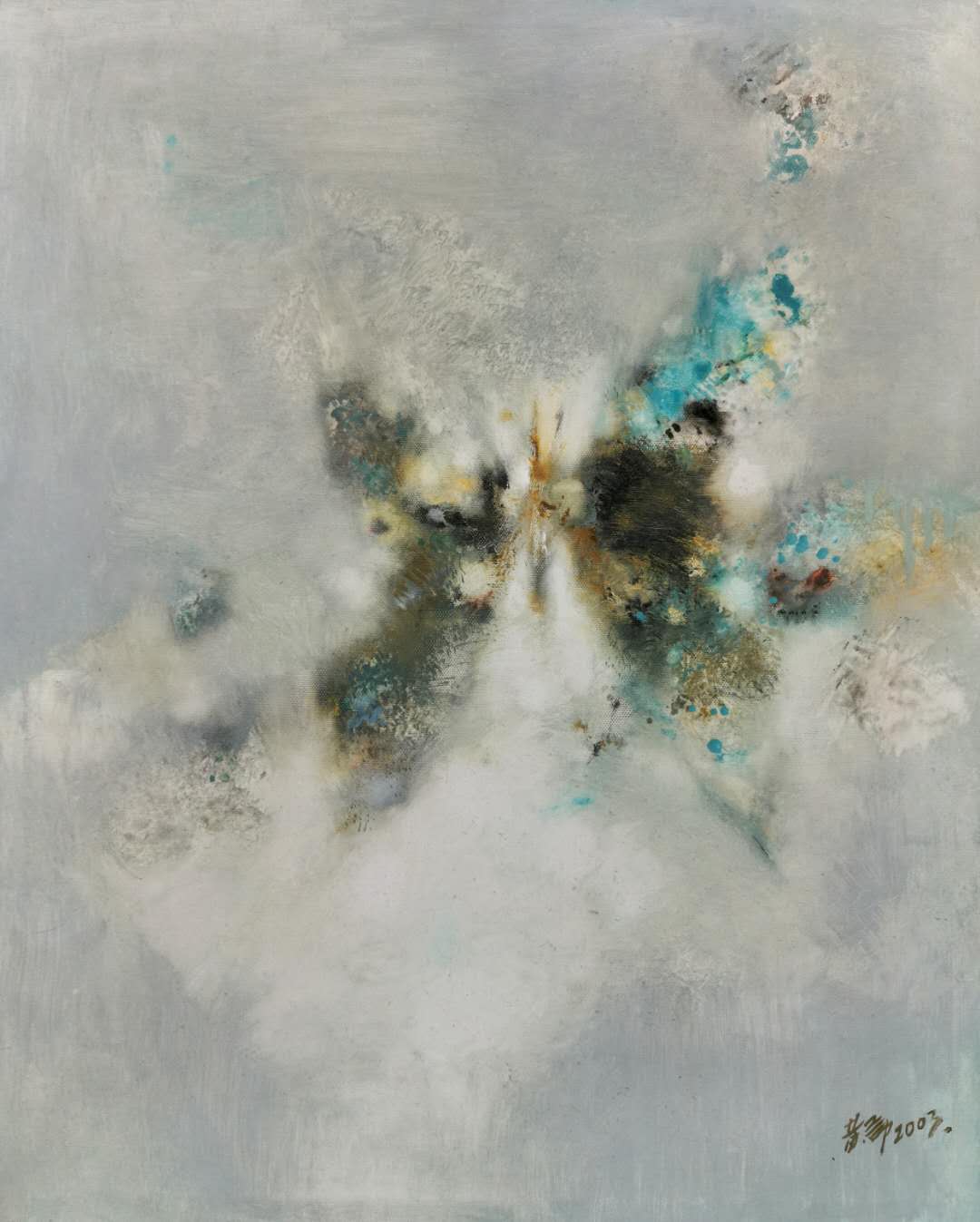 Huang Yong, Butterfly No. 2, 51x41cm, Oil on canvas, 2003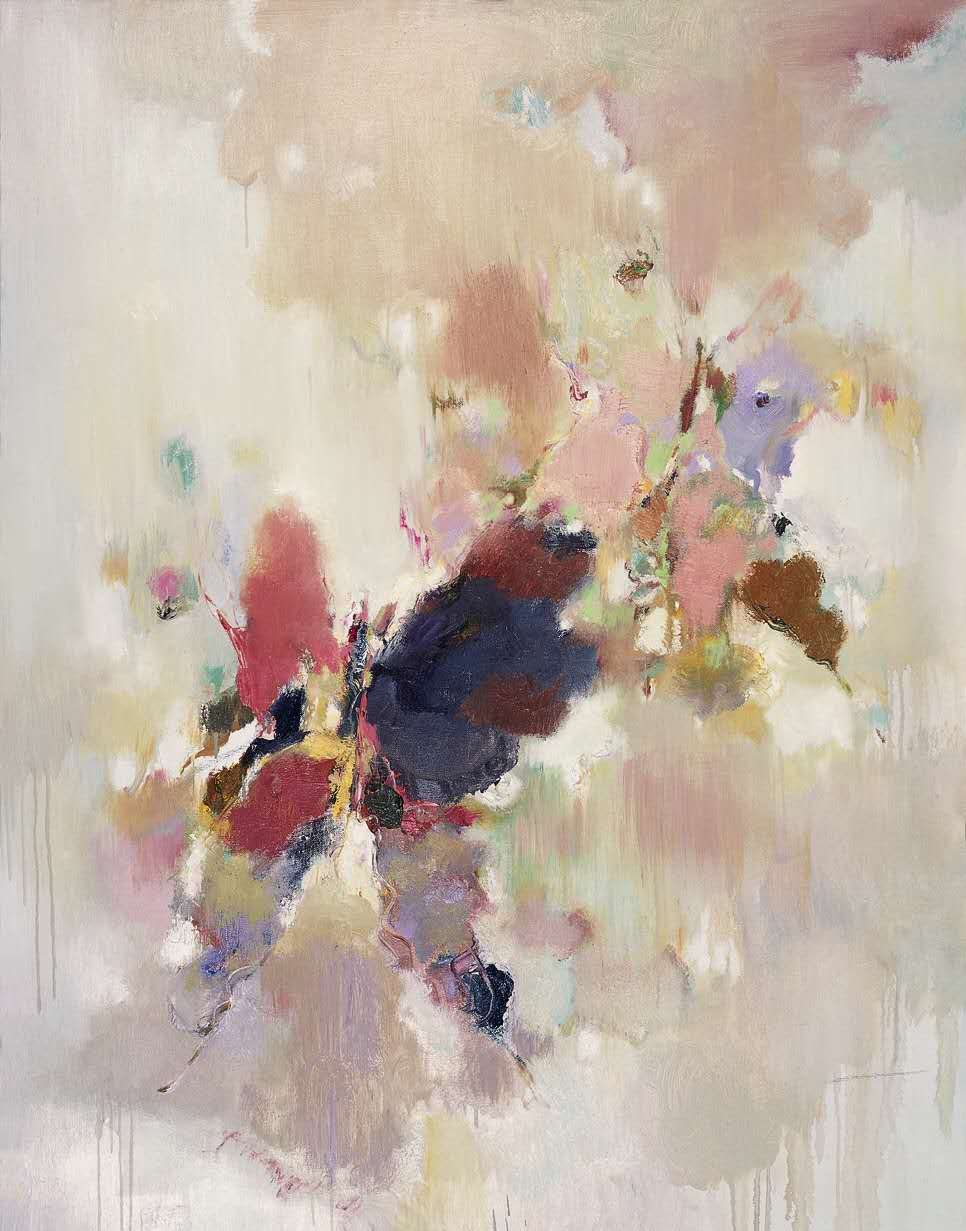 Huang Yong, Butterfly No. 6, 150x110cm, Oil on canvas, 2003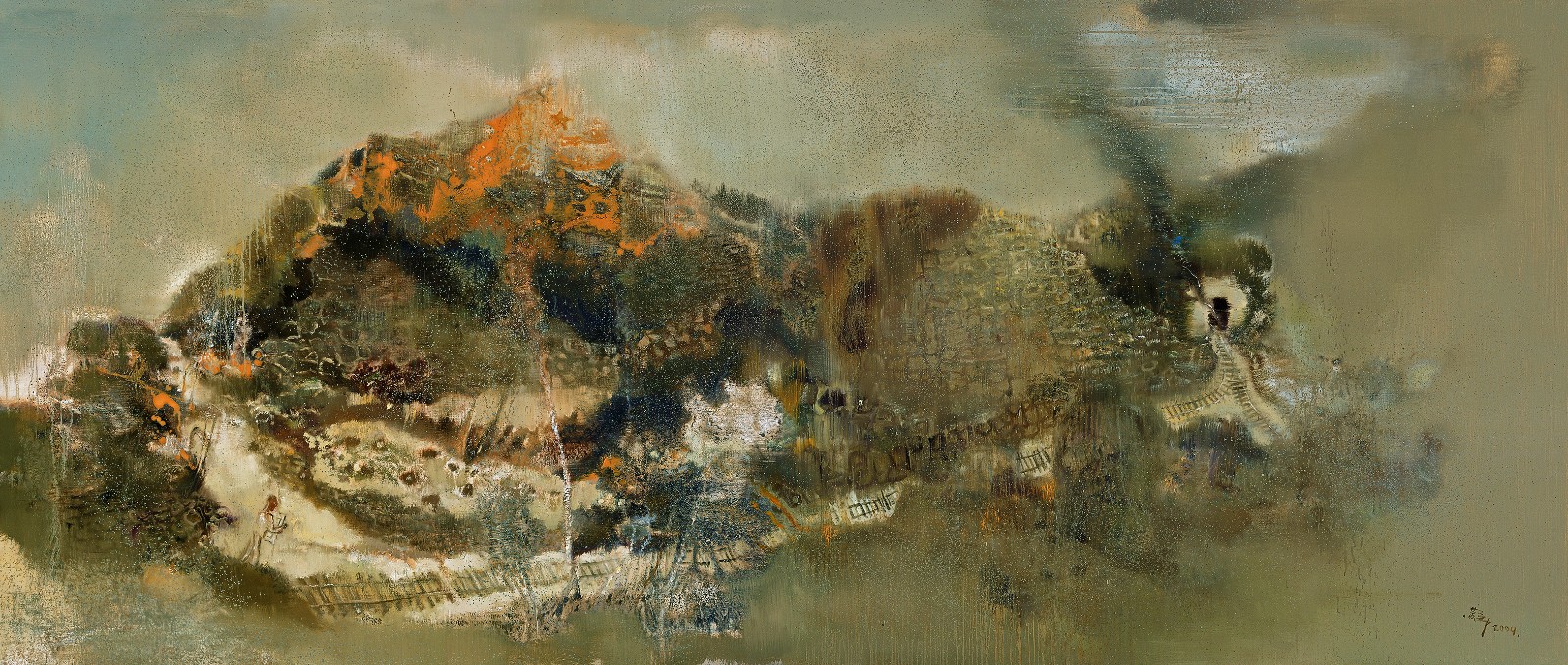 Huang Yong, Fortress Besieged No. 2, 158x372cm, Oil on canvas, 2009

Huang Yong, Fortress Besieged No. 5, 186x502cm, Oil on canvas, 2009
Before 2009, there is a retrospective road on the expected artistic future of Huang Yong as he started to learn art for over 30 years. After 2009, it can be taken as a new "drifting" experience for Huang Yong. He had a second heart bypass operation in 2012. His sternum was sawn off completely and his strength and feeling in his arms were greatly reduced after the surgery. In creations of oil paintings, an artist often paints while standing or sitting, or bending over at a certain distance from the paintings. An arm is required to have a certain amount of strength to move frequently above the canvas without any close contact. Due to his physical condition, Huang Yong had to try pastel art which was originally used as a small draft for painting.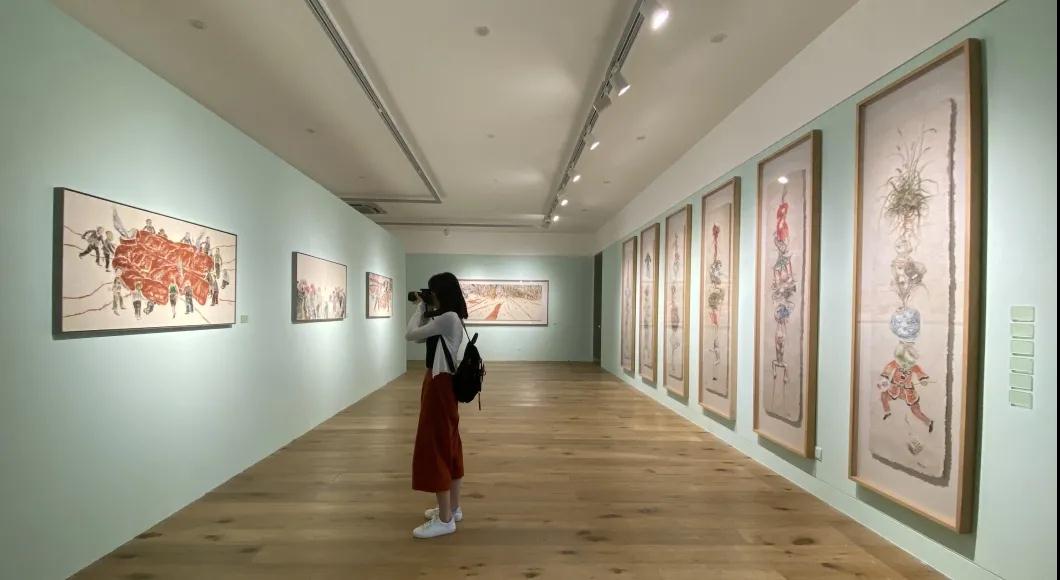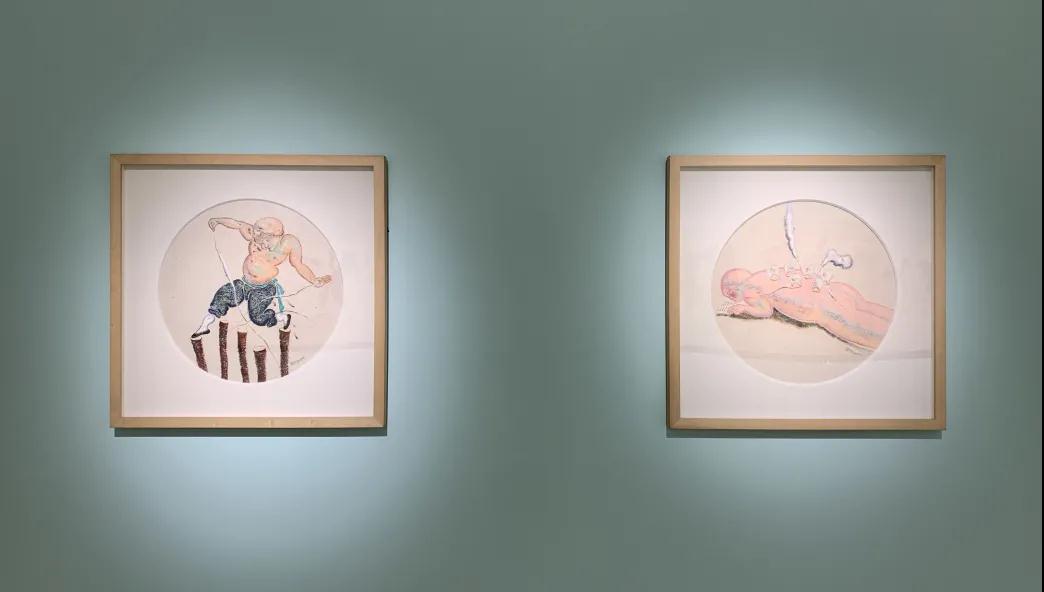 Exhibition View
He found that there were many similarities in materials between pastel and oil paintings and there are also distinctions between the soluble and insoluble, the transparent and opaque. Thus he started to make use of handmade paper after he inspected many papers that were available for sale. For him, in terms of artistic creation, painting materials do not rank first, but portrayal of painting should be visually refreshed with a distinctive aesthetic. This is also his original intention in painting. He also wants to have recognition in the thinking dimension leading to more questions, which evokes sympathy and excitement.
III
"I have the confusion of all artists. One is that I cannot express what I feel fantastic by painting, and the other is that I paint too clearly without feeling. I try to find the flash point in my life to express, but this makes me feel nervous and suffocated. I then jumped out of this trap and chose a drifting mediocre life," Huang Yong once explained his artistic view in his statement. How to create refreshing visual effects in a mediocre life?
Huang Yong found his artistic origin from the relationship between the individual and a group. He said that when he was admitted to CAFA in 1986, he thought he was a special individual. After he studied at CAFA, he found that everyone was "special" and he became a member of the group. When contemporary art was developing like a raging fire, Huang Yong did not pursue the proof of special existence. This sentiment continued after he had undergone three heart bypass surgeries. "When my body had undergone various conditions, I thought I was strange but when I had medical treatment and saw that everyone who was hospitalized, I found that I was not different from others, nothing special at all." Similarly, his art is also non-linear and the drifting life makes Huang Yong's art look like multiple short threads, which are connected together to form the overall image of Huang Yong's art. This connection is difficult because it has no symbolic representation. This connection is also traceable, as it connects the two ends of individual lives and social groups.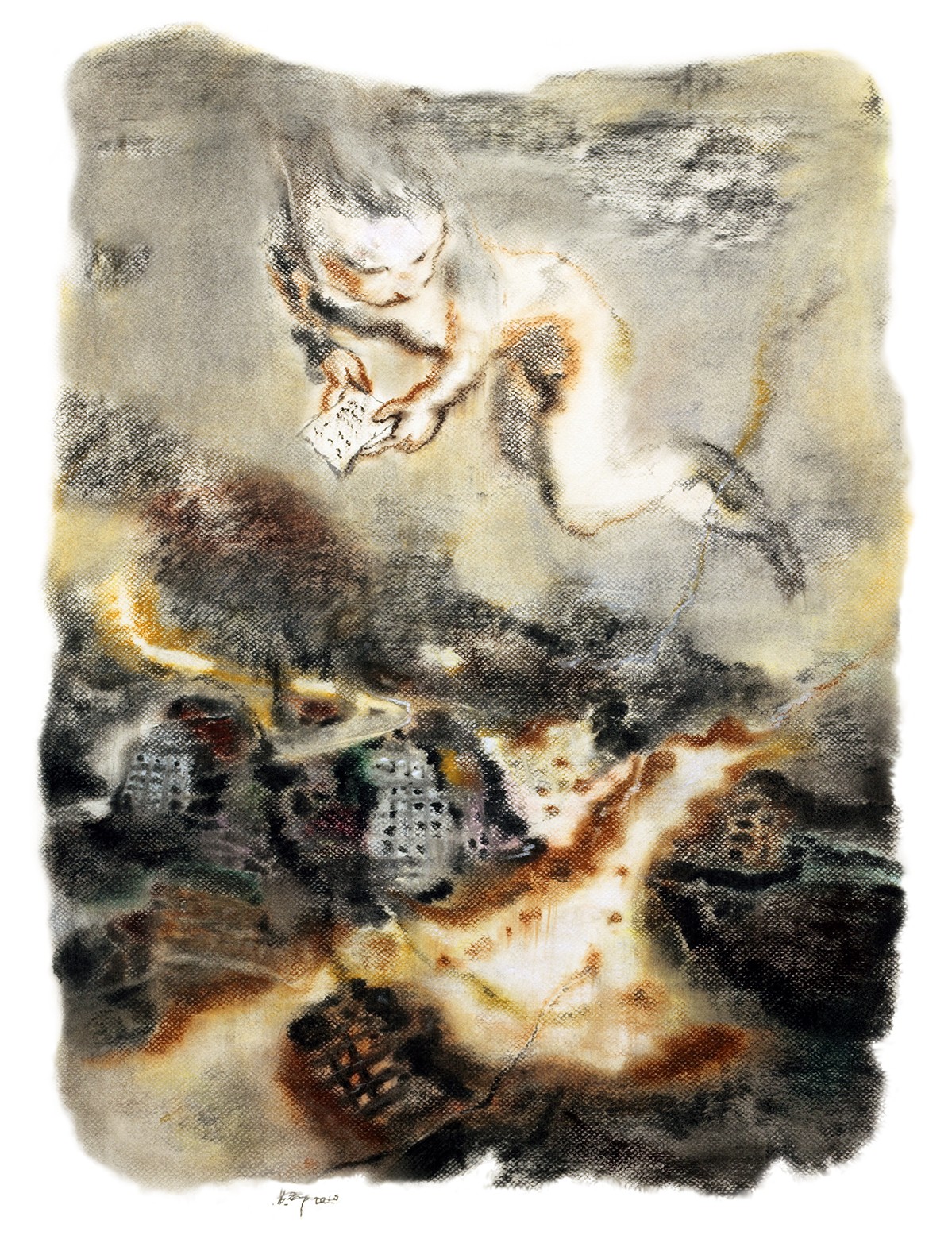 Huang Yong, Ru Meng Ling No. 1, 76x56cm, Pastel on paper, 2010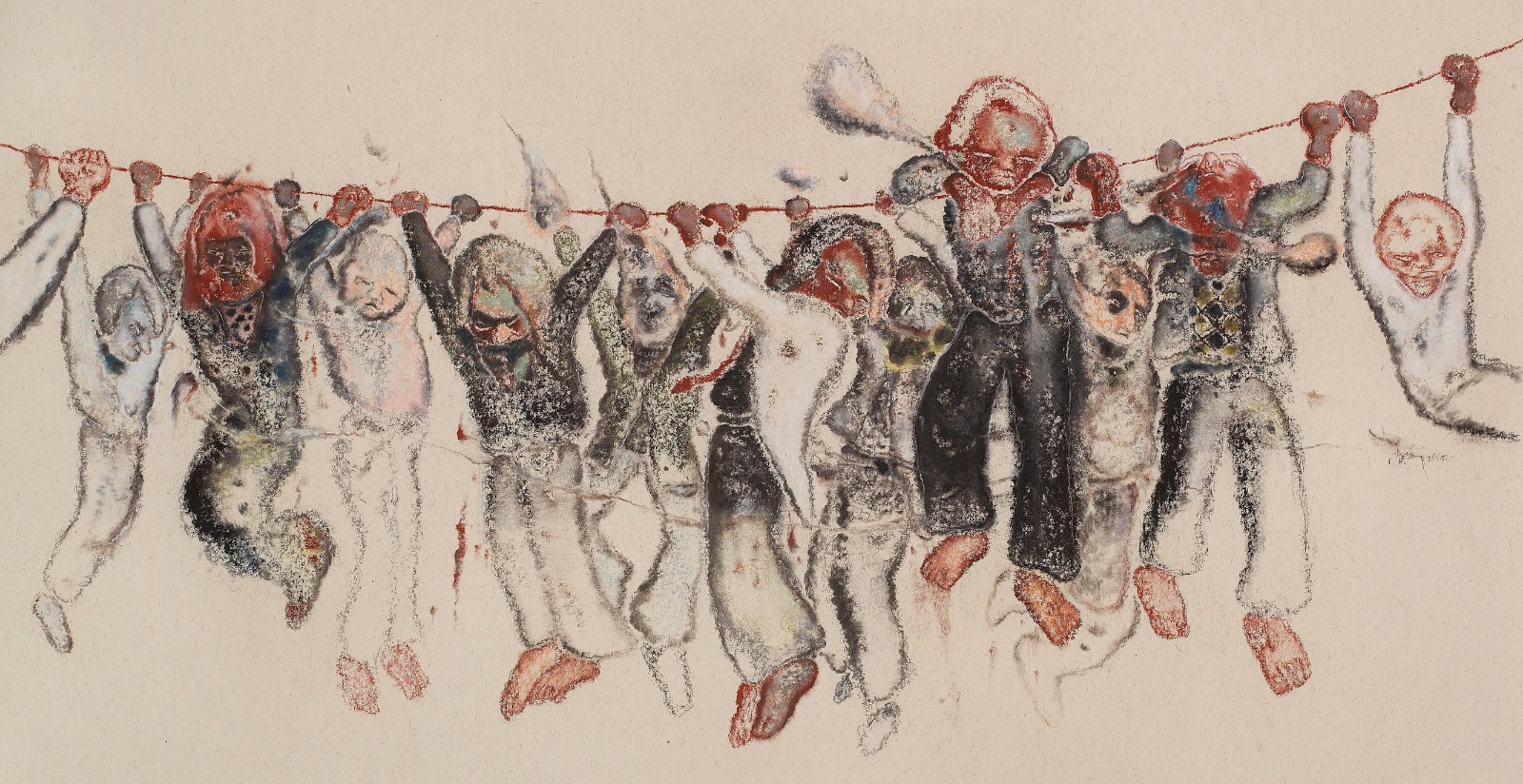 Huang Yong, Suspend, 70x138cm, Pastel on paper, 2015
Huang Yong interprets the current confusions of many ordinary people and his art has formed two distinct clues. One of them is a work mainly composed of characters or a combination of multiple elements, the former including "Ru Meng Ling 1-2" (2010) and "Suspend" (2015). He places the characters in or above the scene, as if he is paying attention to the world in the painting and this world is constructed by himself... the latter including his classic series "Lifting Series" (2015-2016), which combines people with various scenes and objects in the form of overlapping arhats. The combined presentation is like the continuation of life. The posterity carries the culture of the predecessors and creates the future history in an ordinary life. Another clue lies in pure landscape paintings, such as "Fengze Lake Series" (2015-2017), "The North Wind Series" (2016), he uses a brush to record the landscape changes he has experienced in life from north to south, and at the same time maintains an inner artistic feeling with colors and forms....The two clues together form the "inside and outside of himself." He combines the stimulation from the outside world with what he sees and thinks, such as his use of traditional cultural symbols, the mixture of Eastern and Western elements, the anthropomorphic expression of objects... Huang Yong is introverted and sensitive as he is eager to keep in touch with the real world. This kind of painting expression with sincere love for scenery is a window for his emotional internalization.
Huang Yong seems to be able to "drift" at any time. When he encounters a life crisis, he may paint the "Come On" series. Behind these contradictory and conflicting pictures are Huang Yong's real life experiences. He may be immersed in the depiction of landscape paintings again. His state is like the figures connected by ropes in his paintings. Each small beer represents all kinds of people or things in life, and also represents Huang Yong who faces different situations. In his paintings, he can mobilize any image that appears in his mind or things encountered in life and use his own artistic language to connect together into a new series of works.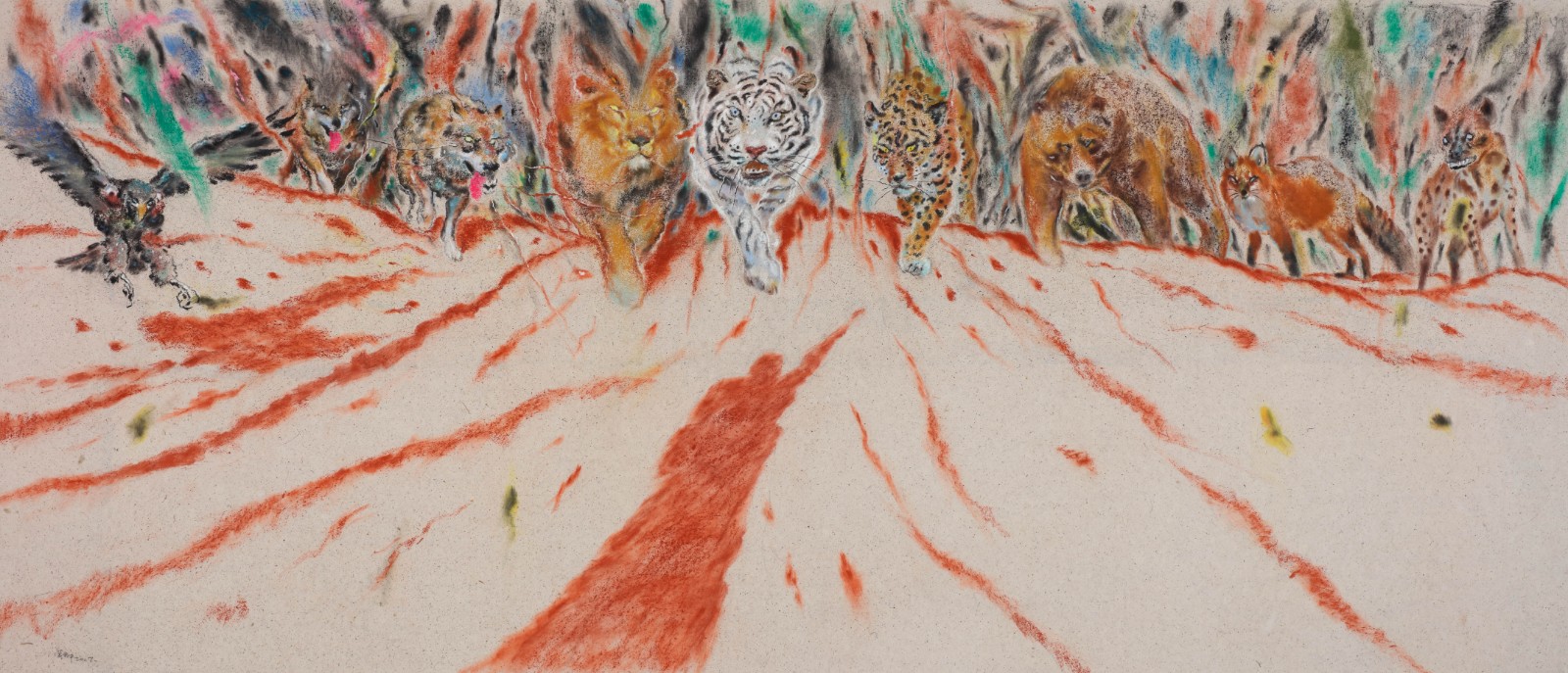 Huang Yong, COME ON, 100x230cm, pastel on paper, 2017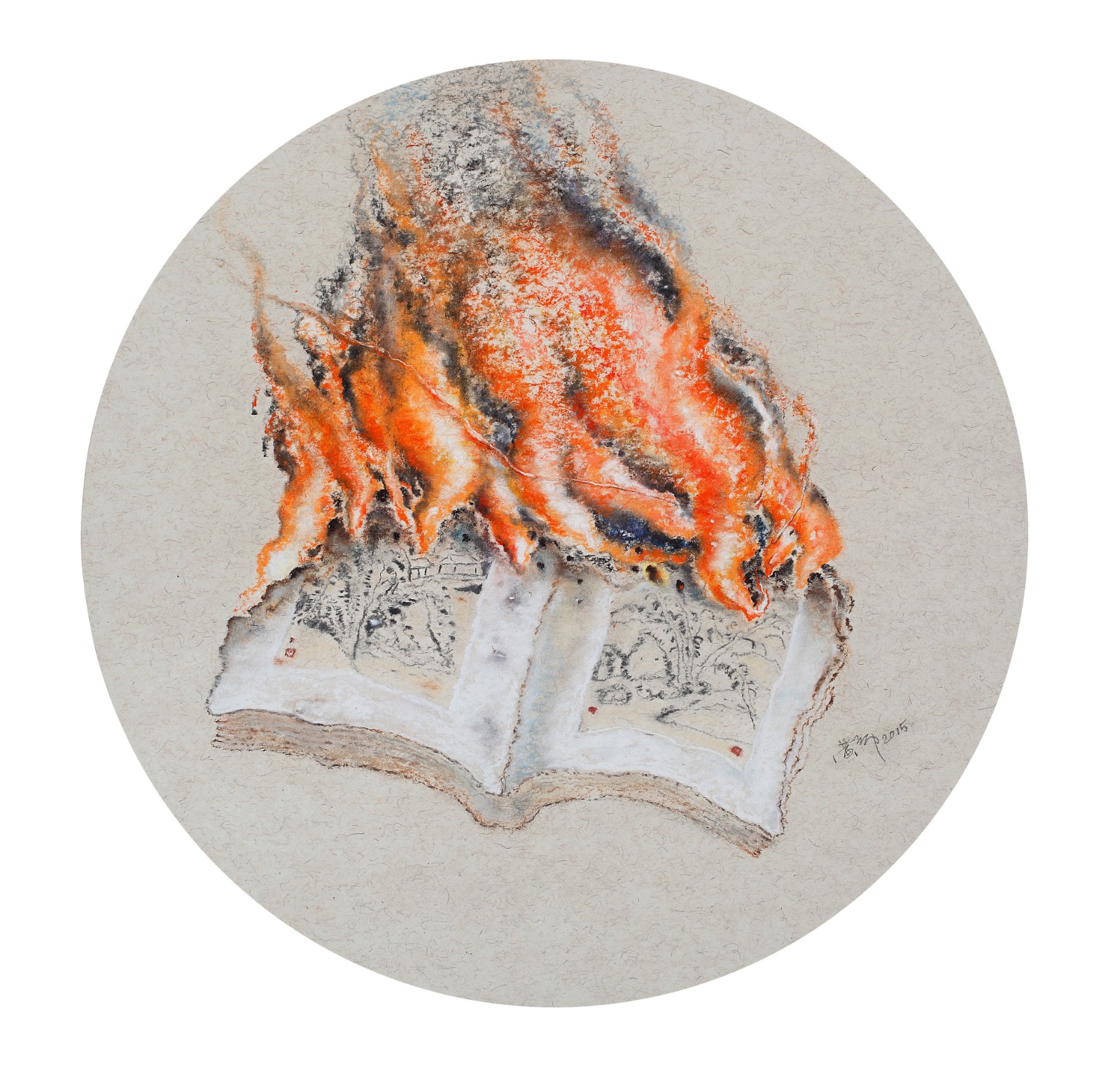 Huang Yong, Spontaneous Combustion, 52x52cm, Pastel on paper, 2014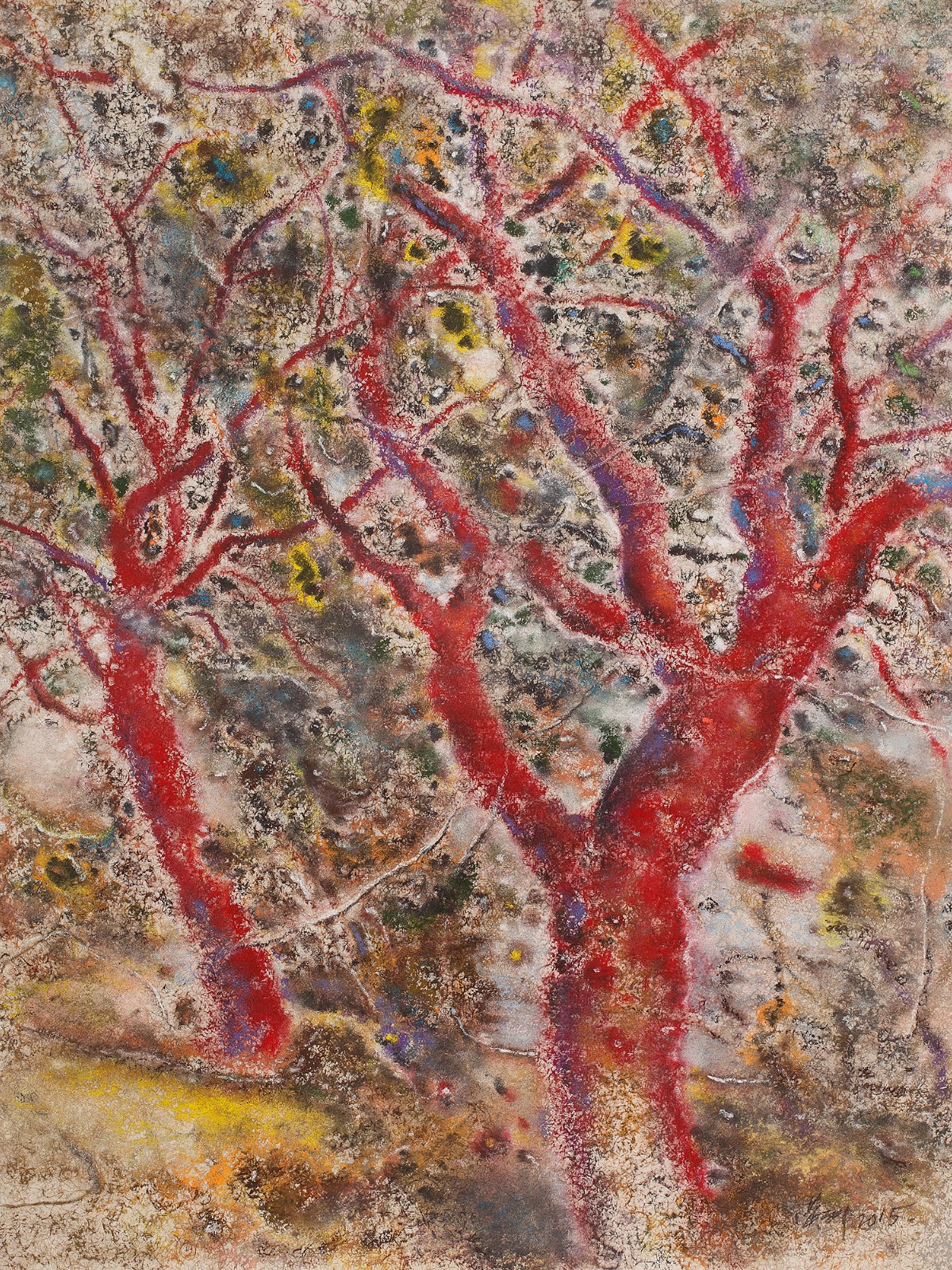 Huang Yong, Fengze Lake Series, Mango Tree, 60x45cm, Pastel on paper, 2015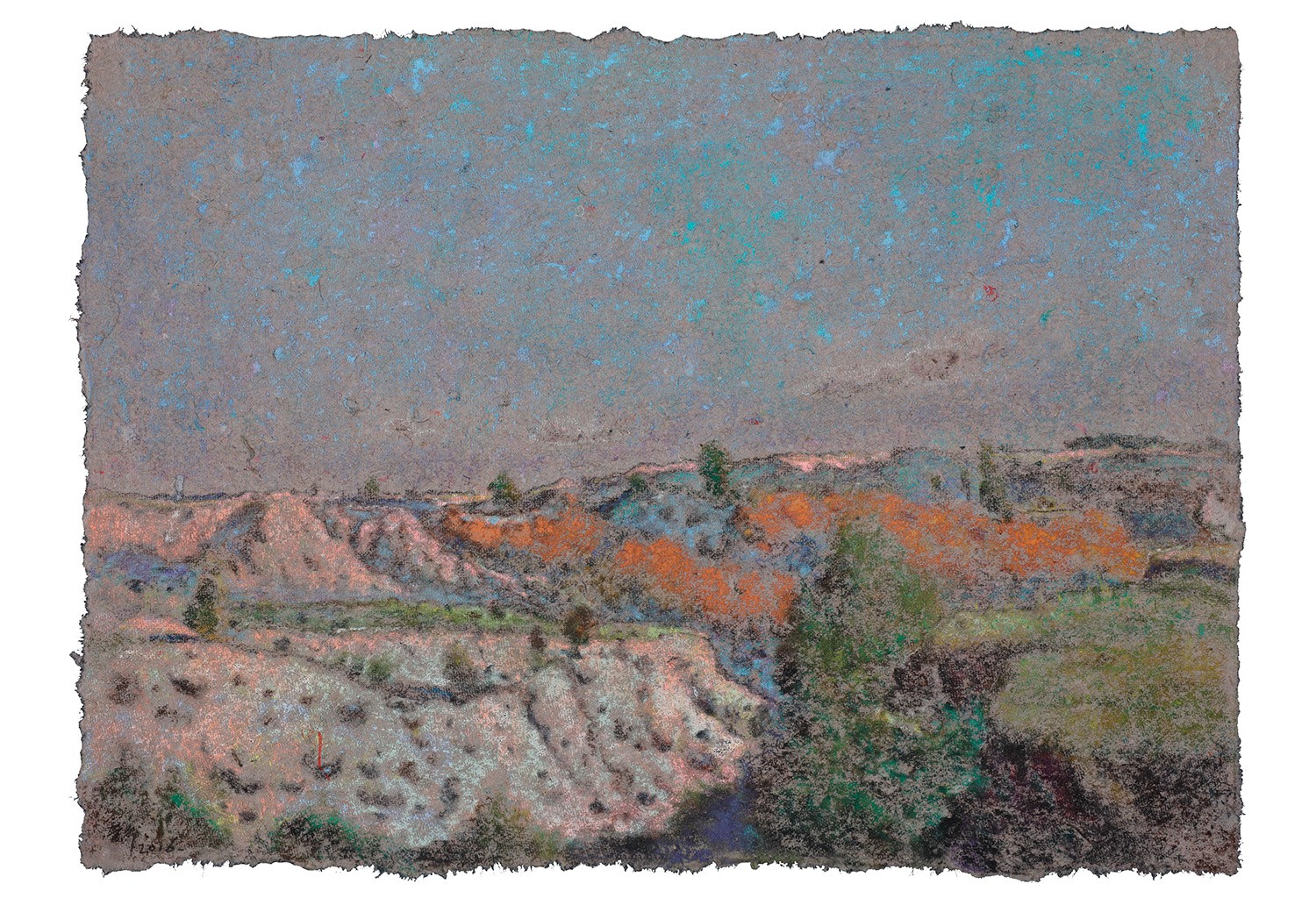 Huang Yong, The North Wind Series No. 7, 50x70cm, Pastel on paper, 2016
How to obtain this freely "drifting" ability? Huang Yong believes that this is due to the professional training he has received from CAFA: their creations are required to be narrative and cannot appear in the form of a single painting, and there is no fixed expressive methods for creation, different media and materials can all be used for paintings...when he has the artistic expression techniques to deal with multiple life experiences, he ushers in the perspective of observing society from the mediocrity. Huang Yong's refreshing visual art has become a unique landscape in the contemporary art field.
Huang Yong believes that whether the audience interprets his new work as a political metaphor or a cultural conflict, these are all their feelings when confronted with his work. This is also his constant artistic pursuit: an artist discovers a problem, which can be his own or everyone's, but the artist may not be able to solve it, and it is precisely an artist's duty to raise a problem and trigger reflection.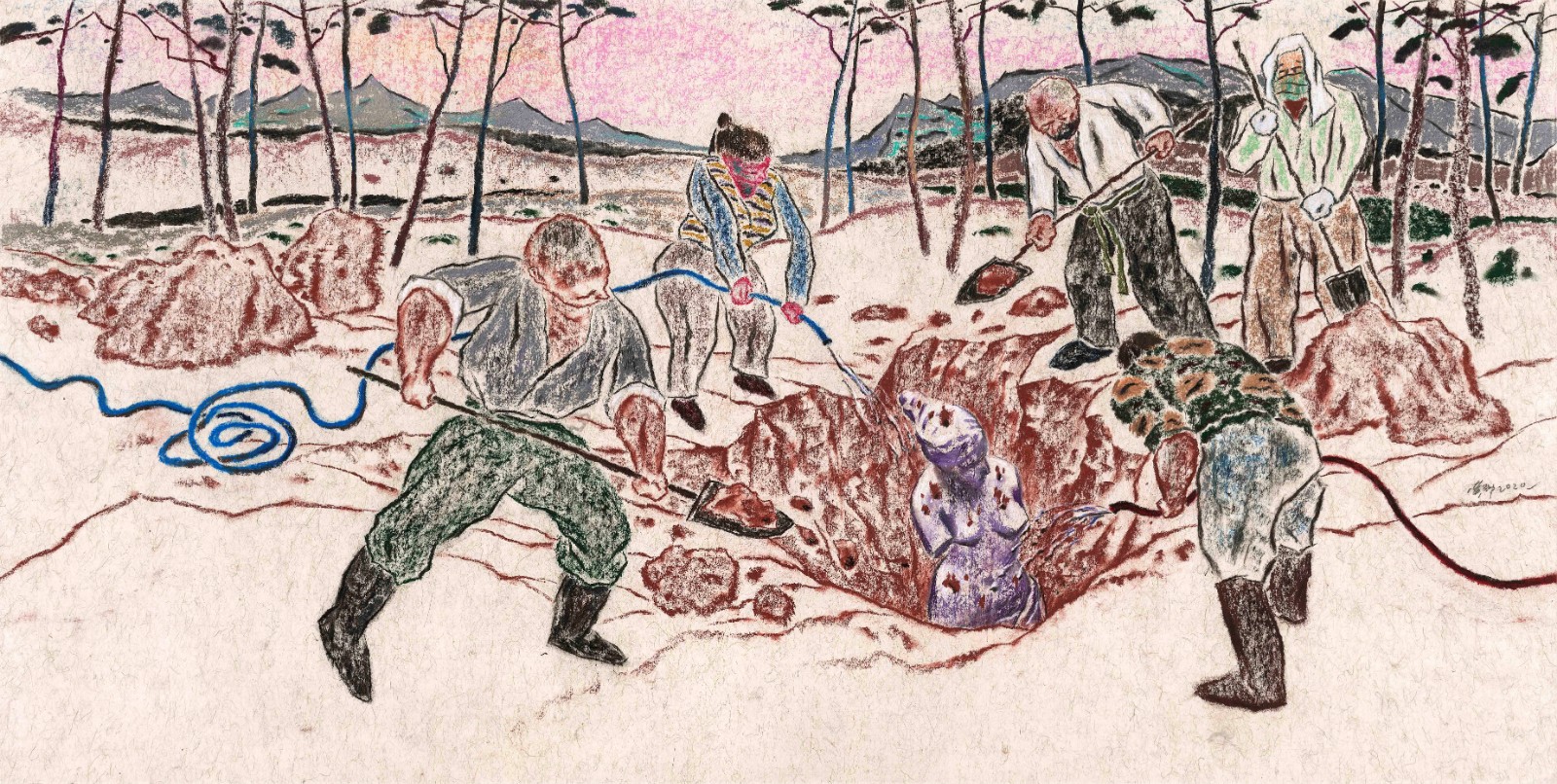 Huang Yong, New Clothes, 69x137cm, Pastel on paper, 2020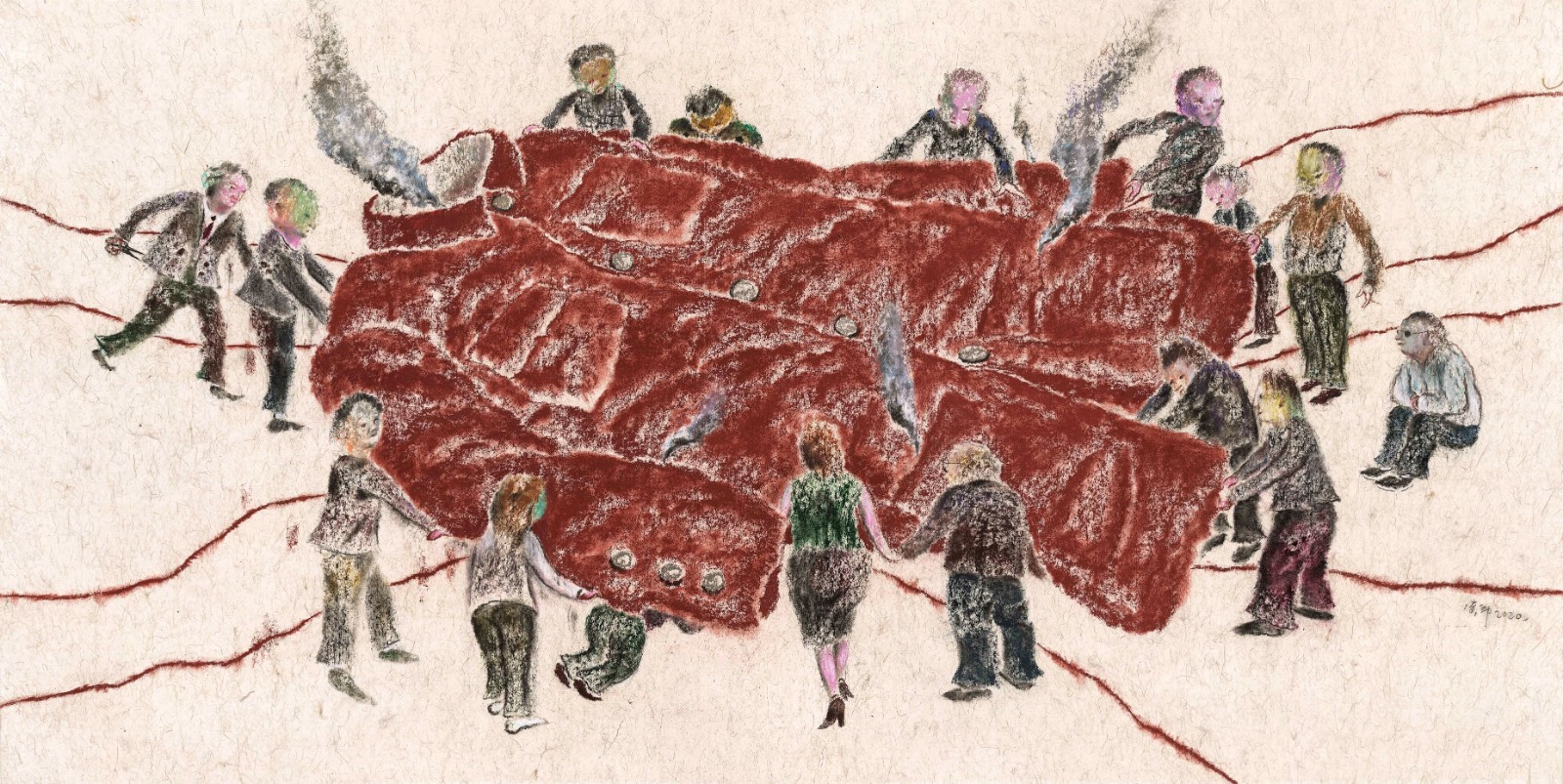 Huang Yong, Dusk, 69x137cm, Pastel on paper, 2020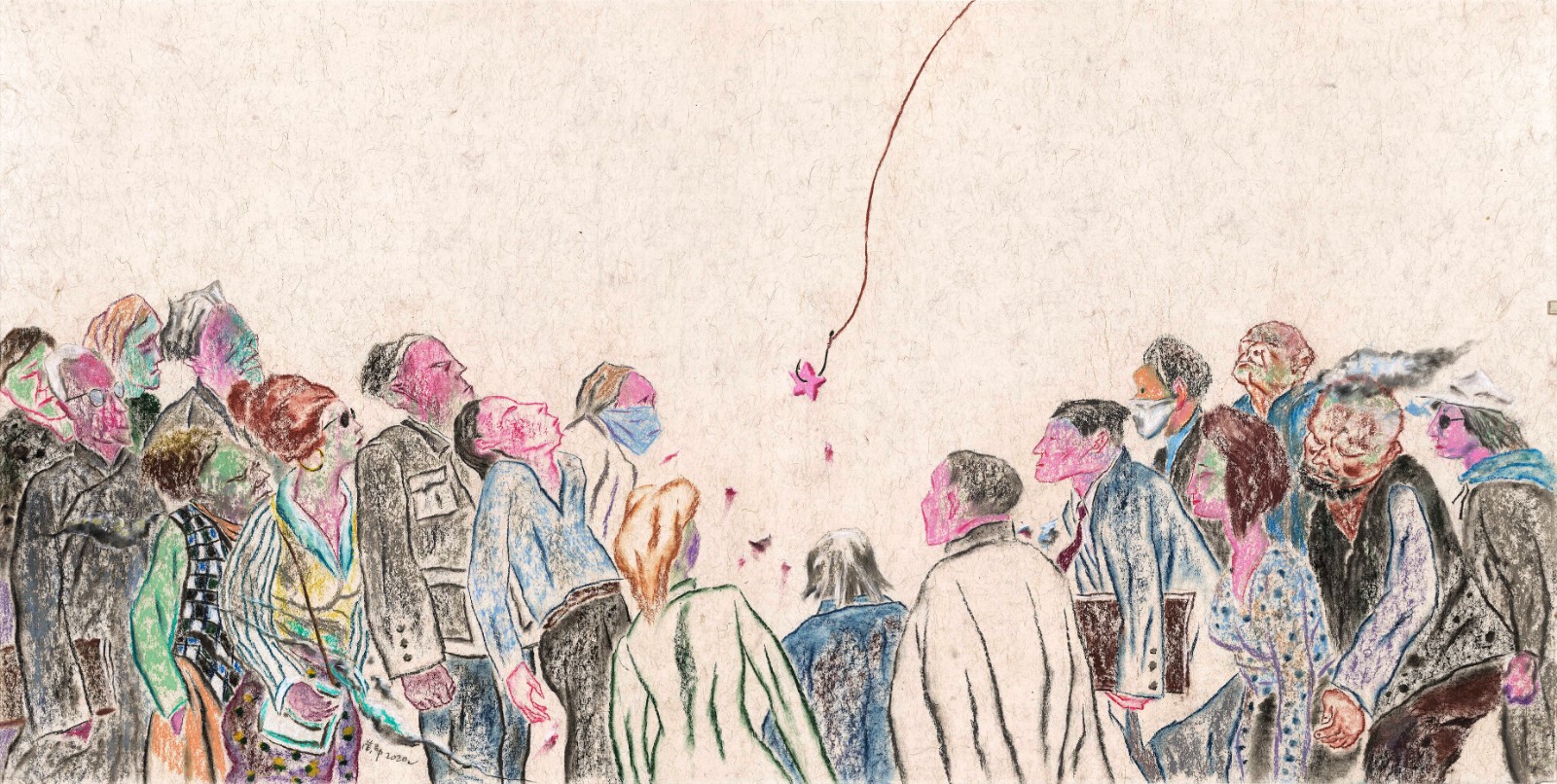 Huang Yong, How to know the enjoyments of fish if you are not a fish, 69x137cm, Pastel on paper, 2020
Currently Huang Yong has transferred from the Guangzhou Academy of Fine Arts to the School of Arts Administration and Education at Central Academy of Fine Arts to engage in art education. The adjustment of teaching content after Huang Yong returned to CAFA has marked another turn in his career and this also created a thread to summarize his ten-year art education in middle school and twelve-year fundamental education in Guangzhou Academy of Fine Arts. "If you are not engaged in art, there will be no updated knowledge structure that you can convey to your students, which also urges myself to create," said Huang Yong.
"Confronted with a world of turmoil, I could not be affected, nor am I willing to be. I've always been moved by the ordinary moving things." The exhibition which reveals Huang Yong's artistic attitude that refers to the empathy of thinking among people, which can also be extended to now and yesterday, the exchange of positions between the West and the East...
References:
Fan Di'an, "Listening to the Inner Voices, Expressing Inner Callings—A Read of Huang Yong's Work", 2009;
Yu Ding, "Entrust the Unbearable Lightness of Being—On Huang Yong's Artistic Practice", 2009;
Zhao Li, "I Live In My Own Landscape", 2009;
Huang Yong, "The Smell of Air", 2009
Text by Yang Zhonghui, edited and translated by Sue/CAFA ART INFO
Photo Courtesy of the artist and FEEFAN'S ART
---
About the exhibition
Dates: 28th August-30th September
Venue: FEEFAN'S ART
Address: Dongshanshu Nanyuan, No. 7 East 4th Ring Norgh Road, Chaoyang District, Beijing