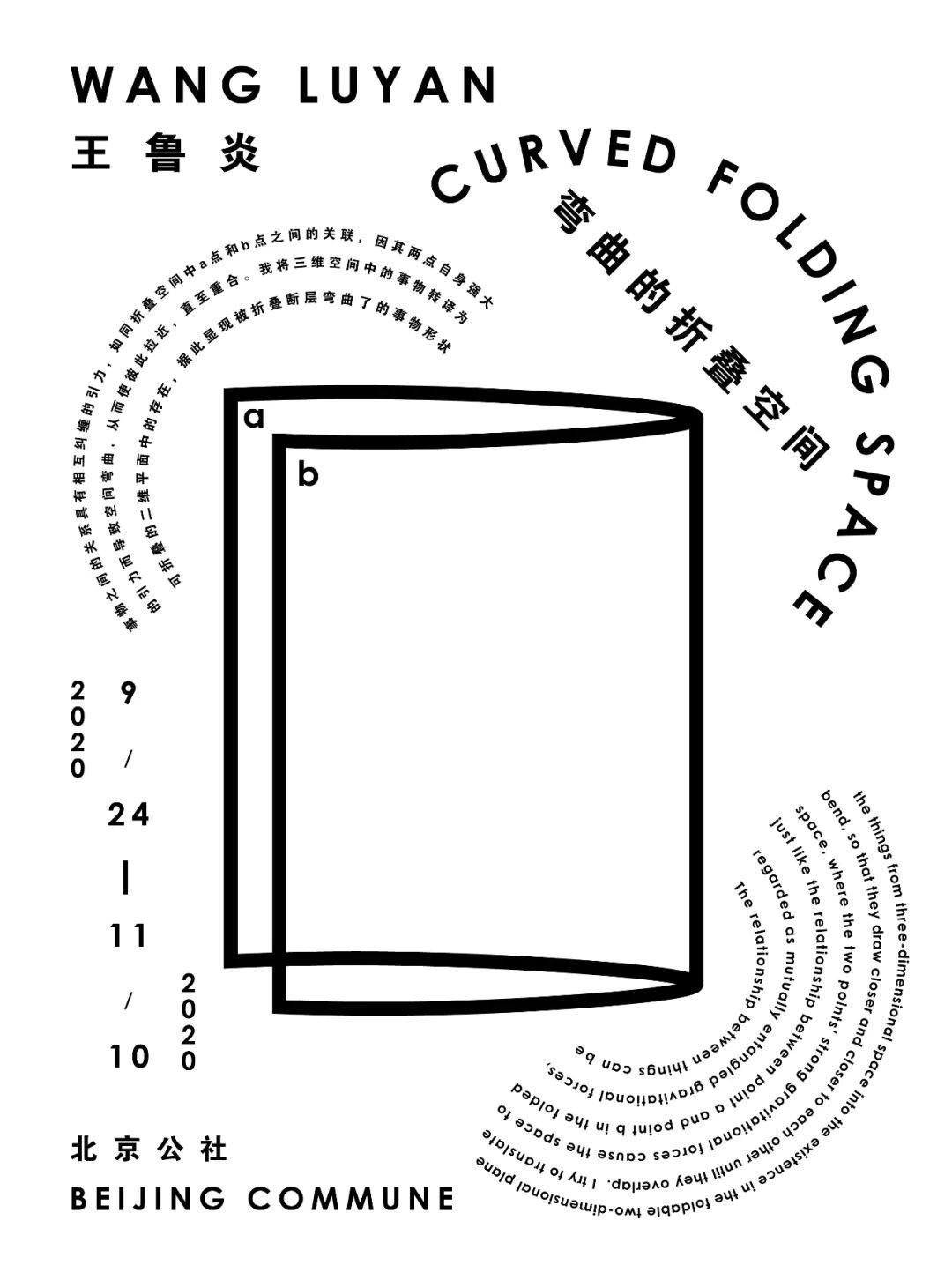 Beijing Commune presents Wang Luyan's solo exhibition "Curved Folding Space"on September 24, 2020. The show presents the artist's latest creation, in which he strives to observe and show the phenomena that cannot be seen in three-dimensional space from the perspective of the twisted folding space with the help of simulated folding space and its reference frame.
Wang Luyan regardes the relationship between things as mutually entangled gravitational forces, just like the relationship between two points, A and B, in the folded space, where their strong gravitational forces cause the space to bend, so that they draw closer and closer to each other until they overlap. The artist manifests various "curved" people, incidents and objects by transferring them from three-dimensional space into existence in the foldable two-dimensional plane. For him, these twisted forms in the folding space are actually the hidden phenomena underneath the three-dimensional space that our lives reply upon.
Wang Luyan (b. 1956) has been a major participant in the developmental history of Chinese modern and contemporary art. He was a part of the historic "Stars Art Exhibition" in 1979, and the China / Avant-Garde Exhibition in 1989. In 1988, together with Gu Dexin, he created Tactile Sensation. Between 1988 and 1995, he was a member of the New Measurement Group, together with Gu Dexin and Chen Shaoping. He has held solo exhibitions in many important institutions over the years, including Beijing Commune, Beijing (2018); Yalu River Art Museum, Dandong, China (2017); the Space of DRC No. 12, Beijing (2016); National Statidum Bird's Nest Art Center, Beijing (2015); Musée d'art moderne et contemporain de Saint-Etienne, France (2014); Parkview Green Exhibition Hall, Beijing (2013); Total Museum, Seoul (2010); OCT Contemporary Art Terminal, Shenzhen (2007) and more. His works have been exhibited in Museum of Modern Art Oxford, Oxford; New Berlin Art Society (NBK), Berlin; Asia Society and P.S.1 Contemporary Art Center, New York; Oceanographic Museum, Monaco; Ekaterina Foundation, Moscow; the National Museum of China, Beijing, etc. Wang Luyan has also participated in the Second Asia-Pacific Triennial of Contemporary Art, Queensland Art Gallery, Brisbane (1996) and the First Guangzhou Triennial, Guangdong Museum of Art, Guangzhou, 2002.
---
About the exhibition

Dates: Sep 24, 2020 - Nov 10, 2020
Venue: Beijing Commune
Courtesy of the artist and Beijing Commune, for further information please visit http://www.beijingcommune.com/.