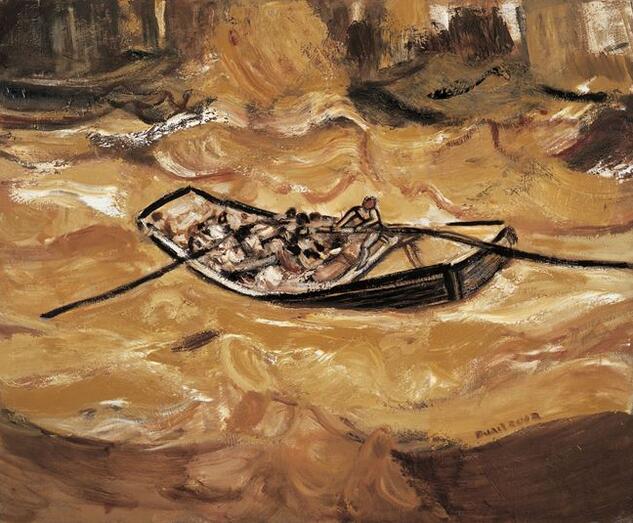 Duan Zhengqu, The Yellow River (No.8), 2012.
Oil on canvas. 150x180cm Courtesy Tang Contemporary Art
Tang Contemporary Art is pleased to present Mahuangliang, the solo exhibition by Chinese artist Duan Zhengqu, at their Hong Kong gallery space. With a deep and lasting enthusiasm and devotion to the rich and raw humanistic features of the Loess Plateau, the exhibition features Duan's signature paintings across 15 years as a tribute to the modest Northern Shaanxi peasants and secret rural villages.
Duan Zhengqu has long established with his distinguished, dark-toned paintings, using lavish gradients of black and brown. His artistic language is deeply influenced by the strong and heavy style by French expressionist Georges Rouault in his late period. Duan combines surrealism and elements of ancient Chinese murals to develop a unique pictorial style which is both raw and mysterious. Themed with Mahuangliang, the exhibition presents the daily scenes and suburb views of plateau villages in Northern Shaanxi, where the artist repeatedly visits, stays and dreams about.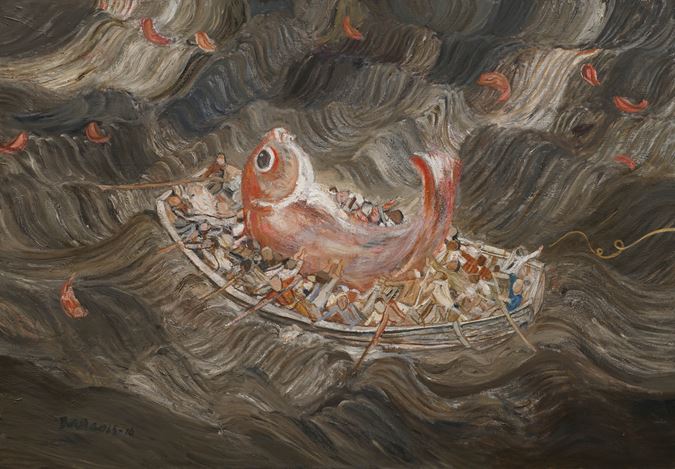 Duan Zhengqu, Big Fish (2015–2016).
Oil on canvas. 160 x 230 cm. Courtesy Tang Contemporary Art, Hong Kong
The unique geography of northern Shaanxi and the isolation from the modernity have infused the hunting scenes, bonfires, coal miners, the legendary giant carp, and the great dangers of people facing the roaring waves of the Yellow River in Duan Zhengqu's works. They have made up the kaleidoscope of the simplistic life of farmers and the humble villages located at the intersection of the Mu Us Desert and the Loess Plateau. The deep, heavy and saturated tones in the works has given his paintings a unique sense of warmth and strength, thus making the energy and vicissitudes of life portrayed in his work relatable to all.
Duan Zhengqu's vision is akin to the 17th Century Golden Age painters who devoted their paintings to the people and country, Duan Zhengqu never ceases to explore the relationship between man and nature, the liveliness of the rural communities with a great passion for the land. The vast desert and plateau have infused the roughness and unrestrained power of his works. The specific and lively cultural landscape that he outlines for the parts of China that remains unaffected by consumerism and modernized technology is a refresher for the city folks, allowing one a deeper understanding of humanity through Mahuangliang.
About the exhibition
Dates: 6 October–21 November 2020
Venue: Tang Contemporary Art, Hong Kong
Address: 10/F HQueens, 80 Queen's Road, Central Hong Kong
Courtesy of the artist and Tang Contemporary Art, for further information please visit www.tangcontemporary.com.