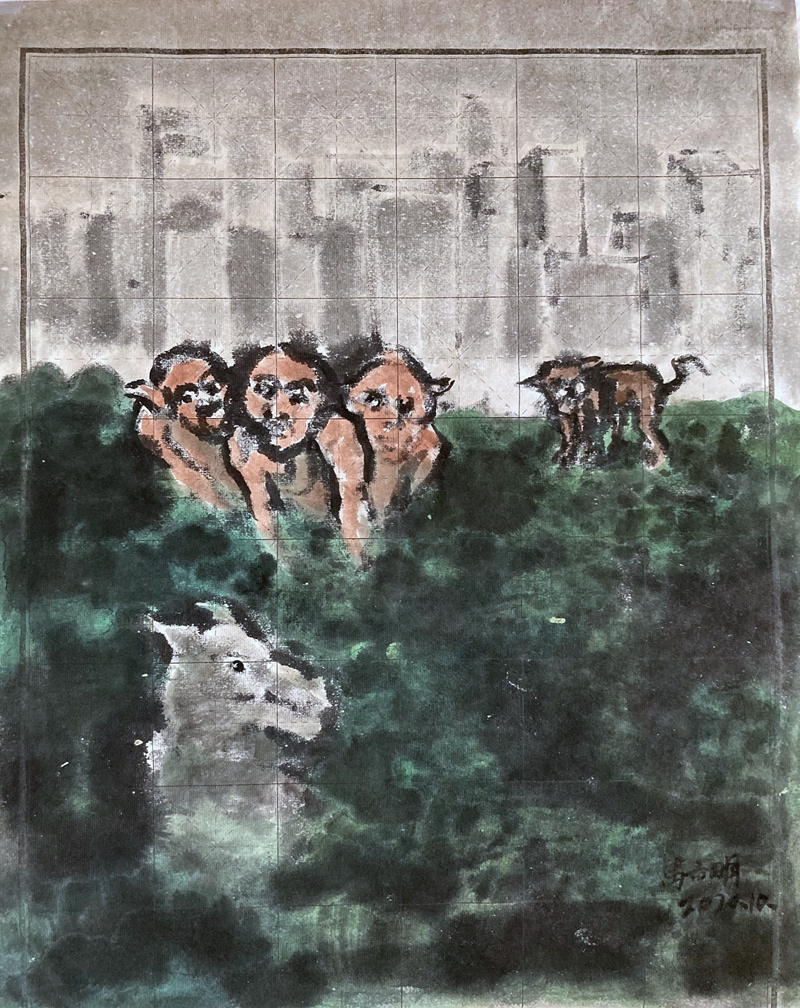 Outside the Window I,40x40cm,Ink on Paper, 2020
In 2020, due to the pandemic, we have a sense of unknown and strange activity in our living environment. The distance between each other has become the norm and we are involuntarily helpless. The materials I can find during quarantine are brushes, ink and paper. I try to express my inner feelings. I can only see the outside world through the window. What kind of work can I make with the most traditional tools?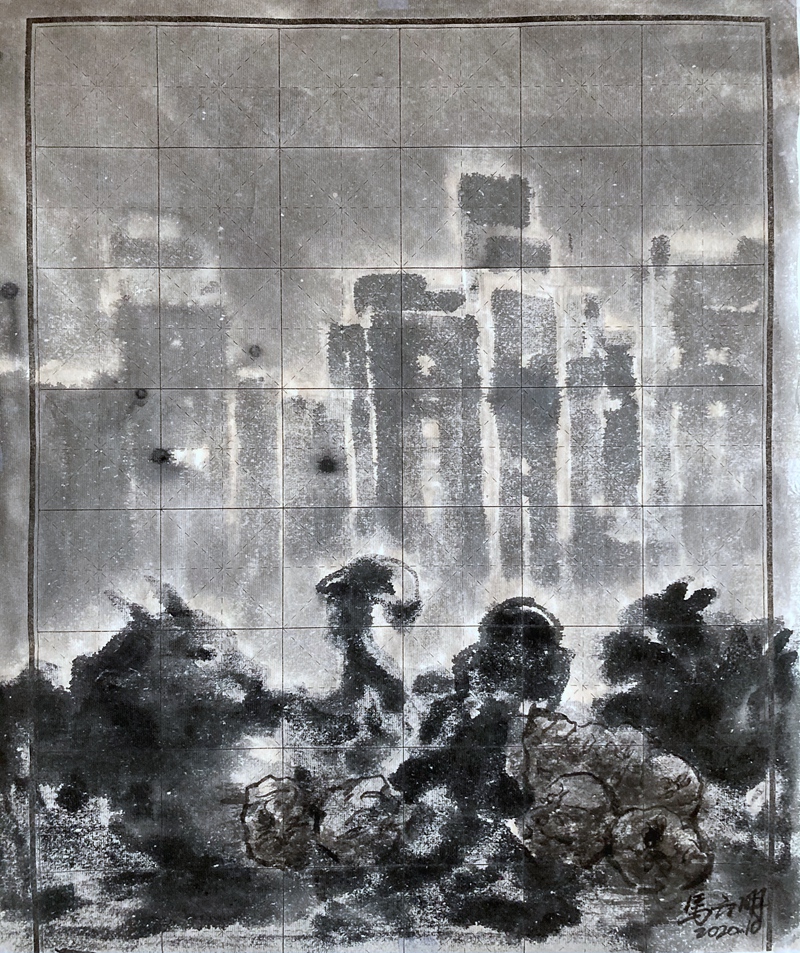 Outside the Window II,47x40cm,Ink on Paper, 2020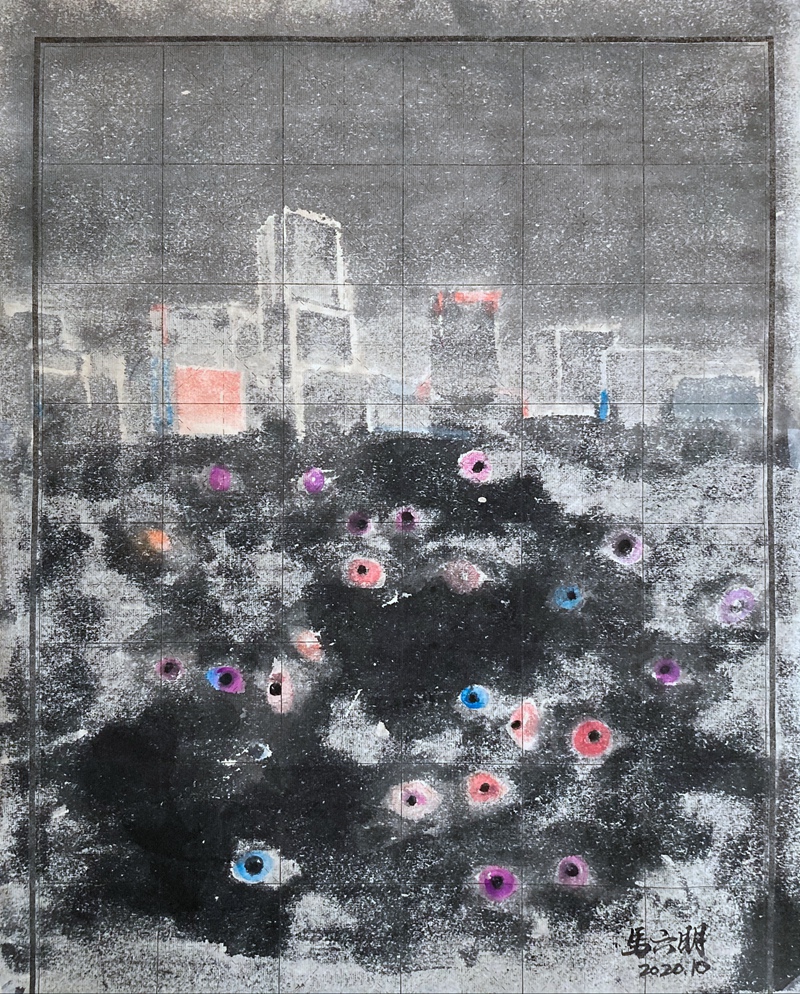 Outside the Window III, 49.5x40cm,Ink on Paper, 2020
---
About the Artist: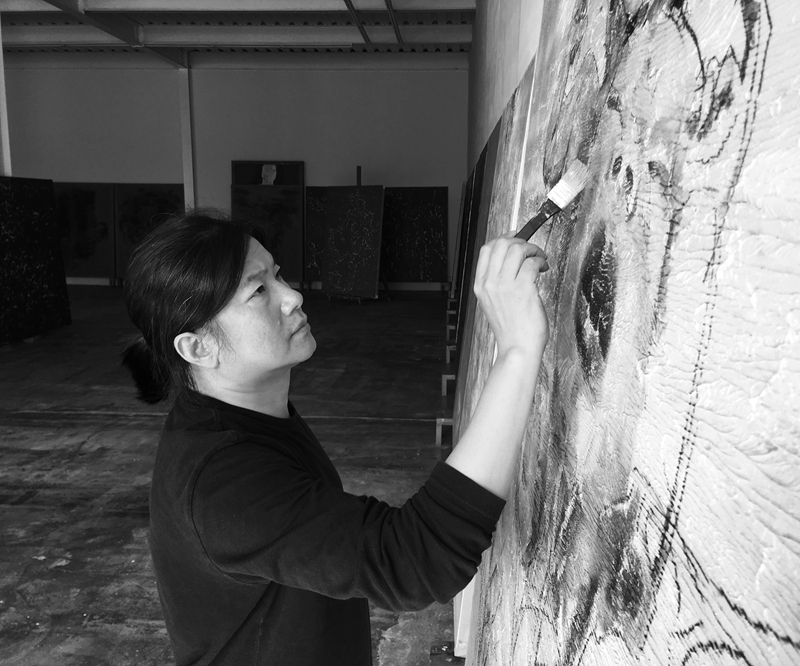 Ma Liuming
1969 Born in Huangshi, Hubei Province, China
Since 1993 Lives and works in Beijing, China
EDUCATION
1981 Painting Tutoring with tutor Cai Erhe
1987-1991 Department of Oil Painting, Hubei Academy of Fine Arts
SOLO EXHIBITIONS
Ma Liuming, Chinese Contemporary Gallery, London, UK.
Chaos & Birth/Ma Liuming'98, Gallery Q, Tokyo, Japan.
Ma Liuming, Jack Tilton Gallery, New York.
Ma Liuming, Tensta Konsthall, Sweden.
Ma Liuming, Marella Gallery, Milan, Italy.
Dissociation, 2011 Art Changsha, Hunan Museum, Changsha, China.
Tenth of a Second : Fen-Ma Liuming, White Box , Beijing.
Sediment of Performance, Hakgojae Gallery, Seoul
GROUP EXHIBITIONS:
Degenderism, Setagaya Art Museum, Tokyo, Japan.
Inside Out: New Chinese Art, P.S.1 Contemporary Art Center, New York; SFMOMA, MARCO - Mexico, Australia, Hong Kong…
Aperto Over All, The 48th Biennale of Venice, Italy.
Man and Place, Kwangju Biennial 2000, Korea.
Peripheries Become the Center, Prague Biennale 1, Prague, Rep. Czech.
Between Past and Future: New Photography and Video from China, International Center of Photography, New York; Chicago David Alfred Smart Museum of Art; Seattle Art Museum; Victoria Albert Museum of London.
Camera / Action: Performance and Photography, Museum of Contemporary Photography,
Chicago, USA .
The Wall – Reshaping Contemporary, Millennium Art Museum, Beijing, China; Albright-Knox Gallery, Buffalo, New York .
Political art, The State Tretyakov Gallery, Moscow.
China Gold, Museum Maillol, Paris, France.
Writing, Nanjing Biennale 2010.
Re-History: Chinese Contemporary Art Invitation Exhibition, Shenzhen Art Museum, Shijiazhuang Art Museum, Beijing G-Dot Art Space, Hubei art Museum.
Spectacle Reconstruction: Chinese Contemporary Art, Modem Centre for Modern and Contemporary Arts, Debrecen, Hungary .
An/other avant-garde China-Japan-Korea, 2016 Busan Biennale, Korea.
Collection Displays: Performance and Participant, Tate Museum, London
Art and China after 1989: Theater of the World, Guggenheim Museum, New York.
Text and Image Courtesy of the Artist.
Translated and Edited by Sue and Emily