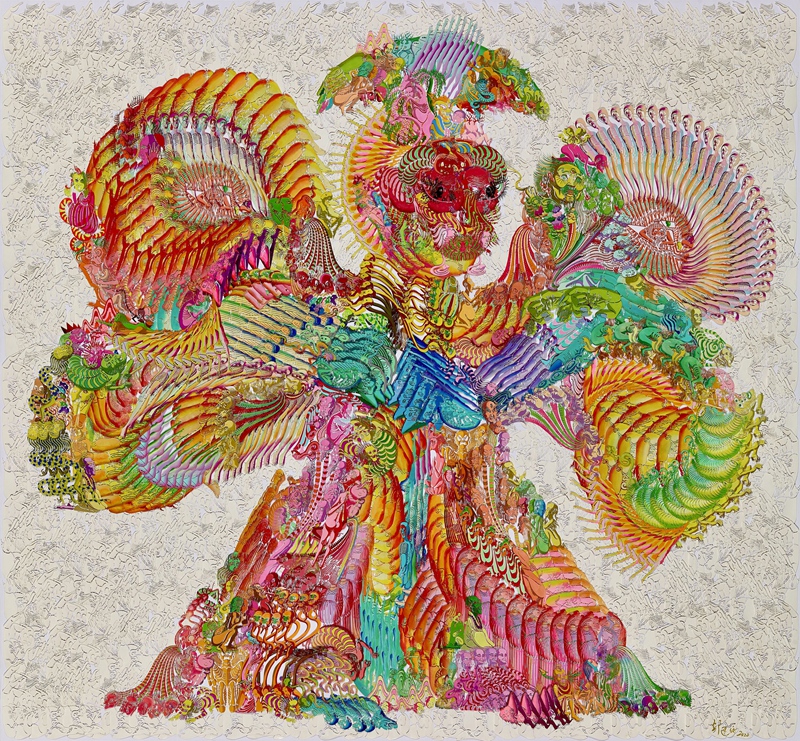 King Yu Who Tamed the Flood
Engraved on watercolor paper, watercolor, acrylic, soaked in beeswax, cotton thread stitched and mounted on silk
162x175cm 2020
The Incarnation series is highly representative of Wu Jian'an's work. The elements within come from his large scale 2011 installation Seven Layered Shells. In Seven Layered Shells, Wu created 186 different forms, some coming from the mysterious ancient Chinese scripture The Classic of Mountains and Seas. Wu set out to create "portraits" for these grotesque and exiled monsters, while combining them with his other creations including satirical cartoons, physical embodiment of slangs, elements from Christianity, Buddhism and Hinduism, graffiti, T-shirt designs and cartoon characters. As stated by Professor Haun Saussy from University of Chicago whose research focuses on Comparative Literature, East Asian Languages and Civilizations and Social Thought: "You would discover that something extremely simple suddenly becomes a very complex work of art, as these bodies of varying sizes and layers are staring back at us with countless pairs of eyes, while going about their own business and ignoring our presence… opening up to an unthinkable cultural externality within the confines of their physical likeness… and therefore, his artwork is not only a so-called 'retreat to Chinese traditionalism' but rather a transcendence."
Wu takes the elements that make up Seven Layered Shells as his "alphabet" to create this new Incarnation series. In these new works, thousands of miniature images are overlaid upon each other to create a complex and magnificent visual texture. Seven Layered Shells is a metaphor of certain social values: Only when an individual finds his perfect absolute position can the whole be perfect as a result. In the Incarnation series, however, Wu attempts to break this formulaic relationship between the individual and the collective: The individual coalesces within a condensed and chaotic intertwining formation to an ambiguous ensemble, whose colorful liveliness extends beyond any pre-destination, but rather growth of a self-determined individual. In its current iteration, Incarnation constructs the world of Da Yu ( Yu the Great) taming the devastating flood. At the center of the wall is Da Yu ( Yu the Great), flanked by heroes defeating monsters derived from ancient Greek mythology. The tigers on either wall represent day and night and hinting at celestial movement: time hops around like powerful tigers. The embodiment of time or heroes are both made up of countless fragments from mythology and tales. These are the tools by which we perceive the world.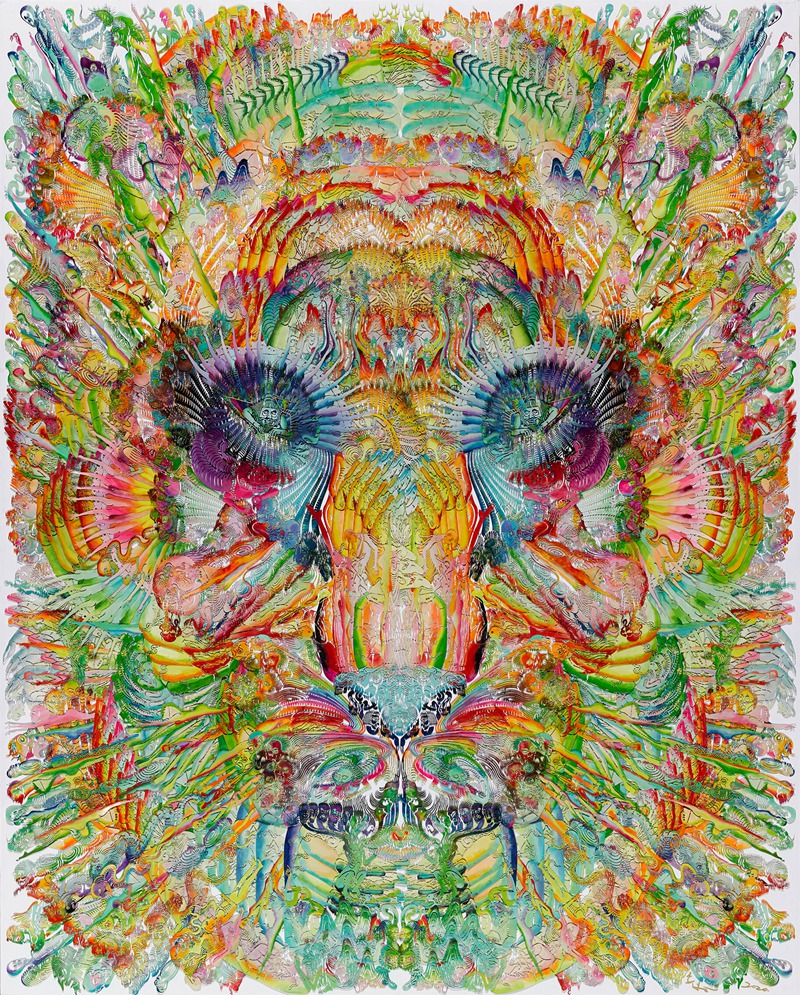 Tiger of the Daylight
Engraved on watercolor paper, watercolor, acrylic, soaked in beeswax, cotton thread stitched and mounted on silk
160x120cm 2020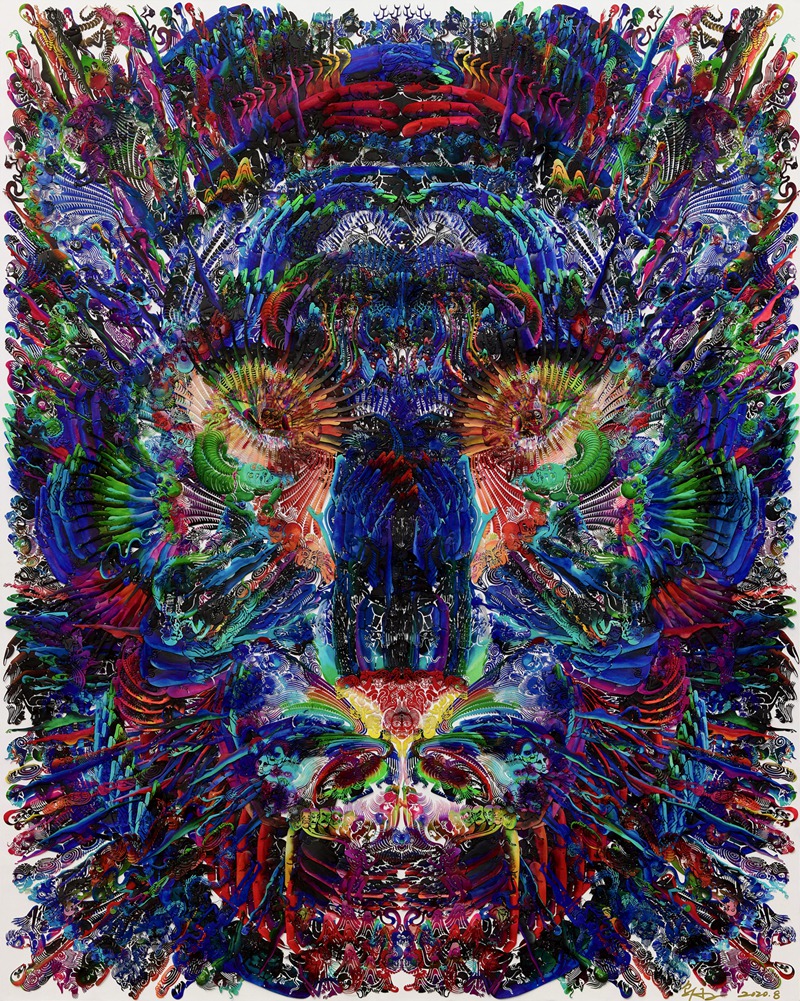 Tiger of the Night
Engraved on watercolor paper, watercolor, acrylic, soaked in beeswax, cotton thread stitched and mounted on silk
137x180cm 2019
---
About the Artist: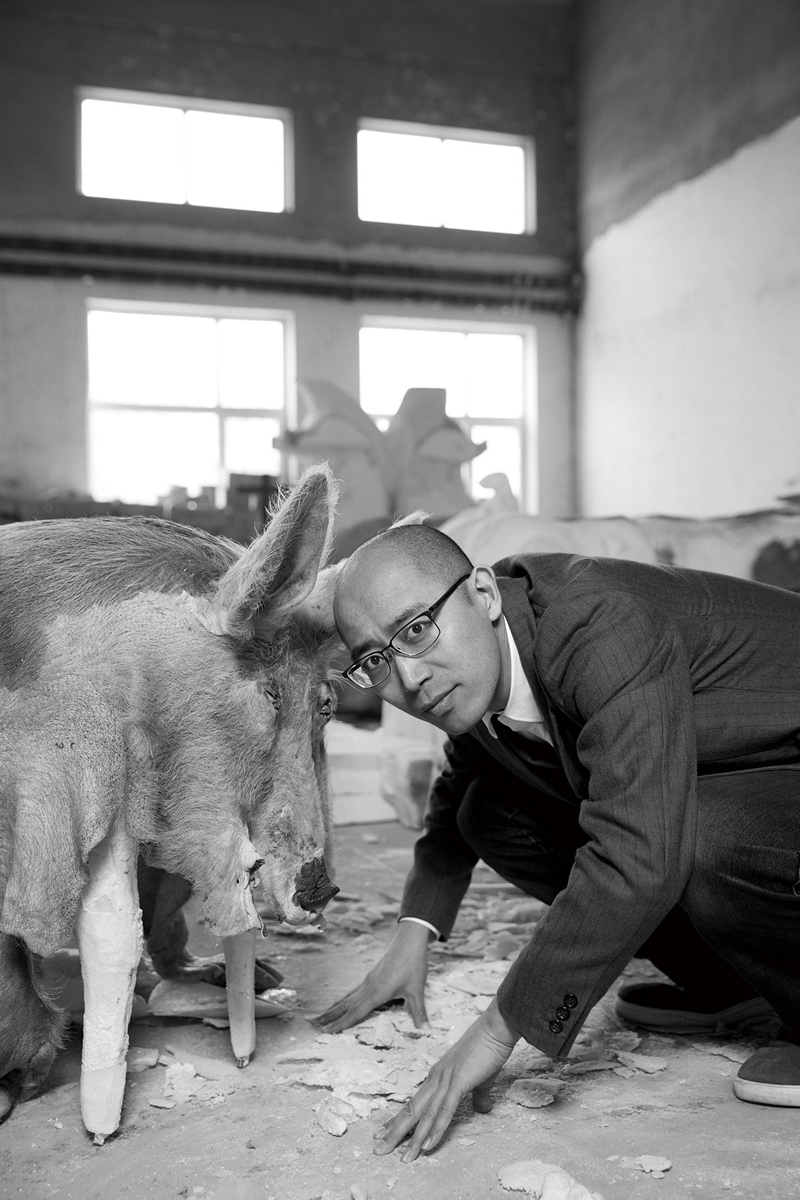 Wu Jian'an was born in Beijing in 1980. He currently lives and works in Beijing as a professor and M.A. student Supervisor at the School of Experimental Art, Central Academy of Fine Arts, he is also a researcher at the Chinese Arts and Crafts Institute at Prince Gung's Palace Museum, under the China Ministry of Culture and Tourism, and sits on the academic board of Beijing Zoo.
As Professor Wu Hung from the University of Chicago said, "Wu's imagination has always operated simultaneously on multiple dimensions. Likewise, his works simultaneously expand the viewer's artistic imagination in various directions. He travels between words and images while adding a layer of storytelling above figuration and abstraction. He introduces sound and performances to break away from mere visuals and viewing. He freely traverses temporal divides, instantaneously taking viewers from today's world back to mysterious primeval times. His art spans various media and styles: painting, sculpture, paper cut, and installation, all of which provide him with a varied vocabulary yet also arouse his desire to cross boundaries—to integrate, transgress and disarrange."
In 2017, Wu Jian'an represented China in the 57th Venice Biennale. In recent years, his works have attended Live and Let Live: Creators of Tomorrow—The 4th Fukuoka Asian Art Triennale (Fukuoka Asian Art Museum, Fukuoka, Japan, 2009), Mind in Landscape (The John F. Kennedy Center for the Performing Arts, Washington DC, USA, 2011), ALLES UNTER DEM HIMMEL GEHORT ALLEN, Chinese Public Art in Kassel (Kassel, Germany, 2012), Cosmos (Shanghai 21st Century Minsheng Art Museum, Shanghai, China, 2014), The Carolyn Hsu and René Balcer Collection: Exploring Three Decades of Contemporary Chinese Art (Museum of Fine Arts, Boston, USA, 2015), Lunar New Year: The Year of the Monkey (Metropolitan Museum of Art, New York City, USA, 2016), Serpenti Form (Art Science Museum, Singapore, Singapore; Mori Art Gallery, Tokyo, Japan, 2017), Echigo-Tsumari Art Triennial 2018 (the 7th Echigo-Tsumari, Japan, 2018), etc. He has held several solo exhibitions in Beijing, Shanghai, Hong Kong and New York City.
Wu Jian'an's works are in the permanent collection of Los Angeles County Museum of Art, Berkley Art Museum & Pacific Film Archive, Cornell University Herbert F. Johnson Museum of Art, Oscar Niemeyer Museum, Central Academy of Fine Arts Museum, Beijing Minsheng Art Museum and Asia Art Archives, etc.
Text and Image Courtesy of the Artist.
Edited by Sue and Emily