In the autumn of 2020, although the COVID-19 pandemic spread in the domestic situation has been effectively controlled, continuous news regarding the relapse of the outbreak in small areas are still pricking peoples' nerve. Meanwhile, the international circumstance is even worse—until the end of October, numerous infected and deaths are still reported in statistical data and daily news. It seems that the world is torn apart, and we precisely witness the chaos, anxiety, and difficulty through the crevice. How to rebuild the order? How to reconstruct the relationship? How to cure the pain and get strength from loss? All these topics are not only discussed within the global structure but also continuously mentioned by every individual on a daily basis.
With the official launch of the first section of the 2020 CAFA ART INFO Online Exhibition "Reflecting the Sharing Moment" in September, More Than The Immune Problem shared 16 domestic and international artists' artworks and their reflections on the year 2020. Intervening in society, relations and emotions under the pandemic through an artistic perspective, the first section also introspects on how the virtual field on the internet dramatically changes and impacts on the world, human beings, and the in-between situation in such a special time. From the very beginning of the outbreak to the present situation, it explores the psychological change of human beings—from the state of doubting, to feeling scared and helpless, and gradually becoming accustomed to living in crisis.
"Such joy is always imperiled."
In La Peste (EN. The Plague), Albert Camus expressed his worry through Dr. Bernard Rieux's monologue—when the plague quietly disappeared, people temporarily forgot the sufferings and crises that once threatened the entire community. Under the post-calamity society, the memories that should have been paid attention to, remembered and reflected on will eventually be worn away in the joy of celebration and the process of returning to normal life. Nowadays, the "scars" brought about by the pandemic are expecting sutures and recovery on the surface. However, the in-depth pain caused by the trauma under the skin will last even longer in human society.
Based on More Than The Immune Problem, the second section Tearing & Regenerating invites 12 artists from home and abroad. The online exhibition presents the life in the pandemic as the starting point, which continues to observe and explore the topic of how artistic expressions and thoughts act on the impacted society and individuals, thus seeking comfort, love, and regeneration. In addition, with a further attention on the virtual field and advanced science and technology, it broadens the horizon on the topic such as AI and existence, digital skills and expression of emotions, and so on.
---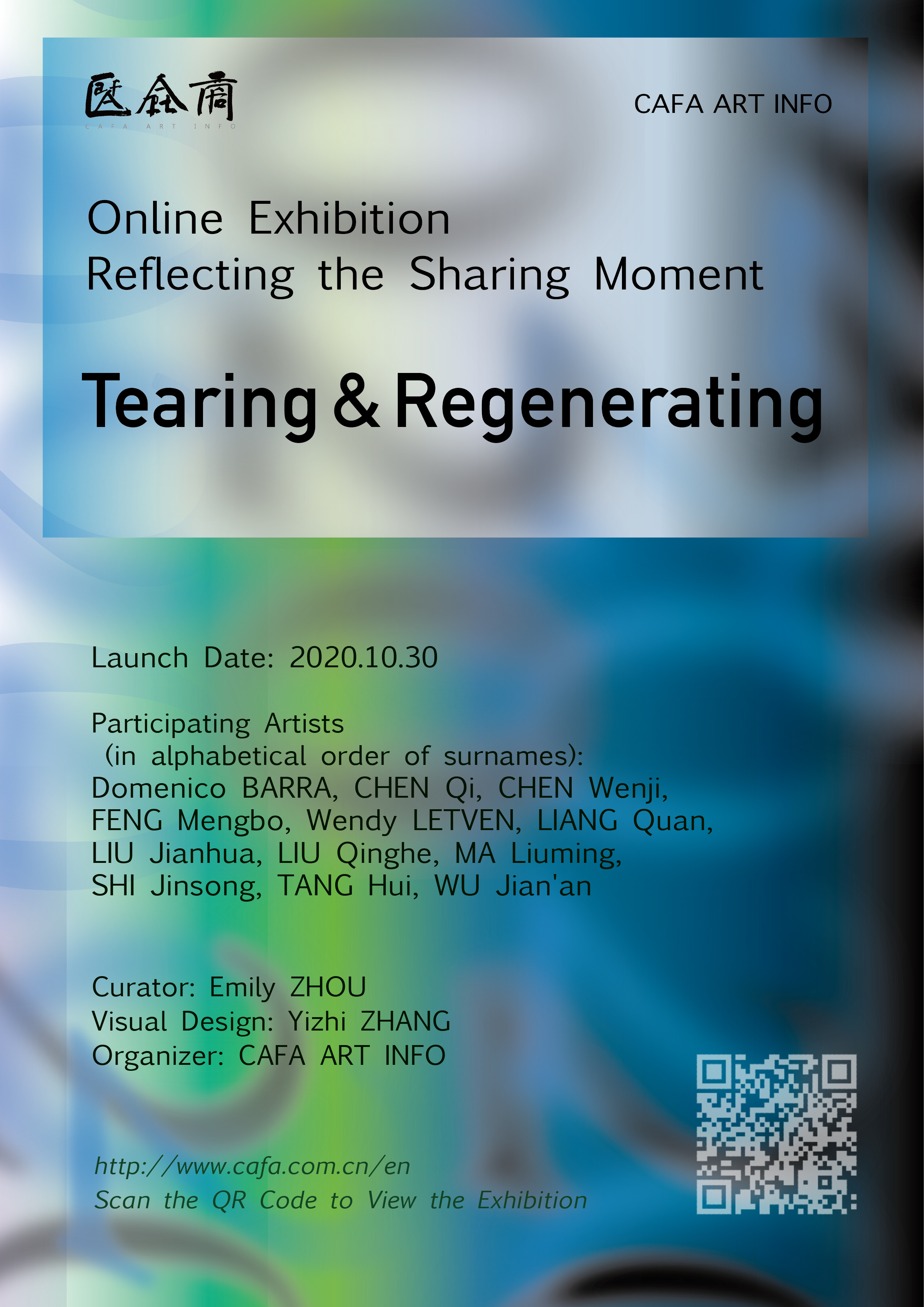 Tearing & Regenerating

Reflecting the Sharing Moment | Section Two
Launch Date: 2020.10.30
Participating Artists (in alphabetical order of surnames):
Domenico BARRA, CHEN Qi, CHEN Wenji, FENG Mengbo, Wendy LETVEN, LIANG Quan, LIU Jianhua, LIU Qinghe, MA Liuming, SHI Jinsong, TANG Hui, WU Jian'an
Curator: Emily ZHOU
Visual Design: Yizhi ZHANG
Organizer: CAFA ART INFO