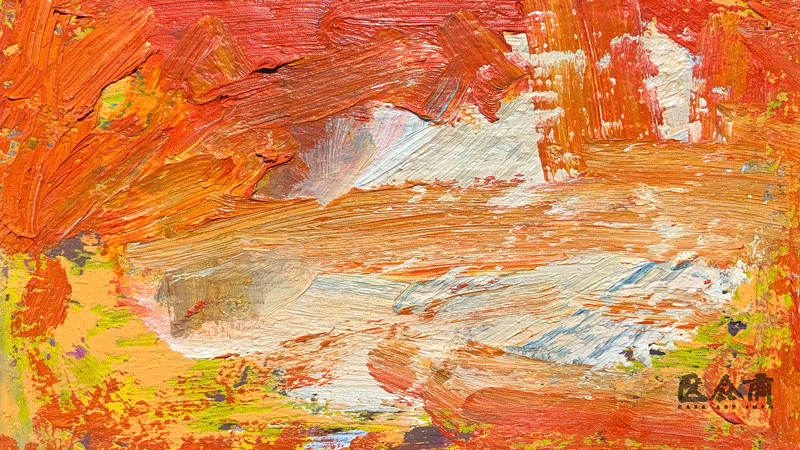 Shi Zhenyu and Shi Yu have been engaging in art for many years. They have developed rich explorations and practical experiences in their respective fields, but they have little experience in jointly participating in exhibitions. "Mentality" was the first time that the father and son jointly presented an exhibition. It was sponsored by Lei Shing Hong Culture and Art Center, co-organized by Mogao Design, Suoyu Culture, and Passion Art. The exhibition featured Shi Zhenyu's oil paintings, design works and manuscripts and Shi Yu's oil painting series, as well as a series of interviews and dialogues between the father and son, etc.
With saturated and rich orange and blue tones, the exhibition constructed a spatial distinction to create a perspective of dialogue between the two artists, and rendered their artistic enthusiasm "from hearts". On the one hand, it showed their respective researching achievements in their own artistic dimensions. On the other hand, the exhibition also recombined their different forms of art to create dialogues, transformation and reconstruction themed on "science, technology, art, classics, and contemporary life". It brought the audience a rich and multiple exchange experience within an exhibition, and it also provided a window for audiences to understand their career paths and creative thinking.
Shi Zhenyu and Shi Yu have continued to practice and create in their respective fields. They are full of enthusiasm for art, from consideration of self and reflection, they have naturally expanded to the perception and a dialogue with nature, field, landscape, world, and space. They inevitably influence and promote each other. This is the tacit understanding of the father and son. Just like Yang Qingsheng's evaluation, "Their works just confirm the dependence of art on the soul, and they are also proof of the artists' persistence and expression of soul." Starting from the heart and starting from the self is the origin of the "Mentality". It can promote further contemplation for others, groups, society and the times, and it can also radiate a broader and sincere spiritual light.
Text by Zhang Yizhi, edited and translated by Sue/CAFA ART INFO
Photo Courtesy of the Artists and the Organizer