These are the eighteen scenes of 2020 presented within the project "Reflecting The Sharing Moment" at the end of the year 2020 reflecting artistic thinking and media. They cannot fully represent the overall epitome of this year, but they are indeed true representations of some cross-sections.
In these scenes, artists wander inside and outside of the digital screen, observing the "portrait of otherness" that specially belongs to this era, tracing such "ghost" images from the virtual world. They also present the deep "scars" inscribed in a fragile and perishable living body with a delicate touch and perception. There are also artists who have established the artificially constructed "doomsday scene" during quarantine, leaving behind a "Body of COVID-19" by using empty bottles for mineral water, or using this period of time as an opportunity to start reworking on a painting that has a ten-year creative cycle ...
On the streets of France, the former prosperous Marais District was almost empty. People's desire for socializing and luxury seems to have disappeared under threats from pandemic and the stay-at-home order has been created. In front of the display window with a dazzling array of luxury goods, the performance featuring "Window Shopping", which is literally translated to "window licking" in French, in this special time and place, reflects the absurd pursuit of people in a consumerist environment. In a closed community, residents are restricted to one hour outside per day, conversations began among unfamiliar people. When it comes to infection, virus, escape and life, these dialogues begin to be more intimate and sincere ...
People seem to have different expectations for the "spring" that has never come this year. Artists use paintings, installations or words to record this season that is mixed with fear, hope, and many intricate emotions in 2020.
In 2020, CAFA ART INFO launched the "Reflecting The Sharing Moment", a global online exhibition project, which aims to provide a platform for a vocal and an idea exchange for the world's artistic thinking and creations during the pandemic through the network and online sharing. Because of this catastrophe, mankind has unprecedentedly realized that we are living in the same domain at the moment, facing common challenges and opportunities, regardless of ethnicity, culture and belief. At the commencement of a new year, we believe that this consensus will not disappear, but will have a deeper reflection. We also look forward to the continued development of this platform, bringing together more voices, creations and thoughts in the future, leading to more sharing and dialogues across the world.
---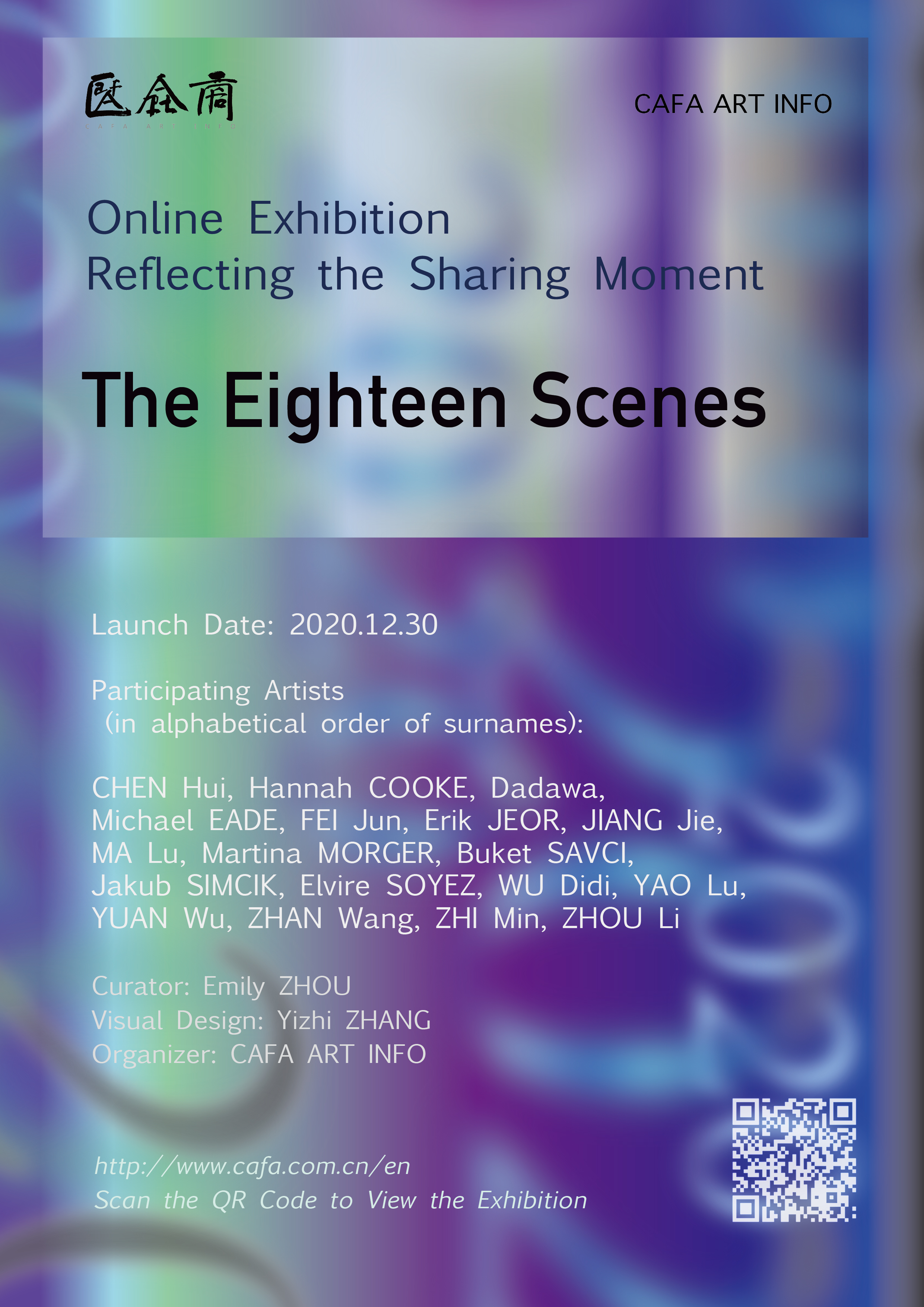 The Eighteen Scenes
Reflecting the Sharing Moment | Section Four
Launch Date: 2020.12.30
Participating Artists (in alphabetical order of surnames):
CHEN Hui, Hannah COOKE, Dadawa, Michael EADE, FEI Jun, Erik JEOR, JIANG Jie, MA Lu, Martina MORGER, Buket SAVCI, Jakub SIMCIK, Elvire SOYEZ, WU Didi, YAO Lu, YUAN Wu, ZHAN Wang, ZHI Min, ZHOU Li
Curator: Emily ZHOU

Visual Design: Yizhi ZHANG
Organizer: CAFA ART INFO