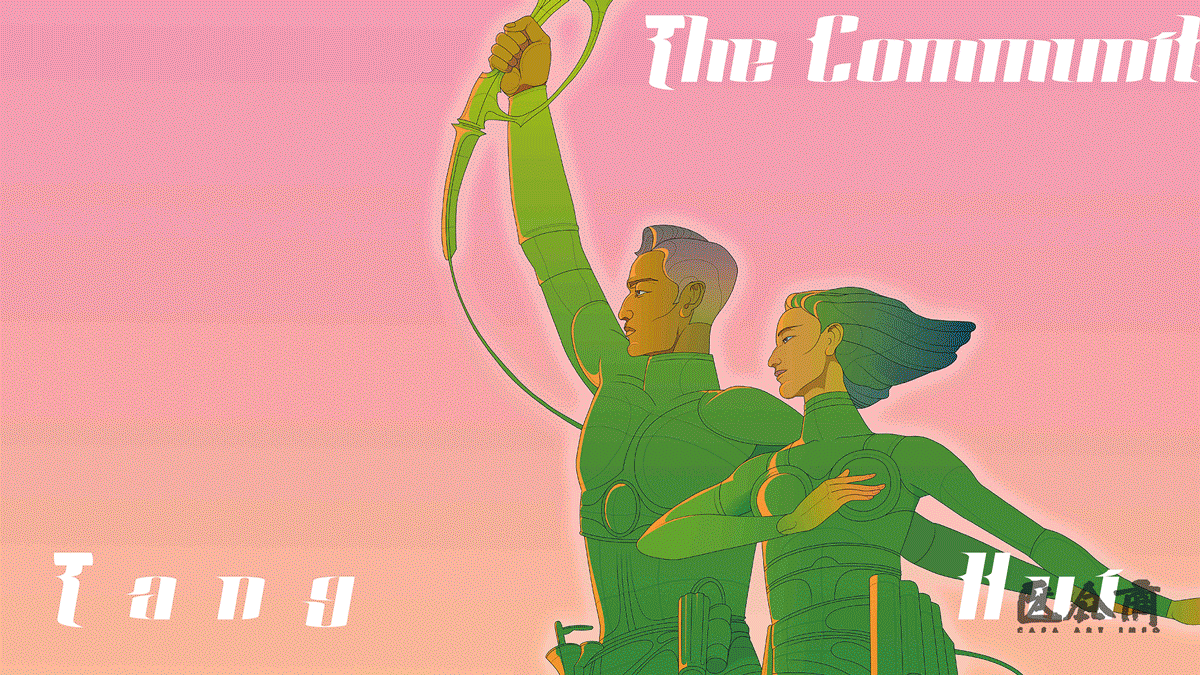 The exhibition is a brand new solo exhibition of artist Tang Hui that is being displayed after as his last personal presentation many years ago. The exhibition takes "Community" as the theme, including Tang Hui's group of works since the 1990s. The exhibition is broken into five parts. The very first one covering the whole ground floor of the museum is the leading "Community Plan", as named by the artist himself. Conceived as the "final fantasy ", Tang hui embraces digital media and 3D printing technology, through vector graphics, sculpture and installations to construct a "fantasy world." The artist deconstructed and then reconstructed bamboo, cartoons, monuments, machinery, space, technology, into which he inserted his nostalgia for childhood dreams and previous life experiences. Tang manipulated large installations like playing with childish toys, which resulted in establishing a "community" kingdom.
The second floor of the museum is divided into four sections: "The Initial setting: Time and Space", "Artistic Conception: Collectivism", "Machinery: City of Self-observation", "Bamboo-like: Life Pulsation", which consist of Tang Hui's works spanning from the 90s till now: Tang's sensational graduation creation "In Time" with its following variation "In Time·cont", "The Monument" series, "The Square" series, "The Skin" series, "Deer in Nara" series, "Deer in Machine" series, "My Log of World" series, "The Herbal" series, "The Abstraction" series and so on. Dazzling visual lineage, vivid details and subtle strokes represent Tang's variety of interests and care for life, society and the world in both practical and spiritual ways.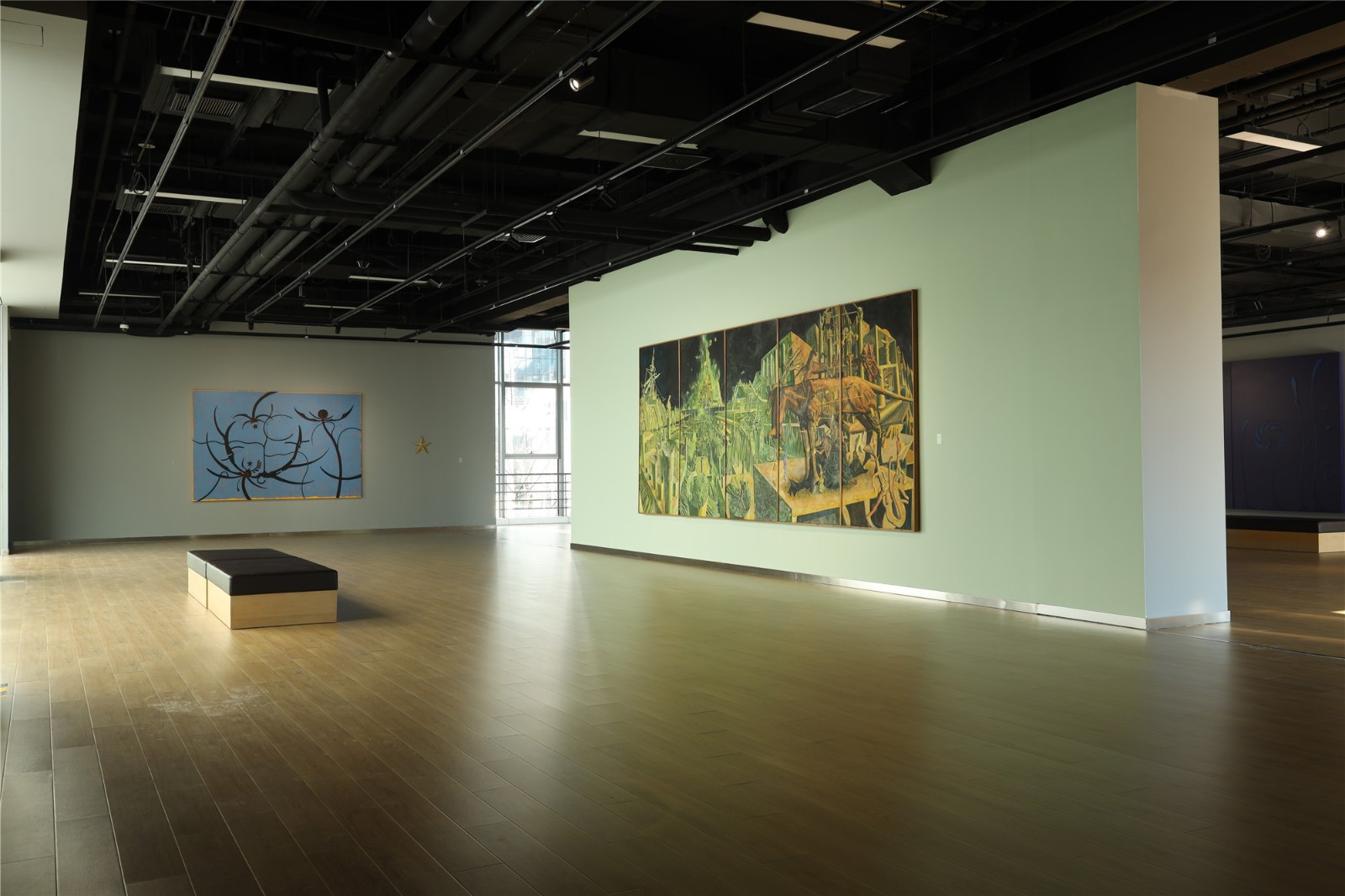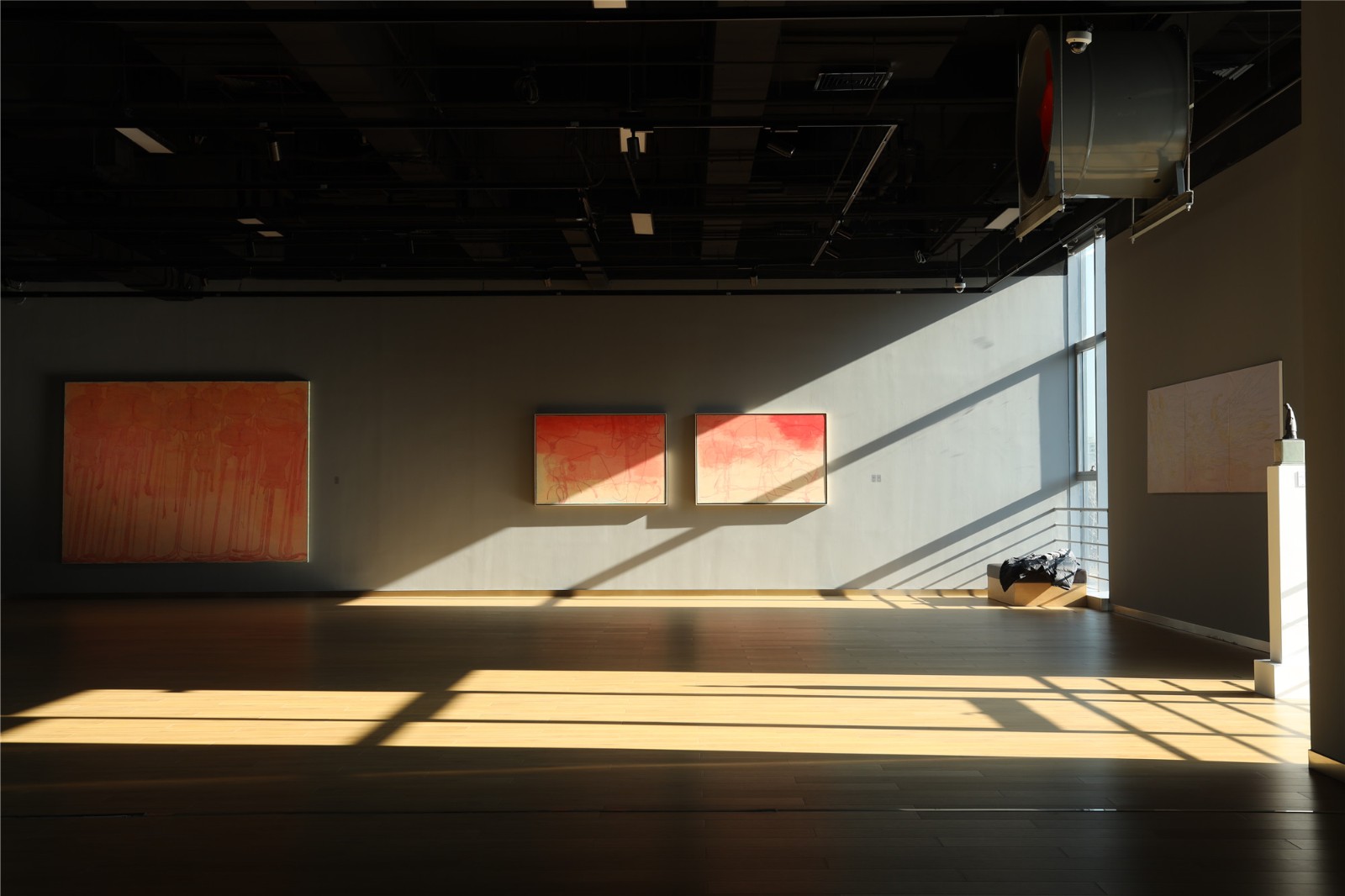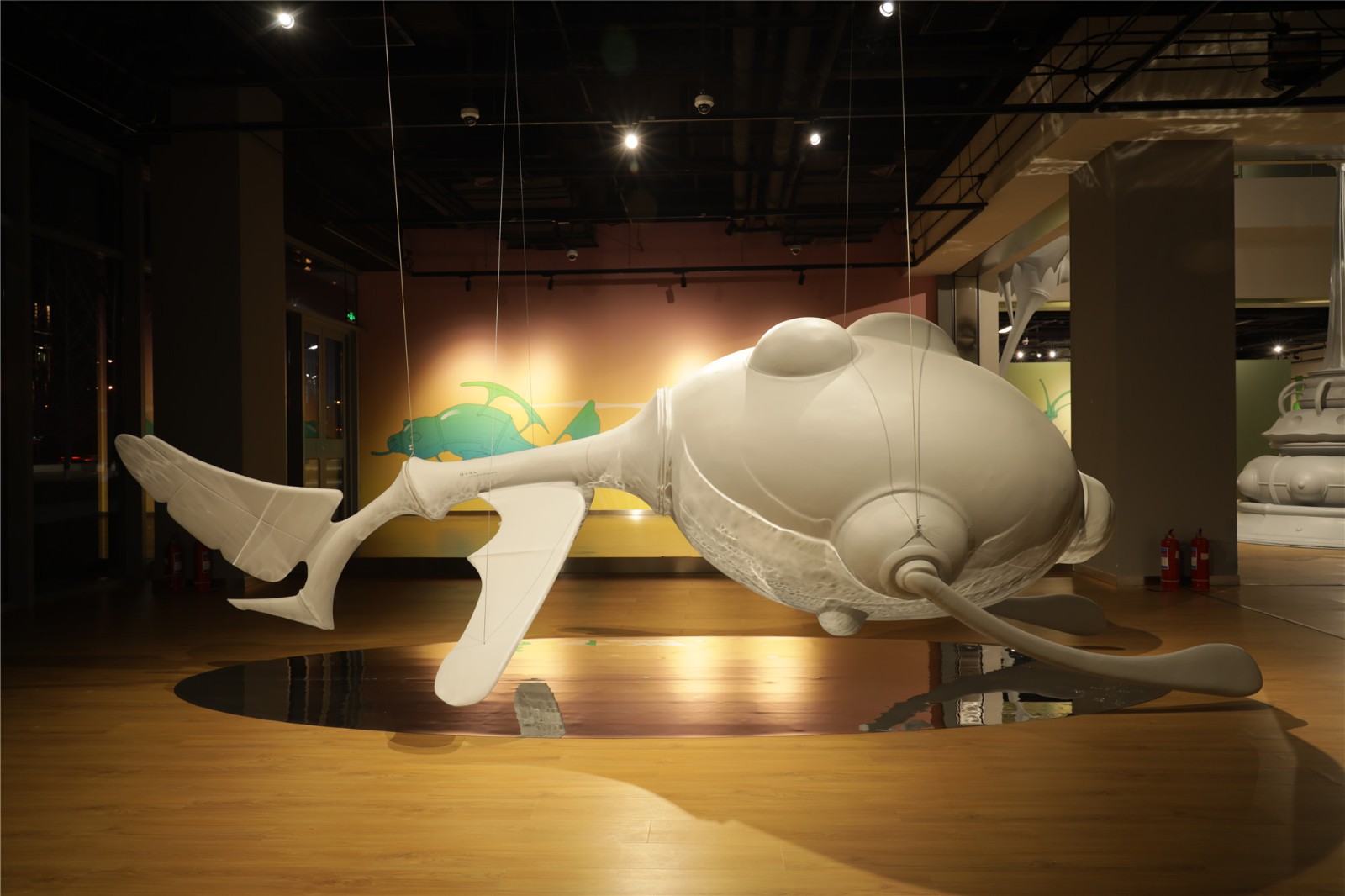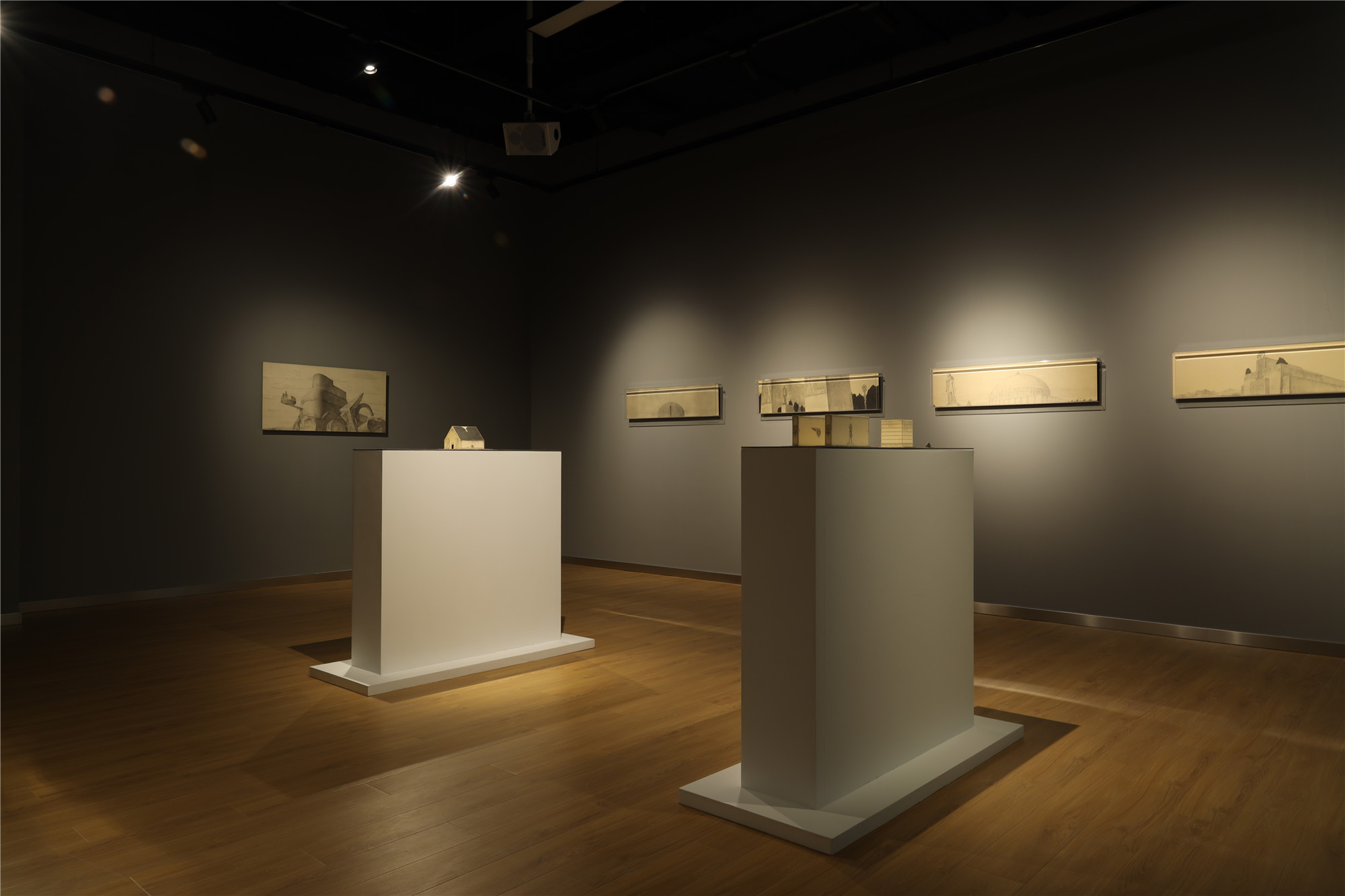 View of exhibition at One Art Museum, Beijing, 2020. Image courtesy of One Art Museum. Photo © One Art Museum.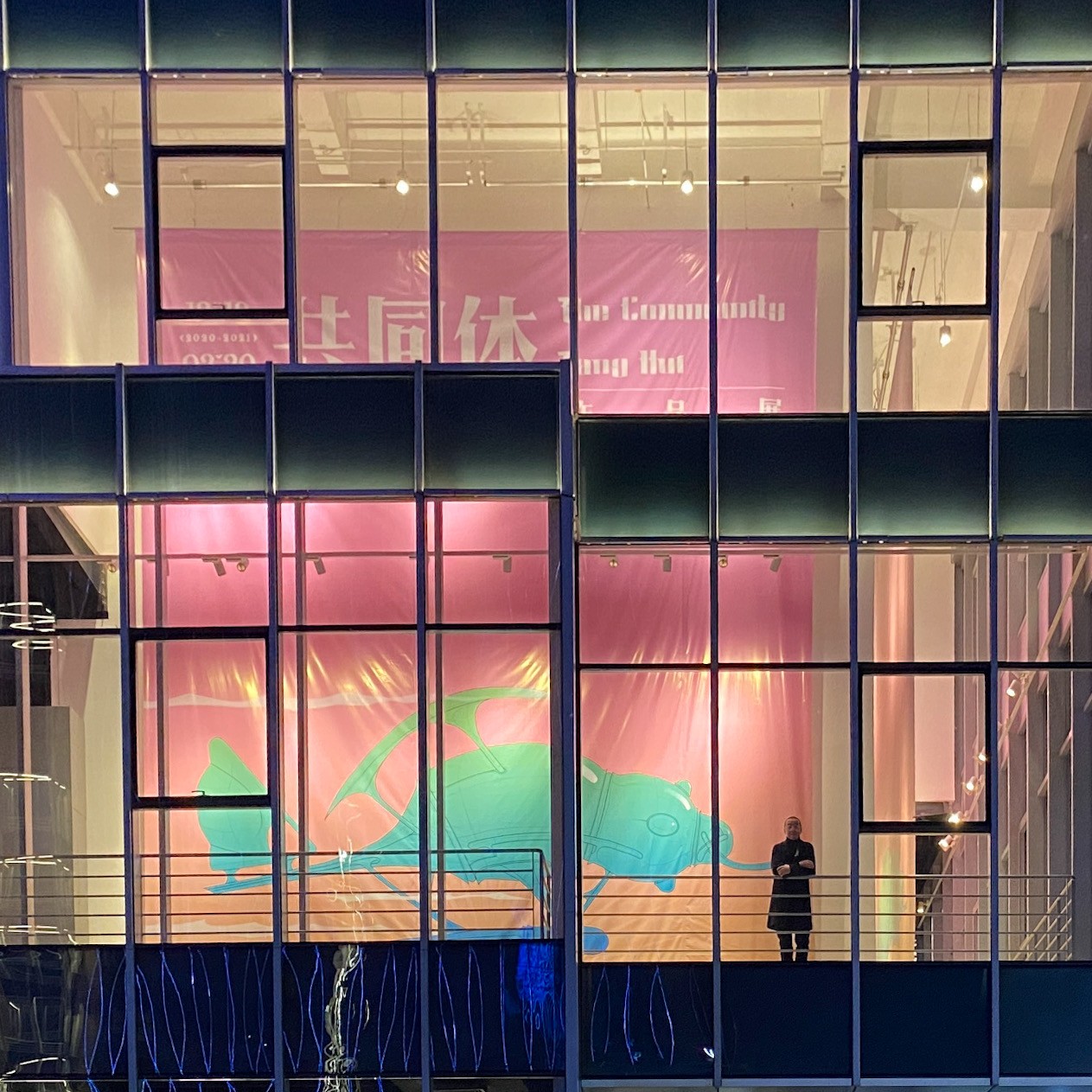 Tang Hui standing before the poster. View of exhibition at One Art Museum, Beijing, 2020. Image courtesy of One Art Museum. Photo © One Art Museum.
Preface
Between past and future—The community of Tang Hui
The concept of "community" was put forward by Aristotle, which means that the community is crystallized with a common pursuit of truth, goodness and beauty among the members. Recognition of membership in a community creates a sense of belonging and security, which leads to a sharing of common traditional norms, behavioral patterns and collective memories. With the impetus of modernization and globalization, multiculturalism emerged, causing a collision and conflicts within or between communities, which then threatens the sense of belonging and security derived from collective identity.
Born in the 1960s, Tang Hui has encountered a society with multiple facets. The family cultivated him to hold onto traditions and discipline, while the academy offered him an elite education and broad perspectives. While Tang was facing the shock of western heritage and a process of globalization, Tang Hui's creations witnessed the impact of conceptualism, the application of science and technology, and the breakthrough was an exhibition format. The disorder has made Tang Hui repeatedly think and question: facing history and its accompanying narratives, immersed into such grand, magnificent but silent sensations, who is worthy to be remembered, how to be remembered, where does the individuality belong and is it valid, and where is the "community "?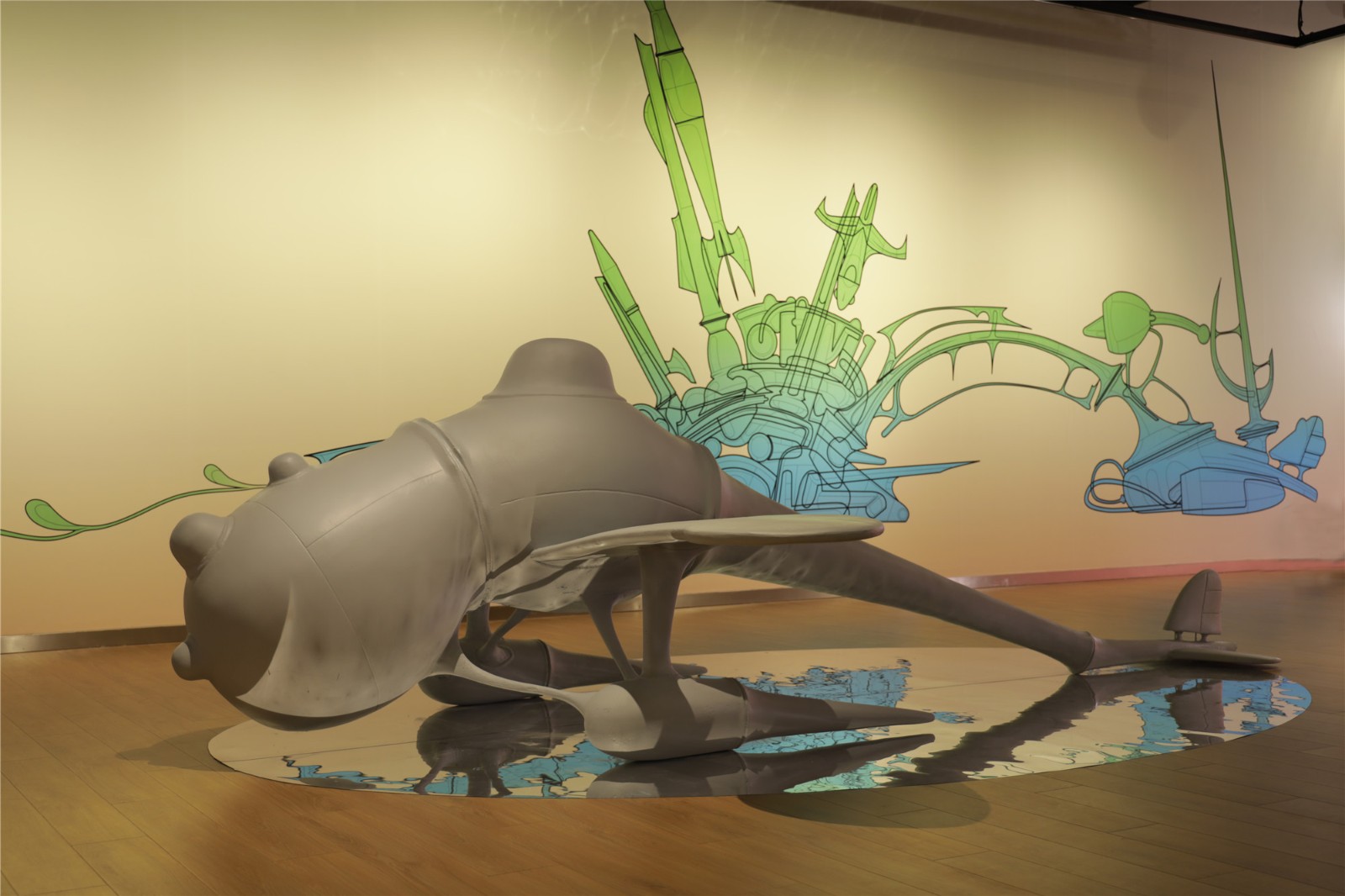 View of exhibition at One Art Museum, Beijing, 2020. Image courtesy of One Art Museum. Photo © One Art Museum.
As a result, his works are characterized with refutation and contradictions: looking back on his first works, "In Time"," Time Machine", Tang Hui reviewed and extracted the visual symbols from individual or collective memories, between which establish an intimate but still discomforting relationship emerged. The juxtaposition of various group representatives formed together create a unique visual language and intriguing effects. "Monument" series ," Square "series are considered to be Tang's practice on incising the space, emphasizing the sublime and special. This indicates the core of the located political reality: the status is raised up and thus highlighted, the one standing becomes a free will practitioner rather than segments of a social structure. Resonance of the heroic gesture and individual lost was lingering throughout his works. Without the concrete context, the victory and hegemony were stripped out and no longer highlighted, "Grand Narrative" collapsed. Beneath the images and installations of childlike interest and cheerfulness echoes the consciousness of the dignity of the individual, the nobility of the hero, the equality of all things and the sharing of love and sorrow. As for the "Herbal" series, Tang Hui began to express himself abstractly, exploring the association and transformation of animals and plants, refining decorative and dramatic patterns and trying to turn the thought of human attributes and fate into something great.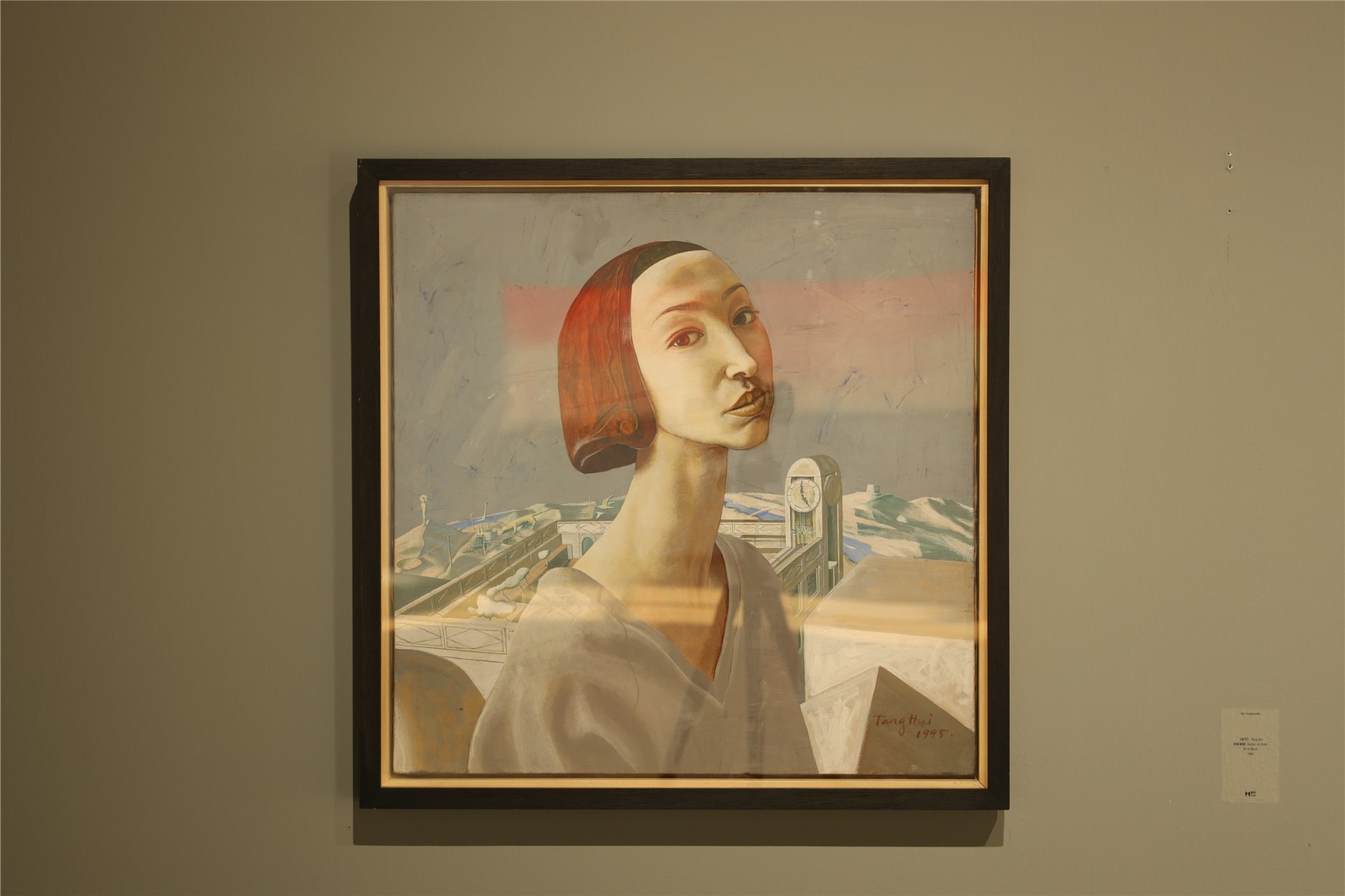 View of exhibition at One Art Museum, Beijing, 2020. Image courtesy of One Art Museum. Photo © One Art Museum.
In December 2020, Tang Hui created a "whimsical world" and named it "Community Plan ". This new series of works not only integrates his constant attention to bamboo, cartoons, monuments, machinery, space, science and technology, but also innovatively adopts the creative mode of full digital drawings which is consistent with the widely used media and technology in content and practice. As a continuation of the "Tang Cheng Plan ", the "Community Plan "further realized Tang Hui's wild hope of turning painting into three-dimensional and vision into reality, creating the world, constructing space and thus creating a comprehensive atmosphere.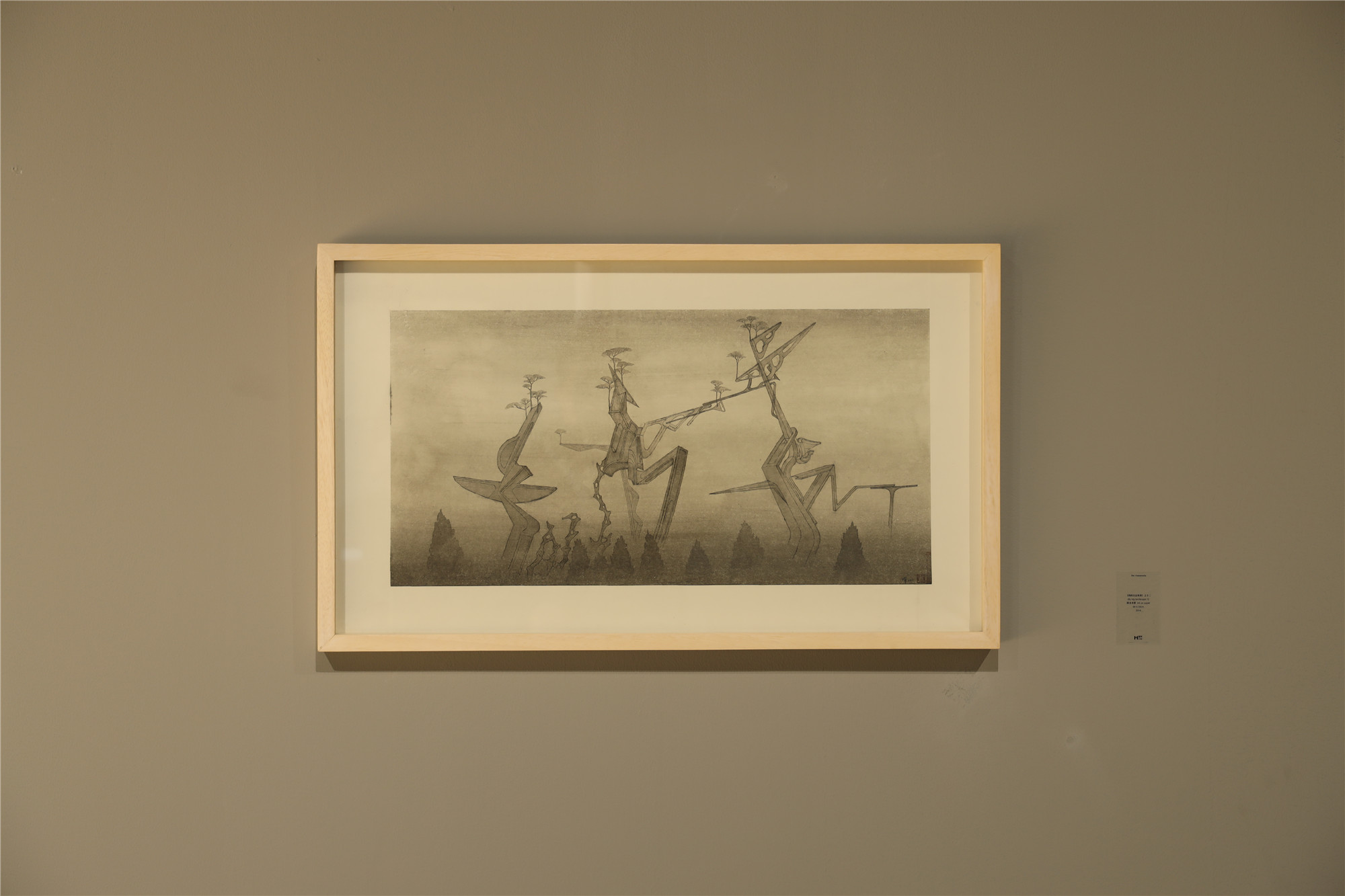 View of exhibition at One Art Museum, Beijing, 2020. Image courtesy of One Art Museum. Photo © One Art Museum.
Throughout Tang Hui's creation, he used a variety of means to create, invade and integrate into the physical space and spiritual space: frame as the boundary, canvas as the door, from reality to virtual, inviting viewers into a fictional private field; at this time, the exhibition space will become a channel to the virtual social structure, leading viewers to jump into the world set by Tang Hui. The "giant system", which returns to the public domain, will create a vague enclave and a strange community between" past "and" future "," real "and" virtual "space-time combination.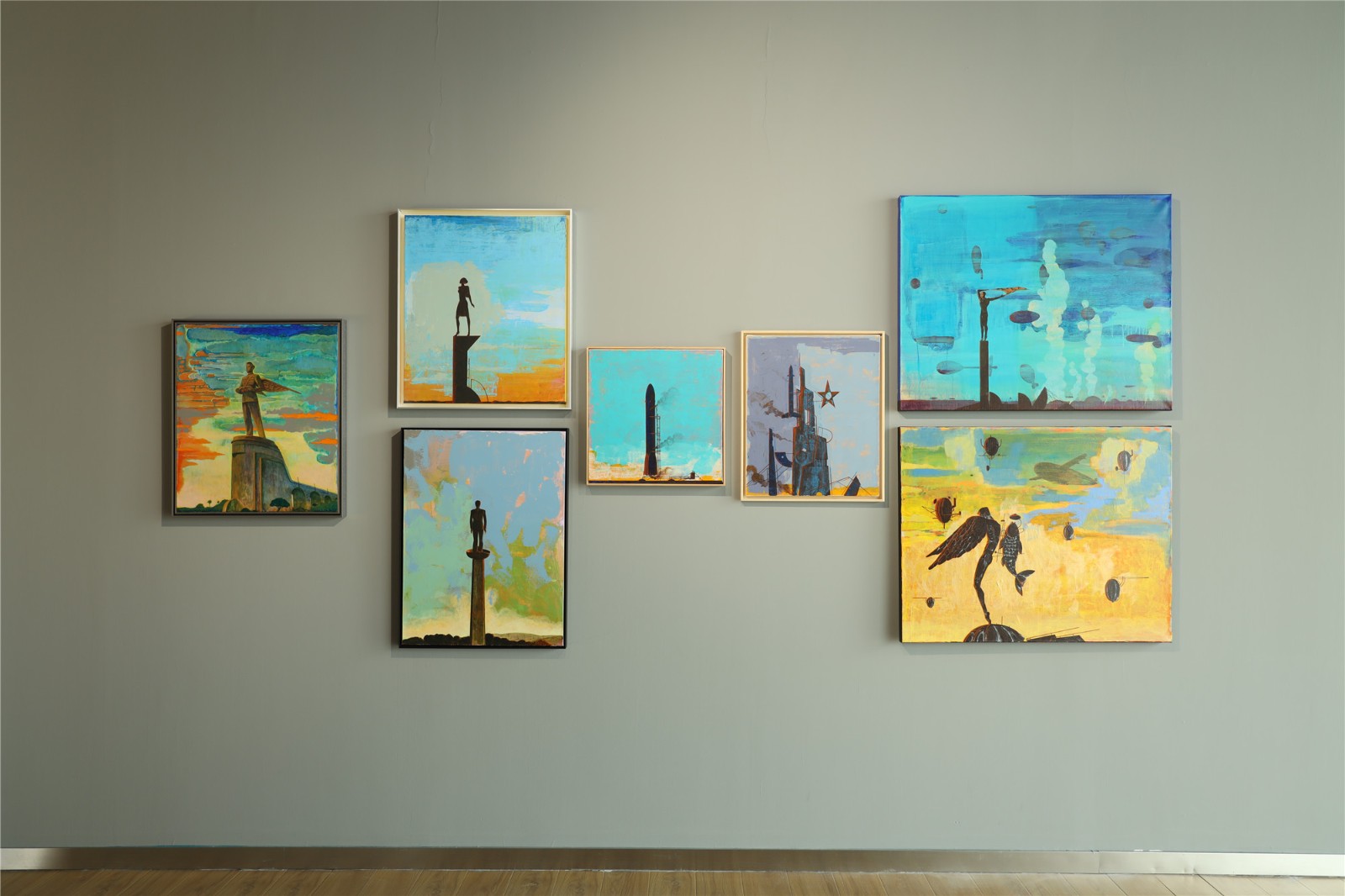 View of exhibition at One Art Museum, Beijing, 2020. Image courtesy of One Art Museum. Photo © One Art Museum.
The exhibition is divided into five parts. The whole space of One Art Museum is the carrier of "Community Plan", in which is positioned Tang Hui's newly created installations as well as the vectorized graphics made by computer software. These heroes, armor, weapons and spacecraft feature bamboo knots that constitute an ideal home of great security. The second layer is divided into four parts : "The Initial Setting: Time and Space ", "Artistic Conception: Collectivism ", "Machinery: City of Self-observation", "Bamboo-like: Life Pulsation", which are taking time and themes as the dual clue, to organize and interpret Tang Hui's 30-year creation, revealing and recording Tang's each stage of life.
Today, can the Community become a security fortress for us?
Everyone has their answers.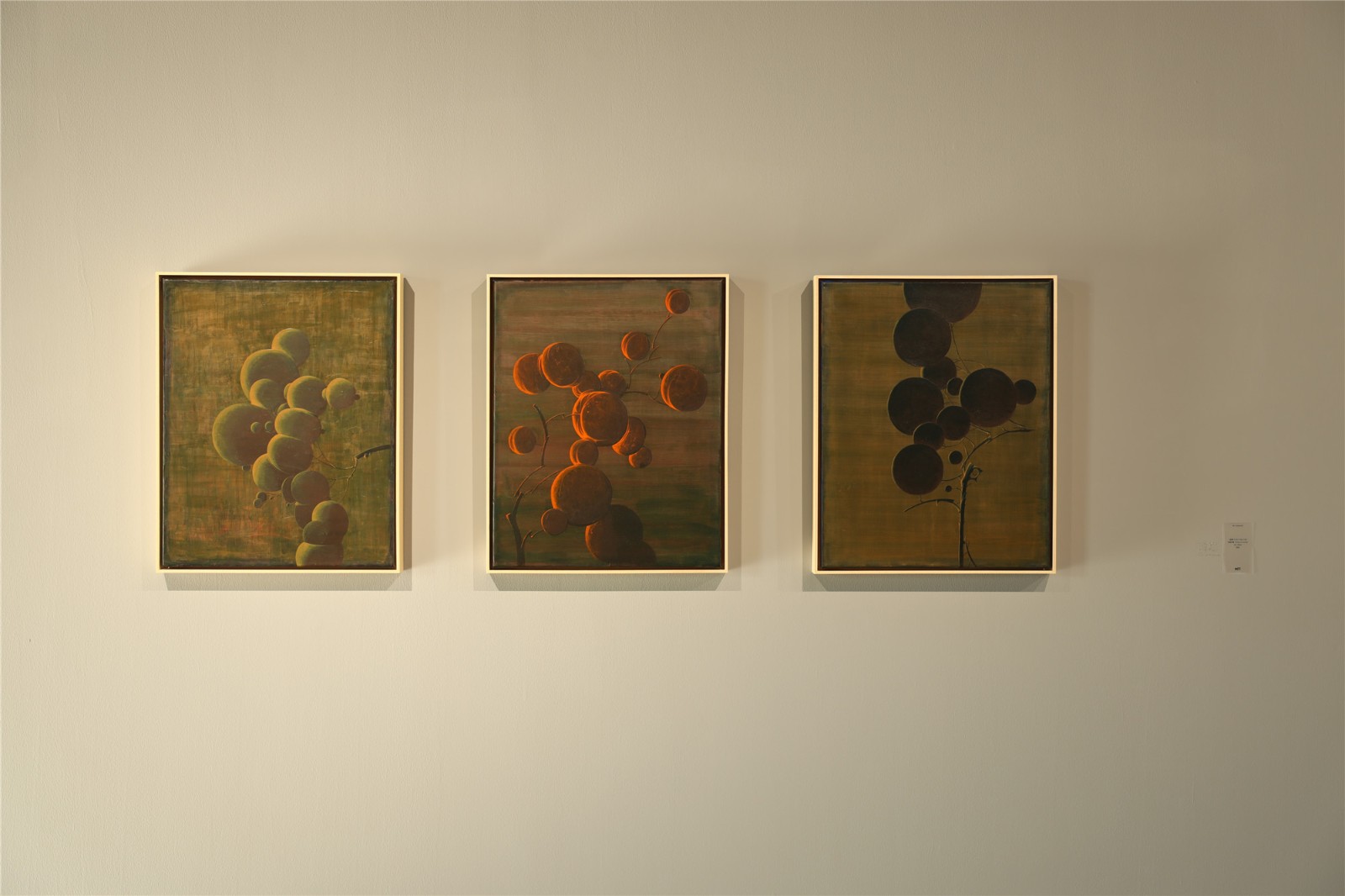 View of exhibition at One Art Museum, Beijing, 2020. Image courtesy of One Art Museum. Photo © One Art Museum.
Opening Ceremony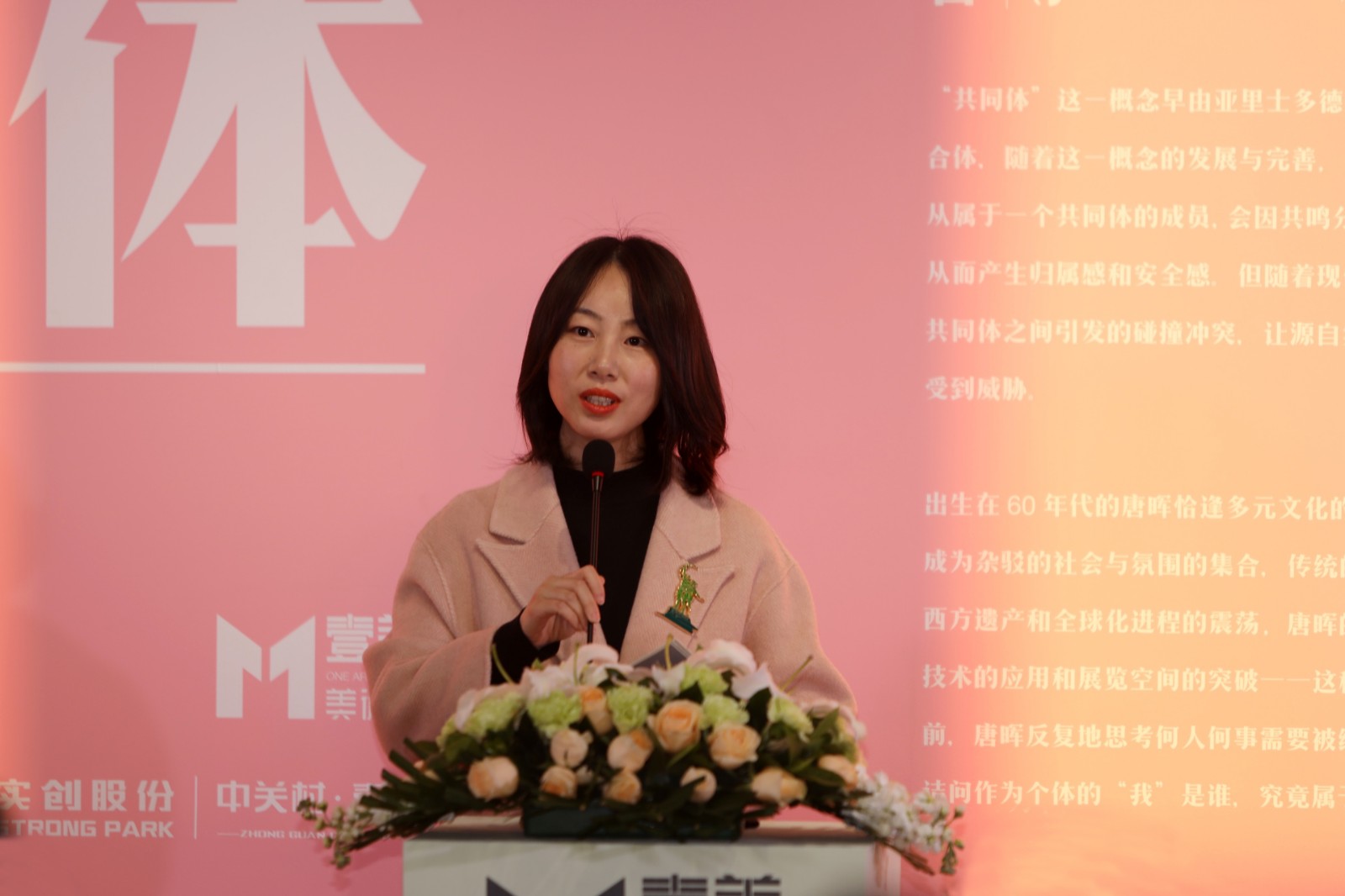 Speech by Mr. Lu Bei, Executive Director of One Art Museum
One Art Museum is still a young but promising art museum, founded in 2019 from Shichuang shares and the only private non-profit public welfare art museum in Beijing Free Trade Zone. As the "softest" existence of Zhongguancun No .1 Science and Technology Park, One Art Museum has been committed to the integration of art and technology to build a platform for artists and scientists to communicate and interact.
The exhibition is conceived as the finale exhibition of One Art Museum and the most recent and fresh comment on creative practice of Tang Hui. Based on the conception and imagination of establishing the "Community ", the exhibition shows a series of new works created by teacher Tang Hui innovatively using digital painting and 3D printing technology. The digital design graphics, sculptures and installations are particularly consistent with the temperament of Zhongguancun No .1 Park. We hope to give full play to the advantages of the museum, which is located in the middle area of scientific and artistic perspectives and through the exhibition to provide the platform and opportunity for artists and scientists to collide with their ideas, so as to realize the ideal of mutual promotion and integration of art, science and technology.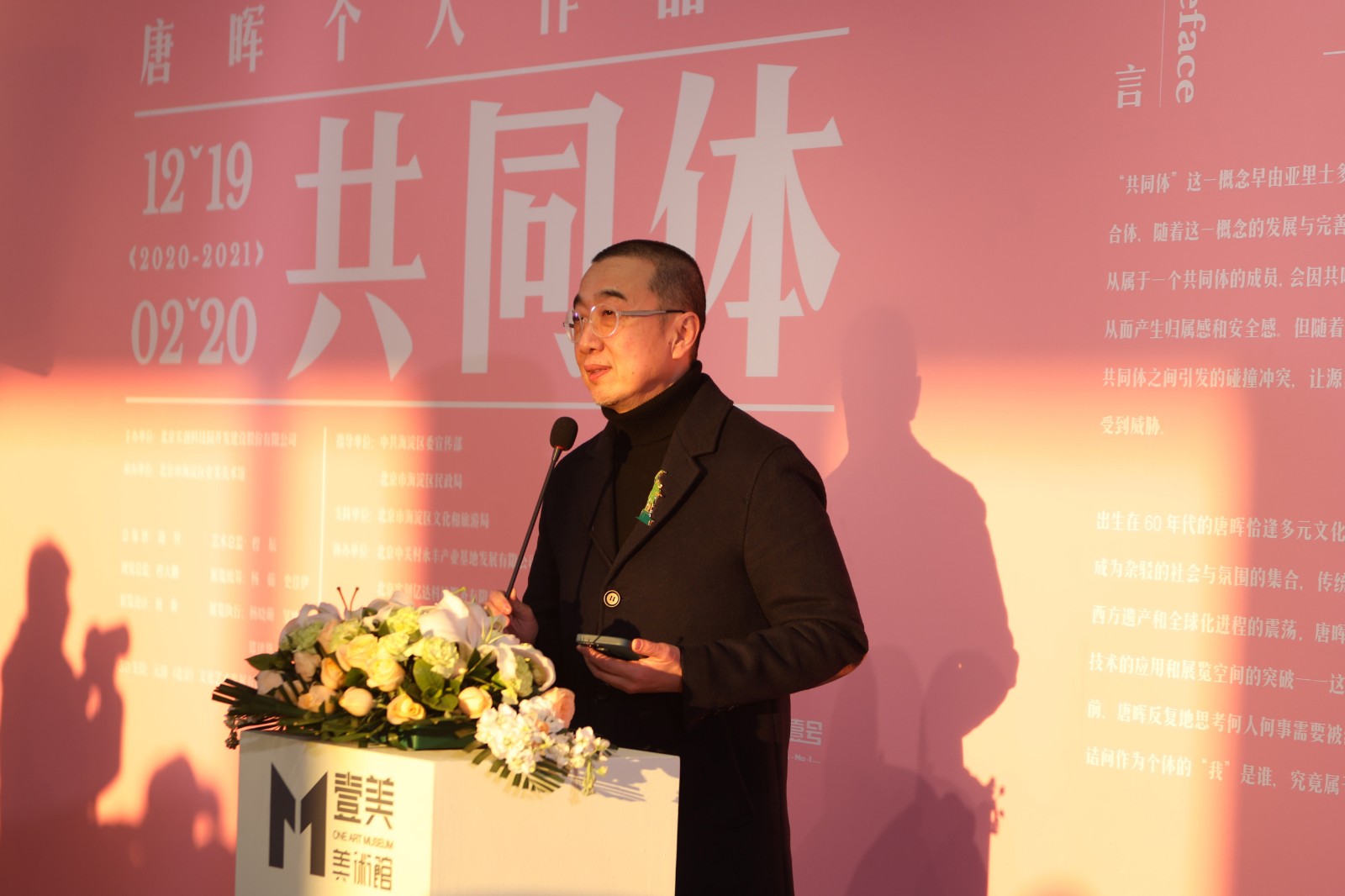 Speech by Tang Hui, Professor, Ph.D. supervisor, Dean of Mural Department of CAFA
For this exhibition, I brought a series of works that span my thirty-year-long artistic practice, but it is absolutely not a retrospective. I selected some works with the same elements and connected them together to form a "community" to express my childhood love of space and technology, my imagination of space and life. The exhibition is held at One Art Museum in Zhongguancun High-tech Park. I hope that through this exhibition, my works and Zhongguancun Science and Technology Park will have a dialogue to let art intervene in science and technology and enrich art with technology.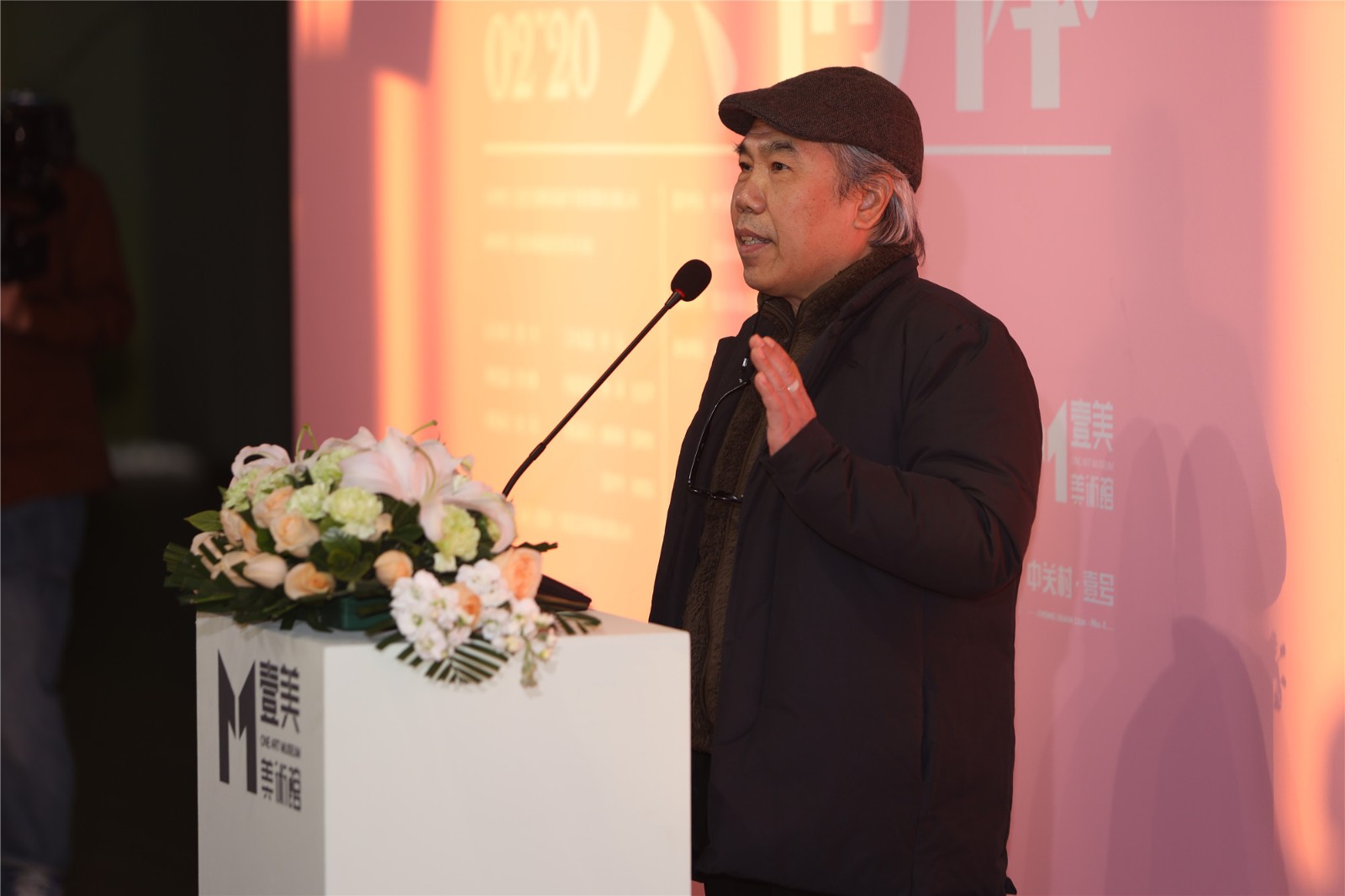 Speech by Wang Shaojun, Professor of CAFA
Seeing the theme of the exhibition "Community ", from which I came to think of a variant word "complex". Tang Hui's work seemingly emerged from the rules of tradition and Buddhism, but in actual fact, he shows modern and future industrial products which are made of bamboo in nature. Tang Hui's reappearance of the symbol, beloved within and representative of Chinese culture for thousands of years, has given me strong inspiration. From Tang's creation, we can see the perspective of the future.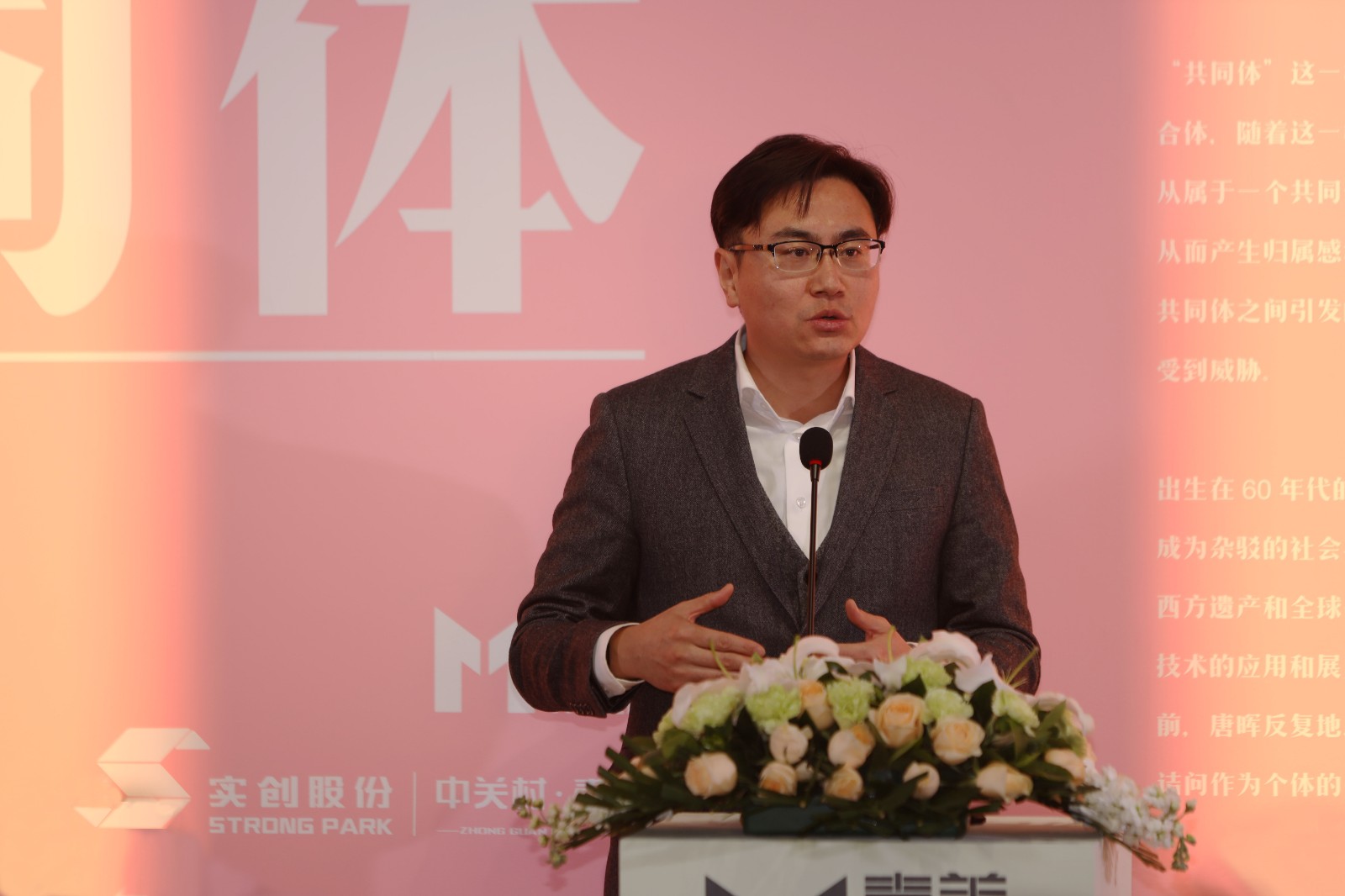 Speech by Dr. Wang Xudong, Scientist and President of Beijing Institute of Graphene Applied Research
I came to visit this exhibition to seek knowledge. I found that both artists and workers from the science and technology industry have the same dream. Why are we trying to find that what they have in common? Our country has gradually entered the era of intellectual property rights of scientific and technological achievements will be dominant, we must learn from artists, to learn the artistic and innovative spirit they have, especially the pursuit of art, which was precisely what the vast majority of scientific and technological workers lost in the past. We used to serve more for work than technology and science. There is hope that we find common ground with artists and then learn from artists, learn from their original spirit, learn to achieve our own personal value.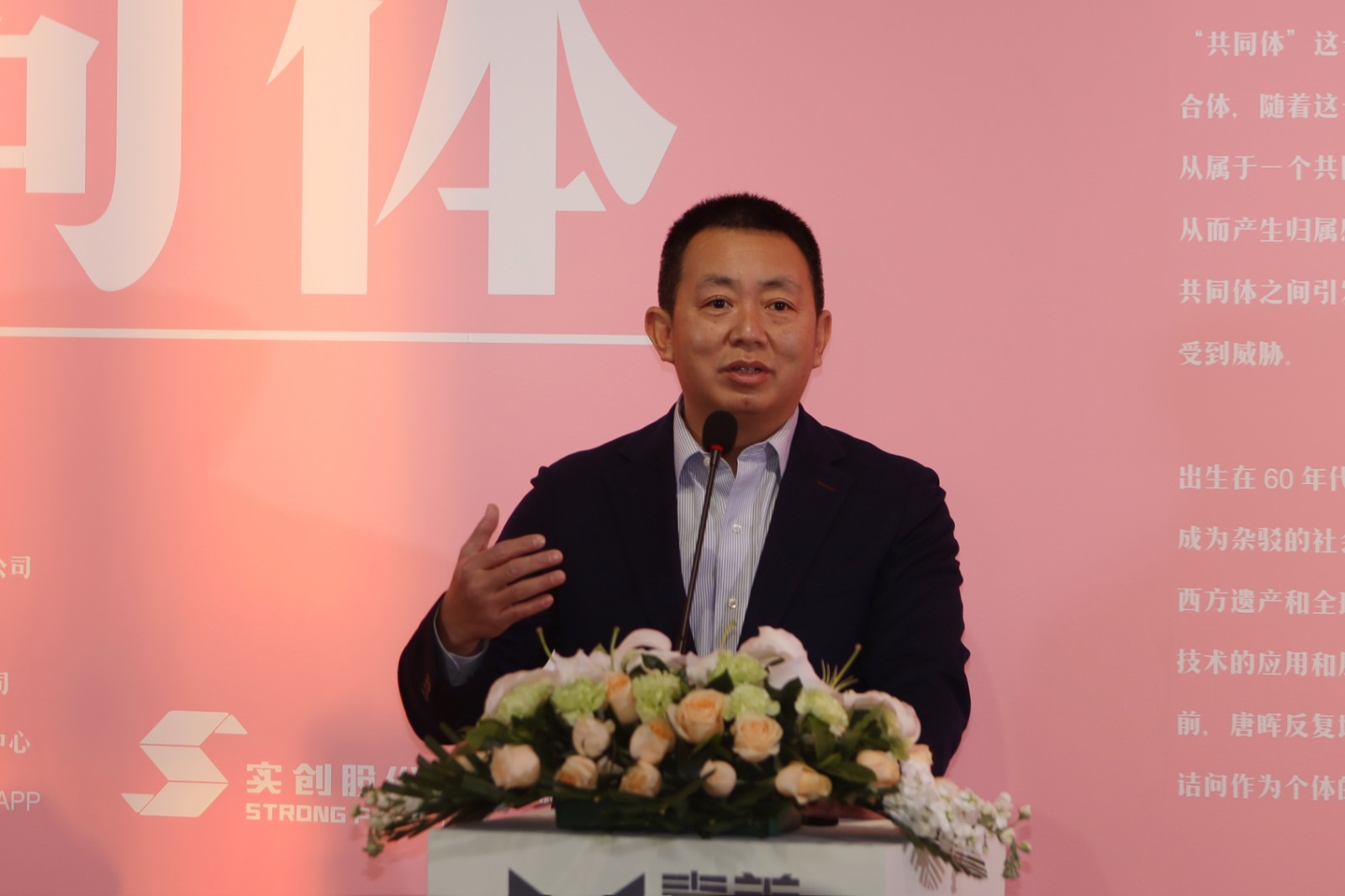 Speech by Yuan Shijian, Deputy General Manager of Beijing Shichuang Science Park Development and Construction Co., Ltd.
Many of the works of this exhibition are specially created by artist Tang Hui in accordance with the characteristics and nature of Zhongguancun Science Park. First of all, Tang Hui's creation deeply shocked me from the bottom of my heart though I was impressed by his techniques, these works are full of futuristic ideas and science fiction which will certainly be liked by many young science and technology workers; secondly, I have a deeper understanding of the "Community" , Tang Hui's work "In Time" which embraces such complex and multiple elements and could be interpreted in numerous ways, from the perspective of time or space, from macro or micro way... just as professor Wang said, how "complex" it is.
Since its establishment, the One Art Museum has successfully held seven exhibitions and gained great influence. In the future, we hope to build the art museum into a platform to promote the exchange of science and art, so that science can help the development of art and scientists can be inspired by culture and art as well.
After the opening ceremony, a piece of new work "Glorious Snow" by Tang Hui was digitalized for projection which will cover the facade of all the buildings in Zhongguancun No .1 tech Park, offering the public a unique experience on viewing "snowflakes".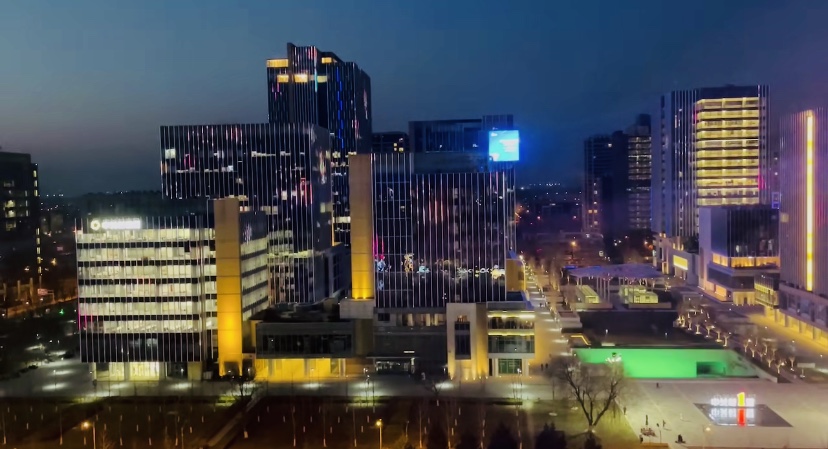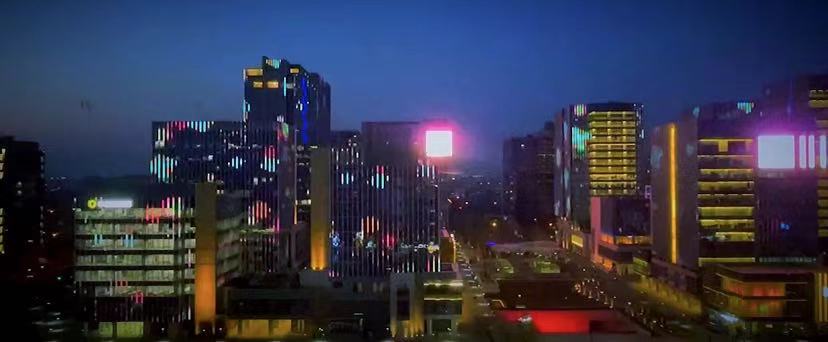 View of light show, Glorious Snow, 2020. One Art Museum. Image courtesy of One Art Museum. Photo © One Art Museum
The exhibition will remain on view till February 20th, 2021.
About the artist
Born in Wuhan, Hubei in 1968, Tang Hui graduated from Hubei Academy of Fine Arts in 1987 and graduated from the Department of Murals of the Central Academy of Fine Arts in 1991 and then took up a teaching post. In 1997 Tang was selected by Japan International Exchange Foundation ARCUS and became part of the International Young Artists Visit Residence Program. In 2019, Tang received a doctorate from the Central Academy of Fine Arts. Now Tang is professor, PhD. supervisor, Dean of Mural Department of CAFA.
He has hosted solo exhibitions in Beijing Hongkun Art Museum, Shanghai Zhangjiang Contemporary Art Museum, Beijing Siheyuan Gallery, Beijing East Station Gallery, New York ETHAN COHEN Gallery and other art organizations. Tang Hui participated in many important contemporary group exhibitions: Contemporary Art Exhibition, Wuhan, 1985; Chinese Youth Painting Exhibition in Progress, China Art Museum; The First Chinese Contemporary Art Exhibition, China Art Museum. The works have been displayed in the famous contemporary group exhibitions such as "Virtual and reality" and "Map Game ", and have been selected for Shanghai International Contemporary Art Biennale in 2002 and 2010.
His works are collected by China Art Museum, Central Academy of Fine Arts Art Museum, Hubei Art Museum, University of Hong Kong Art Museum, Hong Kong M+ Art Center, Taiwan Buddhist Tzu Chi Charitable Foundation, Ibaraki Prefecture Government, Kennedy Art Center of the United States, Beijing Hongkun Art Museum, etc.
His masterpieces include: In Time (1991), In Time. cont (1996), Red Aircraft (1996), Chinese Family Model Shop (1996), Just a Greeting (1997), Tang Cheng Plan (2002), Monument Series (2009), Snow of Shinjuku, Hero Series, New Landmark in Beijing, Nara Deer Series, Herbs Series, etc.
Published monographs "Tang Hui 1991-2008", "solemn wistful", " Tang Hui painting deer 2014-2016".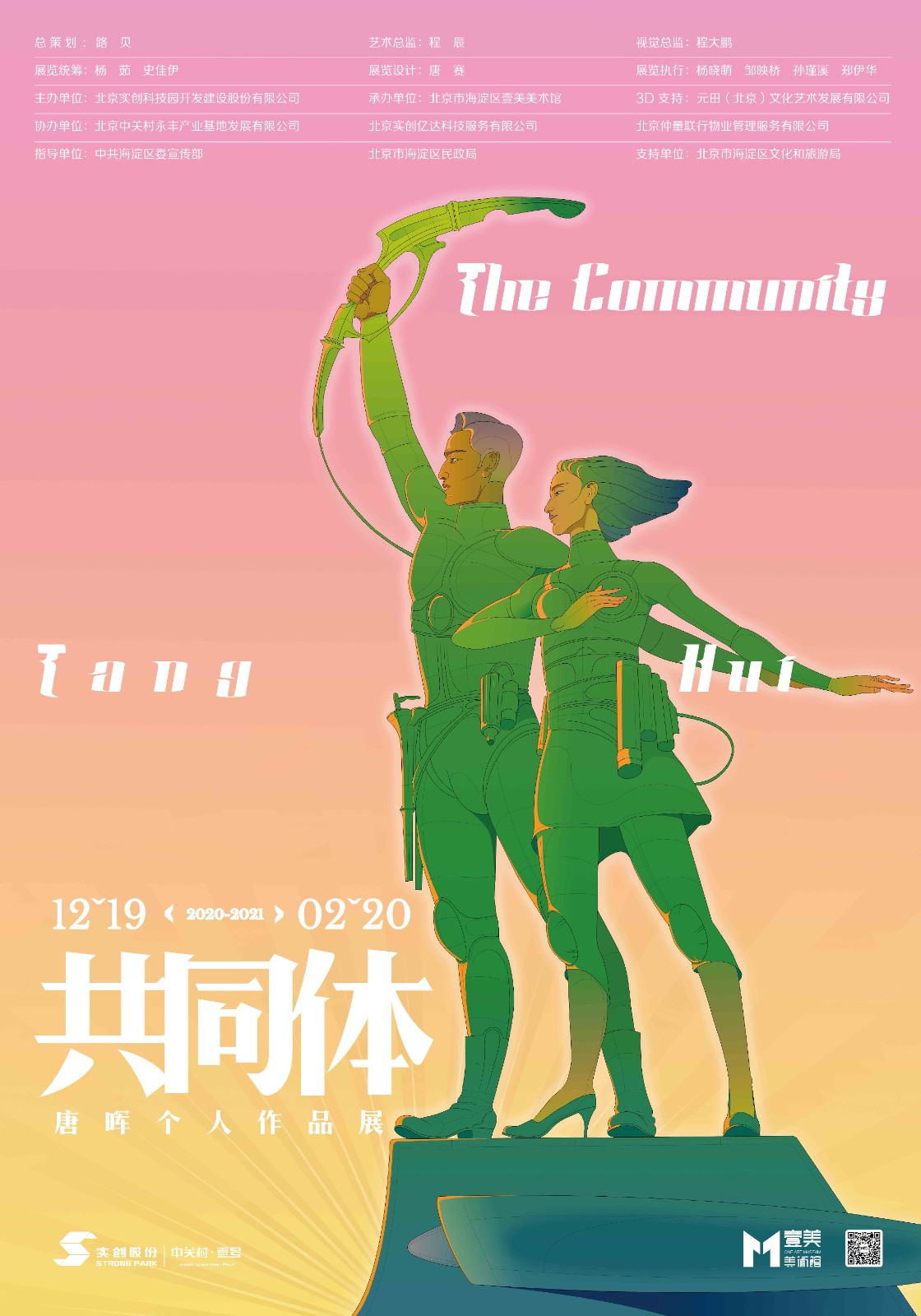 About the exhibition
"Tang Hui: The Community"
Exhibition Duration: December 19,2020 - February 20,2021
Opening ceremony: 16:00 December 19,2020
Light Show: December 19,2020 17:00
Main Director: Lu Bei
Art Director: Cheng Chen
Visual Director: Cheng Dapeng
Exhibition Co-ordination: Yang Ru, Shi Jiayi
Exhibition Design: Tang Sai
Exhibition Execution: Yang Xiaomeng, Zou Yingqiao, Sun Jinxi, Zheng Yihua
Courtesy of the artist and the organizer.