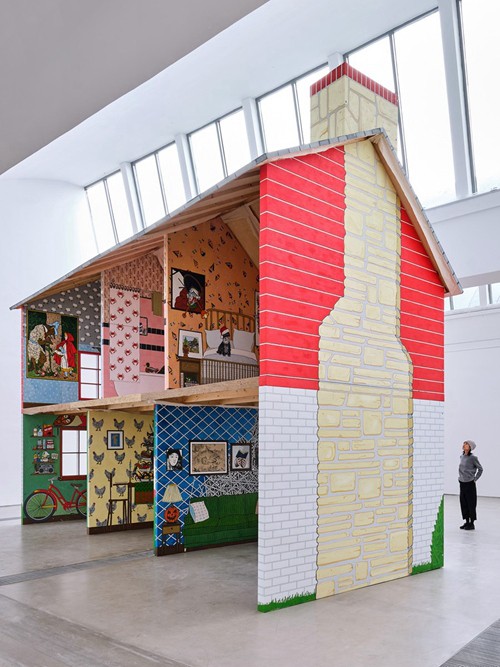 Installation view of "Zachary Armstrong: Bag of Candles", Faurschou Beijing, 2021.
Photo by Jonathan Leijonhufvud, © Faurschou Foundation
Faurschou Foundation announces the opening of "Bag of Candles", the first solo exhibition in China by Zachary Armstrong, comprising his characteristic wax paintings, pottery, sculpture, and installation work. The exhibition is Armstrong's largest to date and presents the full spectrum of his wide-spanning practice to a new audience.
For the exhibition, Armstrong has created a new body of work, transforming Faurschou Beijing's space into a microcosmos of cross-references to his previous artworks. These new works include a walk-in model of a painted house, a bronze cast of a life-size T-rex skull, an extensive wall-installation, and new paintings. The works allude to Armstrong's own life and childhood, as well as popular culture and art history, creating dialogues with one another while also commenting on contemporary society.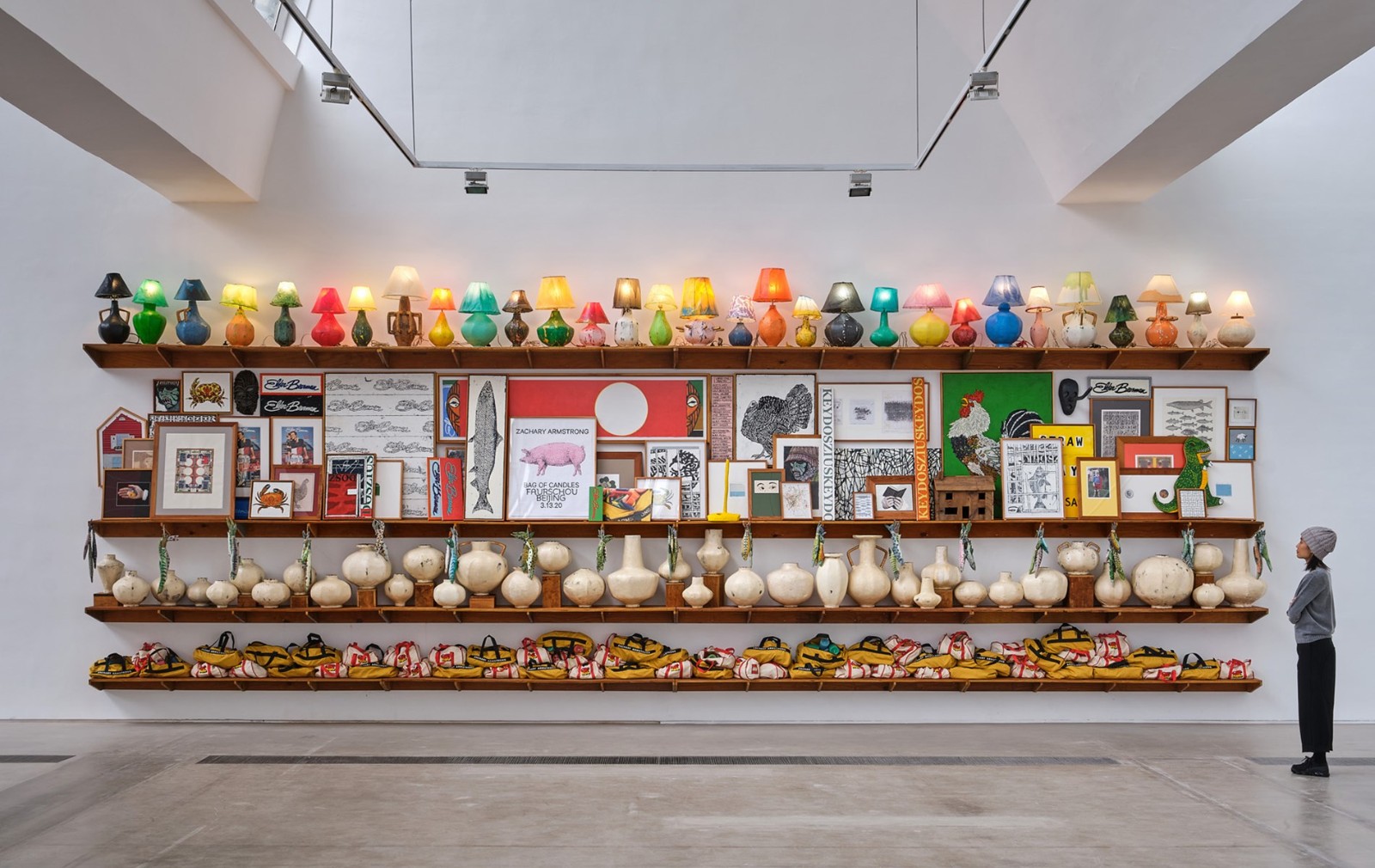 Installation view of "Zachary Armstrong: Bag of Candles", Faurschou Beijing, 2021.
Photo by Jonathan Leijonhufvud, © Faurschou Foundation
With the installations, such as the house and the T-rex skull, Armstrong builds on inspiration from his own life and childhood, but plays with a universal subject—the recognizable and safe environment of a home, full of fond memories, but also disturbing elements that, all together, make up a life. The extensive wall-installation consists of shelves clustered with bags of wax candles, pots, lamps, sketches, and drawings. The wax candles make up the heart of the exhibition, as wax is the key material in most of the works:
"The candles are a symbol of childhood memories. I collected them and a lot of other things as a child. At the same time, they also serve as a symbol of the obsessive collecting, which is inherent in the exhibition and the contemporary world at large," Zachary Armstrong says.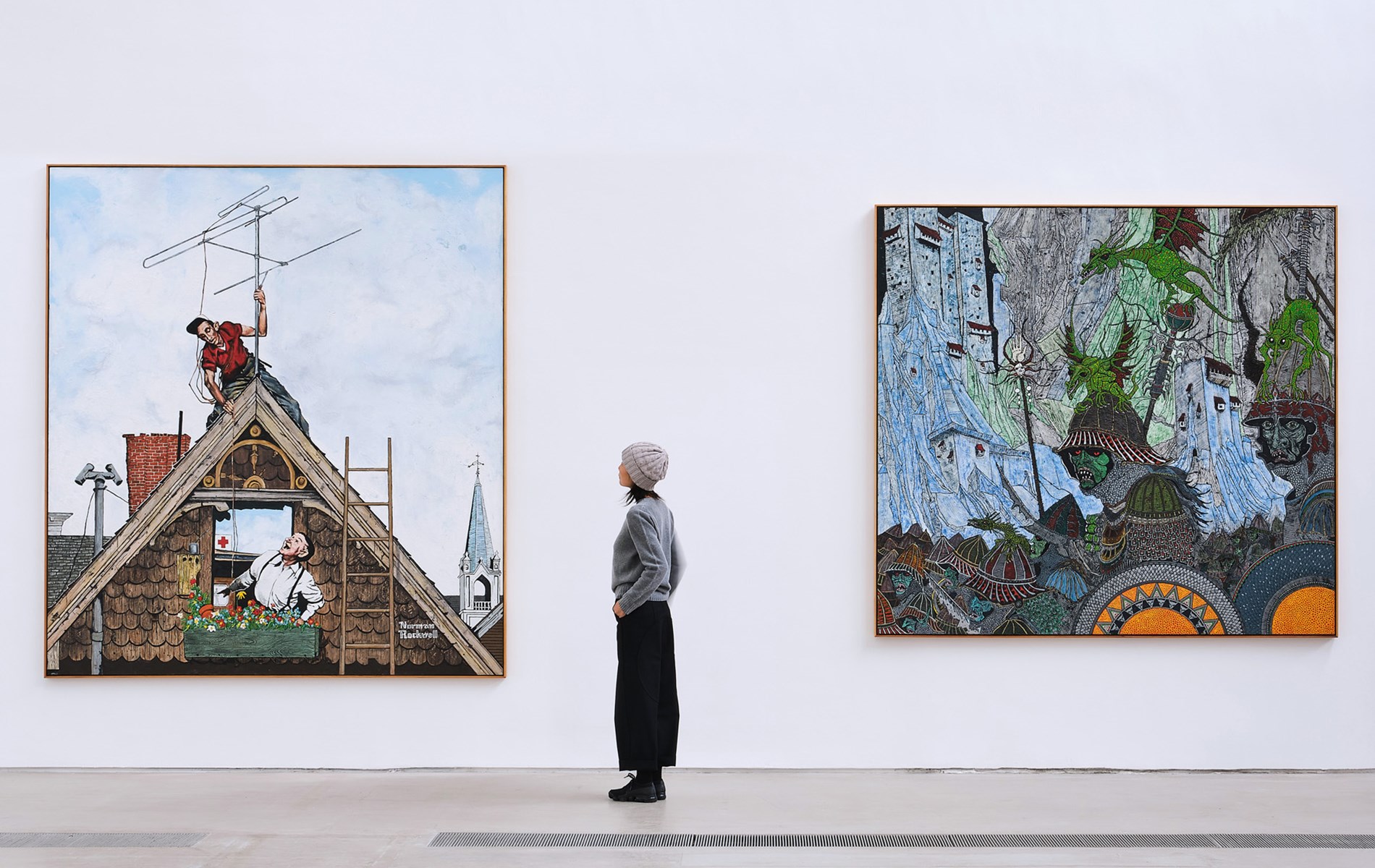 Installation view of "Zachary Armstrong: Bag of Candles", Faurschou Beijing, 2021.Photo by Jonathan Leijonhufvud, © Faurschou Foundation
The four large paintings in the exhibition demonstrate the extent to which Armstrong masters the ancient technique of encaustic painting, where he applies layers of hot beeswax mixed with pigments. The technique was revived and popularized by artists such as Jasper Johns, Jackson Pollock, and Lynda Benglis. In two paintings, Armstrong sheds light on artists from popular culture, not often noticed in the art world: Norman Rockwell and Ian Miller. In another, he makes an art historical reference to the Renaissance painter Pieter Bruegel. The last large canvas is inhabited by a recurring motif in Armstrong's practice: his powerful dinosaur.
About the artist
Zachary Armstrong (b. 1984) lives and works in Dayton, Ohio. He is known for spending very long sessions in his studio, building all of his canvases and stretchers himself. Armstrong's art is about personal storytelling, rooted deep in his childhood, his family, but also the American province, folk art, natural history, art history, and literature.
In his works, Armstrong often makes strong references to popular culture and uses children's drawings as his outline, both of his own making and his friends'. These images are transformed into large-scale works, with various motives being repeated throughout several series of paintings and sculptures.
Zachary Armstrong has had solo exhibitions at Zachary Armstrong: Fish and Chicken, Carl Kostyál, London (2019); White Lines, GNYP Gallery, Berlin (2019); Zachary Armstrong: George, Tilton Gallery, New York (2018); Zachary Armstrong: Copenhagen, Sabsay Gallery, Copenhagen (2018); Zachary Armstrong, GNYP Gallery, Berlin (2017); Keith Paintings, China Art Objects, Los Angeles, California (2017); NOAH, Ever Gold Projects, San Francisco, (2017); Hills & Dales, Mesler/Feuer, New York (2017); Zachary Armstrong, Tilton Gallery, New York (2016); Goodnight Bojangles, Night Gallery, Los Angeles, CA (2015); Dinos, Blumenthal, East Hampton, New York (2014); Elder-Beerman, Dayton Visual Arts Center, Dayton, Ohio (2014).
About Faurschou Foundation
Faurschou Foundation was established in 2011 to champion artists and foster cross-cultural dialogue and international exchange, in particular between the East and the West.The Foundation has two primary areas of activity: acquiring significant works of contemporary art for its private collection and organizing museum-quality exhibitions across the globe, which offer visitors unique experiences and opportunities.
Faurschou Foundation is headquartered in Copenhagen and has extended its permanent exhibition spaces to Beijing (est. 2011) and New York (Greenpoint, Brooklyn est. 2019), as well as arranged biannual temporary exhibitions in Venice since 2015. The Foundation's international exhibition program consists of both thematic group shows and solo exhibitions and revolves considerably around the Foundation's sizeable and growing art collection, but also includes special commissions produced in collaboration with artists, galleries, and other institutions.
Faurschou has engaged and championed numerous artists through its collection and exhibitions, including Ai Weiwei, Louise Bourgeois, Cai Guo-Qiang, Tracey Emin, Anselm Kiefer, Ragnar Kjartansson, Liu Wei, Liu Xiaodong, Paul McCarthy, Shirin Neshat, Yoko Ono, Gabriel Orozco, Robert Rauschenberg, Bill Viola, and Danh Vo, among others.
About the exhibition
Dates: January 15 – June 13, 2021
Venue: Faurschou Beijing
Courtesy of the artist and Faurschou Beijing, for further information please visit www.faurschou.com.