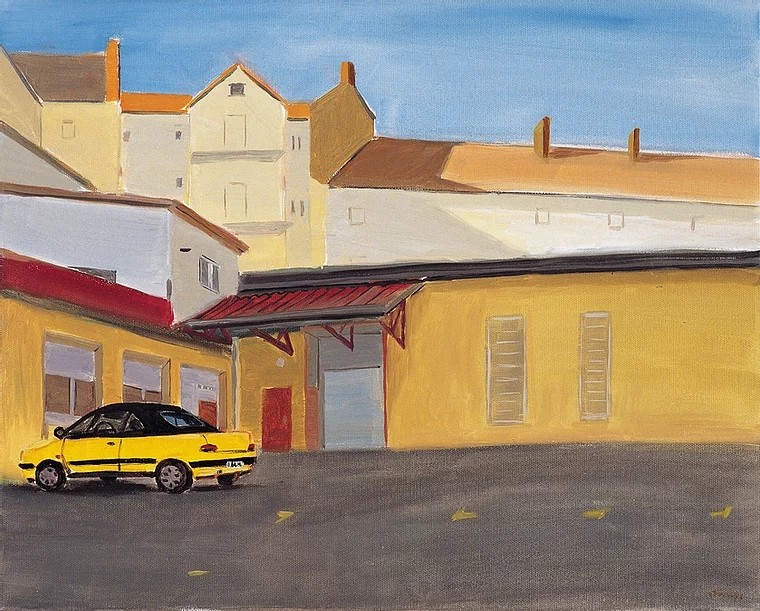 Tang Contemporary Art announces the opening of "A Snap of Life," a new solo show for Wu Yi at the gallery's Hong Kong space on February 18, 2021. The exhibition is curated by independent curator Dai Zhuoqun.
"A Snap of Life" features 53 of Wu Yi's oil paintings from six different series: Military Life (2005), Legation Quarter Hotel (2006), Beijing Winter (2008), Prague (2013-2014), Aschaffenburg, Germany (2017), and Dunhuang (1998-2019). These six series were painted in oil, presenting decades of Wu's artistic practice. As he traveled from East to West, Wu fused Chinese and Western painting techniques and used both oil and ink painting mediums.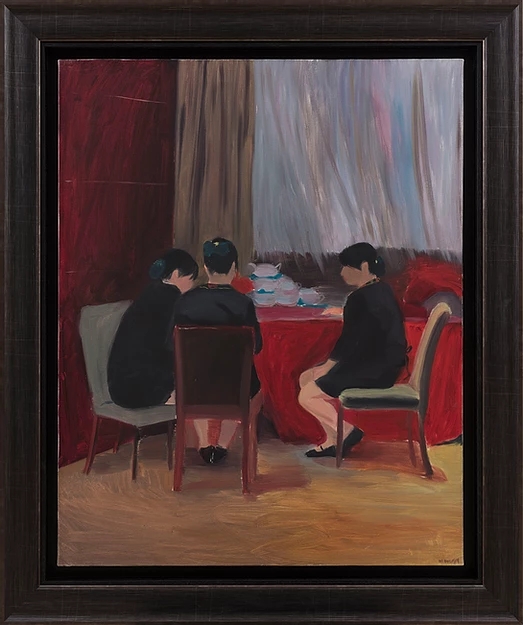 Wu Yi, Receptionists, Oil on canvas, 100x80cm, Frame size 122x102cm, 2006
Wu Yi is immensely skilled. He is "a painter's painter" whose heart, hands, and eyes work in perfect concert. He has charted a unique course in contemporary ink, but he has also found a distinct style of oil painting; he engages with tradition from an ancient perspective, but he depicts scenes on a realistic scale.
Wu Yi began studying art at a young age. His paternal grandfather Wu Guoxun was a student of Jiang Zhaohe at the Beiping Jinghua School of Art in the 1930s. Wu's parents and siblings are all painters.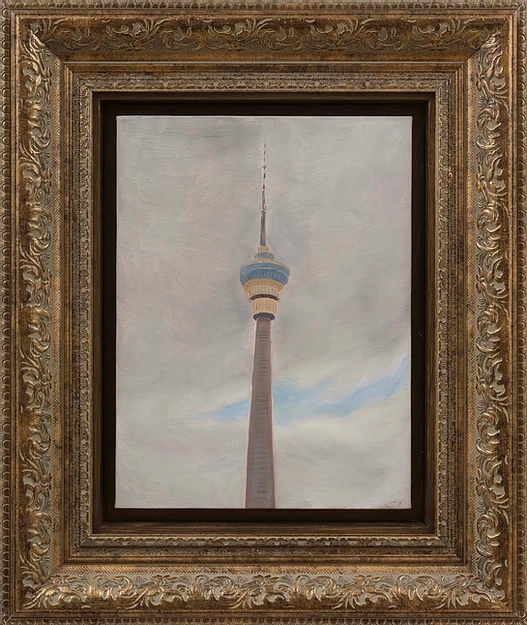 Wu Yi, CCTV Tower, Oil on canvas, 40x30cm, Frame size 64x54cm, 2008
Wu Yi studied under Lu Chen in the Chinese Painting Department at the Central Academy of Fine Arts. After graduating in 1993, he stayed on to teach in the Mural Painting Department, where he works today. Wu has worked in many mediums and forms over the last twenty years, including oil painting, ink painting, printmaking, and watercolor painting. His painting style is shaped and inspired by nature and his surroundings, and he draws on a wide range of elements in an attempt to find the one that best suits him.
In his early years, he painted Lu Xun Academy of Fine Arts Series, Northern Shaanxi Series, Eastern Liaoning Series, Northwestern Series, Summer Series, Huangcun Series, and Dashanzi Series. After painting these series, Wu Yi spent six months in Paris in 2002. He painted more than four hundred small travelogue works paired with text, which he published in Paris Diary. The publication records walks, travels, and everyday observations in painting and text, which would shape Wu's later travelogue works.
Most of Wu Yi's oil paintings are related to his travels. These sets of paintings are paired with stream-of-consciousness diaries of tiny details, capturing what he saw and felt as he traveled. Because of the limitations of travel, he painted exclusively in small formats. As Wu Yi has said, his small paintings have two key characteristics. First, his small paintings capture the greatest possible ambience in a small space, and second, he uses a set of many small paintings to express what a large painting would.
---
About the exhibition
Curated by Dai Zhuoqun
Dates: 2.18 - 3.13, 2021
Venue: Tang Contemporary Art, Hong Kong
Address: 10/F, H Queen's, 80 Queen's Road Central, Hong Kong
Courtesy of the artist and Tang Contemporary Art, for further information please visit www.tangcontemporary.com.