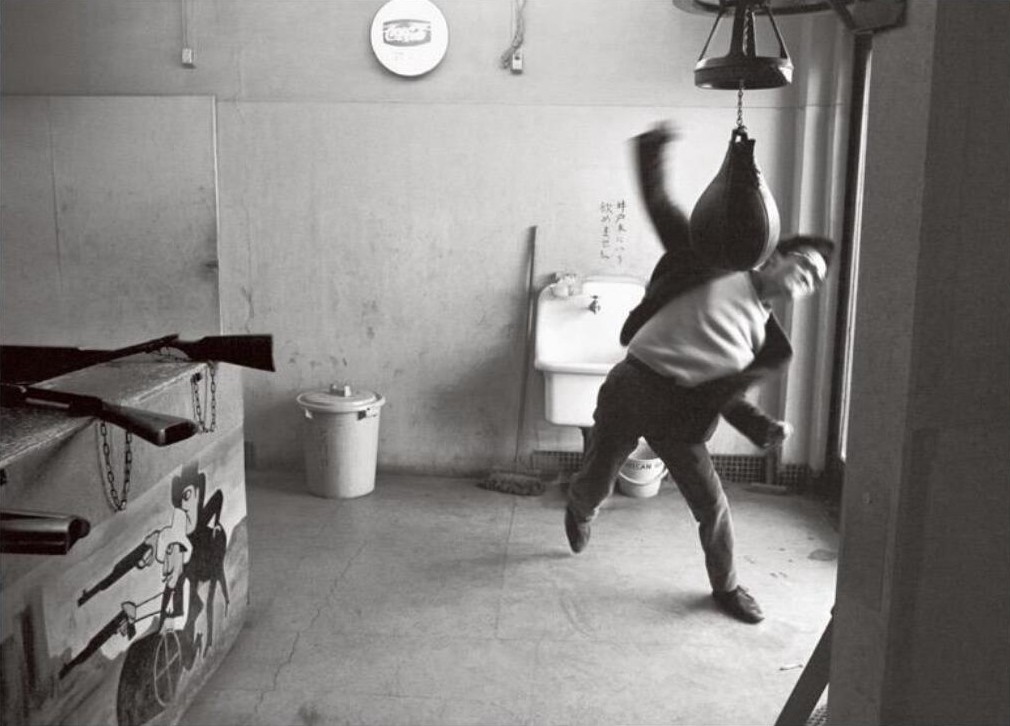 Shomei Tomatsu, Oh! Shinjuku, 1969, archival pigment print, 91 x 127 cm © Shomei Tomatsu - INTERFACE, courtesy of Akio Nagasawa Gallery
Each Modern announces the upcoming exhibition PROVOKE–Opposing Centrism at Kuandu Museum of Fine Arts, Taipei will be on view from from 12 March to 20 June 2021. Curated by Each Modern and independent Japanese curators Akio Nagasawa and Yoko Sawada, the exhibition is the first research-based exhibition to re-evaluate PROVOKE's influence on photography featuring a total of 122 works created over a span of half a century.
Founded in Tokyo in 1968 by prominent Japanese photographers and critics, Takuma Nakahira and Koji Taki, PROVOKE was a small experimental magazine that advocated for a radical change to traditional photography. The group comprised other notable Japanese photographers, including Takahiko Okada, Yutaka Takanashi, and Daido Moriyama who joined the second issue. The group and magazine examined Japan's socio-political situation with a radically inventive style. Although only three issues were published, PROVOKE's impact has proven to be everlasting, having revolutionized photography inside and outside Japan. Following many important museum shows examining PROVOKE's contributions in photography and Japanese art history, including Tokyo 1955–1970: A New Avant-Garde (MoMA, 2013), For a New World to Come: Experiments in Japanese Art and Photography, 1968–1979 (The Museum of Fine Arts Houston and tour, 2015-16), Provoke: Between Protest and Performance, Photography in Japan 1960–1975 (The Art Institute of Chicago and tour, 2016-17).
Today, the influence of their work can still be seen in new generations of image-makers. Recent research of two key members, Takuma Nakahira and Daido Moriyama, reveal their complicated context in a world of avant-garde movements. Rather than a breakthrough of photography, PROVOKE is considered as an important movement that prompted dialogues with international contemporary art happenings in tandem during the late 1960s and early 1970s. To highlight and juxtapose the revolutionary ideas that were engendered from myriad criticisms of traditional photography, the exhibition is divided into three sections: PROVOKE and Activism, PROVOKE and Mono-Ha, PROVOKE and Capitalist Realism.
---
About the exhibition
Exhibiting Artists:
PROVOKE | Takuma Nakahira(1938 - 2015); Takahiko Okada(1939 - 1997); Yutaka Takanashi(1935 - ); Koji Taki(1928 - 2011); Daido Moriyama(1938 - ); Genpei Akasegawa(1937 - 2014); Kazuo Kitai(1944 - ); Susumu Koshimizu(1944 - ); Lee Ufan(1936 - ); Sigmar Polke(1941 - 2010); Shomei Tomatsu(1930 - 2012); Hitomi Watanabe(1939 - )
Curatorial Team:
Wang Rui-Xu (Curator, Kuandu Museum of Fine Arts)
Akio Nagasawa (Director of Akio Nagasawa Gallery)
Yoko Sawada (Director of Osiris Co. Ltd)
Huang Yaji, Lan ChungHsuan, Huang ZiHsuan (Director and staff of Each Modern)
Organizer: Kuandu Museum of Fine Arts
Co-organizer: Each Modern
Special thanks to Aki Gallery, Joce Chen, Yumiko Chiba Associates, Galerie Nagel Draxler, Getsuyosha, Hsiao YongSeng, Kazuya Kimura, Daido Moriyama Photo Foundation, nitesha, Estate of Takuma Nakahira, Collection Georg Polke, Leo Shih, SCAI The Bathhouse and Zen Foto Gallery
About Each Modern
Established in Taipei in 2018, Each Modern is a gallery that promotes Asian post-war and contemporary art by enhancing the value of Asian artists, exploring the global influence of Asian artists, while creating new regional and global dialogues. Through its ambitious program, Each Modern strives to present both Asian post-war artists while also promoting emerging contemporary artists.
As a leader in contemporary art curation, Each Modern has been invited to curate multiple projects and external institution shows, including "Moriyamo Daido: Light Comes Again" at Light Society, Beijing,"Nakahira Takuma" at the Hong Kong International Photography Festival, "Ueda Shoji: Retrospective" at Huashan Creative Park, as well as "Lin YiHsuan: We are Turtles" and "Zhao Gang 21st Supports /ColorLumps as Anthropography of History" at Kundu Museum, Taipei.
Courtesy of Each Modern, for further information please visit www.eachmodern.com or https://kdmofa.tnua.edu.tw/en/