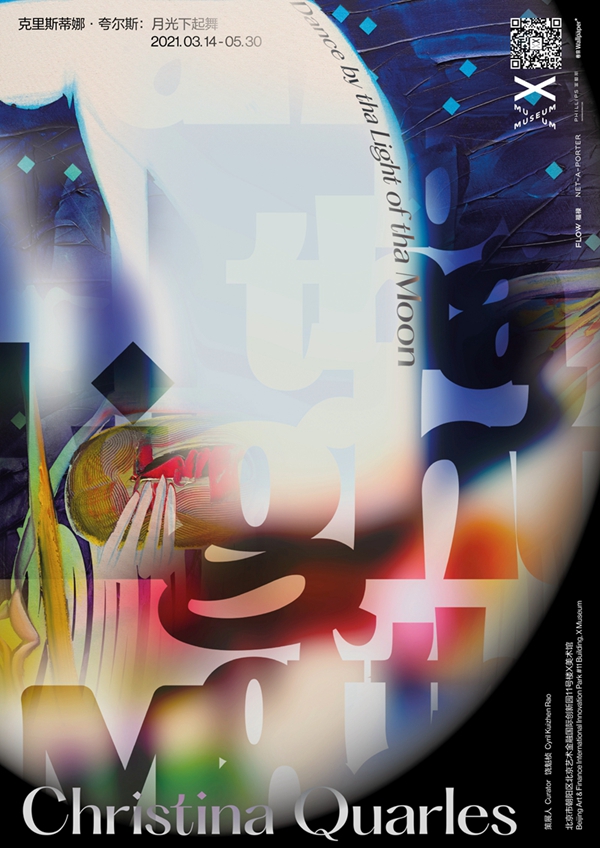 X Museum is delighted to present "Christina Quarles: Dance by tha Light of tha Moon", the artist's first solo exhibition at a major museum in Asia. This will be running from March 14th to May 30th, 2021.
"Christina Quarles: Dance by tha Light of tha Moon" focuses upon the artist's long-term exploration of the body. Through a number of paintings created since 2015, it unfolds an artistic narrative on gender, race and queerness. The exhibition is to be echoed with two major solo exhibitions at the Museum of Contemporary Art Chicago in the US and the South London Gallery in the UK. "Christina Quarles: Dance by tha Light of tha Moon" is curated by Head of Public Programs at X Museum, Cyril Kuizhen Rao.
Quarles's paintings depict the universal experiences of residing in the human body through highly abstracted brushworks: her distorted, fluid portraits reveal the unsettling perception of self and social belonging, in the context of multiple identities and roles. Identifying as a multi-racial queer woman, Quarles draws inspiration from her personal experiences, translating the ambiguity of gender and racial identity into vibrant acrylic works with her highly personal approach to painting.
Unlike traditional portraiture, which historically regards portraits as a direct depiction of the human form, Quarles removes figures from specific characters and identities, and reconstructs the indistinct, ever-changing figuration and appearance via digital sketching and highly distinct painting techniques. Androgynous, fragmented bodies are intertwined and misplaced in structured three-dimensional spaces, and limbs are partially concealed by patterns and prints that symbolize domestic environments. The bright, psychedelic colors herald dynamic power, sentimentalizing the emotional tensions that surge within bodies. Through this mode of expression, Quarles is able to visually reveal the abstract uncertainties she captures in real life, thereby evoking collective, shared memories of gender and identity.
One major motif of the exhibition is Quarles' depiction and interpretation of light and the body. Its title, "Dance by tha Light of tha Moon", is taken from the artist's perception and exploration of the properties of light and shadow as well as those occurrences of intimacy encountered during the Covid-19 pandemic. The imageries utilized, refracting and gradating rays of light, alongside flesh immersed in light and darkness, symbolize the limited contact between the body and the outside world during home isolation. However, it is this restricted intersection that gives the artist a new understanding of intimacy and physical exchange. For Quarles, the past year has been endlessly dark; however, her paintings are infused with vibrant colors and moments of warmth and tenderness. Colored light is cast from the vibrant carpets and the transparent colored glass, reminiscent of the moon's reflective light. It is through this immersiveness that the viewer becomes fully embraced by the aura of the paintings.
Quarles has noted that her paintings are a visual representation of experiencing the world within a body. From the unstretched acrylic work on canvas that reflects the thinking and creative process of the artist's early years, to a series of recent works that are largely inspired by social events, "Christina Quarles: Dance by tha Light of tha Moon" aims to recount two aspects of the body. Namely, as a medium of perceiving and connecting the self and the outside world. Concurrently, the showcased works also convey the artist's keen insights into themes such as emotion, everyday life, and cultural hierarchy. These paintings, sometimes brooding and sometimes characterized by striking contrasts, frame the stories performed by the body in the exhibition space. As such, they lead us to reflect upon the complex real-life relationships between the private and the public, as well as the personal and the social.
---
About the artist
Christina Quarles (b.1985, Chicago) currently works and lives in Los Angeles. She received an MFA from the Yale School of Art in 2016. Her recent solo exhibitions are held at Museum of Contemporary Art, Chicago, Chicago (2021); South London Gallery, London (2021); Pilar Corrias, London (2020); The Hepworth Wakefield, Wakefield (2019); Regen Projects, Los Angeles (2019). Her works have also been part of a number of group exhibitions at Museum of Contemporary Art, Chicago, Chicago (2020); Whitechapel Gallery, London (2020); Hayward Gallery, London (2019); Museum of Modern Art, Warsaw, Warsaw (2019); Hammer Museum, Los Angeles (2018); New Museum, New York (2017).
Christina Quarles has received a number of awards and grants including the Pérez Prize (2019); Rema Hort Mann Foundation Emerging Artist Grant (2017); and the Robert Schoelkopf Memorial Traveling Fellowship at Yale University (2015); among others.
Christina Quarles's works have been collected by a number of internationally recognized institutions including X Museum (Beijing); Tate Modern (London); Whitney Museum of American Art (New York); Museum of Contemporary Art, Los Angeles (Los Angeles).
---
About the exhibition

"Christina Quarles: Dance by tha Light of tha Moon"
Duration: SUN, 14/03/21 - SUN, 30/05/21
Media preview: SAT, 13/03/21
Venue: Gallery5-8, X Museum
Text and images courtesy of X museum.
Edited by CAFA ART INFO.