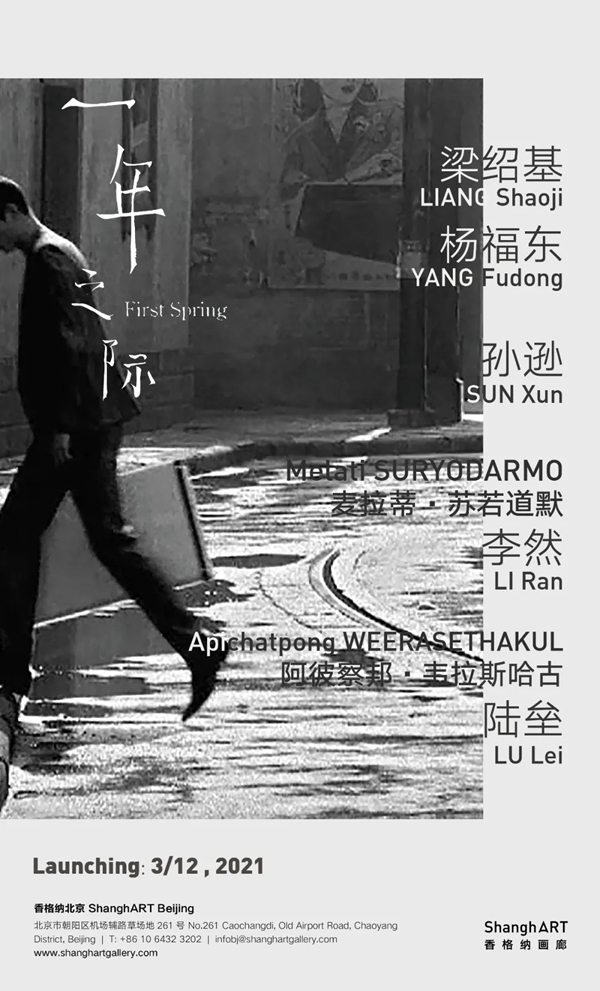 ShanghART Beijing's 2021 special project, "First Spring", is about an exhibition that has been 'scattered', and a commemoration of a period of time that has been 'shelved'.This project originates from a large-scale exhibition in cooperation with art museums last year. However, the long-prepared proposal and arrangements that were close to completion have been disrupted due to the global health crisis in 2020. We didn't have the heart to abandon all the hard work and thus decided to adjust the original plan, dividing it into three sections as well as four chapters, which will be on view at the gallery's Beijing location for nearly half a year.
The project title "First Spring" comes from a work of the same name by Yang Fudong that was inspired by an ancient Chinese proverb "一年之计在于春" ( yī nián zhī jì zài yú chūn ). It means that "spring signifies the beginning of the year, and important things should be prepared in advance." In order to emphasise the boundary of time, the artist deliberately chose the character '际' ( jì, boundary ) instead of '计' ( jì, plan ), which also seems to be more appropriate at this point.
Many of us might have regrets in 2020, just like the exhibition that has been put on hold for a year, 'scattered' and 'dismantled'. Going into post-2020, maybe we still can't make an articulated 'plan', but 'spring' will always come as promised.
---
About the exhibition
First Spring
Chapter One
Artists: Liang Shaoji, Yang Fudong
Duration: 12 March - 18 April, 2021
Chapter Two
Artists: Sun Xun
Duration: April - May, 2021
Chapter Three
Artists: Melati Suryodarmo, Li Ran
Duration: May - June, 2021
Chapter Four
Artists: Apichatpong Weerasethakul, Lu Lei
Duration: June - July, 2021
Courtesy of the artists and ShanghART Beijing, for further information please visit https://www.shanghartgallery.com/.