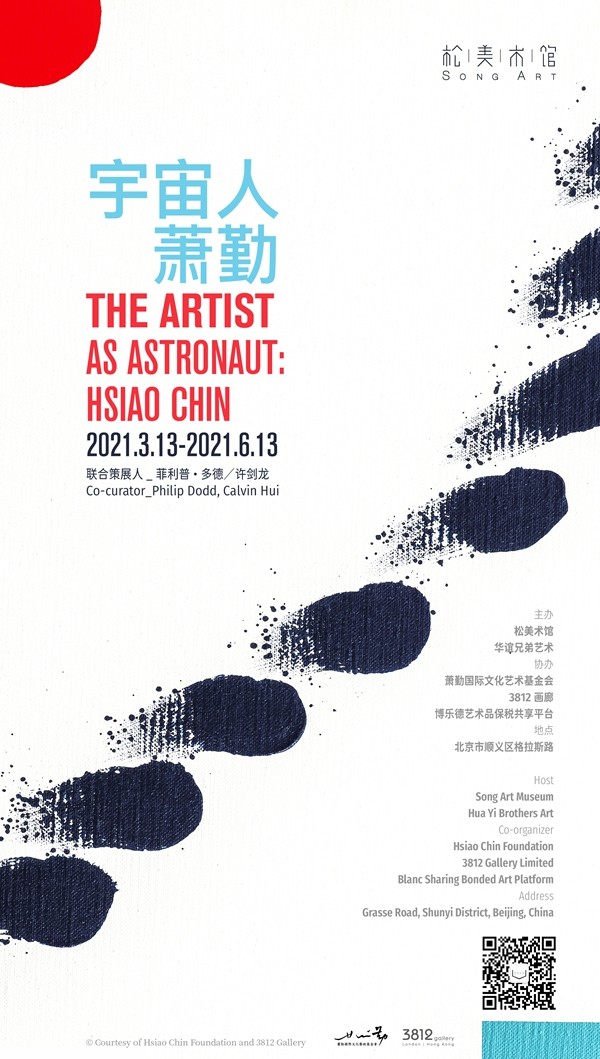 "The Artist as Astronaut: Hsiao Chin" is a large-scale retrospective exhibition of Post-war Chinese Abstract artist, Hsiao Chin (b. 1935), to be held at the Song Art Museum, Beijing from 13 March to 13 June 2021. 3812 Gallery, Hong Kong's foremost gallery specialising in Chinese Contemporary Art as well as an exclusive agent for Hsiao Chin, is honoured to work with the Hsiao Chin Foundation as co-organisers of this exhibition.
Founder of the "Punto International Art Movement", Hsiao Chin is a prominent figure in the international Post-war art scene, active in both Eastern and Western art circles. Hsiao garnered recognition from the Western art world through his employment of Eastern aesthetics to create a distinctive style in the field of abstract painting. Co-curated by Calvin Hui (co-founder of 3812 Gallery) and Philip Dodd (British curator), the exhibition features 79 works, including paintings, ceramics and sculptures by the octogenarian artist across nearly seven decades of his career, from the 1960s to the present day and taking place across China, Europe and United States.
For half a century, Hsiao Chin was constantly on the move. His imagination runs beyond this world into outer space, and the universe has been a core theme of his artistic study and practice for much of his career. Hsiao Chin first created the Universal Energy series during the Punto period. He stated that his exploration of the mysteries of the universe and his pursuit of living energy resulted in the pictorial development of his philosophical ideas and joyous emotional expressions. This extraordinary imagination connects him to both the present and the past. The last great moment when outer space preoccupied artists was the late '50s and '60s. Hsiao Chin's greatest works span across these two periods, a time when space and the void have become topics of interest to scientists as to philosophers.
In many of his artist's statements made in or after 2000, Hsiao Chin has repeatedly emphasised the inspirational impact of the "grand energy of the universe" on his art practice. The statement not only refers to the internal energies of the galaxies and planets, but rather underscores the harmonious relationship between human lives and the universe. Additionally, it also reflects the profound spiritual power that enables the coexistence of all lives, objects, cultures, and religions with or without a tangible form. Hsiao Chin commented that he might have been an astronaut if had he not been an artist. He says, "My decades of research and experience in Eastern and Western art, philosophy, religion, mysticism and space civilization have formed a foundation for my interpretation of the essence of the universe and the cyclical evolution of life forces. The broad nourishment to be found within these great ideas is the source of my creative inspiration, regardless of the creative themes or titles. My artworks place a greater emphasis on the cosmic unity connected to human spiritual life, and the sentient energy that resides deep within all tangible and intangible life, forms of matter, cultures and religions, driving their motion and coexistence.
That is why I call myself an astronaut, a man of the universe."In addition to paintings, ceramics and sculptures, the exhibition will debut two immersive digital art installations by Hong Kong TECH-iNK artist Victor Wong (b. 1966), specifically made to accompany Hsiao Chin's works on this occasion. As an integral part of the exhibition, Wong's works on display demonstrate the impact and legacy of Hsiao Chin in the broader context of Contemporary art.
To fully explore the artist's philosophical thoughts and creative ideas, the exhibition will also show a number of objects selected by Hsiao Chin and historical documents selected by the curators, reflecting on Hsiao's life experience across the decades and his association with European artists, Buddhism and Taoism. These vitrines are a revelation of Hsiao Chin's personal story and re-asserts his active involvement in Modern Art throughout the decades. Philip Dodd, co-curator of the exhibition, says, "My sense is that Hsiao Chi n's imagining of himself as a citizen of outer space was his singular way of rejecting the commercialism and materialism that saturated and still saturates the world. To put it this way, to imagine himself as an 'alien' gave him a point of view beyond this world and its story of worldly success; it allowed him to imagine in his painting new worlds, to explore inner and outer space."
A wide range of educational programs will be offered in conjunction with the exhibition, including lectures and webinars. Exploring Hsiao Chin's influence on Post-war Asian art and the artist's first immersive exhibition at the Song Museum, Sotheby's Hong Kong will host a webinar on "Contemporary Conversations: The Artist as Astronaut – Hsiao Chin" on 16 March with Felix Kwok (Head of Modern Art at Sotheby's Asia), Calvin Hui (co-founder and art director of 3812 Gallery, and co-curator of this exhibition), and Wang Duan (Vice President of Huayi Brothers Art and director of Song Art Museum) in Mandarin.
Calvin Hui adds "When I take in Hsiao Chin's paintings and consider his journey in life, my heart sways between the vivid and chromatic effects of his works. Hsiao Chin viscerally promotes Eastern aesthetics and religious philosophy to the world, therefore influencing humanity through the energy that he emanates, and then brings a powerful spiritual strength back to his homeland. Akin to a circle, Hsiao's journey epitomises an eternal process of departing and returning to the original point."
---
About the artist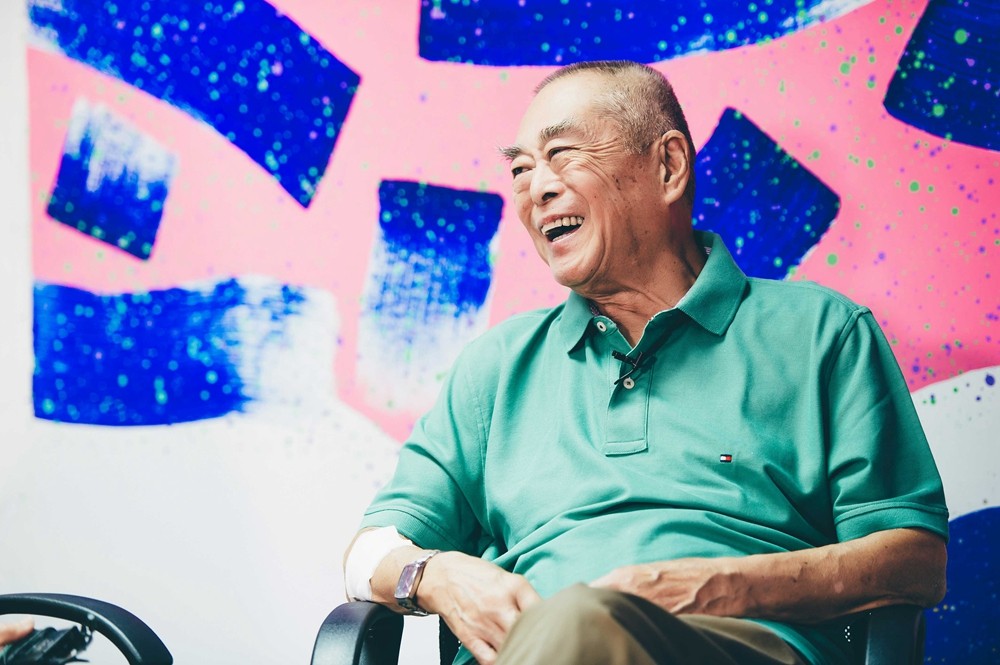 "One should always try to explore the limited physical space to the maximum and to generate maximum energy in the confines of space, to learn in a material world that transcends the boundaries of time, and in so doing to grasp the deeper meanings of life. And it is through my awkward brush work and the bright primary colours that I achieve such goals."
— Hsiao Chin, 2015
In the 1950s, Hsiao Chin started to explore abstract art which was based on his core concept of"Eastern Spirit": the quest for Eastern spirituality and modern artistic expression. Hsiao established his own artistic approach as well as a unique vision on how art should be created. Like his senior masters Lin Fengmian and Zao Wou-ki who travelled to France, Hsiao Chin was greatly motivated by Western art during his stay in Spain and subsequently moved to Italy, but developed an interest in Zen and Taoism – in particular the ideas of Lao Tzu and Chuang Tzu – around the 1960s. Drawing artistic nourishment from his study of traditional Chinese culture and Eastern philosophies, he was capable of understanding and capturing the complex dialects between the void and the solid, strength and weakness. Freely transforming them into his abstract visual language, Hsiao showed great ambition to develop his own style of abstract painting that emphasized the dichotomous nature of the world, which would be at once distinguishable from, yet reflective of, Western abstract art at that time. Having lived and worked abroad for 60 years, Hsiao has been successfully integrated his extensive studies of Western aesthetics and Eastern philosophies, as well as his interest in space science, in his artistic creation. With the efforts of self-discovery and a spiritual quest for transcendence, Hsiao's creative process is rooted in his perpetual exploration of the deepest meanings in man's spiritual world. With the endless adventure of abstract art and self-reflection, throughout his lifetime Hsiao has been pursuing the ideal realm of "Nature and Man in One" greatly beyond the boundaries of life and death.
With a group of artists who shared his aesthetic vision, in 1955 Hsiao Chin co-founded the Ton Fang Art Group, the first post-war Chinese modern art group, which blended techniques from traditional Eastern art with Western modernism, while promoting Chinese modern art overseas. In 1956, Hsiao embarked on a series of travels in America and Europe, moving first to Madrid and finally settling in Milan, where he has lived for over half a century. In 1961, Hsiao Chin co-founded the Punto International Art Movement, the first ever international avant-garde art movement initiated by an Asian artist with the aim of promoting Oriental philosophy of "calm observation".
---
About the exhibition
Exhibition Date: 13 March to 13 June 2021
Opening hours: Tuesday to Sunday 10 am to 6 pm (with last entry at 5:30pm)
Address: Song Art Museum, Gelasi Road, Tianzhu Town, Shunyi District, Beijing China
Press Enquiry: David Yu (Sutton), davidy@suttoncomms.com, Emma Chan (3812 Gallery), emma.chan@3812cap.com
Sotheby's Talks - Contemporary Conversations: The Artist as Astronaut – Hsiao Chin
Date: Tuesday, 16 March
Time: 5pm - 6pm
Language: Mandarin
Panelists: Felix Kwok, Head of Modern Art at Sotheby's Asia
Calvin Hui, co-founder and art director of 3812 Gallery, and co-curator of this exhibition
Wang Duan, Vice President of Huayi Brothers Art and director of Song Art Museum
RSVP: https://rsvp.theworldsbest.events/_0g581
Courtesy of the artist and Song Art Museum.