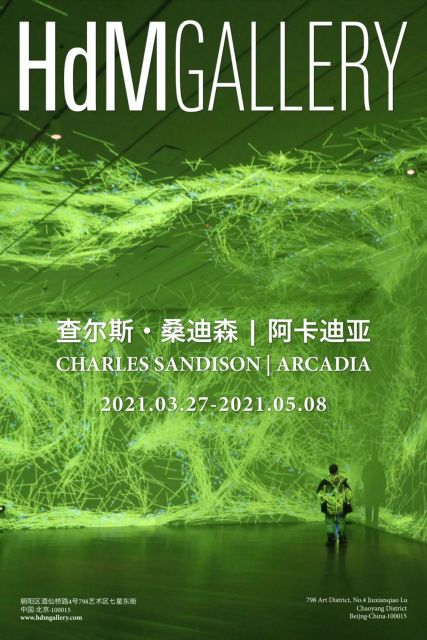 HdM Gallery presents a solo exhibition of Charles Sandison entitled "Arcadia" opening on 27 March. It will include 6 works and remain on view until 8 May. This is the second collaboration with the gallery after his 2019 solo show in London.
The exhibition combines video projections and large screen works that invite theaudience to immerse themselves in the digital glow of an alternate universe populated with AI-animated life forms. Words, numbers, signs, and symbols roam freely around the walls. Sometimes, they briefly merge into form human figures and then explode into a storm of letters, at other times they transform themselves from one lexicon to another. Sandison combines his ability to write complex computer programs with a savant-like spatial dexterity that puts into visual form the hidden world of data that surrounds us. The computer for Sandison operates like an oracle.
"At the centre of my works is 'simulation', especially scientific modelling of natural systems or human systems to gain insight into their functioning. Simulation can be used to show the eventual real effects of alternative conditions and courses of action. Simulation is also used when the real system cannot be engaged, because it may not be accessible, or it may be dangerous or unacceptable to engage, or it is being designed but not yet built, or it may simply not exist".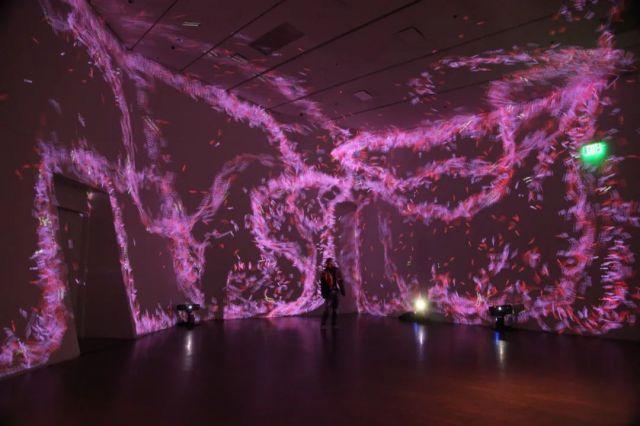 Charles Sandison, Arcadia, 2021, Multi-channel data projection installation, computers, C++ code, Dimensions Variable, Duration: Infinite
Central to the exhibition are the interrelated themes of environment, identity, morality, and memory. The multi-channel video installation "Arcadia, 2021" is a biological collage that uses artificial intelligence to create an imaginary eco-system that constantly swings between chaos and entropy. The artwork is a self-contained reality that explores the potential for a utopian world where humanity exists harmoniously within nature.
In "Male and Female" (2020) the computer analyses a dataset of historical 2D and 3D imagery for ideals of figurative harmony in the human form throughout history. Using artificial intelligence, the resultant data is re- configured to create visualizations, a series of never repeating hybrid authenticities.
Charles Sandion, Good and Evil and Yes and No, 2018, 1 channel data projection, computer, C++ code , Ed. 3 & 1 AP, Variable dimensions, infinite duration
In "GOOD AND EVIL AND YES AND NO" (2018), the words suggest an opposition of type, reflected in the timeless idea of the struggle between extreme opposites. The words are animated using similar genetic codes as found in microorganisms such as bacteria or cancerous cells.
In all the works the artist seeks to open a dialogue between the viewer and the extraordinarily complex digital society we inhabit. "For some reason I was born with an innate ability to speak to computers in their own language. For me, computer code sounds like poetry".
Originally from Scotland, Sandison studied at the Glasgow School of Art, graduating in 1993. After moving to Finland almost 25 years ago Sandison has worked mainly with computer generated video projections that combine language, form, architecture, and movement. His installations have been represented in Europe, Asia, Australia, South America, and the USA. Notably in the Venice Biennale (2001) Sandison exhibited his acclaimed work; 'Living Rooms' which brought him to international attention. His work is present in major national collections around the world, including Reina Sofia, Madrid, Denver Art Museum, MAXXI Rome, Kiasma, Helsinki, and Bonn Art Museum. From 2003 he was a visiting professor at Le Fresnoy, Lille and has lectured at the Sorbonne Paris. In 2010 Sandison was awarded Finland's Ars Fennica art prize and in 2012 the Finnish Cultural Foundation Art and Science Culture award.
---
About the artist
Charles Sandison was born in1969 in Northumberland, England. He graduated with an MA from Glasgow Art School in 1993 and lives and works in Tampere, Finland. In 2010, he was awarded the Ars Fennica award for the installation Language as a mirror of the world. He took part in exhibitions at the Grand Palais and at the Quai Branly Musée Jacques Chirac. He was formerly represented by Lisson Gallery. Sandison's work can be found in international museum collections including the Museum of Contemporary Art Kiasma in Helsinki, the Bonn Art Museum, the Museo Nacional Centro de Arte Reina Sofia in Madrid, the Musée d'Art Moderne in Luxembourg as well as the Denver Art Museum in Colorado.
---
About the exhibition
Dates: Mar 27, 2021 - May 8, 2021
Venue: HdM Gallery
Courtesy of the artist and HdM Gallery, for further information please visit https://hdmgallery.com/.