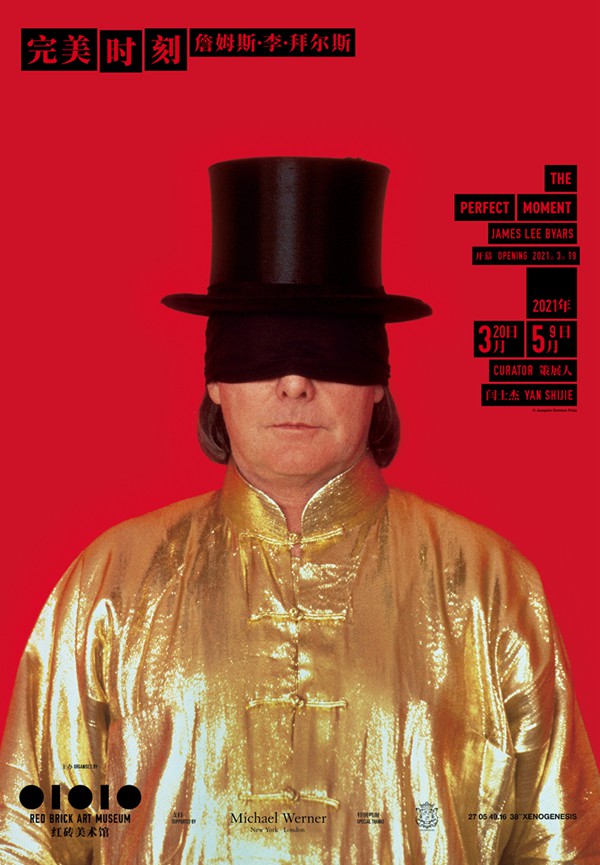 From March 20 to May 5, Red Brick Art Museum presents James Lee Byars: The Perfect Moment, the first retrospective in China of American artist James Lee Byars (1932–1997). Curated by Yan Shijie and through a selection of more than fifty works — including installations, performances, sculptures, and videos — the retrospective will reveal the full scope of the legendary artist's career spanning four decades. The archival materials can additionally offer viewers comprehensive insight into the development of Byars' influential œuvre.
After studying art, psychology, and philosophy at Wayne State University, Byars traveled to Japan in 1958, where he lived and worked for ten years. After this time, he lived the life of a vagabond between Berlin, Venice, Brussels, Santa Fe, Amsterdam, New York, and Cairo. Eastern art and philosophy, however, would never cease to have an impact on his works. As curator Yan Shijie said, "Byars' unique art creation was inspired by Zen Buddhism and the drama of Noh theater. Japan was the starting point of his art practice."
James Lee Byars created a remarkable body of work, through which he strived to give form to his search for beauty and truth. His output incorporated palpable antithetical conceptions such as flamboyance and simplicity as well as death and eternity, thereby exploring the interaction between aesthetics and spirituality. In the search for perfection the works of Byars seem to imply the ephemeral nature of perfection in themselves. "We both had an interest in similar questions to do with the mysterious object, the sense that in perfection there is an eternal moment that is ever-invisible and fleeting," Anish Kapoor once commented.
Breathe (Two in a Hat)
Byars believed that the act of looking at a work rendered changes in it through the forces of viewers' imaginations and their attempts to find meaning or resonance within it. This belief can be found in Byars' "five points make a man" concept, which he used repeatedly throughout his work. He believed that when presented with five points arranged in any configuration, the mind of a viewer would automatically construct a human figure. On display will be a series of works that use this motif, for example the sculptural work The Diamond Floor (1995), an arrangement of five large diamond crystals on the floor in a darkened room.
The exhibition will also explore Byars' interest in how art could exert influence on viewers and create what he called "the first totally interrogative philosophy." Using this framework, he used artworks to pose questions and delineate the limits of knowledge. He explored how art could be used to transmit ideas that had the potential to enact profound change around the world. In his legendary 1969 performance World Question Center broadcast live on Belgian television, Byars asked several world-renowned scientists, philosophers, and artists what questions they believed were of essential importance. Byars told us "the question is the answer." He considered that the art of proposing a question is of higher value than solving it.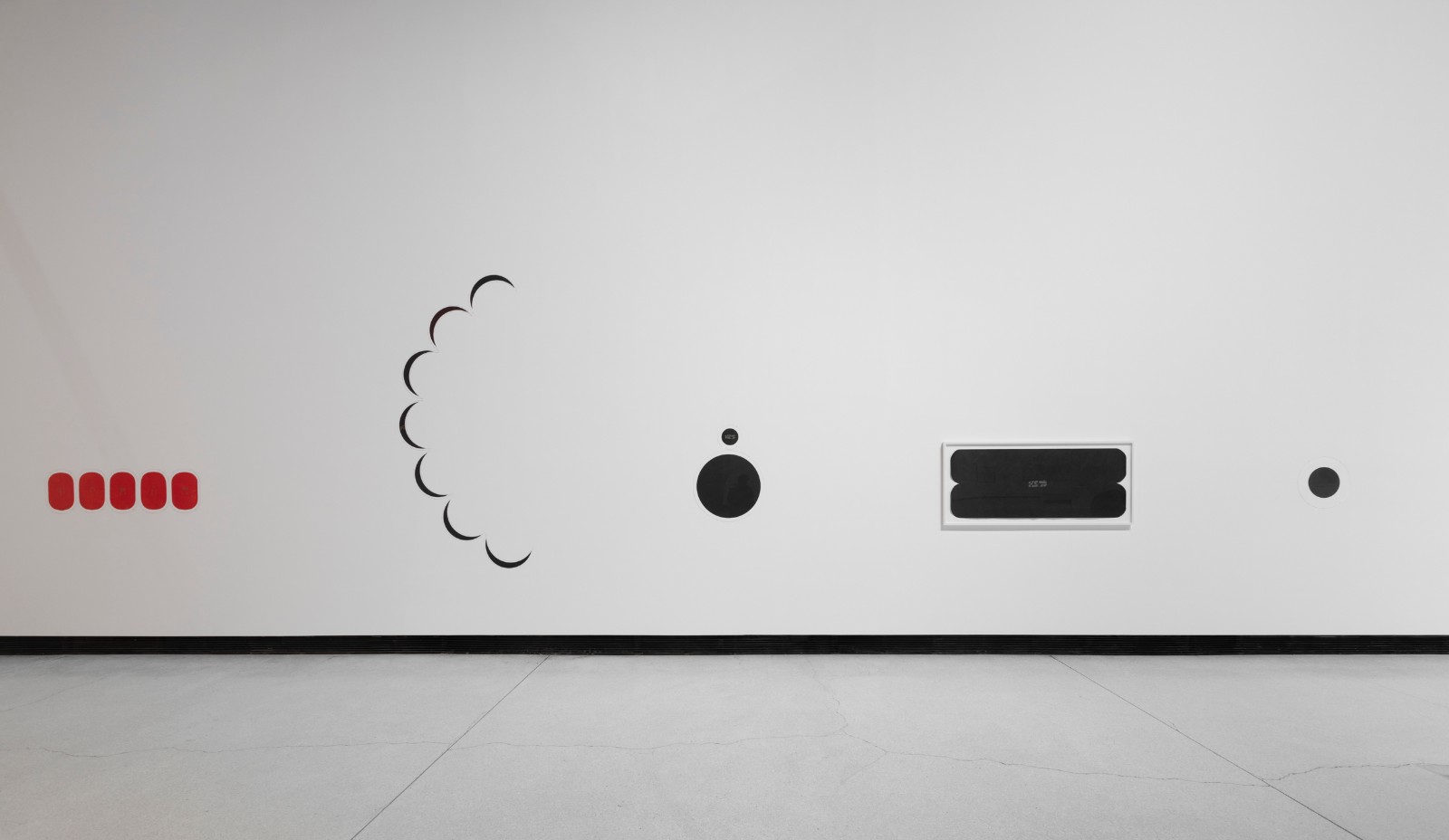 Installation View at the Red Brick Art Museum
Image Courtesy of Red Brick Art Museum
Byars believed that when the artist was absent, the materials and objects transformed into the performer. Chairs, in particular, played an important role in his works. For Byars, chairs served both as extensions of and stand-ins for the human body. The Chair for the Philosophy of Question (1996), a golden throne placed inside an 8-meter-high (26-foot-high) red silk tent, recalls the ancient Greek practice of leaving thrones empty for the gods.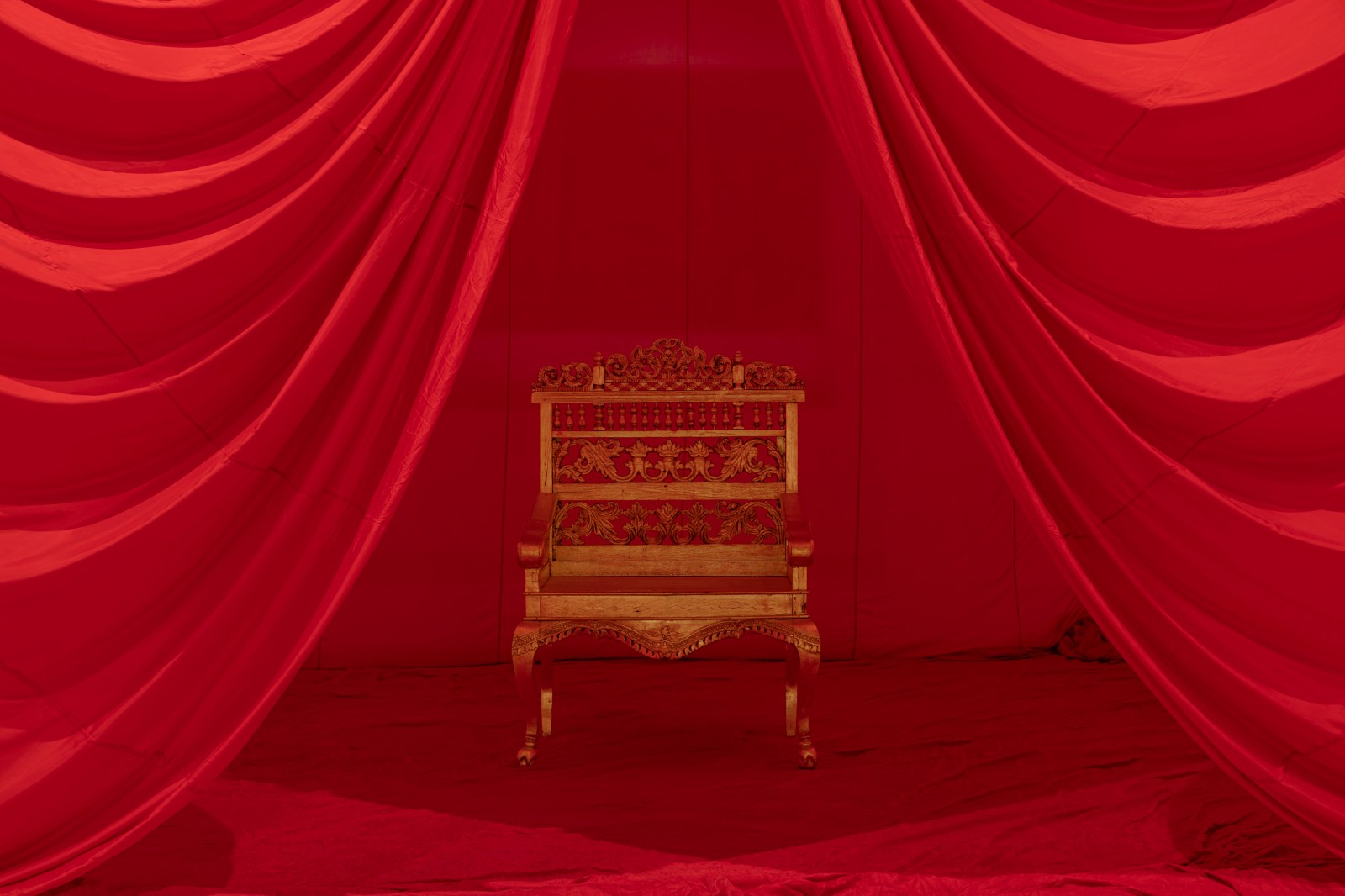 James Lee Byars,"The Chair for the Philosophy of Question", 1996
Gilded Tibetan teak, 63 x 63 x 46 inches (160 x 160 x 117 cm) © Estate of the Artist.
Image Courtesy of Red Brick Art Museum
In the creation of these installations, Byars embraced a baroque theatricality, which also shows the influence of the Japanese Noh tradition. This theatricality extended through all of Byars' work and into his appearance, which became inextricably interwoven with his practice. For performances, the artist often donned suits of colors such as red or pink, and he would participate in his exhibitions, discussing works with visitors or standing motionless as if he were part of a living sculpture. His characteristic gold lamé suit will be on display along with its accompanying hat and shoes.
James Lee Byars saw viewers as integral to his performances and valued their role as active participants. Three representative participatory performance pieces by Byars (Ten in a Hat, Breath-Two in a Hat, and Untitled) will be reenacted on the exhibition's opening day and at specified time slots.
---
About the Artist
James Lee Byars is one of the most important and celebrated artists of the 20th century. He was a pioneering and visionary artist (working within the medium of sculpture, works on paper and performance) and has been exhibited worldwide for over six decades. James Lee Byars was born in Detroit, USA in 1932 and studied art and psychology at Wayne State University. In 1958, Byars moved to Japan, where he lived and worked for nearly a decade. Byars returned to America in 1967, dividing his time between New York and Los Angeles, all while continuing to exhibit in Europe. In 1972, Byars was invited by celebrated curator Harald Szeemann to participate in documenta 5 in Kassel, Germany. He also participated in four Venice Biennales, presenting both sculptures and performances.
Byars died in Cairo in 1997. He has been the subject of numerous gallery and museum exhibitions worldwide, including The Palace of Good Luck, Castello di Rivoli / Museo d'Arte Contemporanea, Turin (1989); The Perfect Moment, IVAM Centre del Carme, Valencia (1994); Life Love and Death, Schirn Kunsthalle and Musée d'Art Moderne et Contemporain de Strasbourg (2004); The Perfect Silence, Whitney Museum of American Art (2005); 1/2 an Autobiography, Museo Jumex, Mexico City and MoMA PS1, New York (2013-2014); The Golden Tower, Campo San Vio, Venice (2017); and The Perfect Kiss, Museum of Contemporary Art, Antwerp (2018).
---
About the Curator
Yan Shijie is the founder, director and curator of the Red Brick Art Museum. Always adhering to the value of 'academic-oriented,' he is a pioneer in proposing and implementing the concept of 'ecological museum experience' in China. In 2020 he curated the large international exhibition "2020+", attempts to open a multi-dimensional space for understanding the pandemic, public crises and social upheavals have blanketed the globe. In 2019 he curated the Sarah Lucas' largest eponymous solo exhibition in Asia, 'Sarah Lucas'. In 2018, he curated 'The unspeakable openness of things'-the largest solo exhibition of Olafur Eliasson in China to date. In the largest Sino-German cultural exchange project in 2017, 'Deutschland 8-Deutsche Kunst in China', Yan Shijie as the deputy general curator together with the general curator Fan Di'an and Walter Smerling curated 'Prologue-German Informel Art'. In 2016, he curated the exhibition 'Identification Zone: Chinese and Danish Furniture Design' which was the first design-centered dialogue between Chinese classical furniture and Danish furniture masterpieces. Other well-received exhibitions curated by Yan Shijie include 'Izumi Kato' (2018), 'Andreas Mühe: Photography' (2018), 'Andres Serrano: An American Perspective' (2017) and 'Wen Pulin Archive of Chinese Avant-Garde Art of the 80s and 90s' (2016). The aforementioned exhibitions have constructed deep and multi-dimensional explorations and reflections on contemporary art from various perspectives.
---
About the exhibition

Curator: Yan Shijie
Organized by: Red Brick Art Museum
Supported by: Michael Werner Gallery
Opening: March 19, 2021
Dates: March 20 – May 5, 20
Special thanks to: VAN DER GOES & 27 05 49.16 38™XENOGENESIS
Courtesy of Red Brick Art Museum.